Herr, gehe nicht ins Gericht mit deinem Knecht
BWV 105 // For the Ninth Sunday after Trinity
(Lord, go thou not into court with this thy thrall) for soprano, alto, tenor and bass, vocal ensemble, oboe I+II, corno da tirarsi, strings and basso continuo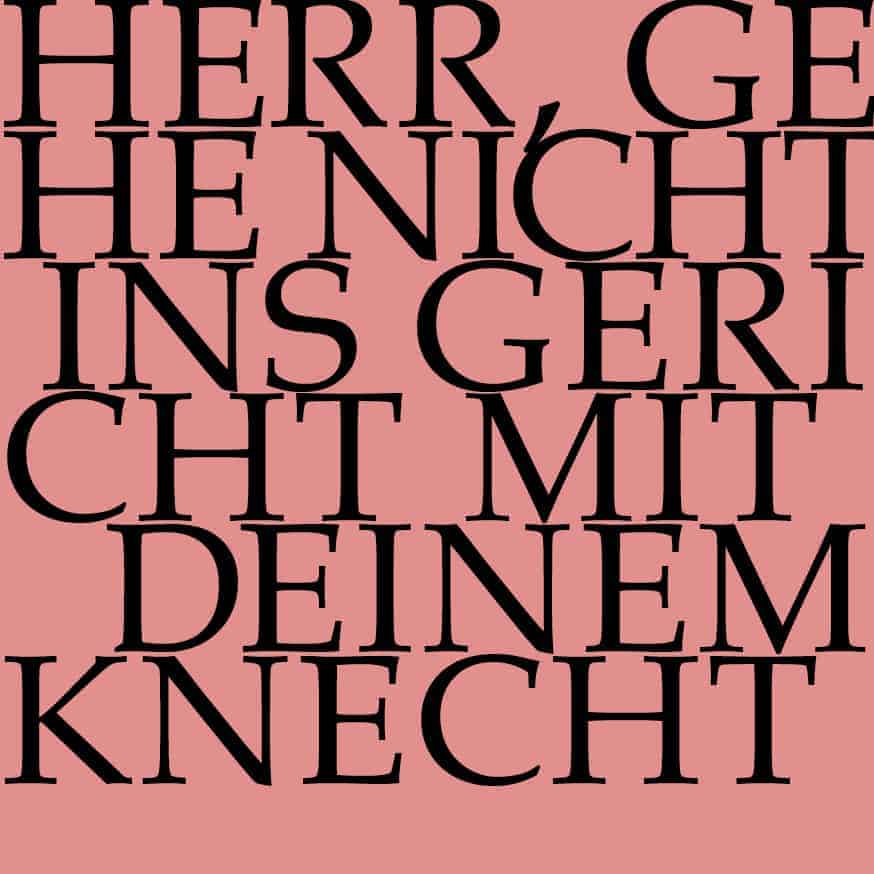 Video
Listen and see the introductory workshop, the concert and the reflection lecture in full length.
Soloists
Choir
Soprano
Olivia Fündeling, Noëmi Sohn Nad, Noëmi Tran-Rediger, Jennifer Ribeiro Rudin, Simone Schwark, Susanne Seitter
Alto
Jan Börner, Antonia Frey, Lea Pfister-Scherer, Damaris Rickhaus, Sarah Widmer
Tenor
Zacharie Fogal, Tobias Mäthger, Christian Rathgeber, Nicolas Savoy
Bass
Grégoire May, Retus Pfister, Philippe Rayot, Tobias Wicky, Will Wood
Orchestra
Conductor
Rudolf Lutz
Violin
Eva Borhi, Peter Barczi, Christine Baumann, Markéta Knittlová, Dorothee Mühleisen, Ildiko Sajgo
Viola
Martina Bischof, Sonoko Asabuki, Katya Polin
Violoncello
Maya Amrein, Daniel Rosin
Violone
Markus Bernhard
Corno da tirarsi
Olivier Picon
Oboe 
Katharina Arfken, Philipp Wagner
Bassoon
Susann Landert
Harpsichord
Thomas Leininger
Organ
Nicola Cumer
Musical director & conductor
Rudolf Lutz
Workshop
Participants
Rudolf Lutz, Pfr. Niklaus Peter
Reflection lecture
Speaker
Christian M. Rutishauser
Recording & editing
Recording date
22/03/2019
Recording location
Trogen (AR) // Evangelische Kirche
Sound engineer
Stefan Ritzenthaler, Johannes Widmer
Producer
Meinrad Keel
Production
J.S. Bach-Stiftung St. Gallen, Schweiz
Text of the work and musical-theological comments
1. Chor
Herr, gehe nicht ins Gericht mit deinem Knecht.
Denn vor dir wird kein Lebendiger gerecht.
2. Rezitativ — Alt
Mein Gott, verwirf mich nicht,
indem ich mich in Demut vor dir beuge,
von deinem Angesicht.
Ich weiß, wie groß dein Zorn
und mein Verbrechen ist,
daß du zugleich ein schneller Zeuge
und ein gerechter Richter bist.
Ich lege dir ein frei Bekenntnis dar,
und stürze mich nicht in Gefahr,
die Fehler meiner Seelen
zu leugnen, zu verhehlen!
3. Arie — Sopran
Wie zittern und wanken
der Sünder Gedanken,
indem sie sich untereinander verklagen,
und wiederum sich zu entschuldigen wagen.
So wird ein geängstigt Gewissen
durch eigene Folter zerrißen.
4. Rezitativ — Bass
Wohl aber dem, der seinen Bürgen weiß,
der alle Schuld ersetzet,
so wird die Handschrift ausgetan,
wenn Jesus sie mit Blute netzet.
Er heftet sie ans Kreuze selber an,
er wird von deinen Gütern, Leib und Leben,
wenn deine Sterbestunde schlägt,
dem Vater selbst die Rechnung übergeben.
So mag man deinen Leib, den man zu Grabe trägt,
mit Sand und Staub beschütten,
dein Heiland öffnet dir die ewgen Hütten.
5. Arie — Tenor
Kann ich nur Jesum mir zum Freunde machen,
so gilt der Mammon nichts bei mir.
Ich finde kein Vergnügen hier
bei dieser eitlen Welt und irdischen Sachen.
6. Choral
Nun, ich weiß, du wirst mir stillen
mein Gewissen, das mich plagt.
Es wird deine Treu erfüllen,
was du selber hast gesagt:
daß auf dieser weiten Erden
keiner soll verloren werden,
sondern ewig leben soll,
wenn er nur ist Glaubens voll.
Bibliographical references
All cantata texts were taken from «Neue Bach-Ausgabe. Johann Sebastian Bach. Neue Ausgabe sämtlicher Werke», published by the Johann-Sebastian-Bach-Institut Göttingen and the Bach-Archiv Leipzig, Series I (Cantatas), vol. 1-41, Kassel and Leipzig, 1954-2000.
All introductory texts to the works including the texts " in-depth analysis" as well as the " musical-theological comments" were written by Anselm Hartinger and Rev. Niklaus Peter as well as Rev. Karl Graf (translations by Alice Noger) upon consideration of the following references:  Hans-Joachim Schulze, «Die Bach-Kantaten. Einführungen zu sämtlichen Kantaten Johann Sebastian Bachs», Leipzig, 2nd edition, 2007; Alfred Dürr, «Johann Sebastian Bach. Die Kantaten», Kassel, 9th edition, 2009, and Martin Petzoldt, «Bach-Kommentar. Die geistlichen Kantaten», Stuttgart, vol. 1, 2nd edition, 2005 and vol. 2, 1st edition, 2007.