Herr, gehe nicht ins Gericht mit deinem Knecht
BWV 105 // For the Ninth Sunday after Trinity
(Lord, go thou not into court with this thy thrall) for soprano, alto, tenor and bass, vocal ensemble, oboe I+II, corno da tirarsi, strings and basso continuo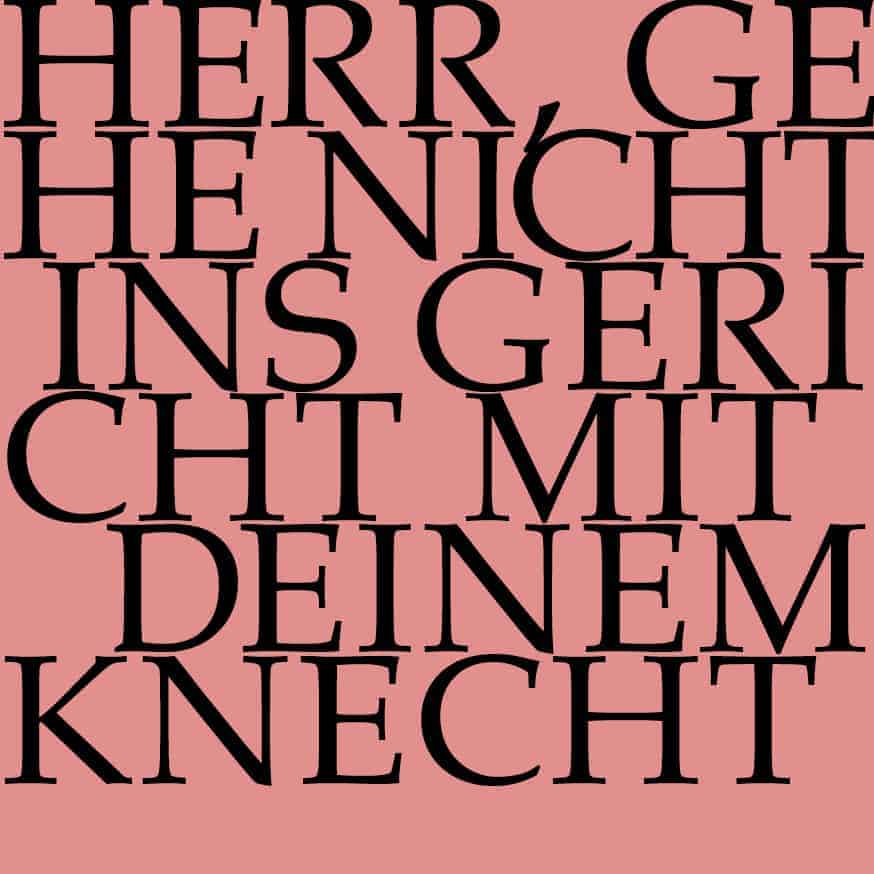 Video
Experience the introductory workshop, concert and reflective lecture in full length.
Workshop
Reflective lecture
«Lutzogram» for the introductory workshop
Rudolf Lutz's manuscript for the workshop
Audio
The sound recording of this work is available on several streaming and download platforms.
Soloists
Choir
Soprano
Olivia Fündeling, Noëmi Sohn Nad, Noëmi Tran-Rediger, Jennifer Ribeiro Rudin, Simone Schwark, Susanne Seitter
Alto
Jan Börner, Antonia Frey, Lea Pfister-Scherer, Damaris Rickhaus, Sarah Widmer
Tenor
Zacharie Fogal, Tobias Mäthger, Christian Rathgeber, Nicolas Savoy
Bass
Grégoire May, Retus Pfister, Philippe Rayot, Tobias Wicky, William Wood
Orchestra
Conductor
Rudolf Lutz
Violin
Eva Borhi, Peter Barczi, Christine Baumann, Markéta Knittlová, Dorothee Mühleisen, Ildiko Sajgo
Viola
Martina Bischof, Sonoko Asabuki, Katya Polin
Violoncello
Maya Amrein, Daniel Rosin
Violone
Markus Bernhard
Corno da tirarsi
Olivier Picon
Oboe 
Katharina Arfken, Philipp Wagner
Bassoon
Susann Landert
Harpsichord
Thomas Leininger
Organ
Nicola Cumer
Musical director & conductor
Rudolf Lutz
Workshop
Participants
Rudolf Lutz, Pfr. Niklaus Peter
Reflective lecture
Speaker
Christian M. Rutishauser
Recording & editing
Recording date
22/03/2019
Recording location
Trogen (AR) // Evangelische Kirche
Sound engineer
Stefan Ritzenthaler, Nikolaus Matthes
Director
Meinrad Keel
Production manager
Johannes Widmer
Production
GALLUS MEDIA AG, Switzerland
Producer
J.S. Bach Foundation of St. Gallen, Switzerland
Matching publications in our shop
Librettist
First performance
25 July 1723, Leipzig
Text
Psalm 143:2 (movement 1); Johann Rist (movement 6); anonymous (movements 2–5) [W. Murray Young presumes Christian Weiss, Sr.]
In-depth analysis
Cantata BWV 105, "Herr, gehe nicht ins Gericht" (Lord, go thou not into court), was composed for the Ninth Sunday after Trinity in 1723. Because it numbers among the earliest publications of Bach's works (around 1830/31), the composition was influential in shaping the perception of Bach in the romantic period – despite its technical difficulty as well as its, in many respects, unorthodox character.
Set in binary form, the introductory chorus features a three-section adagio prelude followed by a rapid, rigorously ordered fugue. Opening in the dense tonality of G minor, the music combines heavy repeated quavers in the continuo line with syncopated, intertwining suspended notes in the string and oboe parts that elicit a chain of grief­stricken sighs. Against this backdrop of sorrow and despair, the unaccompanied choir then delivers a first plea for protection, which is lent a pressing urgency by the fearful whimpering and helpless separation of the vocal entries. In the following reiterations of this dictum (with the voices in different constellations), the intensity of the mood is further heightened by compositional nuances such as the addition of obbligato instrumental material and the shortening of the last interlude. Over an ominous pedal point, an impasse is reached in the hopeless, circling motives, ere a fugue emerges, whose mechanical and driven execution is somewhat reminiscent of the organ fugue in G Minor BWV 542, and in which the devastating message of "with thee there is no living person just" is revealed with tormenting inexorability. Indeed, there is hardly a musical setting that expresses with such harrowing intensity Luther's doctrine of the impossibility for humans to attain mercy through their own deeds.
The alto recitative then transforms this devastating revelation into a subjective appeal for repentance. In light of the threatening presence of God as both witness and magistrate on the preordained day of judgement, the best recourse is outright admittance of the errors of one's ways – an apt approach for the "blemished" sound, with its abundance of diminished intervallic leaps.
In the following soprano aria, Bach employs an extreme measure to demonstrate the consequences of such abysmal sin: by eschewing the standard baroque reliance on a continuo line, he creates a fragile structure of high-register viola figures and slow semiquaver tremolo in the violin parts, over which broad motivic sequences from the oboes and vocalist enter into an erratic and broken dialogue. In this musical depiction of inner turmoil, tenderness and lamentation make for a truly heartrending pairing.
Then arrives the turning point, and it could not be achieved more poignantly than in this delicate B-flat major setting. Accompanied by pizzicato basses and a confiding string figure, the sonorous bass recitative opens an unexpected door to the realm of solace. Here we encounter none other than Jesus himself, who through his sacrifice stands guarantor for us at the time of judgement, nailing humankind's register of debt to the cross and redeeming it on our behalf. The inevitability of death, however, is in no way concealed in this setting: expressed as a thoroughly painful descent into sand and dust, it is nonetheless also the entrance to the eternal shelter of paradise.
The tenor aria, for its part, appears to follow dual intentions. While the energetic dancelike gesture supported by a robust horn line underscores the believer's determination to go safely through life with Jesus, the shimmering demisemiquavers of the violin part illustrate the circling presence of Mammon, which the vocalist, for all his hesitant deceptive cadences, so ardently wishes to forsake. In this setting, the extremely difficult violin and horn parts substantially contribute to the profound struggle between a corrupt world and hard-fought distance from earthly temptations.
In the closing chorale, Bach once again abandons all convention. Through the addition of accompanying parts and interludes, the increasingly reassuring message of the text – traversing from the torments of conscience to a trusting vision of eternal life – is illustrated by a rhythmic deceleration in four steps from semiquaver tremolos, to straight triplets, to groups of quavers then swung triplets – a device that together with the questioning echo renders the text affect audibly palpable. Indeed, that the new Thomascantor had the will to interpret every little nuance of the chorale with the greatest artistic skill must have become eminently clear to the Leipzig congregation on that 25 July 1723.
Libretto
1. Chor
«Herr, gehe nicht ins Gericht mit deinem Knecht.
Denn vor dir wird kein Lebendiger gerecht.»
2. Rezitativ — Alt
Mein Gott, verwirf mich nicht,
indem ich mich in Demut vor dir beuge,
von deinem Angesicht.
Ich weiß, wie groß dein Zorn
und mein Verbrechen ist,
daß du zugleich ein schneller Zeuge
und ein gerechter Richter bist.
Ich lege dir ein frei Bekenntnis dar,
und stürze mich nicht in Gefahr,
die Fehler meiner Seelen
zu leugnen, zu verhehlen!
3. Arie — Sopran
Wie zittern und wanken
der Sünder Gedanken,
indem sie sich untereinander verklagen,
und wiederum sich zu entschuldigen wagen.
So wird ein geängstigt Gewissen
durch eigene Folter zerrißen.
4. Rezitativ — Bass
Wohl aber dem, der seinen Bürgen weiß,
der alle Schuld ersetzet,
so wird die Handschrift ausgetan,
wenn Jesus sie mit Blute netzet.
Er heftet sie ans Kreuze selber an,
er wird von deinen Gütern, Leib und Leben,
wenn deine Sterbestunde schlägt,
dem Vater selbst die Rechnung übergeben.
So mag man deinen Leib, den man zu Grabe trägt,
mit Sand und Staub beschütten,
dein Heiland öffnet dir die ewgen Hütten.
5. Arie — Tenor
Kann ich nur Jesum mir zum Freunde machen,
so gilt der Mammon nichts bei mir.
Ich finde kein Vergnügen hier
bei dieser eitlen Welt und irdischen Sachen.
6. Choral
Nun, ich weiß, du wirst mir stillen
mein Gewissen, das mich plagt.
Es wird deine Treu erfüllen,
was du selber hast gesagt:
daß auf dieser weiten Erden
keiner soll verloren werden,
sondern ewig leben soll,
wenn er nur ist Glaubens voll.
Bibliographical references
All libretti sourced from Neue Bach-Ausgabe. Johann Sebastian Bach. Neue Ausgabe sämtlicher Werke, published by the Johann-Sebastian-Bach-Institut Göttingen and the Bach-Archiv Leipzig, Series I (Cantatas), vol. 1–41, Kassel and Leipzig, 1954–2000.
All in-depth analyses by Anselm Hartinger (English translations/editing by Alice Noger-Gradon/Mary Carozza) based on the following sources:  Hans-Joachim Schulze, Die Bach-Kantaten. Einführungen zu sämtlichen Kantaten Johann Sebastian Bachs, Leipzig, 2nd edition, 2007; Alfred Dürr, Johann Sebastian Bach. Die Kantaten, Kassel, 9th edition, 2009, and Martin Petzoldt, Bach-Kommentar. Die geistlichen Kantaten, Stuttgart, vol. 1, 2nd edition, 2005 and vol. 2, 1st edition, 2007.