Und es waren Hirten in derselben Gegend
BWV 248/2 // Christmas Oratorio
(And there were shepherds in that very region) for the Second Day of Christmas, for alto, tenor and bass, vocal ensemble, transverse flute I+II, oboe d'amore I+II, oboe da caccia I+II, strings and basso continuo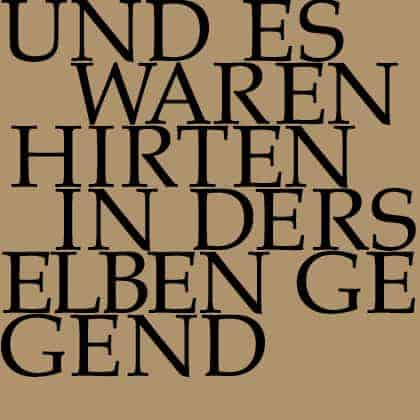 Video
Experience the introductory workshop, concert and reflective lecture in full length.
«Lutzogram» for the introductory workshop
Rudolf Lutz's manuscript for the workshop
Audio
The sound recording of this work is available on several streaming and download platforms.
Soloists
Choir
Soprano
Lia Andres, Olivia Fündeling, Jessica Jans, Susanne Seitter, Noëmi Sohn Nad, Alexa Vogel
Alto
Laura Binggeli, Antonia Frey Sutter, Alexandra Rawohl, Simon Savoy, Lisa Weiss
Tenor
Marcel Fässler, Tobias Mäthger, Nicolas Savoy, Walter Siegel
Bass
Fabrice Hayoz, Daniel Pérez, Philippe Rayot, Tobias Wicky, William Wood
Orchestra
Conductor
Rudolf Lutz
Violin
Eva Borhi, Lenka Torgersen, Christine Baumann, Ildikó Sajgó, Cecilie Valter, Peter Barczi
Viola
Martina Bischof, Sarah Mühlethaler, Carlos Valles Garcia
Violoncello
Maya Amrein, Hristo Kouzmanov
Violone
Markus Bernhard
Oboe d'amore
Andreas Helm, Ann Cathrin Collin
Oboe da caccia
Katharina Arfken, Alek Fester
Transverse flute
Yoko Tsuruta, Tomoko Mukoyama
Bassoon
Susann Landert
Harpsichord
Dirk Börner
Organ
Nicola Cumer
Musical director & conductor
Rudolf Lutz
Workshop
Participants
Rudolf Lutz, Pfr. Niklaus Peter
Reflective lecture
Speaker
Karl-Josef Kuschel
Recording & editing
Recording date
14/12/2018
Recording location
Trogen AR (Schweiz) // Evangelische Kirche
Sound engineer
Stefan Ritzenthaler, Nikolaus Matthes
Director
Meinrad Keel
Production manager
Johannes Widmer
Production
GALLUS MEDIA AG, Switzerland
Producer
J.S. Bach Foundation of St. Gallen, Switzerland
Matching publications in our shop
Librettist
First performance
Second Day of Christmas, 26 December 1734
Text
Probably Johann Friedrich Henrici (Picander); Luke 2:8–9 (No. 11); Johann Rist (No. 12); Paul Gerhardt (No. 17 and 23)
Libretto
11. Rezitativ (Evangelist: Tenor)
«Und es waren Hirten in derselben Gegend
auf dem Felde
bei den Hürden, die hüteten des Nachts
ihre Herde. Und
siehe, des Herren Engel trat zu ihnen,
und die Klarheit des
Herren leuchtet um sie,
und sie furchten sich sehr.»
12. Choral
Brich an, o schönes Morgenlicht,
und laß den Himmel tagen!
Du Hirtenvolk, erschrecke nicht,
weil dir die Engel sagen,
daß dieses schwache Knäbelein
soll unser Trost und Freude sein,
dazu den Satan zwingen
und letztlich Friede bringen!
13. Rezitativ — Duett (Evangelist: Tenor, Engel: Sopran)
Evangelist
Und der Engel sprach zu ihnen:
Engel
«Fürchtet euch nicht, siehe, ich verkündige euch große Freude, die allem Volke widerfahren wird; denn euch ist heute der Heiland geboren, welcher ist Christus, der Herr, in der Stadt David.»
14. Rezitativ — Bass
Was Gott dem Abraham verheißen,  das läßt er nun dem Hirtenchor erfüllt erweisen. Ein Hirt hat alles das zuvor von Gott erfahren müssen. Und nun muß auch ein Hirt die Tat, was er damals versprochen hat, zuerst erfüllet wissen.
15. Arie — Tenor
Frohe Hirten, eilt, ach eilet,
eh ihr euch zu lang verweilet,
eilt, das holde Kind zu sehn!
Geht, die Freude heißt zu schön,
sucht die Anmut zu gewinnen,
geht und labet Herz und Sinnen!
16. Rezitativ (Evangelist: Tenor)
«Und das habt zum Zeichen: Ihr werdet finden das Kind in Windeln gewickelt und in einer Krippe liegen.»
17. Choral
Schaut hin, dort liegt im finstern Stall,
des Herrschaft gehet überall!
Da Speise vormals sucht ein Rind,
da ruhet itzt der Jungfrau'n Kind.
18. Rezitativ — Bass
So geht denn hin, ihr Hirten, geht, daß ihr das Wunder seht! Und findet ihr des Höchsten Sohn in einer harten Krippe liegen, so singet ihm bei seiner Wiegen aus einem süßen Ton und mit gesamtem Chor dies Lied zur Ruhe vor:
19. Arie — Alt
Schlafe, mein Liebster, genieße der Ruh,
wache nach diesem vor aller Gedeihen!
Labe die Brust,
empfinde die Lust,
wo wir unser Herz erfreuen!
20. Rezitativ (Evangelist: Tenor) 
«Und alsobald war da bei dem Engel die Menge der himmlischen Heerscharen, die lobten Gott und sprachen:»
21. Chorus
«Ehre sei Gott in der Höhe und Friede auf Erden und den Menschen ein Wohlgefallen.»
22. Rezitativ — Bass
So recht, ihr Engel, jauchzt und singet, daß es uns heut so schön gelinget! Auf denn! Wir stimmen mit euch ein; uns kann es so wie euch erfreun
23. Choral
Wir singen dir in deinem Heer
aus aller Kraft Lob, Preis und Ehr,
daß du, o lang gewünschter Gast,
dich nunmehr eingestellet hast.
Bibliographical references
All libretti sourced from Neue Bach-Ausgabe. Johann Sebastian Bach. Neue Ausgabe sämtlicher Werke, published by the Johann-Sebastian-Bach-Institut Göttingen and the Bach-Archiv Leipzig, Series I (Cantatas), vol. 1–41, Kassel and Leipzig, 1954–2000.
All in-depth analyses by Anselm Hartinger (English translations/editing by Alice Noger-Gradon/Mary Carozza) based on the following sources:  Hans-Joachim Schulze, Die Bach-Kantaten. Einführungen zu sämtlichen Kantaten Johann Sebastian Bachs, Leipzig, 2nd edition, 2007; Alfred Dürr, Johann Sebastian Bach. Die Kantaten, Kassel, 9th edition, 2009, and Martin Petzoldt, Bach-Kommentar. Die geistlichen Kantaten, Stuttgart, vol. 1, 2nd edition, 2005 and vol. 2, 1st edition, 2007.