Wer Dank opfert, der preiset mich
BWV 017 // For the Fourteenth Sunday after Trinity
(Who thanks giveth, he praiseth me) for soprano, alto, tenor and bass, oboe I+II, strings and basso continuo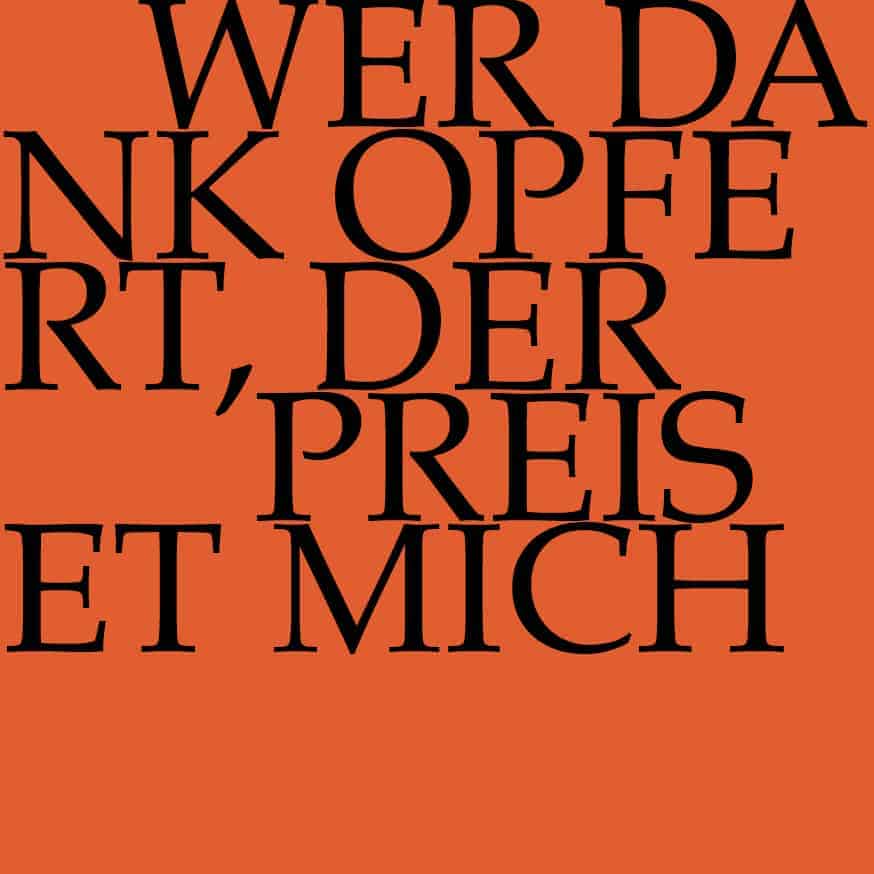 Video
Listen and see the introductory workshop, the concert and the reflection lecture in full length.
Choir
Soprano
Jessica Jans, Simone Schwark, Susanne Seitter, Alexa Vogel, Anna Walker, Mirjam Wernli
Alto
Jan Börner, Antonia Frey, Liliana Lafranchi, Lea Pfister-Scherer, Lisa Weiss
Tenor
Marcel Fässler, Zacharie Fogal, Manuel Gerber, Joël Morand
Bass
Johannes Hills, Grégoire May, Daniel Pérez, Philippe Rayot, Tobias Wicky
Orchestra
Conductor
Rudolf Lutz
Violin
Eva Borhi, Lenka Torgersen, Christine Baumann, Petra Melicharek, Dorothee Mühleisen, Ildikó Sajgó
Viola
Peter Barczi, Sonoko Asabuki, Nadine Henrichs
Violoncello
Maya Amrein, Daniel Rosin
Violone
Shuko Sugama
Oboe
Philipp Wagner, Katharina Arfken
Bassoon
Gilat Rotkop
Harpsichord
Thomas Leininger
Organ
Nicola Cumer
Musical director & conductor
Rudolf Lutz
Workshop
Participants
Rudolf Lutz, Pfr. Niklaus Peter
Reflection lecture
Speaker
Vanessa Wood
Recording & editing
Recording date
20.09.2019
Recording location
Teufen AR (Schweiz) // Evangelische Kirche
Sound engineer
Stefan Ritzenthaler, Nikolaus Matthes
Producer
Meinrad Keel
Production manager
Johannes Widmer
Production
GALLUS MEDIA AG, Schweiz
Producer
J.S. Bach-Stiftung,  St. Gallen (Schweiz)
Matching publications in our shop
Librettist
First performance
22 September 1726, Leipzig
Text
Psalm 50, 23 (movement 1); Luke 17:15–16 (movement 4); Johann Gramann (movement 7); unknown poet (perhpas Herzog Ernst Ludwig v. Sachsen-Meiningen: movements 2, 3, 5, 6)
Text of the work and musical-theological comments
1. Chor
Wer Dank opfert, der preiset mich,
und das ist der Weg,
daß ich ihm zeige das Heil Gottes.
2. Rezitativ — Alt
Es muß die ganze Welt ein stummer Zeuge
werden von Gottes hoher Majestät,
Luft, Wasser, Firmament und Erden,
wenn ihre Ordnung als in Schnuren geht;
ihn preiset die Natur mit ungezählten Gaben,
die er ihr in den Schoß gelegt,
und was den Odem hegt,
will noch mehr Anteil an ihm haben,
wenn es zu seinem Ruhm so Zung
als Fittich regt.
3. Arie — Sopran
Herr, deine Güte reicht,
so weit der Himmel ist,
und deine Wahrheit langt,
so weit die Wolken gehen.
Wüßt ich gleich sonsten nicht,
wie herrlich groß du bist,
so könnt ich es gar leicht
aus deinen Werken sehen.
Wie sollt man dich mit Dank davor
nicht stetig preisen?
Da du uns willt den Weg des Heils
hingegen weisen.
4. Rezitativ — Tenor
Einer aber unter ihnen, da er sahe,
daß er gesund worden war,
kehrete um und preisete Gott
mit lauter Stimme und fiel auf sein
Angesicht zu seinen Füßen und dankete ihm,
und das war ein Samariter.
5. Arie — Tenor
Welch Übermaß der Güte
schenkst du mir!
Doch was gibt mein Gemüte
dir dafür?
Herr, ich weiß sonst nichts zu bringen,
als dir Dank und Lob zu singen.
6. Rezitativ — Bass
Sieh meinen Willen an, ich kenne, was ich bin:
Leib, Leben und Verstand, Gesundheit, Kraft und Sinn,
der du mich läßt mit frohem Mund genießen,
sind Ströme deiner Gnad,
die du auf mich läßt fließen.
Lieb, Fried, Gerechtigkeit
und Freud in deinem Geist sind Schätz,
dadurch du mir schon hier ein Vorbild weist,
was Gutes du gedenkst mir dorten zuzuteilen
und mich an Leib und Seel vollkommentlich
zu heilen.
7. Choral
Wie sich ein Vatr erbarmet
übr seine junge Kindlein klein:
So tut der Herr uns Armen,
so wir ihn kindlich fürchten rein.
Er kennt das arme Gemächte,
Gott weiß, wir sind nur Staub.
Gleich wie das Gras vom Rechen,
ein Blum und fallendes Laub,
der Wind nur drüber wehet,
so ist es nimmer da:
also der Mensch vergehet,
sein End, das ist ihm nah.
Bibliographical references
All cantata texts were taken from «Neue Bach-Ausgabe. Johann Sebastian Bach. Neue Ausgabe sämtlicher Werke», published by the Johann-Sebastian-Bach-Institut Göttingen and the Bach-Archiv Leipzig, Series I (Cantatas), vol. 1-41, Kassel and Leipzig, 1954-2000.
All introductory texts to the works including the texts " in-depth analysis" as well as the " musical-theological comments" were written by Anselm Hartinger and Rev. Niklaus Peter as well as Rev. Karl Graf (translations by Alice Noger) upon consideration of the following references:  Hans-Joachim Schulze, «Die Bach-Kantaten. Einführungen zu sämtlichen Kantaten Johann Sebastian Bachs», Leipzig, 2nd edition, 2007; Alfred Dürr, «Johann Sebastian Bach. Die Kantaten», Kassel, 9th edition, 2009, and Martin Petzoldt, «Bach-Kommentar. Die geistlichen Kantaten», Stuttgart, vol. 1, 2nd edition, 2005 and vol. 2, 1st edition, 2007.