Ach Gott, vom Himmel sieh darein
BWV 002 // For the Second Sunday after Trinity
(Ah God, from heaven look on us) for alto, tenor and bass, vocal ensemble, oboe I+II, trombone I-III, cornett, strings and basso continuo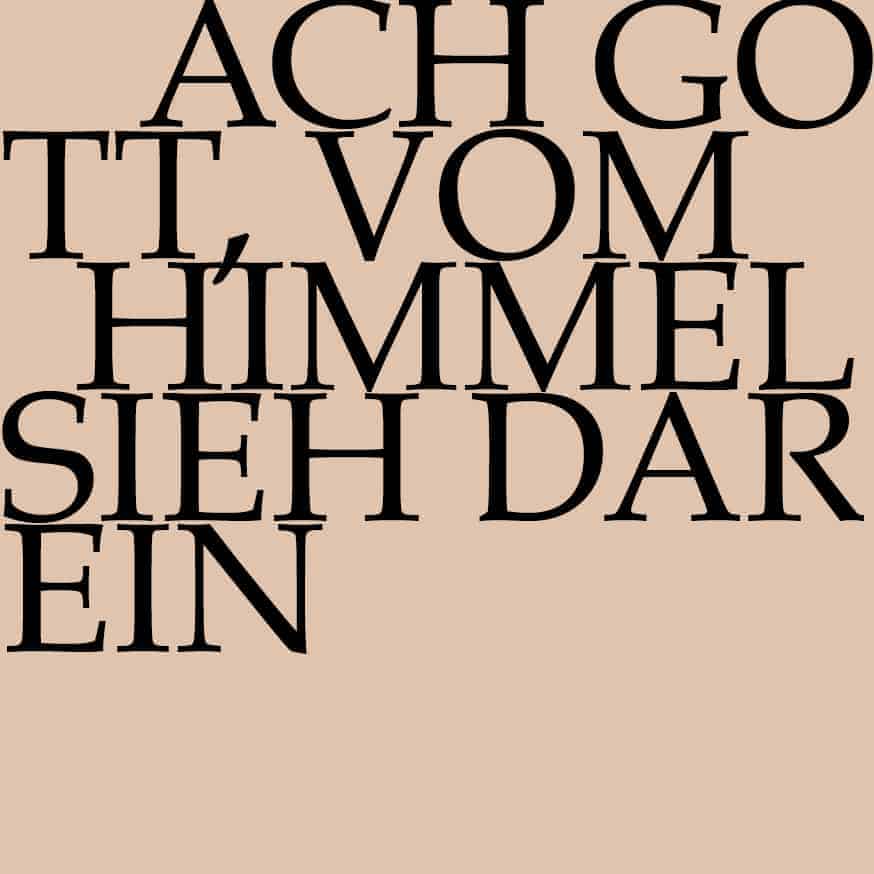 Video
Experience the introductory workshop, concert and reflective lecture in full length.
Workshop
Reflective lecture
«Lutzogram» for the introductory workshop
Rudolf Lutz's manuscript for the workshop
Choir
Soprano
Olivia Fündeling, Susanne Seitter, Noëmi Sohn Nad, Alexa Vogel, Maria Weber, Mirjam Wernli
Alto
Antonia Frey, Katharina Jud, Dina König, Francisca Näf, Alexandra Rawohl
Tenor
Manuel Gerber, Tiago Oliveira, Christian Rathgeber, Walter Siegel
Bass
Fabrice Hayoz, Grégoire May, Daniel Pérez, Philippe Rayot, William Wood
Orchestra
Conductor & Harpsichord
Rudolf Lutz
Violin
Renate Steinmann, Monika Baer, Claire Foltzer, Elisabeth Kohler, Marita Seeger, Salome Zimmermann
Viola
Susanna Hefti, Olivia Schenkel
Violoncello
Martin Zeller, Hristo Kouzmanov
Violone
Shuko Sugama
Oboe
Kerstin Kramp, Philipp Wagner
Cornett
Frithjof Smith
Trombone
Simen van Mechelen, Henning Wiegräbe, Joost Swinkels
Bassoon
Susann Landert
Organ
Nicola Cumer
Musical director & conductor
Rudolf Lutz
Workshop
Participants
Rudolf Lutz, Pfr. Niklaus Peter
Reflective lecture
Speaker
Rainer Hank
Recording & editing
Recording date
28/06/2019
Recording location
Speicher AR (Schweiz) // Evangelische Kirche
Sound engineer
Stefan Ritzenthaler, Nikolaus Matthes
Director
Meinrad Keel
Production manager
Johannes Widmer
Production
GALLUS MEDIA AG, Switzerland
Producer
J.S. Bach Foundation of St. Gallen, Switzerland
Matching publications in our shop
Librettist
First performance
18 June 1724, Leipzig
Text
Martin Luther (movements 1, 6: based on psalm 12); anonymous (movements: 2–5)
Libretto
1. Choral
Ach Gott, vom Himmel sieh darein
und laß dichs doch erbarmen,
wie wenig sind der Heilgen dein,
verlassen sind wir Armen.
Dein Wort man nicht läßt haben wahr,
der Glaub ist auch verloschen gar
bei allen Menschenkindern.
2. Rezitativ — Tenor
Sie lehren eitel falsche List,
was wider Gott und seine Wahrheit ist;
und was der eigen Witz erdenket
– o Jammer! der die Kirche schmerzlich kränket –
das muß anstatt der Bibel stehn.
Der eine wählet dies, der andre das,
die törichte Vernunft ist ihr Kompaß;
sie gleichen denen Totengräbern,
die, ob sie zwar von außen schön,
nur Stank und Moder in sich fassen
und lauter Unflat sehen lassen.
3. Arie — Alt
Tilg, o Gott, die Lehren,
so dein Wort verkehren!
Wehre doch der Ketzerei
und allen Rottengeistern;
denn sie sprechen ohne Scheu:
Trotz dem, der uns will meistern!
4. Rezitativ — Bass
Die Armen sind verstört,
ihr seufzend Ach! ihr ängstlich Klagen
bei soviel Kreuz und Not,
wodurch die Feinde fromme Seelen plagen,
dringt in das Gnadenohr des Allerhöchsten ein.
Darum spricht Gott: Ich muß ihr Helfer sein!
Ich hab ihr Flehn erhört,
der Hilfe Morgenrot,
der reinen Wahrheit heller Sonnenschein
soll sie mit neuer Kraft,
die Trost und Leben schafft,
erquicken und erfreun.
Ich will mich ihrer Not erbarmen,
mein heilsam Wort soll sein die Kraft der Armen.
5. Arie — Tenor
Durchs Feuer wird das Silber rein,
durchs Kreuz das Wort bewährt erfunden.
Drum soll ein Christ zu allen Stunden
in Kreuz und Not geduldig sein.
6. Choral
Das wollst du, Gott, bewahren rein
für diesem arg'n Gschlechte,
und laß uns dir befohlen sein,
daß sichs in uns nicht flechte.
Der gottlos Hauf sich umher findt,
wo solche lose Leute sind
in deinem Volk erhaben.
Bibliographical references
All libretti sourced from Neue Bach-Ausgabe. Johann Sebastian Bach. Neue Ausgabe sämtlicher Werke, published by the Johann-Sebastian-Bach-Institut Göttingen and the Bach-Archiv Leipzig, Series I (Cantatas), vol. 1–41, Kassel and Leipzig, 1954–2000.
All in-depth analyses by Anselm Hartinger (English translations/editing by Alice Noger-Gradon/Mary Carozza) based on the following sources:  Hans-Joachim Schulze, Die Bach-Kantaten. Einführungen zu sämtlichen Kantaten Johann Sebastian Bachs, Leipzig, 2nd edition, 2007; Alfred Dürr, Johann Sebastian Bach. Die Kantaten, Kassel, 9th edition, 2009, and Martin Petzoldt, Bach-Kommentar. Die geistlichen Kantaten, Stuttgart, vol. 1, 2nd edition, 2005 and vol. 2, 1st edition, 2007.