Amore traditore
BWV 203 // saecular cantata
For bass and basso continuo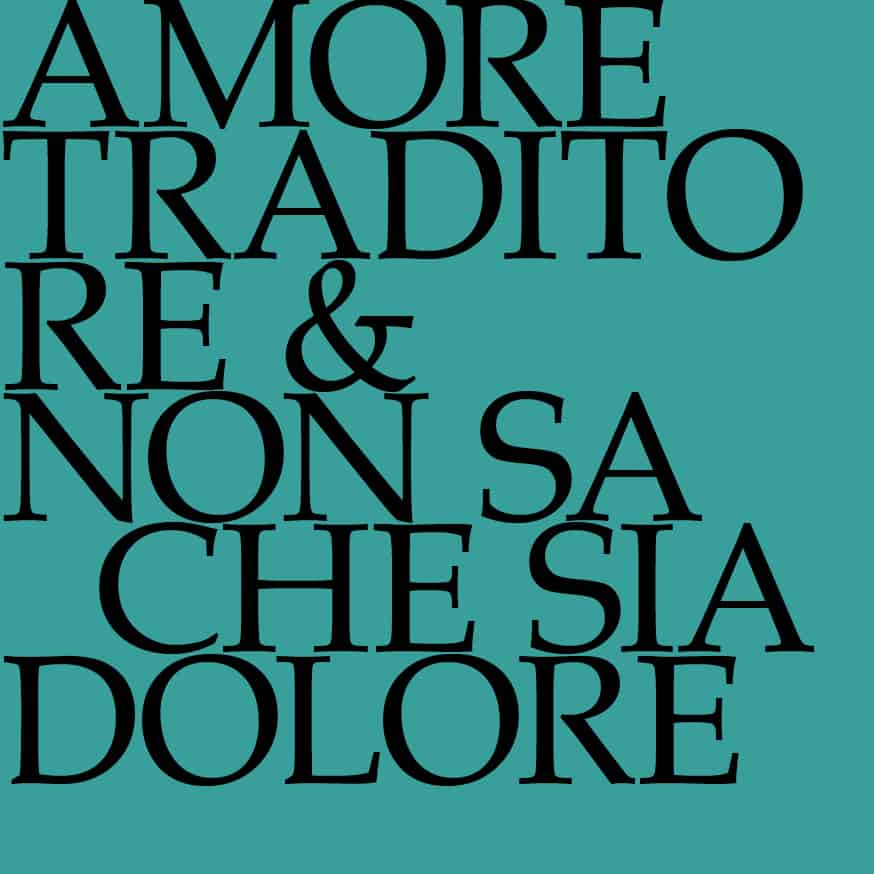 Video
Experience the introductory workshop, concert and reflective lecture in full length.
«Lutzogram» for the introductory workshop
Rudolf Lutz's manuscript for the workshop
Orchestra
Conductor & Harpsichord
Rudolf Lutz
Violoncello
Maya Amrein
Musical director & conductor
Rudolf Lutz
Workshop
Participants
Rudolf Lutz, Alice Borciani, Maya Amrein, Johannes Lang, Dominik Wörner
Reflective lecture
Speakers
Johannes Lang
Recording & editing
Recording date
24/06/2022
Recording location
Rorschach SG (Schweiz) // Würth-Haus
Sound engineer
Stefan Ritzenthaler
Producer
Meinrad Keel
Executive producer
Johannes Widmer
Production
GALLUS MEDIA AG, Schweiz
Producer
J.S. Bach-Stiftung, St. Gallen, Schweiz
Librettist
"First performance
Unknown (Köthen in 1719?)
Text
Source unknown"
Libretto
1. Arie — Bass
Amore traditore,
tu non m'inganni più.
Non voglio più catene,
non voglio affanni, pene,
cordoglio e servitù.
1. Arie — Bass
O Liebe, du Verräterin,
von dir sag ich mich frei.
So werf ich ab die Ketten,
mich aus der Qual zu retten,
aus Kummer und Sklaverei.
2. Rezitativ — Bass
Voglio provar,
se posso sanar
l'anima mia dalla piaga fatale,
e viver si può senza il tuo strale;
non sia più la speranza
lusinga del dolore,
e la gioja nel mio core,
più tuo scherzo sara nella mia costanza.
2. Rezitativ — Bass
Nun will ich seh'n,
ob's möglich, mein Herz
wieder zu heilen von dem tödlichen Schlage.
Dein Pfeil soll nimmermehr mein Herz verwunden,
nicht sei die Hoffnung länger
mein Trost in bittern Schmerzen,
und nicht bringt dein zärtlich Kosen,
dein bezaubernder Reiz den Entschluss zum Wanken.
3. Arie — Bass
Chi in amore ha nemica la sorte,
è follia, se non lascia d'amar,
sprezzi l'alma le crude ritorte,
se non trova mercede al penar.
3. Arie — Bass
Lass dich nimmer von der Liebe berücken,
wenn das Glück dir Gewährung nicht gibt.
Brich die Fesseln, die eng dich umstricken,
wirst nicht endlich du wiedergeliebt.
Bibliographical references
All libretti sourced from Neue Bach-Ausgabe. Johann Sebastian Bach. Neue Ausgabe sämtlicher Werke, published by the Johann-Sebastian-Bach-Institut Göttingen and the Bach-Archiv Leipzig, Series I (Cantatas), vol. 1–41, Kassel and Leipzig, 1954–2000.
All in-depth analyses by Anselm Hartinger (English translations/editing by Alice Noger-Gradon/Mary Carozza) based on the following sources:  Hans-Joachim Schulze, Die Bach-Kantaten. Einführungen zu sämtlichen Kantaten Johann Sebastian Bachs, Leipzig, 2nd edition, 2007; Alfred Dürr, Johann Sebastian Bach. Die Kantaten, Kassel, 9th edition, 2009, and Martin Petzoldt, Bach-Kommentar. Die geistlichen Kantaten, Stuttgart, vol. 1, 2nd edition, 2005 and vol. 2, 1st edition, 2007.