Wie schön leuchtet der Morgenstern
BWV 001 // For the Annunciation of the Blessed Virgin Mary
(How beauteous beams the morning star) for soprano, tenor and bass, vocal ensemble, corno I+II, oboe da caccia I+II, strings and continuo
The cantata "Wie schön leuchtet der Morgenstern" (How beauteous beams the morning star), written for the Annunciation of the Blessed Virgin Mary in 1725, completes Bach's chorale cantata cycle of 1724. As it was the first work featured in the inaugural version of the Complete Works of Bach in 1851, it was later given the number BWV 1. The orchestration of this cantata is particularly exquisite: aside from four voices and the obligatory strings, it includes two concertante violins, two oboes da caccia and two horns – three uncommon pairings of solo instruments. The addition of brass instruments, however, was not necessarily unconventional for the orchestration of a celebratory hymn – Bach's predecessor in Leipzig, Johann Kuhnau, also composed a "morning star" cantata with two obbligato horns.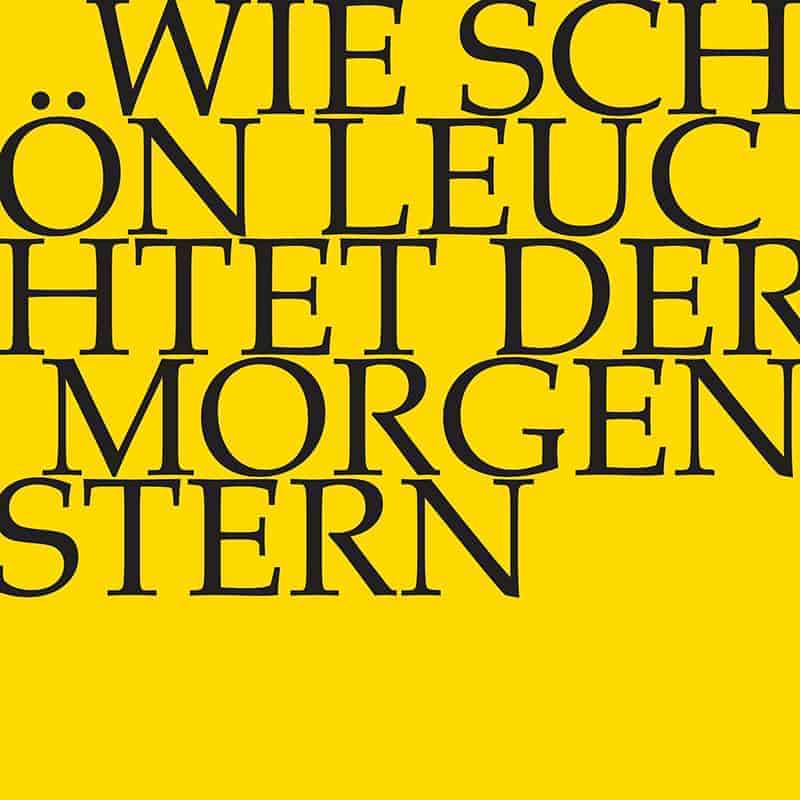 Video
Experience the introductory workshop, concert and reflective lecture in full length.
Workshop
Reflective lecture
«Lutzogram» for the introductory workshop
Rudolf Lutz's manuscript for the workshop
Audio
The sound recording of this work is available on several streaming and download platforms.
Choir
Soprano
Mirjam Berli, Susanne Frei, Guro Hjemli, Noëmi Sohn, Noëmi Tran Rediger
Alto
Antonia Frey, Olivia Heiniger, Damaris Nussbaumer, Lea Scherer
Tenor
Marcel Fässler, Clemens Flämig, Nicolas Savoy
Bass
Philippe Rayot, Oliver Rudin, William Wood
Orchestra
Conductor
Rudolf Lutz
Violin
Renate Steinmann, Plamena Nikitassova, Martin Korrodi, Christoph Rudolf, Ildiko Sajgo, Olivia Schenkel, Fanny Tschanz, Livia Wiersich
Viola
Susanna Hefti, Martina Bischof
Violoncello
Maya Amrein
Violone
Iris Finkbeiner
Bassoon
Susann Landert
Oboe da caccia
Kerstin Kramp, Ingo Müller
Corno
Olivier Picon, Ella Vala Armansdottir
Organ
Norbert Zeilberger
Harpsichord
Nicola Cumer
Musical director & conductor
Rudolf Lutz
Workshop
Participants
Karl Graf, Rudolf Lutz
Reflective lecture
Speaker
Elisabeth Bronfen
Recording & editing
Recording date
03/26/2010
Recording location
Trogen
Sound engineer
Stefan Ritzenthaler
Director
Meinrad Keel
Production manager
Johannes Widmer
Production
GALLUS MEDIA AG, Switzerland
Producer
J.S. Bach Foundation of St. Gallen, Switzerland
Matching publications in our shop
Librettist
Text No. 1, 6
Philipp Nicolai, 1599
Text No. 2–5
Arranger unknown
First performance
The Annunciation of the Blessed Virgin Mary,
25 March 1725
In-depth analysis
The opening choir, whose character sets the tone for the entire work, makes both effective and sensitive use of the rich orchestration. Written in a swaying 12⁄8 time, the concertante violins – effectively capturing the essence of the shining morning star – provide a decidedly gentle and decorative introduction. Inspired by the first lines of the chorale, their dance-like motif pervades the development of the entire movement. In the process, the individual instruments are not restricted to their own idiomatic material; instead, the various motifs roam through the entire orchestra – the typical long tones of the horns, for example, are first heard in the strings. In keeping with his approach for chorale cantatas, Bach weaves the lines of the hymn into this soundscape, intertwining the soprano melody with particularly imaginative pre-imitation in the lower voices. The obvious shift in the verse upon the words "lovely, kindly" is underscored by a change in the musical structure. Here, the initial chordal construction passes over to hymn-like rising figures that beautifully express the closing line "high and most richly exalted".
Following this movement of heavenly sphere and peace is an equally enchanting recitative that textually bridges the events between the Annunciation and Christmas. The ensuing aria, an elegantly flowing movement, features a solo soprano voice over a pizzicato bass – the contrasting use of these two extreme registers is particularly striking. The addition of an oboe da caccia lends the movement a singularly intimate character, its warm and mellow tone translating perfectly the textual "flames both celestial and divine" that blaze only in the hearts of the faithful.
After the joyful and open-minded atmosphere of the bass recitative, the tenor aria, composed in a minuet-like 12⁄8 time, is reminiscent of a final movement of a double concerto for two violins and orchestra. The scoring for strings and voice is hardly surprising considering the wording of the text: "let our voice and strings resound". Here, the tenor voice functions more as a third concertante part than as a soloist, and it is only in the extended middle section which speaks of "bringing honour with song" that the tenor voice comes clearly to the fore.
In the closing chorale, the sixth verse of Philipp Nicolais's famous hymn from 1599, both horns figure again prominently. While the first horn doubles the soprano voice, the second horn sounds a magnificent countermotif – fittingly jubilant for the cantata's finale.
Libretto
1. Chor
Wie schön leuchtet der Morgenstern
voll Gnad und Wahrheit von dem Herrn,
die süsse Wurzel Jesse.
Du Sohn David aus Jakobs Stamm,
mein König und mein Bräutigam,
hast mir mein Herz besessen,
lieblich, freundlich,
schön und herrlich, gross und ehrlich,
reich von Gaben,
hoch und sehr prächtig erhaben.
2. Rezitativ (Tenor)
Du wahrer Gottes und Marien Sohn,
du König derer Auserwählten,
wie süss ist uns dies Lebenswort,

nach dem die ersten Väter schon
so Jahr' als Tage zählten,
das Gabriel mit Freuden dort
in Bethlehem verheissen;
o Süssigkeit, o Himmelbrot,
das weder Grab, Gefahr noch Tod
aus unsern Herzen reissen!
3. Arie (Sopran)
Erfüllet, ihr himmlischen, göttlichen Flammen,
die nach euch verlangende gläubige Brust!
Die Seelen empfinden die kräftigsten Triebe
der brünstigsten Liebe
und schmecken auf Erden die himmlische Lust.
4. Rezitativ (Bass)
Ein ird'scher Glanz, ein leiblich Licht
rührt meine Seele nicht;
ein Freudenschein ist mir von Gott entstanden,
denn ein vollkommnes Gut,
des Heilands Leib und Blut,
ist zur Erquickung da.
So muss uns ja
der überreiche Segen,
der uns von Ewigkeit bestimmt
und unser Glaube zu sich nimmt,
zum Dank und Preis bewegen.
5. Arie (Tenor)
Unser Mund und Ton der Saiten
sollen dir
für und für
Dank und Opfer zubereiten.
Herz und Sinnen sind erhoben,
lebenslang
mit Gesang,
grosser König, dich zu loben.
6. Choral
Wie bin ich doch so herzlich froh,
dass mein Schatz ist das A und O,
der Anfang und das Ende;
er wird mich doch zu seinem Preis
aufnehmen in das paradeis,
des klopf ich in die Hände.
Amen!
Amen!
Komm, du schöne Freudenkrone, bleib nicht lange,
deiner wart ich mit Verlangen.
Bibliographical references
All libretti sourced from Neue Bach-Ausgabe. Johann Sebastian Bach. Neue Ausgabe sämtlicher Werke, published by the Johann-Sebastian-Bach-Institut Göttingen and the Bach-Archiv Leipzig, Series I (Cantatas), vol. 1–41, Kassel and Leipzig, 1954–2000.
All in-depth analyses by Anselm Hartinger (English translations/editing by Alice Noger-Gradon/Mary Carozza) based on the following sources:  Hans-Joachim Schulze, Die Bach-Kantaten. Einführungen zu sämtlichen Kantaten Johann Sebastian Bachs, Leipzig, 2nd edition, 2007; Alfred Dürr, Johann Sebastian Bach. Die Kantaten, Kassel, 9th edition, 2009, and Martin Petzoldt, Bach-Kommentar. Die geistlichen Kantaten, Stuttgart, vol. 1, 2nd edition, 2005 and vol. 2, 1st edition, 2007.