Es ist euch gut, daß ich hingehe
BWV 108 // For Cantate (Fourth Sunday after Easter)
(It is for you that I depart now) for alto, tenor and bass, four-part choir, oboe d'amore I+II, bassoon, strings and continuo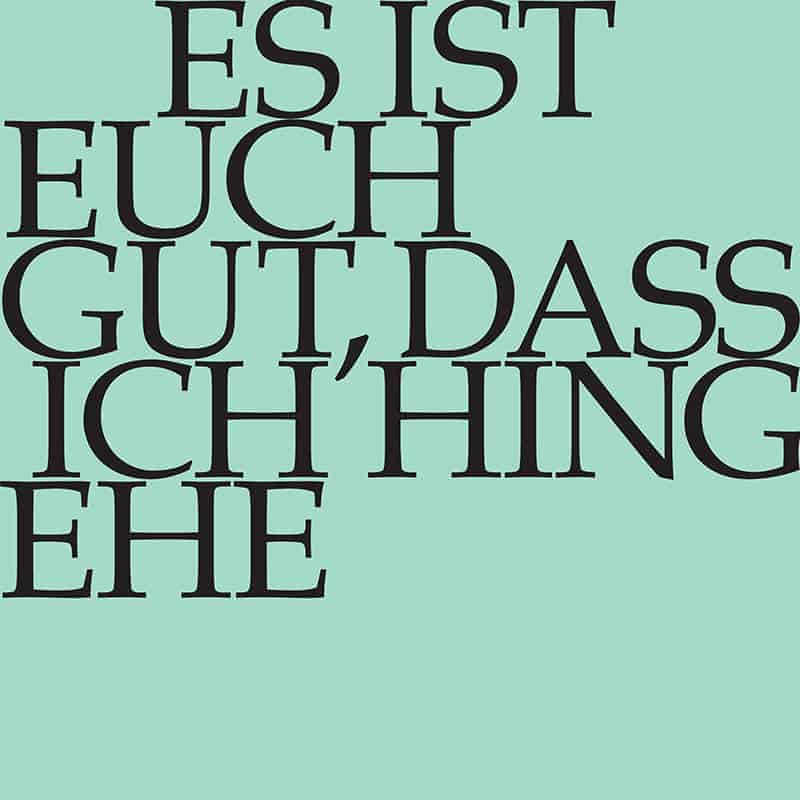 Video
Experience the introductory workshop, concert and reflective lecture in full length.
«Lutzogram» for the introductory workshop
Rudolf Lutz's manuscript for the workshop
Choir
Soprano
Leonie Gloor, Guro Hjemli, Noëmi Tran Rediger, Jennifer Rudin, Mami Irisawa
Alto
Jan Börner, Antonia Frey, Olivia Heiniger, Damaris Nussbaumer, Alexandra Rawohl
Tenor
Raphael Höhn, Nicolas Savoy, Walter Siegel
Bass
Fabrice Hayoz, Philippe Rayot, William Wood
Orchestra
Conductor & cembalo
Rudolf Lutz
Violin
Plamena Nikitassova, Renate Steinmann
Viola
Susanna Hefti
Violoncello
Maya Amrein
Violone
Iris Finkbeiner
Oboe d'amore
Kerstin Kramp, Ingo Müller
Bassoon
Susann Landert
Organ
Norbert Zeilberger
Musical director & conductor
Rudolf Lutz
Workshop
Participants
Karl Graf, Rudolf Lutz
Reflective lecture
Speaker
Pfarrer Tilman Knödler
Recording & editing
Recording date
05/20/2011
Recording location
Trogen
Sound engineer
Stefan Ritzenthaler
Director
Meinrad Keel
Production manager
Johannes Widmer
Production
GALLUS MEDIA AG, Switzerland
Producer
J.S. Bach Foundation of St. Gallen, Switzerland
Matching publications in our shop
Librettist
Text
Christiane Mariana von Ziegler, 1728
Text No. 1, 4
Quote from John 16:7 and 13
Text No. 6
Paul Gerhardt, 1653
First performance
Cantate,
29 April 1725
Libretto
1. Arie (Bass)
«Es ist euch gut, daß ich hingehe; denn so ich nicht
hingehe, kömmt der Tröster nicht zu euch. So ich aber
gehe, will ich ihn zu euch senden.»
2. Arie (Tenor)
Mich kann kein Zweifel stören,
auf dein Wort, Herr, zu hören.
Ich glaube, gehst du fort,
so kann ich mich getrösten,
daß ich zu den Erlösten
komm an gewünschten Port.
3. Rezitativ (Tenor)
Dein Geist wird mich also regieren,
daß ich auf rechter Bahne geh;
durch deinen Hingang kommt er ja zu mir,
ich frage sorgensvoll: Ach, ist er nicht schon hier?
4. Chor
«Wenn aber jener, der Geist
der Wahrheit, kommen wird,
der wird euch in alle Wahrheit leiten. Denn er wird nicht
von ihm selber reden, sondern was er hören wird, das
wird er reden; und was zukünftig ist, wird er
verkündigen.»
5. Arie (Alt)
Was mein Herz von dir begehrt,
ach, das wird mir wohl gewährt.
Überschütte mich mit Segen,
führe mich auf deinen Wegen,
daß ich in der Ewigkeit
schaue deine Herrlichkeit!
6. Choral

Dein Geist, den Gott vom Himmel gibt,
der leitet alles, was ihn liebt,
auf wohl gebähntem Wege.
Er setzt und richtet unsren Fuß,
daß er nicht anders treten muß,
als wo man findt den Segen.
Bibliographical references
All libretti sourced from Neue Bach-Ausgabe. Johann Sebastian Bach. Neue Ausgabe sämtlicher Werke, published by the Johann-Sebastian-Bach-Institut Göttingen and the Bach-Archiv Leipzig, Series I (Cantatas), vol. 1–41, Kassel and Leipzig, 1954–2000.
All in-depth analyses by Anselm Hartinger (English translations/editing by Alice Noger-Gradon/Mary Carozza) based on the following sources:  Hans-Joachim Schulze, Die Bach-Kantaten. Einführungen zu sämtlichen Kantaten Johann Sebastian Bachs, Leipzig, 2nd edition, 2007; Alfred Dürr, Johann Sebastian Bach. Die Kantaten, Kassel, 9th edition, 2009, and Martin Petzoldt, Bach-Kommentar. Die geistlichen Kantaten, Stuttgart, vol. 1, 2nd edition, 2005 and vol. 2, 1st edition, 2007.