Sei Lob und Ehr dem höchsten Gut
BWV 117 // Unspecified occasion
(Give laud and praise the highest good) for alto, tenor and bass, vocal ensemble, transverse flute I+II, oboe I+II, (oboe d'amore), strings and basso continuo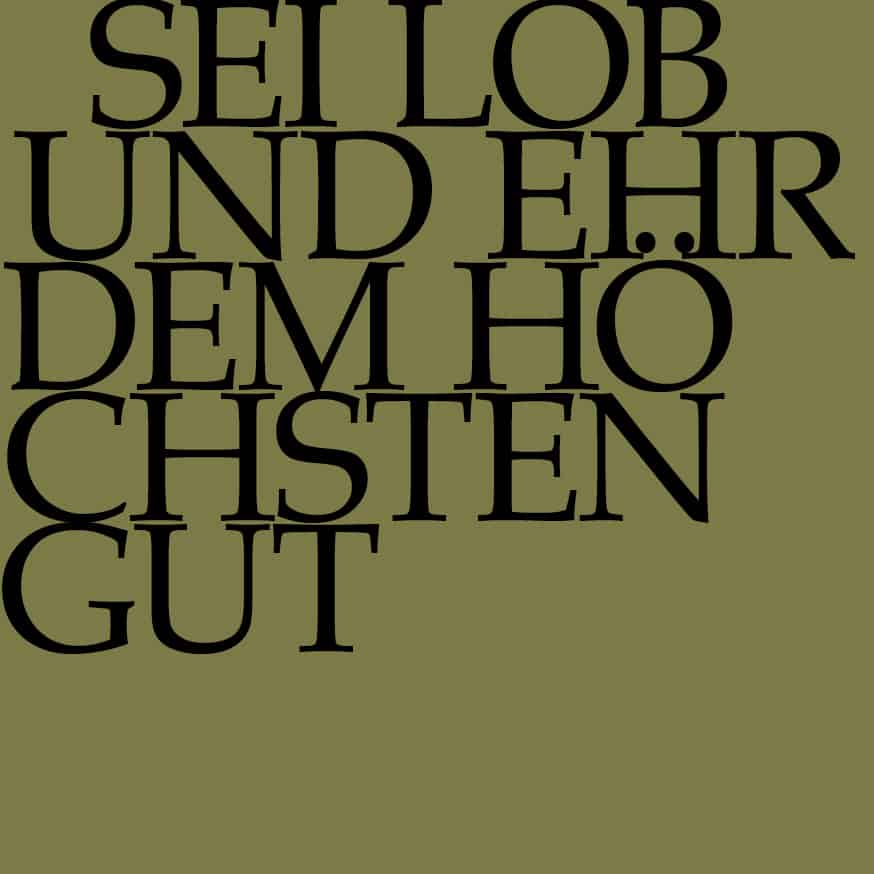 Video
Experience the introductory workshop, concert and reflective lecture in full length.
«Lutzogram» for the introductory workshop
Rudolf Lutz's manuscript for the workshop
Choir
Soprano
Jessica Jans, Jennifer Ribeiro Rudin, Simone Schwark, Noëmi Sohn Nad, Baiba Urka, Mirjam Wernli
Alto
Antonia Frey, Francisca Näf, Alexandra Rawohl, Jan Thomer, Sarah Widmer
Tenor
Clemens Flämig, Achim Glatz, Tobias Mäthger, Nicolas Savoy
Bass
Jean-Christophe Groffe, Johannes Hill, Grégoire May, Daniel Pérez, William Wood
Orchestra
Conductor
Rudolf Lutz
Violin
Renate Steinmann, Monika Baer, Patricia Do, Claire Foltzer, Elisabeth Kohler, Salome Zimmermann
Viola
Susanna Hefti, Matthias Jäggi, Stella Mahrenholz
Violoncello
Martin Zeller, Hristo Kouzmanov
Violone
Markus Bernhard
Transverse flute
Tomoko Mukoyama, Rebekka Brunner
Oboe/Oboe d'amore
Clara Espinosa, Amy Power
Bassoon
Susann Landert
Harpsichord
Thomas Leininger
Organ
Nicola Cumer
Musical director & conductor
Rudolf Lutz
Workshop
Participants
Rudolf Lutz, Pfr. Niklaus Peter
Reflective lecture
Speaker
Caroline Schröder Field
Recording & editing
Recording date
21/10/2022
Recording location
Trogen AR (Schweiz) // protestant church
Sound engineer
Stefan Ritzenthaler
Producer
Meinrad Keel
Executive producer
Johannes Widmer
Production
GALLUS MEDIA AG, Schweiz
Producer
J.S. Bach-Stiftung, St. Gallen, Schweiz
Librettist
First performance
In 1731 – Schlosskirche (castle church) in Weissenfels
Text
Johann Jakob Schütz
Libretto
1. Chor
Versus 1
Sei Lob und Ehr dem höchsten Gut,
dem Vater aller Güte,
dem Gott, der alle Wunder tut,
dem Gott, der mein Gemüte
mit seinem reichen Trost erfüllt,
dem Gott, der allen Jammer stillt.
Gebt unserm Gott die Ehre!
2. Rezitativ — Bass
Versus 2
Es danken dir die Himmelsheer,
o Herrscher aller Thronen,
und die auf Erden, Luft und Meer
in deinem Schatten wohnen,
die preisen deine Schöpfersmacht,
die alles also wohl bedacht.
Gebt unserm Gott die Ehre!
3. Arie — Tenor
Versus 3
Was unser Gott geschaffen hat,
das will er auch erhalten;
darüber will er früh und spat
mit seiner Gnade walten.
In seinem ganzen Königreich
ist alles recht und alles gleich.
Gebt unserm Gott die Ehre!
4. Choral
Versus 4
Ich rief dem Herrn in meiner Not:
Ach Gott, vernimm mein Schreien!
Da half mein Helfer mir vom Tod
und ließ mir Trost gedeihen.
Drum dank, ach Gott, drum dank ich dir;
ach danket, danket Gott mit mir!
Gebt unserm Gott die Ehre!
5. Rezitativ — Alt
Versus 5
Der Herr ist noch und nimmer nicht
von seinem Volk geschieden,
er bleibet ihre Zuversicht,
ihr Segen, Heil und Frieden;
mit Mutterhänden leitet er
die Seinen stetig hin und her.
Gebt unserm Gott die Ehre!
6. Arie — Bass
Versus 6
Wenn Trost und Hülf ermangeln muß,
die alle Welt erzeiget,
so kömmt, so hilft der Überfluß,
der Schöpfer selbst, und neiget
die Vateraugen denen zu,
die sonsten nirgend finden Ruh.
Gebt unserm Gott die Ehre!
7. Arie — Alt
Versus 7
Ich will dich all mein Leben lang,
o Gott, von nun an ehren;
man soll, o Gott, den Lobgesang
an allen Orten hören.
Mein ganzes Herz ermuntre sich,
mein Geist und Leib erfreue sich.
Gebt unserm Gott die Ehre!
8. Rezitativ — Tenor
Versus 8
Ihr, die ihr Christi Namen nennt,
gebt unserm Gott die Ehre!
Ihr, die ihr Gottes Macht bekennt,
gebt unserm Gott die Ehre!
Die falschen Götzen macht zu Spott,
der Herr ist Gott, der Herr ist Gott:
Gebt unserm Gott die Ehre!
9. Chor
Versus 9
So kommet vor sein Angesicht
mit jauchzenvollem Springen;
bezahlet die gelobte Pflicht
und laßt uns fröhlich singen:
Gott hat es alles wohl bedacht
und alles, alles recht gemacht.
Gebt unserm Gott die Ehre!
Bibliographical references
All libretti sourced from Neue Bach-Ausgabe. Johann Sebastian Bach. Neue Ausgabe sämtlicher Werke, published by the Johann-Sebastian-Bach-Institut Göttingen and the Bach-Archiv Leipzig, Series I (Cantatas), vol. 1–41, Kassel and Leipzig, 1954–2000.
All in-depth analyses by Anselm Hartinger (English translations/editing by Alice Noger-Gradon/Mary Carozza) based on the following sources:  Hans-Joachim Schulze, Die Bach-Kantaten. Einführungen zu sämtlichen Kantaten Johann Sebastian Bachs, Leipzig, 2nd edition, 2007; Alfred Dürr, Johann Sebastian Bach. Die Kantaten, Kassel, 9th edition, 2009, and Martin Petzoldt, Bach-Kommentar. Die geistlichen Kantaten, Stuttgart, vol. 1, 2nd edition, 2005 and vol. 2, 1st edition, 2007.