Weinen, klagen, sorgen, zagen
BWV 012 // For Jubilate (Third Sunday after Easter)
(Weeping, Wailing, Grieving, Fearing) for alto, tenor and bass, vocal ensemble, tromba, oboe, bassoon, strings and continuo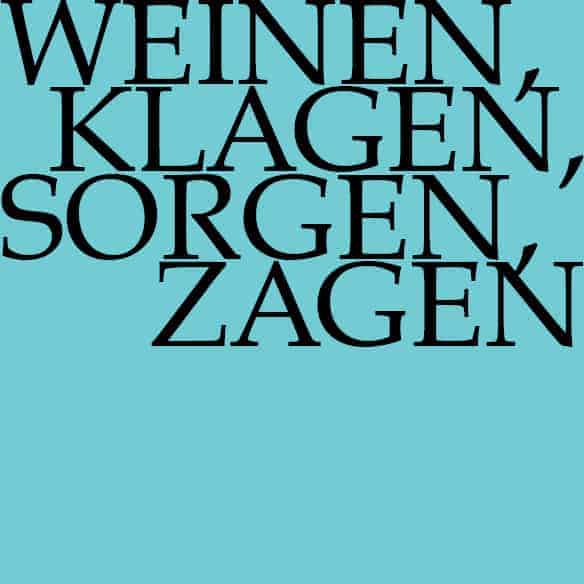 Video
Experience the introductory workshop, concert and reflective lecture in full length.
Workshop
Reflective lecture
«Lutzogram» for the introductory workshop
Rudolf Lutz's manuscript for the workshop
Choir
Soprano
Olivia Fündeling, Susanne Seitter, Noëmi Sohn Nad, Noëmi Tran Rediger, Alexa Vogel
Alto
Antonia Frey, Katharina Jud, Alexandra Rawohl, Damaris Rickhaus, Lea Scherer
Tenor
Clemens Flämig, Nicolas Savoy, Walter Siegel
Bass
Fabrice Hayoz, Philippe Rayot, Manuel Walser, William Wood
Orchestra
Conductor
Rudolf Lutz
Violin
Plamena Nikitassova, Dorothee Mühleisen, Christine Baumann, Yuko Ishikawa, Elisabeth Kohler, Ildiko Sajgo
Viola
Martina Bischof, Peter Barczi, Joanna Bilger, Sarah Krone
Violoncello
Maya Amrein, Hristo Kouzmanov
Violone
Iris Finkbeiner
Oboe
Katharina Arfken
Bassoon
Susann Landert
Tromba da tirarsi
Patrick Henrichs
Organ
Nicola Cumer
Musical director & conductor
Rudolf Lutz
Workshop
Participants
Karl Graf, Rudolf Lutz
Reflective lecture
Speaker
Andrea Köhler
Recording & editing
Recording date
04/19/2013
Recording location
Teufen
Sound engineer
Stefan Ritzenthaler
Director
Meinrad Keel
Production manager
Johannes Widmer
Production
GALLUS MEDIA AG, Switzerland
Producer
J.S. Bach Foundation of St. Gallen, Switzerland
Matching publications in our shop
Librettist
Text
Poet as yet unknown,
probably Salomo Franck (1659–1725)
Text No. 3
Quote from Acts of the Apostles 14:22
Text No. 7
Samuel Rodigast (1649–1708)
First performance
Jubilate,
22 April 1714
Libretto
2. Chor
Weinen, Klagen,
Sorgen, Zagen,
Angst und Not
sind der Christen Tränenbrot,
die das Zeichen Jesu tragen.
3. Rezitativ (Alt)
«Wir müssen durch viel Trübsal in das Reich Gottes eingehen.»
4. Arie (Alt)
Kreuz und Kronen sind verbunden,
Kampf und Kleinod sind vereint.
Christen haben alle Stunden
ihre Qual und ihren Feind,
doch ihr Trost sind Christi Wunden.
5. Arie (Bass)
Ich folge Christo nach,
von ihm will ich nicht lassen
im Wohl und Ungemach,
im Leben und Erblassen.
Ich küsse Christi Schmach,
ich will sein Kreuz umfassen.
Ich folge Christo nach,
von ihm will ich nicht lassen.
6. Arie (Tenor)
Sei getreu, alle Pein
wird doch nur ein Kleines sein.
Nach dem Regen
blüht der Segen,
alles Wetter geht vorbei,
sei getreu, sei getreu.
7. Choral
Was Gott tut, das ist wohlgetan,
dabei will ich verbleiben,
es mag mich auf die rauhe Bahn
Not, Tod und Elend treiben,
so wird Gott mich
ganz väterlich
In seinen Armen halten,

drum lass ich ihn nur walten.
Bibliographical references
All libretti sourced from Neue Bach-Ausgabe. Johann Sebastian Bach. Neue Ausgabe sämtlicher Werke, published by the Johann-Sebastian-Bach-Institut Göttingen and the Bach-Archiv Leipzig, Series I (Cantatas), vol. 1–41, Kassel and Leipzig, 1954–2000.
All in-depth analyses by Anselm Hartinger (English translations/editing by Alice Noger-Gradon/Mary Carozza) based on the following sources:  Hans-Joachim Schulze, Die Bach-Kantaten. Einführungen zu sämtlichen Kantaten Johann Sebastian Bachs, Leipzig, 2nd edition, 2007; Alfred Dürr, Johann Sebastian Bach. Die Kantaten, Kassel, 9th edition, 2009, and Martin Petzoldt, Bach-Kommentar. Die geistlichen Kantaten, Stuttgart, vol. 1, 2nd edition, 2005 and vol. 2, 1st edition, 2007.