Himmelskönig, sei willkommen
BWV 182 // For Palm Sunday
(King of heaven, thou art welcome) for alto, tenor and bass, vocal ensemble, recorder, strings and continuo.
The cantata "Himmelskönig, sei willkommen" (King of heaven, thou art welcome) BWV 182, written for Palm Sunday in 1714, was Bach's first composition following his appointment as Konzertmeister at the ducal court of Weimar. Based on a specification in some of the performance parts, renowned Bach scholar Alfred Dürr assumes that Bach initially planned to end the cantata directly after verse six with a recapitulation of the opening chorus. This would have given it the style of a concertoaria cantata – an antiquated form that Bach had largely discontinued using. When Bach became Thomascantor in Leipzig, he could not reuse the cantata in its original form as – unlike in Weimar – Palm Sunday belonged to the church year's "tempus clausum" (closed time) during which the performance of concerted music with instruments was suspended. It is thus likely that Bach rededicated the work in 1726 for the Feast of the Annunciation and adapted it to present Christ's entry into Jerusalem as a metaphor for his entrance into the world.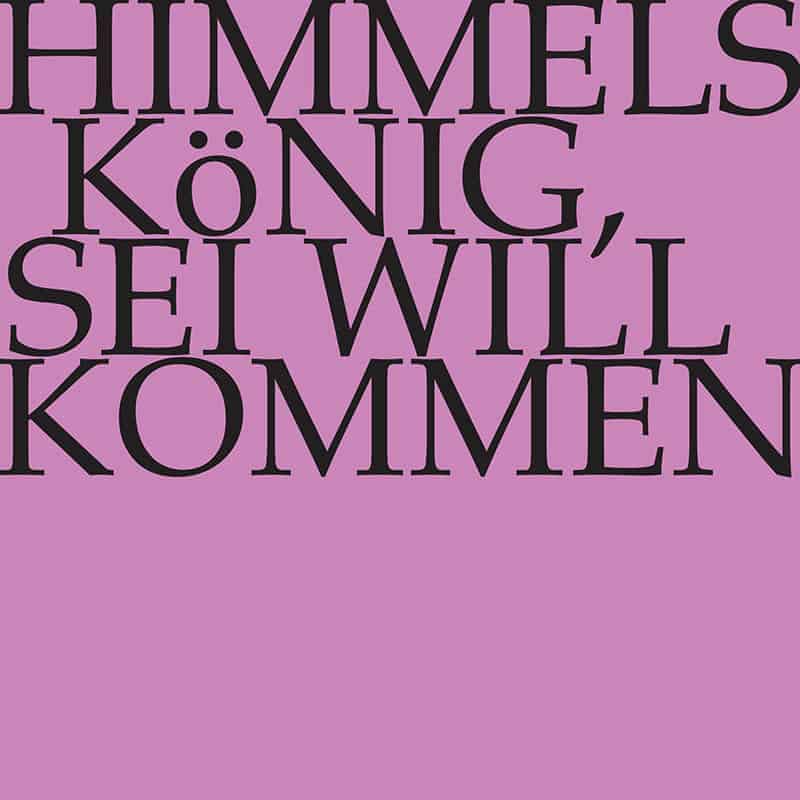 Video
Experience the introductory workshop, concert and reflective lecture in full length.
«Lutzogram» for the introductory workshop
Rudolf Lutz's manuscript for the workshop
Audio
The sound recording of this work is available on several streaming and download platforms.
Choir
Soprano
Susanne Frei, Guro Hjemli, Noëmi Tran Rediger
Alto
Jan Börner, Antonia Frey, Olivia Heiniger
Tenor
Marcel Fässler, Manuel Gerber, Walter Siegel
Bass
Fabrice Hayoz, Philippe Rayot, William Wood
Orchestra
Conductor
Rudolf Lutz
Violin
Renate Steinmann
Viola
Susanna Hefti, Céline Portat
Violoncello
Maya Amrein
Violone
Constantin Bradatan
Recorder/Flute
Armelle Plantier
Organ
David Blunden
Musical director & conductor
Rudolf Lutz
Workshop
Participants
Karl Graf, Rudolf Lutz
Reflective lecture
Speaker
Gottfried Wagner
Recording & editing
Recording date
03/30/2007
Recording location
Trogen
Sound engineer
Stefan Ritzenthaler
Director
Meinrad Keel
Production manager
Johannes Widmer
Production
GALLUS MEDIA AG, Switzerland
Producer
J.S. Bach Foundation of St. Gallen, Switzerland
Matching publications in our shop
Librettist
Text No. 2, 4–6, 8
Salomo Franck (?)
Text No. 3
Psalm 40:8–9
Text No. 7
Paul Stockmann, 1633
(33rd verse from "Jesu Leiden,
Pein and Tod")
First performance
25 March 1714, Weimar
In-depth analysis
Aside from adjustments in thematic issues, the changes to the instrumentation of the opening Sinfonia testify to Bach's sensitivity to the setting of his performances. While a dialogue of solo recorder and violin over pizzicato strings sufficed for the small, but lofty "Himmelsburg" church of Weimar castle (the version featured in this recording), Bach added another violin and an oboe to achieve a fuller sound for the larger churches in Leipzig. The delicate and transparent compositional style of the Sinfonia sets an introspective tone for the whole cantata: the entry of Jesus into Jerusalem – precipitating his denunciation and crucifixion – is not presented as the grand entrance of a worldly prince, but rather as the king of heaven's homecoming in the hearts of his followers. This humility is underscored by the naively direct timbre of the recorder which also characterises the opening chorus. Taking the form of a da capo choral aria with a contrasting middle section, this movement features a permutation fugue of extraordinary mastery in which each voice successively repeats a sequence comprising a theme and three counter-themes. The subsequent recitative melds after just a few bars into an arioso. In the former, the bass voice takes on the role of Christ himself, declaring his submission – through his crucifixion – to the will of God the Father. In the ensuing aria, the bass then becomes an empathetic commentator on this suffering. Accompanied by a shimmering string section with an intricate first violin solo, the singer repeatedly stresses the "strong compassion" that enabled Jesus to make his supreme sacrifice. This movement is followed by an aria with recorder obbligato that poignantly manifests why baroque still life paintings depict this instrument as a symbol of sorrow and transience. The mood of the aria echoes the essence of a "natura mortis", creating a music that is virtually detached from time. Over halting bass notes, the recorder and alto voice intone a plaintive dialogue of descending lines that shifts the theme of submission to God's will over to the believers and their relationship to Christ, to whom they must dedicate "life and possessions". At this point in the composition, hierarchal concepts are illustrated by mirroring class divides in baroque society – from the ruling lord down to the lowliest subject – an approach that was undoubtedly received with favour at a princely court. In the tenor aria, a florid continuo ritornello, the listener experiences the "weal and woe" that Christ must undergo on his arduous journey. In the harsh "Crucify!" phrase that ensues, there is more than a mere suggestion of the impending Passion. Here, the identification of each simple believer with Christ's sacrifice materialises as the leitmotif of the cantata. The following chorale setting of "Jesus, this thy passion, brings me purest pleasure" skilfully echoes and intensifies the theme; upon hearing this exacting movement, the Weimar court officials must have sensed that they had appointed a master organist as church composer. Composer and librettist, however, chose not to end their work on an all too sombre note – a buoyant three-section final chorus follows, with the light-hearted recorder melody conjuring up a dance-like variation of the opening movement. A more apt medium to convey inner, spiritual joy – despite the undertones of sorrow – is difficult to conceive of. At the same time, the compositional finesse of the movement also indicates that Bach was well on the path to the mature ensemble writing of his Brandenburg concertos.
Libretto
2. Chor
Himmelskönig, sei willkommen,
lass auch uns dein Zion sein!
Komm herein!
Du hast uns das Herz genommen.
3. Rezitativ (Bass)
Siehe, ich komme, im Buch ist von mir geschrieben;
deinen Willen, mein Gott, tu ich gerne.
4. Arie (Bass)
Starkes Lieben,
das dich, grosser Gottessohn, von dem Thron
deiner Herrlichkeit getrieben!
Starkes Lieben,
dass du dich zum Heil der Welt
als ein Opfer fürgestellt,
dass du dich mit Blut verschrieben.
5. Arie (Alt)
Leget euch dem Heiland unter,
Herzen, die ihr christlich seid!
Tragt ein unbeflecktes Kleid
eures Glaubens ihm entgegen;
Leib und Leben und Vermögen
sei dem König itzt geweiht.
6. Arie (Tenor)
Jesu, lass durch Wohl und Weh
mich auch mit dir ziehen!
Schreit die Welt nur «Kreuzige!»,
so lass mich nicht fliehen,
Herr, vor deinem Kreuzpanier;
Kron und Palmen find ich hier.
7. Choral
Jesu, deine Passion
ist mir lauter Freude,
deine Wunden, Kron und Hohn
meines Herzens Weide;
meine Seel auf Rosen geht,
wenn ich dran gedenke,
in dem Himmel eine Stätt
uns deswegen schenke.
8. Chor
So lasset uns gehen in Salem der Freuden!
Begleitet den König in Lieben und Leiden!
Er gehet voran
und öffnet die Bahn.
Bibliographical references
All libretti sourced from Neue Bach-Ausgabe. Johann Sebastian Bach. Neue Ausgabe sämtlicher Werke, published by the Johann-Sebastian-Bach-Institut Göttingen and the Bach-Archiv Leipzig, Series I (Cantatas), vol. 1–41, Kassel and Leipzig, 1954–2000.
All in-depth analyses by Anselm Hartinger (English translations/editing by Alice Noger-Gradon/Mary Carozza) based on the following sources:  Hans-Joachim Schulze, Die Bach-Kantaten. Einführungen zu sämtlichen Kantaten Johann Sebastian Bachs, Leipzig, 2nd edition, 2007; Alfred Dürr, Johann Sebastian Bach. Die Kantaten, Kassel, 9th edition, 2009, and Martin Petzoldt, Bach-Kommentar. Die geistlichen Kantaten, Stuttgart, vol. 1, 2nd edition, 2005 and vol. 2, 1st edition, 2007.