Es wartet alles auf dich
BWV 187 // For the Seventh Sunday after Trinity
(Here look now all men to thee) for soprano, alto and bass, vocal ensemble, oboe I+II, strings and basso continuo
Inspired by the cantatas of Bach's cousin Johann Ludwig, BWV 187 is a two-part composition based on a Bible verse from the Old and New Testaments, respectively. Its form is typical for Bach's third cantata cycle, and its expansive structures and mature compositional artistry bear witness to the master's development as a composer of sacred music in his first Leipzig years.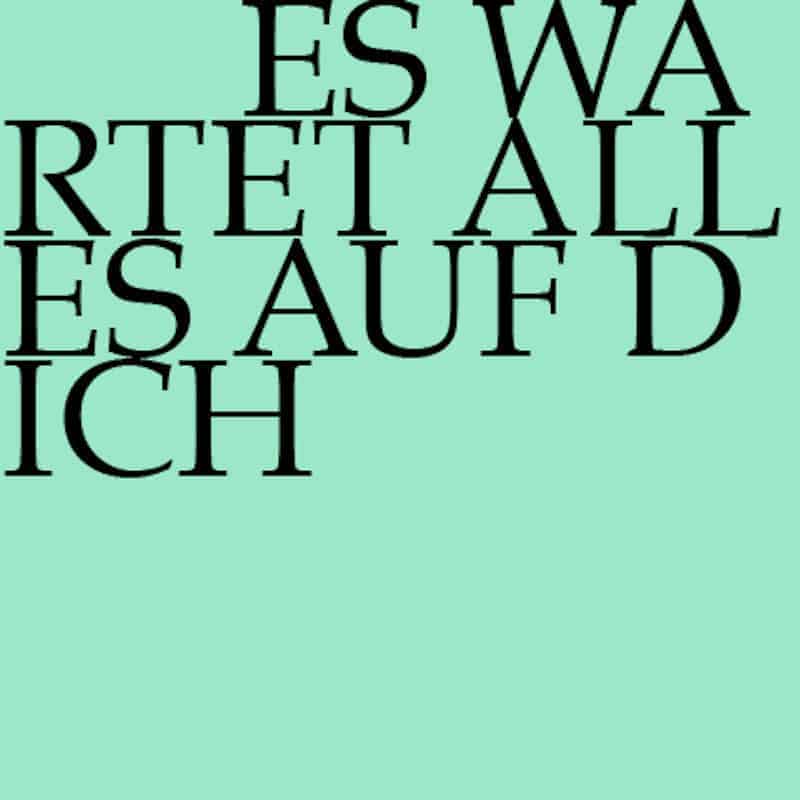 Video
Experience the introductory workshop, concert and reflective lecture in full length.
«Lutzogram» for the introductory workshop
Rudolf Lutz's manuscript for the workshop
Audio
The sound recording of this work is available on several streaming and download platforms.
Choir
Soprano
Jessica Jans, Susanne Seitter, Noëmi Sohn Nad, Alexa Vogel, Anna Walker, Mirjam Wernli Berli
Alto
Antonia Frey, Stefan Kahle, Misa Jäggin, Francisca Näf ,Damaris Rickhaus
Tenor
Manuel Gerber, Sören Richter, Nicolas Savoy, Walter Siegel
Bass
Matthias Lutze, Grégoire May, Daniel Pérez, Retus Pfister, Philippe Rayot
Orchestra
Conductor
Rudolf Lutz
Violin
Renate Steinmann, Monika Baer, Claire Foltzer, Dorothee Mühleisen, Olivia Schenkel, Salome Zimmermann
Viola
Susanna Hefti, Martina Zimmermann, Matthias Jäggi
Violoncello
Bettina Messerschmidt, Martin Zeller
Violone
Markus Bernhard
Oboe
Andreas Helm, Philipp Wagner
Bassoon
Susann Landert
Organ
Nicola Cumer
Harpsichord
Thomas Leininger
Musical director & conductor
Rudolf Lutz
Workshop
Participants
Karl Graf, Rudolf Lutz
Reflective lecture
Speaker
Beat Kappeler
Recording & editing
Recording date
31.03.2017
Recording location
Trogen AR (Schweiz) // Evangelische Kirche
Sound engineer
Stefan Ritzenthaler
Director
Meinrad Keel
Production manager
Johannes Widmer
Production
GALLUS MEDIA AG, Switzerland
Producer
J.S. Bach Foundation of St. Gallen, Switzerland
Matching publications in our shop
Librettist
Text No. 1
Psalm 104:27–28
Text No. 2, 3, 5, 6
Poet unknown
Text No. 4
Matthew 6:31–32
Text No. 7
Hans Vogel (1563)
First performance
Seventh Sunday after Trinity,
4 August 1726
Libretto
Erster Teil
1. Chor
«Es wartet alles auf dich, daß du ihnen Speise
gebest zu seiner Zeit. Wenn du ihnen gibest,
so sammlen sie, wenn du deine Hand auftust,
so werden sie mit Güte gesättiget.»
2. Rezitativ (Bass)
Was Kreaturen hält das große Rund der Welt!
Schau doch die Berge an, da sie bei tausend gehen;
was zeuget nicht die Flut? Es wimmeln Ström
und Seen.
Der Vögel großes Heer zieht durch die Luft zu Feld.
Wer nähret solche Zahl,
und wer vermag ihr wohl die Notdurft abzugeben?
Kann irgendein Monarch nach solcher Ehre streben?
Zahlt aller Erden Gold ihr wohl ein einig Mal?
3. Arie (Alt)
Du Herr, du krönst allein das Jahr mit deinem Gut.
Es träufet Fett und Segen
auf deines Fußes Wegen,
und deine Gnade ists, die allen Gutes tut.
Zweiter Teil
4. Arie (Bass)
«Darum sollt ihr nicht sorgen noch sagen:
Was werden wir essen, was werden wir
trinken? womit werden wir uns kleiden?
Nach solchem allen trachten die Heiden.
Denn euer himmlischer Vater weiß, daß ihr
dies alles bedürfet.»
5. Arie (Sopran)
Gott versorget alles Leben,
was hienieden Odem hegt.
Sollt er mir allein nicht geben,
was er allen zugesagt?
Weicht, ihr Sorgen, seine Treue
ist auch meiner eingedenk
und wird ob mir täglich neue
durch manch Vaterliebs Geschenk.
6. Rezitativ (Sopran)
Halt ich nur fest an ihm mit kindlichem
Vertrauen und nehm mit Dankbarkeit,
was er mir zugedacht,
so werd ich mich nie ohne Hülfe schauen,
und wie er auch vor mich die Rechnung hab gemacht.
Das Grämen nützet nicht, die Mühe ist verloren,
die das verzagte Herz um seine Notdurft nimmt;
der ewig reiche Gott hat sich die Sorge auserkoren,
so weiß ich, daß er mir auch meinen Teil bestimmt.
7. Choral
1.
Gott hat die Erde zugericht',
läßts an Nahrung mangeln nicht;
Berg und Tal, die macht er naß,
daß dem Vieh auch wächst sein Gras;
aus der Erden Wein und Brot
schaffet Gott und gibts uns satt,
daß der Mensch sein Leben hat.
2.
Wir danken sehr und bitten ihn,
daß er uns geb des Geistes Sinn,
daß wir solches recht verstehn,
stets in sein' Geboten gehn,
seinen Namen machen groß
in Christo ohn Unterlaß:
so singn wir recht das Gratias.
Bibliographical references
All libretti sourced from Neue Bach-Ausgabe. Johann Sebastian Bach. Neue Ausgabe sämtlicher Werke, published by the Johann-Sebastian-Bach-Institut Göttingen and the Bach-Archiv Leipzig, Series I (Cantatas), vol. 1–41, Kassel and Leipzig, 1954–2000.
All in-depth analyses by Anselm Hartinger (English translations/editing by Alice Noger-Gradon/Mary Carozza) based on the following sources:  Hans-Joachim Schulze, Die Bach-Kantaten. Einführungen zu sämtlichen Kantaten Johann Sebastian Bachs, Leipzig, 2nd edition, 2007; Alfred Dürr, Johann Sebastian Bach. Die Kantaten, Kassel, 9th edition, 2009, and Martin Petzoldt, Bach-Kommentar. Die geistlichen Kantaten, Stuttgart, vol. 1, 2nd edition, 2005 and vol. 2, 1st edition, 2007.