Es erhub sich ein Streit
BWV 019 // Feast of St Michael and All Angels
(There arose a great strife) for soprano, alto, tenor and bass; vocal ensemble, oboe and oboe d'amore I+II, taille, trumpet I-III, timpani, strings and basso continuo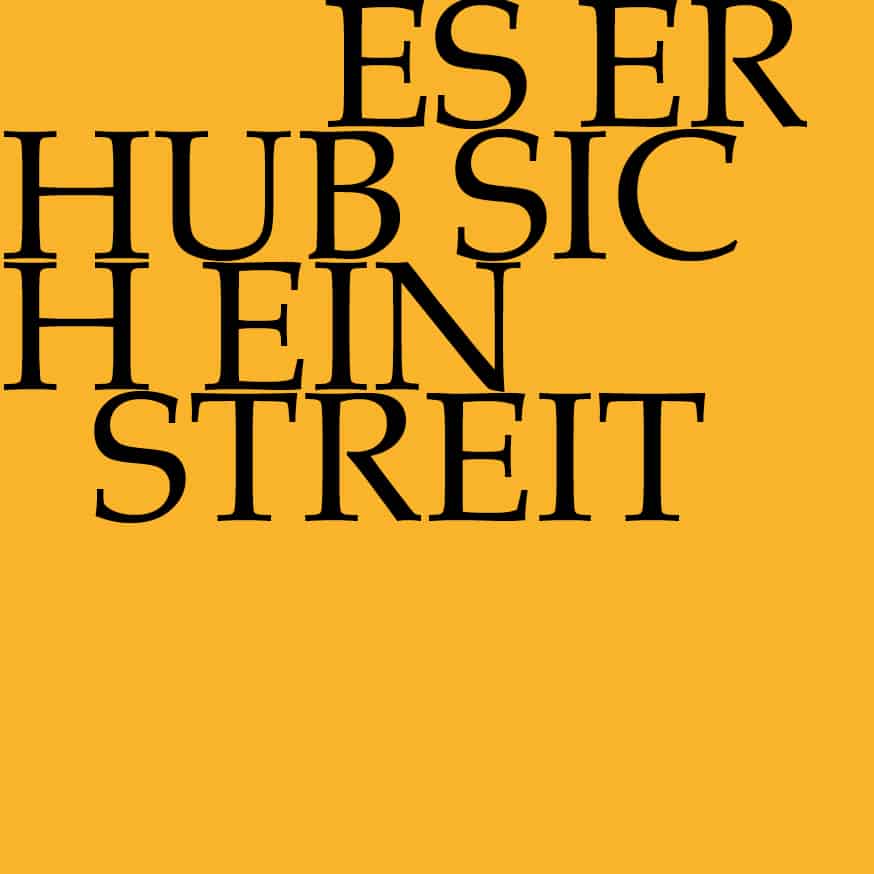 Video
Experience the introductory workshop, concert and reflective lecture in full length.
«Lutzogram» for the introductory workshop
Rudolf Lutz's manuscript for the workshop
Choir
Soprano
Lia Andres, Guro Hjemli, Linda Loosli, Stephanie Pfeffer, Mirjam Wernli, Ulla Westvik
Alto
Laura Binggeli, Antonia Frey, Lea Pfister-Scherer, Simon Savoy, Lisa Weiss
Tenor
Clemens Flämig, Manuel Gerber, Tiago Oliveira, Sören Richter
Bass
Jan Börner, Jean-Christophe Groffe, Valentin Parli, Daniel Pérez, Tobias Wicky
Orchestra
Conductor
Rudolf Lutz
Violin
Renate Steinmann, Monika Baer, Yuko Ishikawa, Petra Melicharek, Ildikó Sajgó, Rahel Wittling, Salome Zimmermann
Viola
Susanna Hefti,  Matthias Jäggi, Claire Foltzer
Violoncello
Martin Zeller, Bettina Messerschmidt
Violone
Markus Bernhard
Trumpet
Patrick Henrichs, Benedikt Neumann, Pavel Janeček
Timpani
Martin Homann
Oboe/Oboe d'amore
Andreas Helm, Thomas Meraner
Taille
Laura Alvarado
Bassoon
Susann Landert
Harpsichord
Thomas Leininger
Organ
Nicola Cumer
Musical director & conductor
Rudolf Lutz
Workshop
Participants
Rudolf Lutz, Pfr. Niklaus Peter
Reflective lecture
Speaker
Philipp Theisohn
Recording & editing
Recording date
19/08/2022
Recording location
Teufen AR (Schweiz) // Evangelische Kirche
Sound engineer
Stefan Ritzenthaler
Producer
Meinrad Keel
Executive producer
Johannes Widmer
Production
GALLUS MEDIA AG, Schweiz
Producer
J.S. Bach-Stiftung, St. Gallen, Schweiz
Matching publications in our shop
Librettist
First performance
29 September 1726, Leipzig
Text
Christian Friedrich Henrici (Picander, movements 1–6), unknown source (movement 7)
Libretto
1. Chor
Es erhub sich ein Streit.
Die rasende Schlange, der höllische Drache
stürmt wider den Himmel mit wütender Rache.
Aber Michael bezwingt,
und die Schar, die ihn umringt,
stürzt des Satans Grausamkeit.
2. Rezitativ — Bass
Gottlob! der Drache liegt.
Der unerschaffne Michael
und seiner Engel Heer
hat ihn besiegt.
Dort liegt er in der Finsternis
mit Ketten angebunden,
und seine Stätte wird nicht mehr
im Himmelreich gefunden.
Wir stehen sicher und gewiß,
und wenn uns gleich sein Brüllen schrecket,
so wird doch unser Leib und Seel
mit Engeln zugedecket.
3. Arie — Sopran
Gott schickt uns Mahanaim zu;
wir stehen oder gehen,
so können wir in sichrer Ruh
vor unsern Feinden stehen.
Es lagert sich so nah als fern,
um uns der Engel unsers Herrn
mit Feuer, Roß und Wagen.
4. Rezitativ — Tenor
Was ist der schnöde Mensch, das Erdenkind?
Ein Wurm, ein armer Sünder.
Schaut, wie ihn selbst der Herr so liebgewinnt,
daß er ihn nicht zu niedrig schätzet
und ihm die Himmelskinder,
der Seraphinen Heer,
zu seiner Wacht und Gegenwehr,
zu seinem Schutze setzet.
5. Arie — Tenor
Bleibt, ihr Engel, bleibt bei mir!
Führet mich auf beiden Seiten,
daß mein Fuß nicht möge gleiten!
Aber lernt mich auch allhier
euer großes Heilig singen
und dem Höchsten Dank zu singen!
6. Rezitativ — Sopran
Laßt uns das Angesicht
der frommen Engel lieben
und sie mit unsern Sünden nicht
vertreiben oder auch betrüben.
So sein sie, wenn der Herr gebeut,
der Welt Valet zu sagen,
zu unsrer Seligkeit
auch unser Himmelswagen.
7. Choral
Laß dein Engel mit mir fahren
auf Elias Wagen rot
und mein Seele wohl bewahren,
wie Lazrum nach seinem Tod.
Laß sie ruhn in deinem Schoß,
erfüll sie mit Freud und Trost,
bis der Leib kommt aus der Erde
und mit ihr vereinigt werde.
Reflection Philipp Theisohn
The cantata that we have heard and will hear again, Bachwerkverzeichnis No. 19, takes its starting point from a very specific passage from the New Testament, namely Revelation of John 12:7, which describes the battle of the archangel Michael and his angels with the dragon, the devil, Satanas, a battle that is decided in the Bible in three verses. I quote from Luther:
And there was a battle in heaven: Michael and his angels fought with the dragon; and the dragon fought and his angels, 8 and prevailed not, neither was their place found any more in heaven. 9 And the great dragon was cast out, that old serpent, which is called the devil, and Satan, which deceiveth the whole world: and he was cast unto the earth, and his angels were cast there also.
You will hear the echo of these verses in the chorus and in the recitative; it is a re-poem of or with the Luther translation. The arias and recitatives that follow are taken in their preliminary form from the Sammlung erbaulicher Gedancken (1725) Christian Friedrich Henricis (there 434 ff.), who was presumably also responsible for the text of the cantata as a whole and probably also wrote the final chorale, which deals with the chariot of heaven, Elijah and Lazarus. So much for the philology, which need not be carried too far at this point, but which nevertheless helps us a little, because it helps to subdivide this cantata text somewhat: The chorus and first recitative are adaptations of a biblical text, followed by the interpretation – allegorical, moral, in the final chorale anagogic. In other words, fourfold scriptural meaning. But first we stay with the litteral sense, that is, with what is written. And we notice two things. Firstly, in contrast to the biblical passage, the cantata text spends considerably more time on the loser of the battle, the dragon, the darkness in which he is forged, his roar. This is not necessarily done out of empathy, even if one may assume that the poet of the cantata text knew Milton's Paradise Lost and was also correspondingly familiar with the Luciferian fate. In the light of the cantata, of course, Satan's continuing presence also serves to actualise it: the battle in the heavens may be far away, long before us, long after us, but the devil and his servants are down here, living with us, their voice always audible. We have to deal with it, and how we are to do so, we learn when we listen carefully.
Secondly – and this is the actual thing to talk about: Michael. A figure of light. A tremendous divine power, archangel, the ruler of all angels, he basically needs no introduction, he is simply there, defeats the dragon, that is what he does, that is what he is. The cantata, which is the Michaelmas cantata, is also subject to him, the voices are subject to him – and at the same time this figure also arouses our suspicion, as is the case with all figures of light. Why is that so? Because figures of light are subject to certain conditions of production, which are made very clear to us here. Michael, as the first recitative reminds us, is "the uncreated", and "uncreated" he is in more ways than one. He, the most venerated of all the saints of the Church, is at the same time the only saint without a history of his own. Of course there are legends of Michael, but they do not bring us closer to the figure, they are legends of fighters and victors, they allow no empathy, no compassion. This figure has no psychology. She is "uncreated", has neither a birthday nor a place of birth, she cannot die, not even suffer. Only win. She dazzles.
That is certainly problematic. The counter-angel, the dragon, is unmistakably incomparably closer to man in his fall, in his torture, than Michael. But what may sound scandalous at first has a truth of its own: the undeniably good is far from us, it is an abstraction, and this also applies to the event of revelation, to the struggle between the last powers in which the Michael figure is located. If we are honest, this is not a struggle that becomes accessible to us, that is human, it is not Achilles against Hector. The poet of the cantata text knows this – and that is precisely why he adopts the dry diction of Luther's translation. "A quarrel arose" – Καὶ ἐγένετο πόλεμος ἐν τῷ οὐρανῷ – and in Greek this phrase has by no means more passion than in German. This quarrel "happens" and, even if Nietzsche is not entirely wrong in saying that God has not taken a good Greek, much is said in this impersonal verb form: after all, we think we know what a quarrel is, namely, a divisiveness, an opposition of two parties; and when we think of quarrel, our conception of it is directed entirely to the causes of this divisiveness: Conflicting claims, misunderstandings, irritability. But all that is omitted here: the quarrel between Michael and the dragon needs no justification – and only the loser develops an emotional profile. Nothing remains for the winner, Michael. And that is why the text must not end after the first recitative, but must still convey to the audience what it has in common with Michael.
What is peculiar about this text is its change of perspective. At the end of the first recitative, the "we" are still assigned a rather passive position: We are indeed frightened by the roaring dragon, but then "covered with angels", i.e. protected from evil. But that changes now. With the beginning of the aria, a journey begins: "God sends us to Mahanaim", it says, and this does not mean that God sends something to man, but that he sends him to a very specific place, namely to the place where Jacob meets the angels of God in Genesis 32:2; he understands that this is the "camp of God":
 כַּאֲשֶׁ֣ר רָאָ֔ם מַחֲנֵ֥ה אֱלֹהִ֖ים.
And because the army camp is called "Machaneh" in Hebrew, he names the place "Machanajim", which is the Hebrew dual and accordingly means "two camps". So we are sent to this place, and if at first it reads as if it is only a matter of getting there in order to be protected by the angels from then on, "standing or walking", we must not be completely naive: "We" stand "before our enemies" in the army, "fire, horse and chariot" around us, in the midst of a battle that continues in the inner world, a battle for the soul. It has its meaning that "Machaneh" becomes "Machanajim": because it is precisely about this doubling. Heaven and earth, but also angels and humans, each a camp, a common army. Henrici's text reflects this: the angels protect, but they are also comrades in arms – and the doubling goes even further.
On the surface, man remains "a worm, a poor sinner" who can basically only escape the devil because God is so gracious as to send him "the seraphim's" army for protection. However, the one whom the seraphim surround is actually Michael, the Lord of the Seraphim, that figure of whom we had just claimed that he was unapproachable, unprofiled, unbroken light. In fact, she is not, if one only walks through the cantata: The low and the high, the worm and the archangel mirror each other, complement each other. The figure of light lends man reliable protection when he sets out for the army camp and arms himself; conversely, Michael receives a vita, a profile, a history in the unprotected, always challenged, temptable. This dialectic calls the cantata and at the same time emphasises its fragility, which must be sought where history and stories come to an end, where army camps must be changed: in death.
Here one could look separately at the final chorale, which is about the escort of the chariots of the soul beyond death and about the resurrection. That is quickly understood. It seems more important to me to once again undertake the fundamental reflection of this text: Its task, as already explained, consists in the difficult undertaking of singing about a figure to whom nothing sticks, who is basically uncountable and who, moreover, even outside the events of the Revelation, in Enoch literature, i.e. in the Apocrypha, simply remains an indomitable warrior figure, without – as it is called today – a "backwound story", untraumatised.
We have seen that the text seeks the solution by having Michael, surrounded by hosts of angels, mirror himself in the human being surrounded by hosts of angels, so that the latter gets an earthly revenant in the "other camp". However, this by no means answers the question of where such a figure as the archangel Michael comes from in the first place, what it is needed for, what is "meant to be said" with it. I will certainly not be able to answer this question adequately at this point, but I will give a hint. An "uncreated" figure of which it is said that its function is, among other things, to soften the divine radiance so that creation can enter into contact with the Creator at all: such a figure is in fact a "light figure", i.e. a medium. Michael does not so much appear as he allows others and other things to appear, to come to light. In the Judeo-Christian tradition, this can and will first of all be God, whom he not only represents, but whose presence Michael marks in the first place. But that is by no means his only function.
The archangel makes things visible, his triumph over his nemesis Lucifer consists in the fact that the latter must appear in his light at the end, just as the contours of everything that happens here below can only be recognised in this light. Thus, the cantata text points us to another track: we recognise ourselves as what we are only in the light of the "dragon conqueror", the history of humanity can only be understood in the light of the non-historical, sinfulness only under the auspices of the one who knows no contestation. At the same time, however, it is obvious: This figure is not a figure that can be emulated, there can be no imitatio Michaelis. Michael remains a figure that is only imaginable for us by breaking itself against us and against the world, which remains invisible without resistance. She needs the strife that will now arise.
Philipp Theisohn
This text has been translated with DeepL (www.deepl.com).
Bibliographical references
All libretti sourced from Neue Bach-Ausgabe. Johann Sebastian Bach. Neue Ausgabe sämtlicher Werke, published by the Johann-Sebastian-Bach-Institut Göttingen and the Bach-Archiv Leipzig, Series I (Cantatas), vol. 1–41, Kassel and Leipzig, 1954–2000.
All in-depth analyses by Anselm Hartinger (English translations/editing by Alice Noger-Gradon/Mary Carozza) based on the following sources:  Hans-Joachim Schulze, Die Bach-Kantaten. Einführungen zu sämtlichen Kantaten Johann Sebastian Bachs, Leipzig, 2nd edition, 2007; Alfred Dürr, Johann Sebastian Bach. Die Kantaten, Kassel, 9th edition, 2009, and Martin Petzoldt, Bach-Kommentar. Die geistlichen Kantaten, Stuttgart, vol. 1, 2nd edition, 2005 and vol. 2, 1st edition, 2007.