Es erhub sich ein Streit
BWV 019 // Feast of St Michael and All Angels
(There arose a great strife) for soprano, alto, tenor and bass; vocal ensemble, oboe and oboe d'amore I+II, taille, trumpet I-III, timpani, strings and basso continuo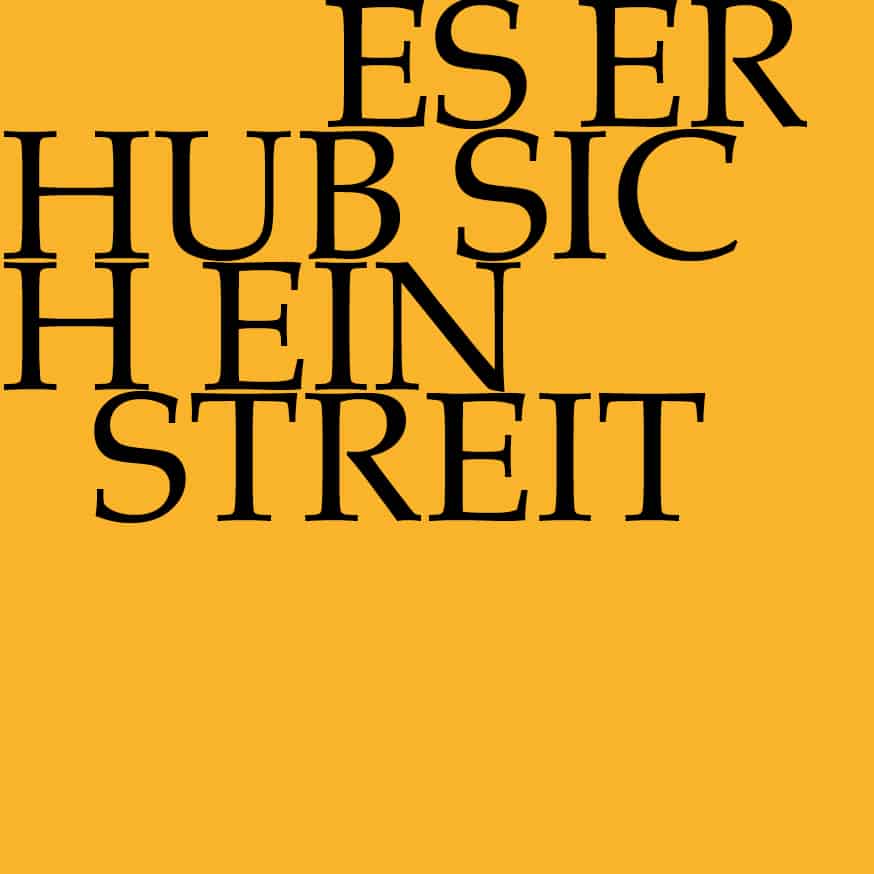 Video
Experience the introductory workshop, concert and reflective lecture in full length.
«Lutzogram» for the introductory workshop
Rudolf Lutz's manuscript for the workshop
Choir
Soprano
Lia Andres, Guro Hjemli, Linda Loosli, Stephanie Pfeffer, Mirjam Wernli, Ulla Westvik
Alto
Laura Binggeli, Antonia Frey, Lea Pfister-Scherer, Simon Savoy, Lisa Weiss
Tenor
Clemens Flämig, Manuel Gerber, Tiago Oliveira, Sören Richter
Bass
Jan Börner, Jean-Christophe Groffe, Valentin Parli, Daniel Pérez, Tobias Wicky
Orchestra
Conductor
Rudolf Lutz
Violin
Renate Steinmann, Monika Baer, Yuko Ishikawa, Petra Melicharek, Ildikó Sajgó, Rahel Wittling, Salome Zimmermann
Viola
Susanna Hefti,  Matthias Jäggi, Claire Foltzer
Violoncello
Martin Zeller, Bettina Messerschmidt
Violone
Markus Bernhard
Trumpet
Patrick Henrichs, Benedikt Neumann, Pavel Janeček
Timpani
Martin Homann
Oboe/Oboe d'amore
Andreas Helm, Thomas Meraner
Taille
Laura Alvarado
Bassoon
Susann Landert
Harpsichord
Thomas Leininger
Organ
Nicola Cumer
Musical director & conductor
Rudolf Lutz
Workshop
Participants
Rudolf Lutz, Pfr. Niklaus Peter
Reflective lecture
Speaker
Philipp Theisohn
Recording & editing
Recording date
19/08/2022
Recording location
Teufen AR (Schweiz) // Evangelische Kirche
Sound engineer
Stefan Ritzenthaler
Producer
Meinrad Keel
Executive producer
Johannes Widmer
Production
GALLUS MEDIA AG, Schweiz
Producer
J.S. Bach-Stiftung, St. Gallen, Schweiz
Librettist
First performance
29 September 1726, Leipzig
Text
Christian Friedrich Henrici (Picander, movements 1–6), unknown source (movement 7)
Libretto
1. Chor
Es erhub sich ein Streit.
Die rasende Schlange, der höllische Drache
stürmt wider den Himmel mit wütender Rache.
Aber Michael bezwingt,
und die Schar, die ihn umringt,
stürzt des Satans Grausamkeit.
2. Rezitativ — Bass
Gottlob! der Drache liegt.
Der unerschaffne Michael
und seiner Engel Heer
hat ihn besiegt.
Dort liegt er in der Finsternis
mit Ketten angebunden,
und seine Stätte wird nicht mehr
im Himmelreich gefunden.
Wir stehen sicher und gewiß,
und wenn uns gleich sein Brüllen schrecket,
so wird doch unser Leib und Seel
mit Engeln zugedecket.
3. Arie — Sopran
Gott schickt uns Mahanaim zu;
wir stehen oder gehen,
so können wir in sichrer Ruh
vor unsern Feinden stehen.
Es lagert sich so nah als fern,
um uns der Engel unsers Herrn
mit Feuer, Roß und Wagen.
4. Rezitativ — Tenor
Was ist der schnöde Mensch, das Erdenkind?
Ein Wurm, ein armer Sünder.
Schaut, wie ihn selbst der Herr so liebgewinnt,
daß er ihn nicht zu niedrig schätzet
und ihm die Himmelskinder,
der Seraphinen Heer,
zu seiner Wacht und Gegenwehr,
zu seinem Schutze setzet.
5. Arie — Tenor
Bleibt, ihr Engel, bleibt bei mir!
Führet mich auf beiden Seiten,
daß mein Fuß nicht möge gleiten!
Aber lernt mich auch allhier
euer großes Heilig singen
und dem Höchsten Dank zu singen!
6. Rezitativ — Sopran
Laßt uns das Angesicht
der frommen Engel lieben
und sie mit unsern Sünden nicht
vertreiben oder auch betrüben.
So sein sie, wenn der Herr gebeut,
der Welt Valet zu sagen,
zu unsrer Seligkeit
auch unser Himmelswagen.
7. Choral
Laß dein Engel mit mir fahren
auf Elias Wagen rot
und mein Seele wohl bewahren,
wie Lazrum nach seinem Tod.
Laß sie ruhn in deinem Schoß,
erfüll sie mit Freud und Trost,
bis der Leib kommt aus der Erde
und mit ihr vereinigt werde.
Bibliographical references
All libretti sourced from Neue Bach-Ausgabe. Johann Sebastian Bach. Neue Ausgabe sämtlicher Werke, published by the Johann-Sebastian-Bach-Institut Göttingen and the Bach-Archiv Leipzig, Series I (Cantatas), vol. 1–41, Kassel and Leipzig, 1954–2000.
All in-depth analyses by Anselm Hartinger (English translations/editing by Alice Noger-Gradon/Mary Carozza) based on the following sources:  Hans-Joachim Schulze, Die Bach-Kantaten. Einführungen zu sämtlichen Kantaten Johann Sebastian Bachs, Leipzig, 2nd edition, 2007; Alfred Dürr, Johann Sebastian Bach. Die Kantaten, Kassel, 9th edition, 2009, and Martin Petzoldt, Bach-Kommentar. Die geistlichen Kantaten, Stuttgart, vol. 1, 2nd edition, 2005 and vol. 2, 1st edition, 2007.