Nun danket alle Gott
BWV 192 // For Reformation Sunday
(Now thank ye all our God) for Reformation Sunday, for soprano and bass, vocal ensemble, strings, transverse flute I+II, oboe I+II and basso continuo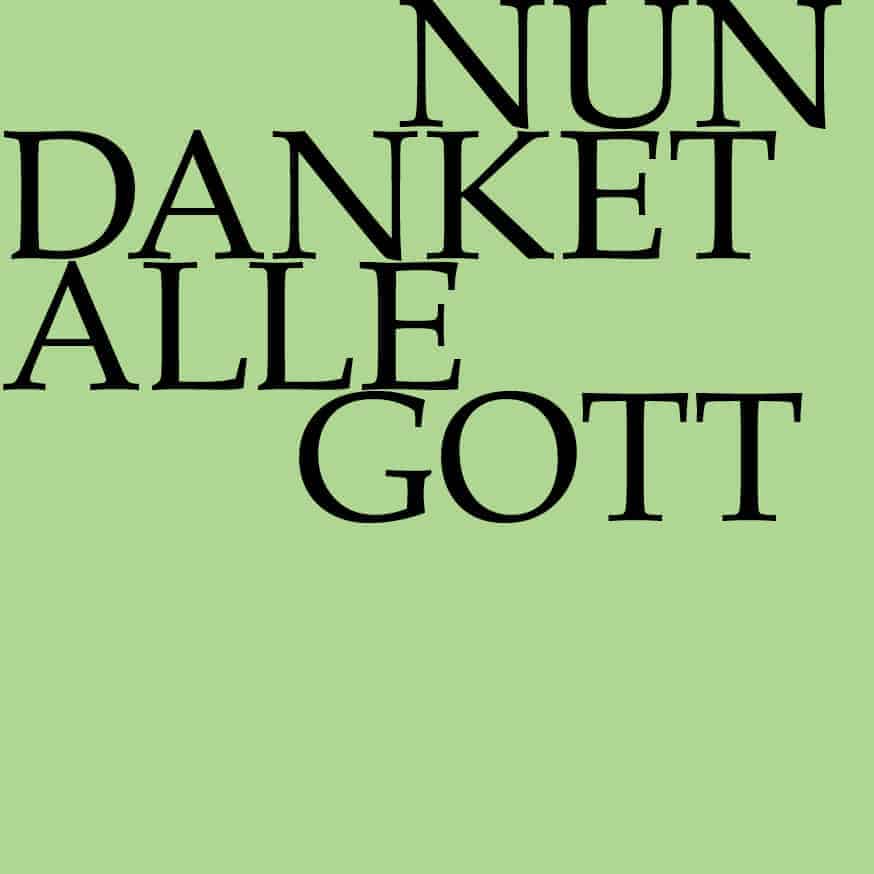 Video
Experience the introductory workshop, concert and reflective lecture in full length.
«Lutzogram» for the introductory workshop
Rudolf Lutz's manuscript for the workshop
Choir
Soprano
Jessica Jans, Susanne Seitter, Noëmi Sohn Nad, Noëmi Tran-Rediger, Anna Walker, Mirjam Wernli
Alto
Antonia Frey, Tobias Knaus, Lea Pfister-Scherer, Alexandra Rawohl, Lisa Weiss
Tenor
Zacharie Fogal, Manuel Gerber, Raphael Höhn, Sören Richter
Bass
Fabrice Hayoz, Grégoire May, Retus Pfister, Philippe Rayot, Tobias Wicky
Orchestra
Conductor
Rudolf Lutz
Violin
Renate Steinmann, Monika Baer, Elisabeth Kohler, Olivia Schenkel, Aliza Vicente, Salome Zimmermann
Viola
Susanna Hefti, Claire Foltzer, Matthias Jäggi
Violoncello
Martin Zeller, Bettina Messerschmidt
Violone
Markus Bernhard
Transverse flute
Tomoko Mukoyama Herzig, Rebekka Brunner
Oboe
Katharina Arfken, Clara Espinosa Encinas
Bassoon
Susann Landert
Organ
Nicola Cumer
Harpsichord
Thomas Leininger
Musical director & conductor
Rudolf Lutz
Workshop
Participants
Rudolf Lutz, Pfr. Niklaus Peter, Thomas Leininger
Reflective lecture
Speaker
Abt Urban Federer
Recording & editing
Recording date
23/04/2021
Recording location
St. Gallen (Switzerland) // Olma-Halle 2.0
Sound engineer
Stefan Ritzenthaler
Producer
Meinrad Keel
Executive producer
Johannes Widmer
Production
GALLUS MEDIA AG, Schweiz
Producer
J.S. Bach-Stiftung, St. Gallen, Schweiz
Librettist
First performance
4 June 1730 – Sangerhausen palace church
Text
Martin Rinckart
Libretto
1. Chor
Versus 1
Nun danket alle Gott
mit Herzen, Mund und Händen, der große Dinge tut
an uns und allen Enden,
der uns von Mutterleib
und Kindesbeinen an
unzählig viel zugut
und noch jetzund getan.
2. Arie — Sopran, Bass
Versus 2
Der ewig reiche Gott
woll uns bei unserm Leben
ein immer fröhlich Herz
und edlen Frieden geben
und uns in seiner Gnad
erhalten fort und fort
und uns aus aller Not
erlösen hier und dort.
3. Chor
Versus 3
Lob, Ehr und Preis sei Gott,
dem Vater und dem Sohne
und dem, der beiden gleich
im hohen Himmelsthrone,
dem dreieinigen Gott,
als der ursprünglich war
und ist und bleiben wird
Bibliographical references
All libretti sourced from Neue Bach-Ausgabe. Johann Sebastian Bach. Neue Ausgabe sämtlicher Werke, published by the Johann-Sebastian-Bach-Institut Göttingen and the Bach-Archiv Leipzig, Series I (Cantatas), vol. 1–41, Kassel and Leipzig, 1954–2000.
All in-depth analyses by Anselm Hartinger (English translations/editing by Alice Noger-Gradon/Mary Carozza) based on the following sources:  Hans-Joachim Schulze, Die Bach-Kantaten. Einführungen zu sämtlichen Kantaten Johann Sebastian Bachs, Leipzig, 2nd edition, 2007; Alfred Dürr, Johann Sebastian Bach. Die Kantaten, Kassel, 9th edition, 2009, and Martin Petzoldt, Bach-Kommentar. Die geistlichen Kantaten, Stuttgart, vol. 1, 2nd edition, 2005 and vol. 2, 1st edition, 2007.