Weichet nur, betrübte Schatten
BWV 202 // For a wedding
(Yield I say, ye brooding shadows) for soprano, oboe, strings and basso continuo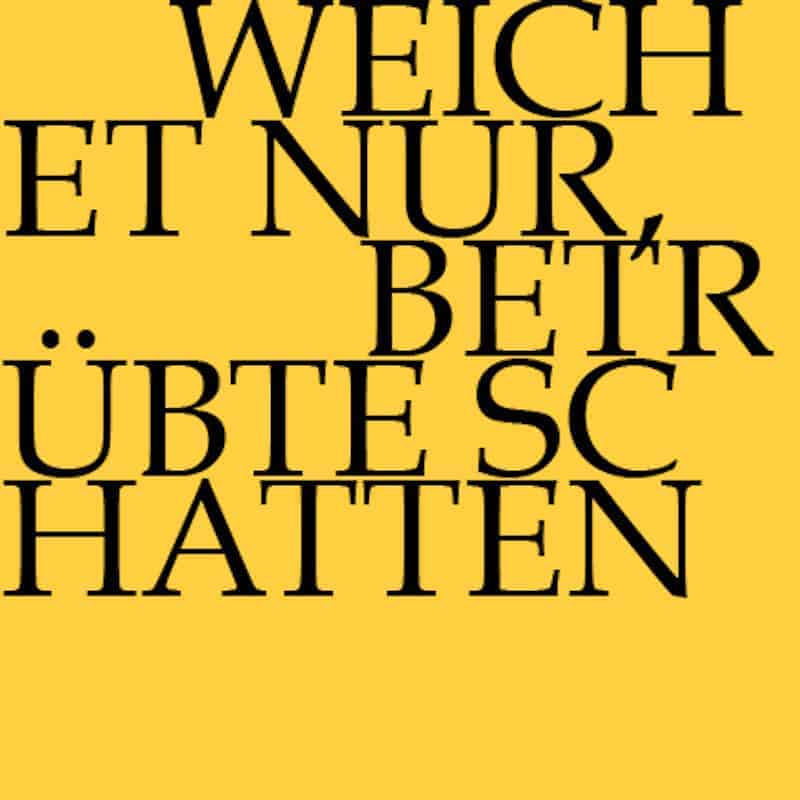 Video
Experience the introductory workshop, concert and reflective lecture in full length.
«Lutzogram» for the introductory workshop
Rudolf Lutz's manuscript for the workshop
Orchestra
Conductor & cembalo
Rudolf Lutz
Violin
Lenka Torgersen, Ildikó Sajgó
Viola
Martina Bischof
Violoncello
Maya Amrein
Violone
Markus Bernhard
Oboe
Andreas Helm
Bassoon
Susann Landert
Musical director & conductor
Rudolf Lutz
Workshop
Participants
Karl Graf, Rudolf Lutz
Reflective lecture
Speaker
Gunhild Kübler
Recording & editing
Recording date
30.06.2017
Recording location
St. Gallen (Schweiz) // Einstein Saal
Sound engineer
Stefan Ritzenthaler
Director
Meinrad Keel
Production manager
Johannes Widmer
Production
GALLUS MEDIA AG, Switzerland
Producer
J.S. Bach Foundation of St. Gallen, Switzerland
Matching publications in our shop
Librettist
Text
Author unknown
First performance
Unknown
Libretto
1. (Adagio)
Weichet nur, betrübte Schatten,
Frost und Winde, geht zur Ruh!
Florens Lust will der Brust
nichts als frohes Glück verstatten,
denn sie träget Blumen zu.
2. Rezitativ
Die Welt wird wieder neu,
auf Bergen und in Gründen

will sich die Anmut doppelt schön verbinden,
der Tag ist von der Kälte frei.
3. Arie
Phoebus eilt mit schnellen Pferden
durch die neugeborne Welt.
Ja, weil sie ihm wohlgefällt,
will er selbst ein Buhler werden.
4. Rezitativ
Drum sucht auch Amor sein Vergnügen,
wenn Purpur in den Wiesen lacht,
wenn Florens Pracht sich herrlich macht,
und wenn in seinem Reich,
den schönen Blumen gleich,
auch Herzen feurig siegen.
5. Arie
Wenn die Frühlingslüfte streichen
und durch bunte Felder wehn,
pflegt auch Amor auszuschleichen,
um nach seinem Schmuck zu sehn,
welcher, glaubt man, dieser ist,
daß ein Herz das andre küsst.
6. Rezitativ
Und dieses ist das Glücke,
daß durch ein hohes Gunstgeschicke
zwei Seelen einen Schmuck erlanget,
an dem viel Heil und Segen pranget.
7. Arie
Sich üben im Lieben,
in Scherzen sich herzen
ist besser als Florens vergängliche Lust.
Hier quellen die Wellen,
hier lachen und wachen
die siegenden Palmen auf Lippen und Brust.
8. Rezitativ
So sei das Band der keuschen Liebe,
verlobte Zwei,
vom Unbestand des Wechsels frei!
Kein jäher Fall
noch Donnerknall
erschrecke die verliebten Triebe!
9. Arie (Gavotte)
Sehet in Zufriedenheit
tausend helle Wohlfahrtstage,
daß bald bei der Folgezeit
eure Liebe Blumen trage!
Bibliographical references
All libretti sourced from Neue Bach-Ausgabe. Johann Sebastian Bach. Neue Ausgabe sämtlicher Werke, published by the Johann-Sebastian-Bach-Institut Göttingen and the Bach-Archiv Leipzig, Series I (Cantatas), vol. 1–41, Kassel and Leipzig, 1954–2000.
All in-depth analyses by Anselm Hartinger (English translations/editing by Alice Noger-Gradon/Mary Carozza) based on the following sources:  Hans-Joachim Schulze, Die Bach-Kantaten. Einführungen zu sämtlichen Kantaten Johann Sebastian Bachs, Leipzig, 2nd edition, 2007; Alfred Dürr, Johann Sebastian Bach. Die Kantaten, Kassel, 9th edition, 2009, and Martin Petzoldt, Bach-Kommentar. Die geistlichen Kantaten, Stuttgart, vol. 1, 2nd edition, 2005 and vol. 2, 1st edition, 2007.