Jesus nahm zu sich die Zwölfe
BWV 022 // For Estomihi
(Jesus took to him the twelve) for alto, tenor and bass, vocal ensemble, oboe, strings and continuo
"Note: this is the audition piece for Leipzig" – this note by one of Bach's Leipzig copyists on BWV 22 "Jesus nahm zu sich die Zwölfe" (Jesus took to him the twelve) confirms that this cantata was composed as part of Bach's application for the position of Thomascantor. It is worth noting that the appointment of Bach, at that time Kapellmeister in Köthen, was not as self-evident as his posthumous fame would imply. In fact, following the death of Bach's predecessor, Johann Kuhnau, on 5 June 1722, it was Georg Philipp Telemann, well-connected in Leipzig since his student days, who was initially sought for the post. It was not until Telemann declined the position that a formal application process for composers outside of Leipzig commenced. From the field of applicants, it was Bach and Johann Christian Graupner from Darmstadt who eventually received the opportunity to present two cantatas at a church service. Bach was assigned the occasion of Estomihi (the Sunday before Lent) on 7 February 1723 and completed the major part of his compositions in Köthen: the aforementioned BWV 22 for the sermon and BWV 23 "Du wahrer Gott und Davids Sohn" (Thou, very God and David's son) for Communion.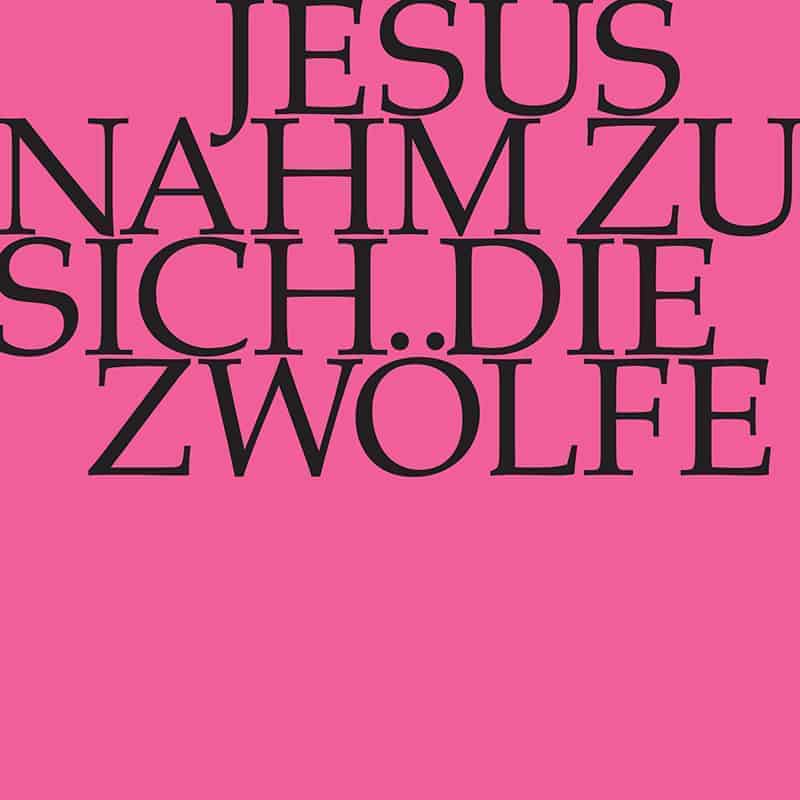 Video
Experience the introductory workshop, concert and reflective lecture in full length.
Workshop
Reflective lecture
«Lutzogram» for the introductory workshop
Rudolf Lutz's manuscript for the workshop
Audio
The sound recording of this work is available on several streaming and download platforms.
Choir
Soprano
Susanne Frei, Guro Hjemli, Noëmi Tran Rediger, Alexa Vogel
Alto
Jan Börner, Antonia Frey, Olivia Heiniger, Lea Scherer
Tenor
Marcel Fässler, Clemens Flämig, Nicolas Savoy
Bass
Fabrice Hayoz, Valentin Parli, Philippe Rayot
Orchestra
Conductor & cembalo
Rudolf Lutz
Violin
John Holloway (special Guest), Renate Steinmann
Viola
Susanna Hefti
Violoncello
Martin Zeller
Violone
Iris Finkbeiner
Oboe
Stefanie Haegele
Bassoon
Dorothy Mosher
Organ
Norbert Zeilberger
Musical director & conductor
Rudolf Lutz
Workshop
Participants
Karl Graf, Rudolf Lutz
Reflective lecture
Speaker
Ingrid Grave
Recording & editing
Recording date
02/19/2010
Recording location
Trogen
Sound engineer
Stefan Ritzenthaler
Director
Meinrad Keel
Production manager
Johannes Widmer
Production
GALLUS MEDIA AG, Switzerland
Producer
J.S. Bach Foundation of St. Gallen, Switzerland
Matching publications in our shop
Librettist
Text No. 1
Quote from Luke 18
Text No. 2–4
Poet unknown
Text No. 5
Elisabeth Creutziger, 1524
First performance
Estomihi,
7 February 1723
In-depth analysis
What is it that made "Jesus nahm zu sich die Zwölfe" such an appropriate audition piece, and what vision of a "well-formed church music" (as the composer himself put it in 1730) made Bach a prime candidate in Leipzig where he was relatively unknown?

Firstly, Bach chose to compose a short, but colourful work of five diverse movements, each with a distinct character: a tutti opening with solo episodes, followed by an alto aria with obbligato oboe, a bass accompagnato with strings, a dance-like tenor aria with violins and viola, and a closing chorale with an independent orchestral underlay. Despite its clear formal development and melodic treatment, however, the work is not schematically conceived, and even the modified da capo aria shows remarkably inventive features.
In composing the opening movement, Bach skilfully avoided the pitfalls lurking in the li-bretto. While others may have artlessly misread the opening text and set it for tutti choir, Bach commences with a brief prelude of strings and solo oboe whose leitmotif introduces the theme of the phrase "We shall go up to Jerusalem". A solo tenor then enters and, after a brief appearance, passes the floor to the bass, who, in Bach's oeuvre, is often employed to deliver Christ's word. Interestingly, in the tenor part, Bach suggestively stretches the word "twelve", in reference to Christ's disciples, over exactly twelve semiquavers. The bass arioso is then taken over by a four-part choral fugue, with the accompanying instruments entering last. The fact that Bach differentiates here between solo vocalists and supporting tutti singers explains why the usual practice of performing this section with a choir remains a contentious issue among specialists. In the concluding section, the disciples' confusion described in the text is skilfully evoked through the use of abrupt pauses and tritone intervals – the greatest dissonance in baroque harmony. Finally, it is perhaps no great coincidence that the formal development of this movement, with its gradual intensification, mimicked the style of the immensely fashionable Telemann.

After this weighty first movement, the following aria "My Jesus, draw me unto thee" is a smoothly flowing trio of oboe, alto, and continuo, with which Bach aspired to demonstrate his abilities as a serious church composer. The recitative composition was a crucial requirement for such a posting, and Bach demonstrates his singular mastery of this element in the movement "My Jesus, draw me on". Through its underlying string accompaniment, broad harmonic range and graceful solo voice, Bach succeeds in drawing out every facet of the text. Following these earnest tones, the lively minuet of the aria "My treasure of treasures" is rather folksy in character, while Bach's melody for the closing chorale is downright catchy: strings and an oboe dance lightly over a cheerful bass, resulting in a remarkably tranquil melody despite the continuous semiquaver movement. Presented with such grace, the ponderous verse "Us mortify through kindness, awake us through thy grace" by Elisabeth Cruciger (1524) is rendered distinctly welcoming.

Bach's audition piece for Estomihi of 1723 won over its audience with engaging melodies and formal precision without belying the composer's superior skill. Nonetheless, it is entirely possible that only upon hearing his inaugural cantata of summer 1723 – a mammoth and highly experimental work – did the good citizens of Leipzig receive their first inkling as to the true extent of Bach's artistic intentions.
Libretto
1. [Arioso und Chor] (Tenor, Bass, Chor)
Jesus nahm zu sich die Zwölfe und sprach:
(Bass)
Sehet, wir gehn hinauf gen Jerusalem,
und es wird alles vollendet werden,
das geschrieben ist von des Menschen Sohn.
(Chor)
Sie aber vernahmen der keines und wussten
nicht, was das gesaget war.
2. Arie (Alt)
Mein Jesu, ziehe mich nach dir,
ich bin bereit, ich will von hier
und nach Jerusalem zu deinen Leiden gehn.
Wohl mir, wenn ich die Wichtigkeit
von dieser Leid- und Sterbenszeit
zu meinem Troste kann durchgehends
wohl verstehn!
3. Rezitativ (Bass)
Mein Jesu, ziehe mich, so werd ich laufen,
denn Fleisch und Blut verstehet ganz und gar
nebst deinen Jüngern nicht, was das gesaget
war.
Es sehnt sich nach der Welt und nach dem
grössten Haufen.
Sie wollen beiderseits, wenn du verkläret
bist,
zwar eine feste Burg auf Tabors Berge bauen;
hingegen Golgatha, so voller Leiden ist,
in deiner Niedrigkeit mit keinem Auge
schauen.
Ach! kreuzige bei mir in der verderbten Brust
zuvörderst diese Welt und die verbotne Lust,
so werd ich, was du sagst, vollkommen wohl
verstehen
und nach Jerusalem mit tausend Freuden
gehen.
4. Arie (Tenor)
Mein alles in allem, mein ewiges Gut,
verbessre das Herze, verändre den Mut;
Schlag alles darnieder,
was dieser Entsagung des Fleisches zuwider!
Doch wenn ich nun geistlich ertötet da bin,
so ziehe mich nach dir in Friede dahin!
5. Choral
Ertöt uns durch dein Güte,
erweck uns durch dein Gnad;
den alten Menschen kränke,
dass der neu' leben mag wohl hie auf dieser Erden,
den Sinn und all Begehren
und G'danken hab'n zu dir.
Bibliographical references
All libretti sourced from Neue Bach-Ausgabe. Johann Sebastian Bach. Neue Ausgabe sämtlicher Werke, published by the Johann-Sebastian-Bach-Institut Göttingen and the Bach-Archiv Leipzig, Series I (Cantatas), vol. 1–41, Kassel and Leipzig, 1954–2000.
All in-depth analyses by Anselm Hartinger (English translations/editing by Alice Noger-Gradon/Mary Carozza) based on the following sources:  Hans-Joachim Schulze, Die Bach-Kantaten. Einführungen zu sämtlichen Kantaten Johann Sebastian Bachs, Leipzig, 2nd edition, 2007; Alfred Dürr, Johann Sebastian Bach. Die Kantaten, Kassel, 9th edition, 2009, and Martin Petzoldt, Bach-Kommentar. Die geistlichen Kantaten, Stuttgart, vol. 1, 2nd edition, 2005 and vol. 2, 1st edition, 2007.