Fallt mit Danken, fallt mit Loben
BWV 248/4 // Christmas Oratorio
(Fall and thank him, fall and praise him) for soprano, tenor and bass, vocal ensemble, corno da caccia I+II, Oboe I+II, strings and basso continuo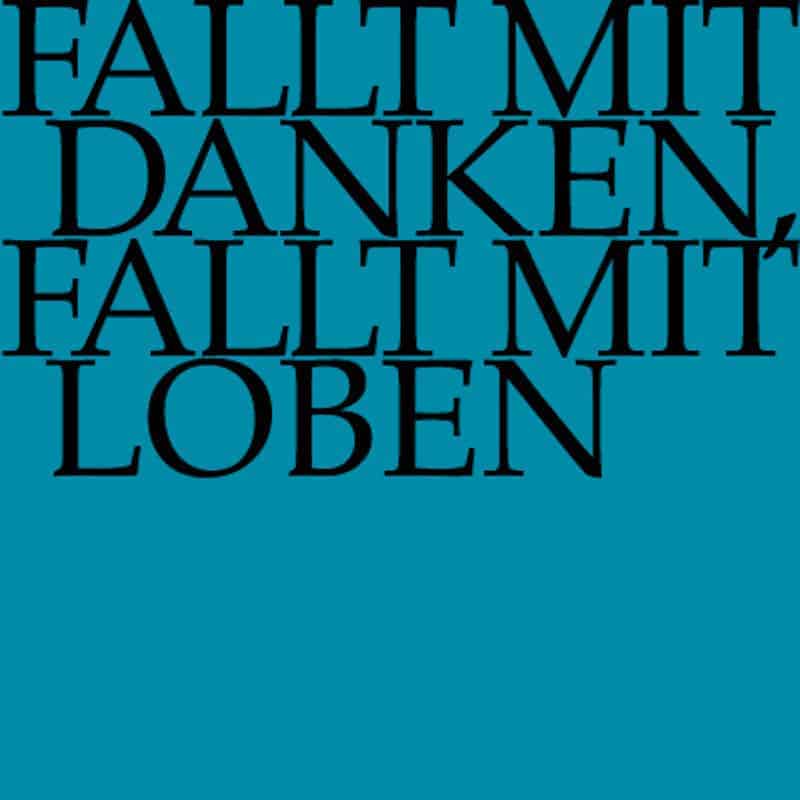 Video
Experience the introductory workshop, concert and reflective lecture in full length.
«Lutzogram» for the introductory workshop
Rudolf Lutz's manuscript for the workshop
Audio
The sound recording of this work is available on several streaming and download platforms.
Choir
Soprano
Lia Andres, Olivia Fündeling, Susanne Seitter, Noëmi Sohn Nad, Anna Walker
Alto
Antonia Frey, Francisca Näf, Alexandra Rawohl, Simon Savoy, Sarah Widmer
Tenor
Clemens Flämig, Christian Rathgeber, Nicolas Savoy, Walter Siegel
Bass
Fabrice Hayoz, Valentin Parli, Retus Pfister, Philippe Rayot, Tobias Wicky
Orchestra
Conductor
Rudolf Lutz
Violin
Eva Borhi, Lenka Torgersen, Christine Baumann, Dorothee Mühleisen, Ildiko Sajgo, Judith Von Der Goltz
Viola
Martina Bischof, Peter Barczi, Sarah Krone
Violoncello
Maya Amrein, Daniel Rosin
Violone
Guisella Massa
Oboe
Andreas Helm, Philipp Wagner
Bassoon
Susann Landert
Corno
Olivier Picon, Thomas Müller
Organ
Nicola Cumer
Harpsichord
Dirk Börner
Musical director & conductor
Rudolf Lutz
Workshop
Participants
Karl Graf, Rudolf Lutz
Reflective lecture
Speaker
Ulrich Luz
Recording & editing
Recording date
01/12/2018
Recording location
Trogen AR (Schweiz) // Evangelische Kirche
Sound engineer
Stefan Ritzenthaler, Nikolaus Matthes
Director
Meinrad Keel
Production manager
Johannes Widmer
Production
GALLUS MEDIA AG, Switzerland
Producer
J.S. Bach Foundation of St. Gallen, Switzerland
Matching publications in our shop
Librettist
Text
Poet unknown
First performance
New Year's Day 1735
Libretto
36. Chor
Fallt mit Danken, fallt mit Loben
vor des Höchsten Gnadenthron!
Gottes Sohn

will der Erden
Heiland und Erlöser werden,
Gottes Sohn
dämpft der Feinde Wut und Toben.
37. Evangelist: Tenor
«Und da acht Tage um waren, daß das Kind beschnitten
würde, da ward sein Name
genennet Jesus, welcher

genennet war von dem Engel, ehe denn er im Mutterleibe
Heiland und Erlöser werden,
empfangen ward.»
38. Rezitativ und Choral — Duett Bass, Sopran
Immanuel, o süßes Wort!
Mein Jesus heißt mein Hort,
mein Jesus heißt mein Leben.
Mein Jesus hat sich mir ergeben,
mein Jesus soll mir immerfort
vor meinen Augen schweben.
Mein Jesus heißet meine Lust,
mein Jesus labet Herz und Brust.
Jesu, du mein liebstes Leben,
meiner Seelen Bräutigam,
Komm! Ich will dich mit Lust umfassen,
mein Herze soll dich nimmer lassen,
der du dich vor mich gegeben
an des bittern Kreuzes Stamm!
ach! So nimm mich zu dir!
Auch in dem Sterben sollst du mir
das Allerliebste sein;
in Not, Gefahr und Ungemach
seh ich dir sehnlichst nach.
Was jagte mir zuletzt der Tod für Grauen ein?
Mein Jesus! Wenn ich sterbe,
so weiß ich, daß ich nicht verderbe.
Dein Name steht in mir geschrieben,
der hat des Todes Furcht vertrieben.
39. Arie — Sopran
Flößt, mein Heiland, flößt dein Namen
auch den allerkleinsten Samen
jenes strengen Schreckens ein?
Nein, du sagst ja selber nein,
Nein!
Sollt ich nun das Sterben scheuen?
Nein, dein süßes Wort ist da!
Oder sollt ich mich erfreuen?
Ja, du Heiland sprichst selbst ja,
Ja!
40. Rezitativ und Choral — Duett Bass, Sopran
Wohlan, dein Name soll allein
in meinem Herzen sein!
Jesu, meine Freud und Wonne,
meine Hoffnung, Schatz und Teil,
So will ich dich entzücket nennen,
wenn Brust und Herz zu
dir vor Liebe brennen.
mein Erlösung, Schmuck und Heil,
Doch, Liebster, sage mir:
Wie rühm ich dich, wie dank ich dir?
Hirt und König, Licht und Sonne,
ach! wie soll ich würdiglich,
mein Herr Jesu, preisen dich?
41. Arie — Tenor
Ich will nur dir zu Ehren leben,
mein Heiland, gib mir Kraft und Mut,
daß es mein Herz recht eifrig tut!
Stärke mich,
deine Gnade würdiglich
und mit Danken zu erheben!
42. Choral

Jesus richte mein Beginnen,
Jesus bleibe stets bei mir,
Jesus zäume mir die Sinnen,
Jesus sei nur mein Begier,
Jesus sei mir in Gedanken,
Jesu, lasse mich nicht wanken!

Bibliographical references
All libretti sourced from Neue Bach-Ausgabe. Johann Sebastian Bach. Neue Ausgabe sämtlicher Werke, published by the Johann-Sebastian-Bach-Institut Göttingen and the Bach-Archiv Leipzig, Series I (Cantatas), vol. 1–41, Kassel and Leipzig, 1954–2000.
All in-depth analyses by Anselm Hartinger (English translations/editing by Alice Noger-Gradon/Mary Carozza) based on the following sources:  Hans-Joachim Schulze, Die Bach-Kantaten. Einführungen zu sämtlichen Kantaten Johann Sebastian Bachs, Leipzig, 2nd edition, 2007; Alfred Dürr, Johann Sebastian Bach. Die Kantaten, Kassel, 9th edition, 2009, and Martin Petzoldt, Bach-Kommentar. Die geistlichen Kantaten, Stuttgart, vol. 1, 2nd edition, 2005 and vol. 2, 1st edition, 2007.