Herr, wenn die stolzen Feinde schnauben
BWV 248/6 // Christmas Oratorio
(Lord, when our boastful foes blow fury) Cantata for Epiphany, for soprano, alto, tenor and bass; vocal ensemble, oboe and oboe d'amore I+II, trumpet I-III, timpani, strings and basso continuo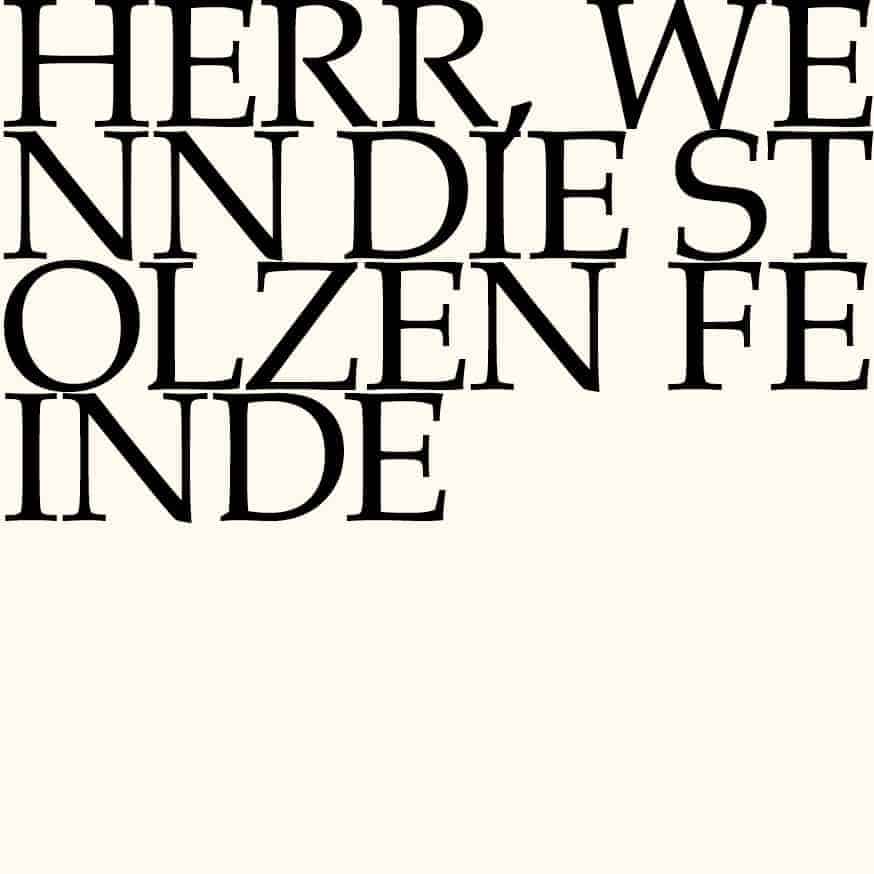 Video
Experience the introductory workshop, concert and reflective lecture in full length.
«Lutzogram» for the introductory workshop
Rudolf Lutz's manuscript for the workshop
Audio
The sound recording of this work is available on several streaming and download platforms.
Soloists
Choir
Soprano
Lia Andres, Jessica Jans, Noëmi Sohn Nad, Noëmi Tran-Rediger, Maria Weber, Mirjam Wernli
Alto
Roland Faust, Antonia Frey, Lea Pfister-Scherer, Alexandra Rawohl, Lisa Weiss
Tenor
Clemens Flämig, Christian Rathgeber, Sören Richter, Walter Siegel
Bass
Jonas Atwood, Fabrice Hayoz, Daniel Pérez, Philippe Rayot
Orchestra
Conductor
Rudolf Lutz
Violin
Renate Steinmann, Monika Baer, Elisabeth Kohler, Olivia Schenkel, Marita Seeger, Salome Zimmermann
Viola
Susanna Hefti, Claire Foltzer, Martina Zimmermann
Violoncello
Martin Zeller, Bettina Messerschmidt
Violone
Markus Bernhard
Trumpet
Jaroslav Roucek, Karel Mnuk, Josef Sadilek
Timpani
Georg Tausch
Oboe
Andreas Helm, Thomas Meraner
Bassoon
Susann Landert
Harpsichord
Thomas Leininger
Organ
Nicola Cumer
Musical director & conductor
Rudolf Lutz
Workshop
Participants
Rudolf Lutz, Pfr. Niklaus Peter
Reflective lecture
Speaker
Antonio Loprieno
Recording & editing
Recording date
17/01/2020
Recording location
Trogen AR (Schweiz) // Evangelische Kirche
Sound engineer
Stefan Ritzenthaler
Producer
Meinrad Keel
Executive producer
Johannes Widmer
Production
GALLUS MEDIA AG, Schweiz
Producer 
J.S. Bach-Stiftung, St. Gallen, Schweiz
Matching publications in our shop
Librettist
First performance
6 January 1735, Leipzig
Text
Christian Friedrich Henrici (Picander),
Paul Gerhardt (no. 59), Georg Werner (no. 64)
Libretto
54. Chor
Herr, wenn die stolzen Feinde schnauben,
so gib, daß wir im festen Glauben
nach deiner Macht und Hülfe sehn!
Wir wollen dir allein vertrauen,
so können wir den scharfen Klauen
des Feindes unversehrt entgehn.
55. Rezitativ (Evangelist: Tenor; Herodes: Bass)
Evangelist:
«Da berief Herodes die Weisen heimlich
und erlernet mit Fleiß von ihnen, wenn der
Stern erschienen wäre? Und weiset sie gen
Bethlehem und sprach:
Herodes:
Ziehet hin und forschet fleißig nach dem
Kindlein, und wenn ihrs findet, sagt mirs
wieder, daß ich auch komme und es anbete.»
56. Rezitativ — Sopran
Du Falscher, suche nur den Herrn zu fällen,
nimm alle falsche List,
dem Heiland nachzustellen;
der, dessen Kraft kein Mensch ermißt,
bleibt doch in sichrer Hand.
Dein Herz, dein falsches Herz ist schon,
nebst aller seiner List, des Höchsten Sohn,
den du zu stürzen suchst, sehr wohl bekannt.
57. Arie — Sopran
Nur ein Wink von seinen Händen
stürzt ohnmächtger Menschen Macht.
Hier wird alle Kraft verlacht!
Spricht der Höchste nur ein Wort,
seiner Feinde Stolz zu enden,
o, so müssen sich sofort
Sterblicher Gedanken wenden.
58. Rezitativ (Evangelist: Tenor)
«Als sie nun den König gehöret hatten, zogen
sie hin. Und siehe, der Stern, den sie im Morgenlande
gesehen hatten, ging für ihnen hin,
bis daß er kam und stund oben über, da das
Kindlein war. Da sie den Stern sahen, wurden
sie hoch erfreuet und gingen in das Haus und
funden das Kindlein mit Maria, seiner Mutter,
und fielen nieder und beteten es an und täten
ihre Schätze auf und schenkten ihm Gold,
Weihrauch und Myrrhen.»
59. Choral
Ich steh an deiner Krippen hier,
o Jesulein, mein Leben;
ich komme, bring und schenke dir,
was du mir hast gegeben.
Nimm hin! es ist mein Geist und Sinn,
Herz, Seel und Mut, nimm alles hin,
und laß dirs wohlgefallen!
60. Rezitativ (Evangelist: Tenor)
«Und Gott befahl ihnen im Traum, daß sie
sich nicht sollten wieder zu Herodes
lenken, und zogen durch einen andern
Weg wieder in ihr Land.»
61. Rezitativ (Tenor)
So geht! Genug, mein Schatz geht nicht
von hier,
er bleibet da bei mir,
ich will ihn auch nicht von mir lassen.
Sein Arm wird mich aus Lieb
mit sanftmutsvollem Trieb
und größter Zärtlichkeit umfassen;
er soll mein Bräutigam verbleiben,
ich will ihm Brust und Herz verschreiben.
Ich weiß gewiß, er liebet mich,
mein Herz liebt ihn auch inniglich
und wird ihn ewig ehren.
Was könnte mich nun für ein Feind
bei solchem Glück versehren!
Du, Jesu, bist und bleibst mein Freund;
und werd ich ängstlich zu dir flehn:
Herr, hilf!, so laß mich Hülfe sehn!
62. Arie — Tenor
Nun mögt ihr stolzen Feinde schrecken;
was könnt ihr mir für Furcht erwecken?
Mein Schatz, mein Hort ist hier bei mir.
Ihr mögt euch noch so grimmig stellen,
droht nur, mich ganz und gar zu fällen,
doch seht! mein Heiland wohnet hier.
63. Rezitativ — Sopran, Alt, Tenor, Bass
Was will der Höllen Schrecken nun?
Was will uns Welt und Sünde tun,
da wir in Jesu Händen ruhn?
64. Choral
Nun seid ihr wohl gerochen
an eurer Feinde Schar,
denn Christus hat zerbrochen,
was euch zuwider war.
Tod, Teufel, Sünd und Hölle
sind ganz und gar geschwächt;
bei Gott hat seine Stelle
das menschliche Geschlecht.
Bibliographical references
All libretti sourced from Neue Bach-Ausgabe. Johann Sebastian Bach. Neue Ausgabe sämtlicher Werke, published by the Johann-Sebastian-Bach-Institut Göttingen and the Bach-Archiv Leipzig, Series I (Cantatas), vol. 1–41, Kassel and Leipzig, 1954–2000.
All in-depth analyses by Anselm Hartinger (English translations/editing by Alice Noger-Gradon/Mary Carozza) based on the following sources:  Hans-Joachim Schulze, Die Bach-Kantaten. Einführungen zu sämtlichen Kantaten Johann Sebastian Bachs, Leipzig, 2nd edition, 2007; Alfred Dürr, Johann Sebastian Bach. Die Kantaten, Kassel, 9th edition, 2009, and Martin Petzoldt, Bach-Kommentar. Die geistlichen Kantaten, Stuttgart, vol. 1, 2nd edition, 2005 and vol. 2, 1st edition, 2007.