Es ist nichts Gesundes an meinem Leibe
BWV 025 // For the Fourteenth Sunday after Trinity
(There is nought of soundness within my body) for soprano, tenor and bass, vocal ensemble, flauto I-III, oboe I+II, cornetto, trombone I-III, strings and basso continuo
Composed for 22 August 1723 in Leipzig, cantata BWV 25 is an example of the magnificent compositions with which Bach, as the new Thomascantor, impressed and challenged his audiences. With its medical metaphors, it is also a potent reminder of the all-pervasive nature of illness and disease in baroque times; their notorious equation with guilt and sin as well as the related ostracism of the sick was not solely a theological notion of the era.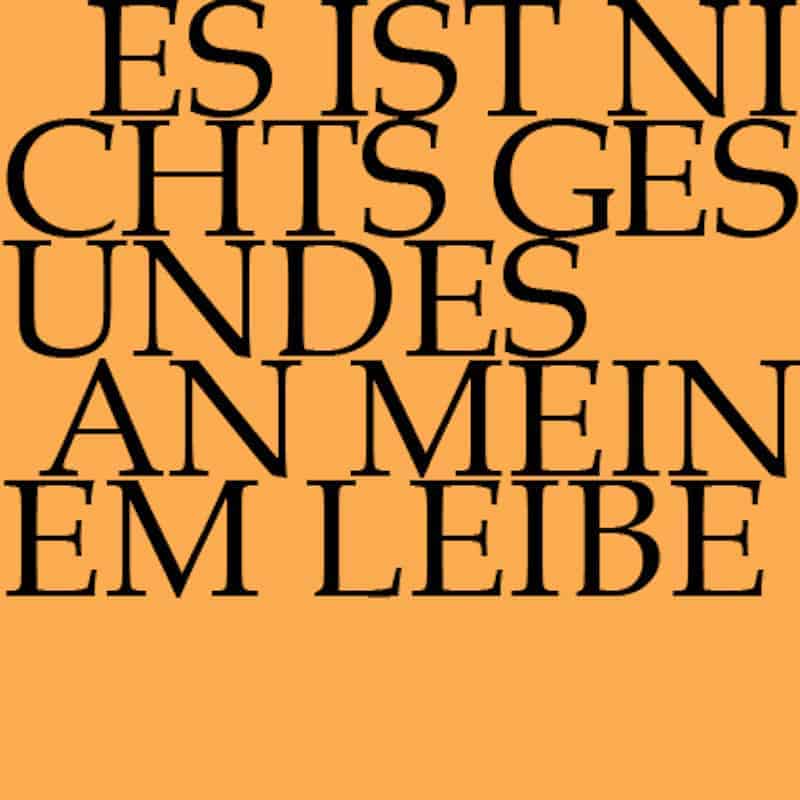 Video
Experience the introductory workshop, concert and reflective lecture in full length.
Workshop
Reflective lecture
«Lutzogram» for the introductory workshop
Rudolf Lutz's manuscript for the workshop
Audio
The sound recording of this work is available on several streaming and download platforms.
Choir
Soprano
Jennifer Ribeiro Rudin, Susanne Seitter, Noëmi Sohn Nad, Noëmi Tran Rediger, Alexa Vogel, Anna Walker
Alto
Antonia Frey, Katharina Jud, Stephan Kahle, Francisca Näf, Damaris Rickhaus
Tenor
Marcel Fässler, Clemens Flämig, Tobias Mäthger, Sören Richter
Bass
Fabrice Hayoz, Matthias Lutze, Valentin Parli, Daniel Pérez, Philippe Rayot
Orchestra
Conductor & cembalo
Rudolf Lutz
Violin
Eva Borhi, Lenka Torgersen, Peter Barczi, Christine Baumann, Judith Von Der Goltz, Dorothee Mühleisen
Viola
Martina Bischof, Sarah Krone, Katya Polin
Violoncello
Maya Amrein, Hristo Kouzmanov
Violone
Markus Bernhard
Oboe
Thomas Meraner, Ingo Müller
Bassoon
Susann Landert
Trombone
Henning Wiegräbe, Tabea Hesselschwerdt, Maximilian Schrag
Horn
Frithjof Smith
Recorder/Flute
Annina Stahlberger, Teresa Hackel, Claudia Heinisch
Organ
Nicola Cumer
Musical director & conductor
Rudolf Lutz
Workshop
Participants
Anselm Hartinger, Karl Graf, Rudolf Lutz
Reflective lecture
Speaker
Andreas Kruse
Recording & editing
Recording date
15.09.2017
Recording location
Trogen AR (Schweiz) // Evangelische Kirche
Sound engineer
Stefan Ritzenthaler
Director
Meinrad Keel
Production manager
Johannes Widmer
Production
GALLUS MEDIA AG, Switzerland
Producer
J.S. Bach Foundation of St. Gallen, Switzerland
Matching publications in our shop
Librettist
Text
Rewritten by an unknown author based on a
text by Johann Jacob Rambach (1693 – 1735)
First performance
29 August 1723
In-depth analysis
The introductory chorus is based on a bleak dictum that Bach sets in four sections including a prelude and interlude. The movement is scored at times for a full twelve voices, yet this is just one element of the grandiose concept for the setting, which weaves the cantata text into an instrumental chorale arrangement that is present from the outset but does not become fully apparent until later in the setting. The eight-bar opening is characterised by a series of off-beat sighs from the strings and oboes over a continuo line – equally an underlying emotional descent and an extended quote of a chorale melody in which it is possible to recognise both the penitential hymn "Ach, Herr, mich armen Sünder" (Ah Lord, me a poor sinner) and the swan song "Herzlich tut mich verlangen" (Heartfelt is now my yearning). It is into this weighty framework that Bach first works in two repetitions of the text with alternating pairs of voices to produce a tight, imitative fugue whose grief-stricken melody stems from the Phrygian mode of the chorale. With the transition to the second line of the dictum – "nor any quiet within these my bones now" – the chain of sighs is then replaced by a choral fugue accompanied by a relentless semiquaver continuo part and increasingly dense instrumental writing, ere both texts and themes are presented simultaneously in the final section. As an additional layer to the setting, a four-part arrangement of the chorale melody is quoted line for line by an ensemble of three trombones and a cornett, an archaic Stadtpfeifer combination of instruments that heightens the music's harrowing effect. The fact that Bach later doubled the cornett line with recorders indicates that even in a behemoth setting such as this, Bach's concern was not Augenmusik but a composition that is coherent in all its dimensions.
The tenor recitative then reinforces this merciless diagnosis: "Now all the world is but a hospital", with the young and the old equally stricken. Here, the topic is not rampant infection and the diseases of affluence, but the vices of lust, pride and greed that blight all humankind through original sin and that make the search for a merciful doctor a most urgent concern.
The aria for bass solo and continuo thus follows as a dark, lamenting invention whose firmly rooted melody is hesitant to climb to a higher register. As such, the touching plea of the second section ("Healer mine, Lord Jesus, thou") then lends the impression of someone who has opened his heart with great difficulty and now, with hopeful faith, can embark on a new path.
The change in register in the soprano recitative goes hand in hand with a change in tone. It is the voice of a resolute soul who does not want to remain trapped in suffering, but yearns to flee with renewed strength to God, as do the sick in the stories of healing in the Gospel. Here, the path from penance and plea for mercy to enthusiastic praise of God – a trope in many sacred works of the baroque era – is presented in a highly compact form.
Thus restored, the soprano is free in the following aria to explore new territory. In a brisk triple metre, the bright, comforting music in C major awakens the impression that someone in a dismal infirmary has suddenly put on the Brandenburg Concertos and, for the moment at least, shut the door on all distress. Here, the acoustic dimension of this therapeutic solace is explored in an infectiously playful way: through the addition of three cheerful recorders to the string and oboes, the setting features moments of threechoir music-making with the soprano and continuo. The restrained second section then reveals that this splendid courtly music is but a glimpse of the perfect otherworldly "choirs above". In view of this anything but meagre song, however, this restraint is something of an artistic understatement – and yet it also embodies a musician's tenet inspired by the deference due to cosmic hierarchies that Heinrich Schütz in 1636 had already formulated in the rhyming preface to his Musikalische Exequien.
For now, a familiar earthly song of thanks will suffice – the closing chorale reinforces the resolve to praise God forevermore, both every day here on earth and into eternity. In this hymn, the venerable brass instruments represent past generations of the dead who were buried to these strains, thus allowing them to join in the hopeful song.
Libretto
1. Chor
»Es ist nichts Gesundes an meinem Leibe vor deinem
Dräuen und ist kein Friede in meinen Gebeinen vor meiner Sünde.«
2. Rezitativ (Tenor)
Die ganze Welt ist nur ein Hospital,
wo Menschen von unzählbar grosser Zahl
und auch die Kinder in der Wiegen
an Krankheit hart darniederliegen.
Den einen quälet in der Brust
ein hitzges Fieber böser Lust;
der andre lieget krank
an eigner Ehre hässlichem Gestank;
den dritten zehrt die Geldsucht ab
und stürzt ihn vor der Zeit ins Grab.
Der erste Fall hat jedermann beflekket
und mit dem Sündenaussatz angestekket.
Ach! dieses Gift durchwühlt auch meine Glieder.
Wo find ich Armer Arzenei?
Wer stehet mir in meinem Elend bei?
Wer ist mein Arzt, wer hilft mir wieder?
3. Arie (Bass)
Ach, wo hol ich Armer Rat?
Meinen Aussatz, meine Beulen
kann kein Kraut noch Pflaster heilen
als die Salb aus Gilead.
Du, mein Arzt, Herr Jesu, nur
weisst die beste Seelenkur.
4. Rezitativ (Sopran)
O Jesu, lieber Meister,
zu dir flieh ich;
ach, stärke die geschwächten Lebensgeister!
Erbarme dich,
du Arzt und Helfer aller Kranken,
verstoss mich nicht
von deinem Angesicht!
Mein Heiland, mache mich von Sündenaussatz rein,
so will ich dir
mein ganzes Herz dafür
zum steten Opfer weihn
und lebenslang vor deine Hülfe danken.
5. Arie (Sopran)
Öffne meinen schlechten Liedern,
Jesu, dein Genadenohr!
Wenn ich dort im höhern Chor
werde mit den Engeln singen,
soll mein Danklied besser klingen.
6. Choral
Ich will alle meine Tage
rühmen deine starke Hand,
dass du meine Plag und Klage
hast so herzlich abgewandt.
Nicht nur in der Sterblichkeit
soll dein Ruhm sein ausgebreit':
ich wills auch hernach erweisen
und dort ewiglich dich preisen.
Bibliographical references
All libretti sourced from Neue Bach-Ausgabe. Johann Sebastian Bach. Neue Ausgabe sämtlicher Werke, published by the Johann-Sebastian-Bach-Institut Göttingen and the Bach-Archiv Leipzig, Series I (Cantatas), vol. 1–41, Kassel and Leipzig, 1954–2000.
All in-depth analyses by Anselm Hartinger (English translations/editing by Alice Noger-Gradon/Mary Carozza) based on the following sources:  Hans-Joachim Schulze, Die Bach-Kantaten. Einführungen zu sämtlichen Kantaten Johann Sebastian Bachs, Leipzig, 2nd edition, 2007; Alfred Dürr, Johann Sebastian Bach. Die Kantaten, Kassel, 9th edition, 2009, and Martin Petzoldt, Bach-Kommentar. Die geistlichen Kantaten, Stuttgart, vol. 1, 2nd edition, 2005 and vol. 2, 1st edition, 2007.