Der Himmel lacht! Die Erde jubilieret
BWV 031 // For The First Day of Easter
(The heavens laugh! The earth doth ring with glory) for soprano, tenor und bass, vocal ensemble, trumpet I–III, timpani, oboe, taille, strings and basso continuo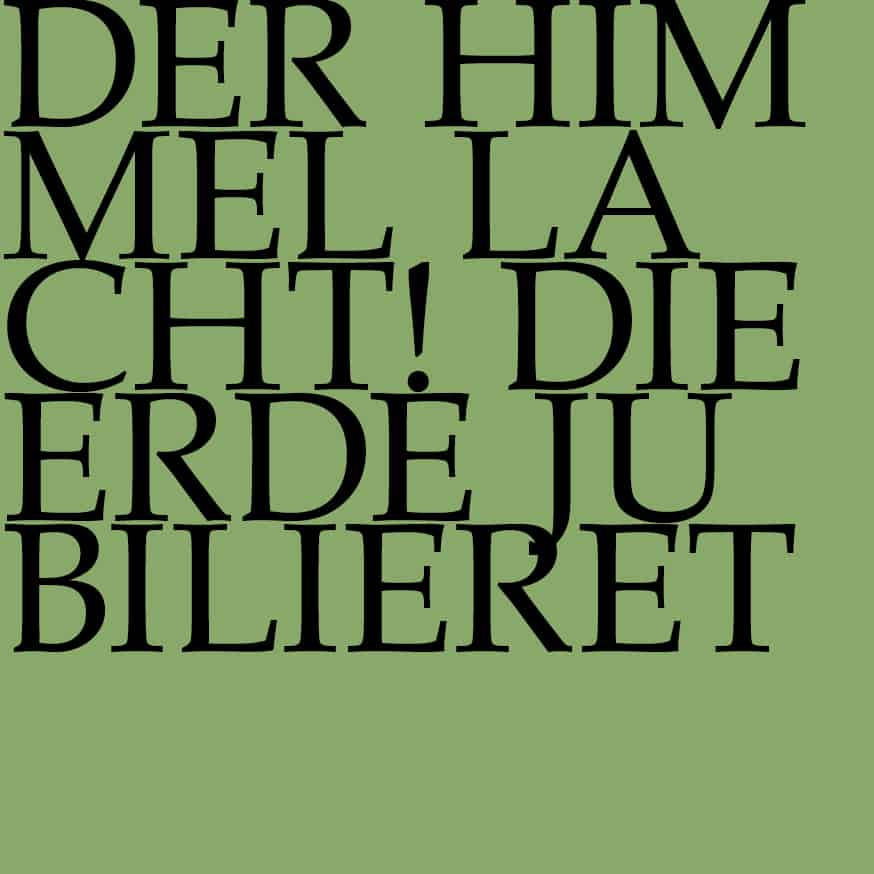 Video
Experience the introductory workshop, concert and reflective lecture in full length.
«Lutzogram» for the introductory workshop
Rudolf Lutz's manuscript for the workshop
Choir
Soprano
Lia Andres, Maria Deger, Stephanie Pfeffer, Simone Schwark, Susanne Seitter, Noëmi Sohn Nad, Noëmi Tran-Rediger, Alexa Vogel, Anna Walker
Alto
Anne Bierwirth, Nanora Büttiker, Antonia Frey, Francisca Näf, Lea Pfister-Scherer
Tenor
Zacharie Fogal, Achim Glatz, Tiago Oliveira, Christian Rathgeber
Bass
Jean-Christophe Groffe, Fabrice Hayoz, Serafin Heusser, Philippe Rayot, Tobias Wicky
Orchestra
Conductor
Rudolf Lutz
Violin
Renate Steinmann, Monika Baer, Claire Foltzer, Elisabeth Kohler, Olivia Schenkel, Petra Melicharek, Salome Zimmermann
Viola
Susanna Hefti, Matthias Jäggi, Stella Mahrenholz
Violoncello
Martin Zeller, Magdalena Reisser
Violone
Guisella Massa
Oboe
Katharina Arfken
Trumpet
Lukasz Gothszalk, Matthew Sadler, Alexander Samawicz
Timpani
Inez Ellmann

Bassoon
Susann Landert
Harpsichord
Thomas Leininger
Organ
Nicola Cumer
Musical director & conductor
Rudolf Lutz
Workshop
Participants
Rudolf Lutz, Pfr. Niklaus Peter
Reflective lecture
Speaker
Christine Blanken
Recording & editing
Recording date
28/04/2022
Recording location
Trogen AR (Schweiz) // Evangelische Kirche
Sound engineer
Stefan Ritzenthaler
Producer
Meinrad Keel
Executive producer
Johannes Widmer
Production
GALLUS MEDIA AG, Schweiz
Producer
J.S. Bach-Stiftung, St. Gallen, Schweiz
Matching publications in our shop
Librettist
First performance
21 April 1715, Weimar
Text
Salomo Franck (movements 2–8); Nikolaus Herman (movement 9)
Libretto
2. Chor
Der Himmel lacht! Die Erde jubilieret
und was sie trägt in ihrem Schoß.
Der Schöpfer lebt! der Höchste triumphieret
und ist von Todesbanden los.
Der sich das Grab zur Ruh erlesen,
der Heiligste kann nicht verwesen.
3. Rezitativ — Bass
Erwünschter Tag! Sei, Seele, wieder froh!
Das A und O,
der erst und auch der letzte,
den unsre schwere Schuld
in Todeskerker setzte,
ist nun gerissen aus der Not!
Der Herr war tot,
und sieh, er lebet wieder!
Lebt unser Haupt, so leben auch die Glieder!
Der Herr hat in der Hand
des Todes und der Höllen Schlüssel!
Der sein Gewand
blutrot bespritzt in seinen bittern Leiden,
will heute sich mit Schmuck und Ehren kleiden.
4. Arie — Bass
Fürst des Lebens, starker Streiter,
Fürst des Lebens, hochgelobter Gottessohn!
hebet dich des Kreuzes Leiter
auf den höchsten Ehrenthron?
Wird, was dich zuvor gebunden,
nun dein Schmuck und Edelstein?
Müssen deine Purpurwunden
deiner Klarheit Strahlen sein?
5. Rezitativ — Tenor
So stehe dann, du gottergebne Seele,
mit Christo geistlich auf!
Tritt an den neuen Lebenslauf!
Auf! von den toten Werken!
Laß, daß dein Heiland in dir lebt,
an deinem Leben merken!
Der Weinstock, der jetzt blüht,
trägt keine tote Reben!
Der Lebensbaum läßt seine Zweige leben!
Ein Christe flieht
ganz eilend von dem Grabe!
Er läßt den Stein,
er läßt das Tuch der Sünden dahinten
und will mit Christo lebend sein!
6. Arie — Tenor
Adam muß in uns verwesen,
soll der neue Mensch genesen,
der nach Gott geschaffen ist!
Du mußt geistlich auferstehen
und aus Sündengräbern gehen,
wenn du Christi Gliedmaß bist.
7. Rezitativ — Sopran
Weil dann das Haupt sein Glied
natürlich nach sich zieht,
so kann mich nichts von Jesu scheiden.
Muß ich mit Christo leiden,
so werd ich auch nach dieser Zeit
mit Christo wieder auferstehen
zur Ehr und Herrlichkeit
und Gott in meinem Fleische sehen!
8. Arie — Sopran
Letzte Stunde, brich herein,
mir die Augen zuzudrücken!
Laß mich Jesu Freudenschein
und sein helles Licht erblicken!
Laß mich Engeln ähnlich sein!
Letzte Stunde, brich herein!
9. Choral
So fahr ich hin zu Jesu Christ,
mein Arm tu ich ausstrecken;
so schlaf ich ein und ruhe fein;
kein Mensch kann mich aufwecken
denn Jesus Christus, Gottes Sohn,
der wird die Himmelstür auftun,
mich führn zum ewgen Leben.
Bibliographical references
All libretti sourced from Neue Bach-Ausgabe. Johann Sebastian Bach. Neue Ausgabe sämtlicher Werke, published by the Johann-Sebastian-Bach-Institut Göttingen and the Bach-Archiv Leipzig, Series I (Cantatas), vol. 1–41, Kassel and Leipzig, 1954–2000.
All in-depth analyses by Anselm Hartinger (English translations/editing by Alice Noger-Gradon/Mary Carozza) based on the following sources:  Hans-Joachim Schulze, Die Bach-Kantaten. Einführungen zu sämtlichen Kantaten Johann Sebastian Bachs, Leipzig, 2nd edition, 2007; Alfred Dürr, Johann Sebastian Bach. Die Kantaten, Kassel, 9th edition, 2009, and Martin Petzoldt, Bach-Kommentar. Die geistlichen Kantaten, Stuttgart, vol. 1, 2nd edition, 2005 and vol. 2, 1st edition, 2007.