Liebster Jesu, mein Verlangen
BWV 032 // For the First Sunday after Epiphany
(Dearest Jesus, my desiring) for soprano and bass, vocal ensemble, oboe, strings and basso continuo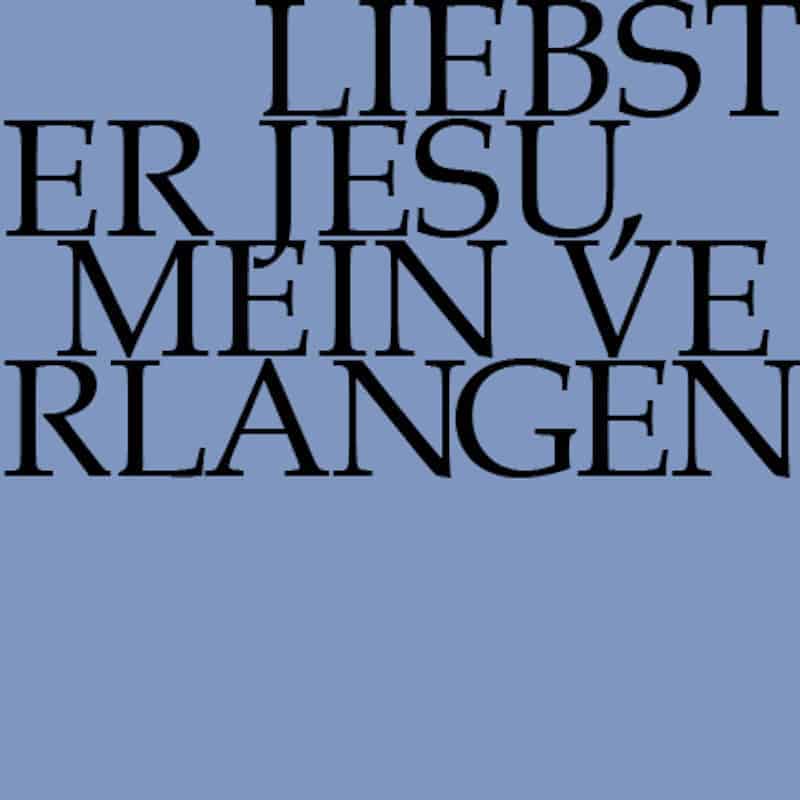 Video
Experience the introductory workshop, concert and reflective lecture in full length.
Workshop
Reflective lecture
«Lutzogram» for the introductory workshop
Rudolf Lutz's manuscript for the workshop
Orchestra
Conductor & cembalo
Rudolf Lutz
Violin
Renate Steinmann, Olivia Schenkel
Viola
Susanna Hefti
Violoncello
Daniel Rosin
Violone
Markus Bernhard
Oboe
Katharina Arfken
Organ
Nicola Cumer
Musical director & conductor
Rudolf Lutz
Workshop
Participants
Karl Graf, Rudolf Lutz
Reflective lecture
Speaker
Fabian Müller
Recording & editing
Recording date
20.01.2017
Recording location
Trogen AR (Schweiz) // Evangelische Kirche
Sound engineer
Stefan Ritzenthaler
Director
Meinrad Keel
Production manager
Johannes Widmer
Production
GALLUS MEDIA AG, Switzerland
Producer
J.S. Bach Foundation of St. Gallen, Switzerland
Matching publications in our shop
Librettist
Text
Georg Christian Lehms, 1711
Text No. 6
Paul Gerhardt, 1647
First performance
First Sunday after Epiphany,
13 January 1726
Libretto
1. Arie (Sopran)
Liebster Jesu, mein Verlangen,
sage mir, wo find ich dich?
Soll ich dich so bald verlieren
und nicht ferner bei mir spüren?
Ach! mein Hort, erfreue mich,
laß dich höchst vergnügt umfangen.
2. Rezitativ (Bass)
»Was ists, daß du mich gesuchet? Weißt du nicht, daß ich
sein muß in dem, das meines Vaters ist?«
3. Arie (Bass)
Hier, in meines Vaters Stätte,
findt mich ein betrübter Geist.
Da kannst du mich sicher finden
und dein Herz mit mir verbinden,
weil dies meine Wohnung heißt.
4. Rezitativ (Dialog Sopran, Bass)
Sopran
Ach! heiliger und großer Gott,
so will ich mir
denn hier bei dir
beständig Trost und Hülfe suchen.
Bass
Wirst du den Erdentand verfluchen
und nur in diese Wohnung gehn,
so kannst du hier und dort bestehn.
Sopran
Wie lieblich ist doch deine Wohnung,
Herr, starker Zebaoth;
mein Geist verlangt
nach dem, was nur in deinem Hofe prangt.
Mein Leib und Seele freuet sich
in dem lebendgen Gott:
Ach! Jesu, meine Brust liebt dich nur ewiglich.
Bass
So kannst du glücklich sein,
wenn Herz und Geist
aus Liebe gegen mich entzündet heißt.
Sopran
Ach! dieses Wort, das itzo schon
mein Herz aus Babels Grenzen reißt,
faß ich mir andachtsvoll in meiner Seele ein.
5. Arie (Duett Sopran, Bass)
Nun verschwinden alle Plagen,
nun verschwindet Ach und Schmerz.
Sopran
Nun will ich nicht von dir lassen,
Bass
und ich dich auch stets umfassen.
Sopran
Nun vergnüget sich mein Herz,
Bass
und kann voller Freude sagen:
Sopran, Bass
Nun verschwinden alle Plagen,
nun verschwindet Ach und Schmerz!
6. Choral
Mein Gott, öffne mir die Pforten
solcher Gnad und Gütigkeit,
laß mich allzeit allerorten
schmecken deine Süßigkeit!
Liebe mich und treib mich an,
daß ich dich, so gut ich kann,
wiederum umfang und liebe
und ja nun nicht mehr betrübe.
Bibliographical references
All libretti sourced from Neue Bach-Ausgabe. Johann Sebastian Bach. Neue Ausgabe sämtlicher Werke, published by the Johann-Sebastian-Bach-Institut Göttingen and the Bach-Archiv Leipzig, Series I (Cantatas), vol. 1–41, Kassel and Leipzig, 1954–2000.
All in-depth analyses by Anselm Hartinger (English translations/editing by Alice Noger-Gradon/Mary Carozza) based on the following sources:  Hans-Joachim Schulze, Die Bach-Kantaten. Einführungen zu sämtlichen Kantaten Johann Sebastian Bachs, Leipzig, 2nd edition, 2007; Alfred Dürr, Johann Sebastian Bach. Die Kantaten, Kassel, 9th edition, 2009, and Martin Petzoldt, Bach-Kommentar. Die geistlichen Kantaten, Stuttgart, vol. 1, 2nd edition, 2005 and vol. 2, 1st edition, 2007.