O ewiges Feuer, o Ursprung der Liebe
BWV 034 // For Pentecost (Whitsunday)
(O fire everlasting, O fountain of loving) for alto, tenor and bass, vocal ensemble, trumpets I–III, timpani, flauto traverso I+II, oboe I+II, bassoon, strings, organ and harpsichord.
The Pentecost cantata "O ewiges Feuer, o Ursprung der Liebe" (O fire everlasting, o fountain of loving) BWV 34, is particularly concise in construction despite its magnificent high-day sound. Its five movement form (unusual for a Leipzig church cantata) with only one aria and no closing chorale suggests it may well be a parody work – and, in fact, the first, third and fifth movements do originate from a wedding cantata of the same name (BWV 34a) that survives only in part today.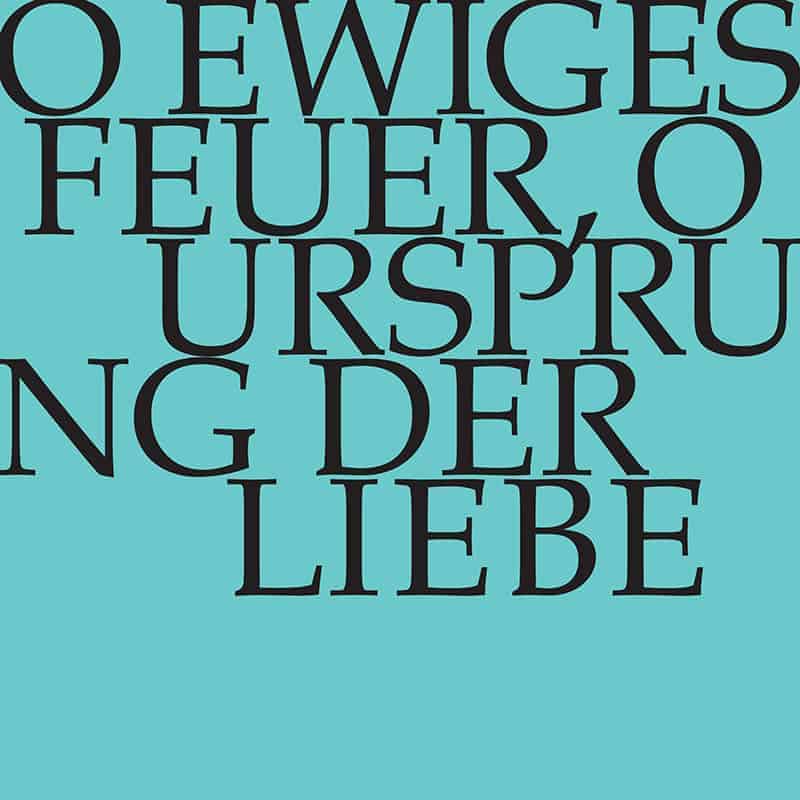 Video
Experience the introductory workshop, concert and reflective lecture in full length.
Workshop
Reflective lecture
«Lutzogram» for the introductory workshop
Rudolf Lutz's manuscript for the workshop
Audio
The sound recording of this work is available on several streaming and download platforms.
Choir
Soprano
Susanne Frei, Leonie Gloor, Guro Hjemli, Jennifer Rudin, Noëmi Tran Rediger
Alto
Alexandra Rawohl, Olivia Heiniger, Francisca Näf, Damaris Nussbaumer, Lea Scherer
Tenor
Marcel Fässler, Manuel Gerber, Nicolas Savoy, Walter Siegel
Bass
Fabrice Hayoz, Chasper Mani, Philippe Rayot, William Wood
Orchestra
Conductor
Rudolf Lutz
Violin
Renate Steinmann, Plamena Nikitassova, Sylvia Gmür, Sabine Hochstrasser, Fanny Pestalozzi, Olivia Schenkel, Fanny Tschanz, Livia Wiersich
Viola
Susanna Hefti, Martina Bischof, Joanna Bilger
Violoncello
Martin Zeller, Hristo Kouzmanov
Violone
Iris Finkbeiner
Oboe
Luise Baumgartl, Martin Stadler
Bassoon
Susann Landert
Tromba da tirarsi
Patrick Henrichs, Peter Hasel, Klaus Pfeiffer
Transverse flute
Maria Mittermayr, Renate Sudhaus
Timpani
Martin Homann
Organ
Nicola Cumer
Harpsichord
Oren Kirschenbaum
Musical director & conductor
Rudolf Lutz
Workshop
Participants
Karl Graf, Rudolf Lutz
Reflective lecture
Speaker
Arthur Godel
Recording & editing
Recording date
05/29/2009
Recording location
Trogen
Sound engineer
Stefan Ritzenthaler
Director
Meinrad Keel
Production manager
Johannes Widmer
Production
GALLUS MEDIA AG, Switzerland
Producer
J.S. Bach Foundation of St. Gallen, Switzerland
Matching publications in our shop
Librettist
Text
Poet unknown
First performance
First Day of Pentecost,
probably in May 1746 or 1747
In-depth analysis
The opening chorus is conceived as a three-choir orchestral concerto (trumpets and timpani, oboes, and strings) in da capo form. In particular, the partially aria-like, partially broad contrapuntal choir section with its euphonic declamation demonstrates exceptional maturity in its craftsmanship. Even the middle section of this fragmented movement, which begins with an elegant vocal duet, features an expressive fugue ("Ah, let our souls please you in faith").
After a brief recitative, an alto aria follows in which the original text of "ye chosen of the shepherd" was amended to "ye, the chosen spirits" in the parody work, without giving rise to changes in the pastoral music. Two transverse flutes, doubled an octave lower by muted violins, evoke a peaceful mood over the gentle long-tones of the bass and viola, while the long stretches of syncopated melody lend the movement a modern touch. The brief recitative no. 4 forms a transitional movement, building up to an oratorical colon that culminates in the massive tutti choral proclamation "Peace be over Israel" and a final movement of light-hearted rejoicing. In this last section, a sweeping figure sends the soprano soaring over one and a half octaves up to a second ledger-line "A". This slide figure, originally set for the Wedding Cantata to the text "Haste unto that holy stairway", is equally effective as text painting for "Thank the lofty hands of wonder" and deftly demonstrates the skill of the baroque librettists and the efficiency of the oft-criticised parody technique.
Considering its composition date of the mid 1740s and its striking style, one is tempted to think Bach was experimenting with the gallant style of his sons and students. If, however, we remember that the original composition was written in 1726, it becomes apparent that Bach had long mastered this popular style and was, in a sense, ahead of his time. It is certainly the case that Wilhelm Friedemann Bach was able to perform his father's work decades later in Halle with no loss of face whatsoever.
Libretto
1. Chor
O ewiges Feuer, o Ursprung der Liebe,
entzünde die Herzen und weihe sie ein.
Lass himmlische Flammen durchdringen
und wallen,
wir wünschen, o Höchster, dein Tempel
zu sein,
ach, lass dir die Seelen im Glauben
gefallen.
2. Rezitativ (Tenor)
Herr, unsre Herzen halten dir
dein Wort der Wahrheit für:
du willst bei Menschen gerne sein,
drum sei das Herze dein;
Herr, ziehe gnädig ein.
Ein solch erwähltes Heiligtum
hat selbst den grössten Ruhm.
3. Arie (Alt)
Wohl euch, ihr auserwählten Seelen,
Die Gott zur Wohnung ausersehn.
Wer kann ein grösser Heil erwählen?
Wer kann des Segens Menge zählen?
Und dieses ist vom Herrn geschehn.
4. Rezitativ (Bass)
Erwählt sich Gott die heilgen Hütten,
die er mit Heil bewohnt,
so muss er auch den Segen auf sie schütten,
so wird der Sitz des Heiligtums belohnt.
Der Herr ruft über sein geweihtes Haus
das Wort des Segens aus:
5. Chor
Friede über Israel.
Dankt den höchsten Wunderhänden,
dankt, Gott hat an euch gedacht.
Ja, sein Segen wirkt mit Macht,
Friede über Israel,
Friede über euch zu senden.
Bibliographical references
All libretti sourced from Neue Bach-Ausgabe. Johann Sebastian Bach. Neue Ausgabe sämtlicher Werke, published by the Johann-Sebastian-Bach-Institut Göttingen and the Bach-Archiv Leipzig, Series I (Cantatas), vol. 1–41, Kassel and Leipzig, 1954–2000.
All in-depth analyses by Anselm Hartinger (English translations/editing by Alice Noger-Gradon/Mary Carozza) based on the following sources:  Hans-Joachim Schulze, Die Bach-Kantaten. Einführungen zu sämtlichen Kantaten Johann Sebastian Bachs, Leipzig, 2nd edition, 2007; Alfred Dürr, Johann Sebastian Bach. Die Kantaten, Kassel, 9th edition, 2009, and Martin Petzoldt, Bach-Kommentar. Die geistlichen Kantaten, Stuttgart, vol. 1, 2nd edition, 2005 and vol. 2, 1st edition, 2007.