Wer sich selbst erhöhet, der soll erniedriget werden
BWV 047 // For the Seventeenth Sunday after Trinity
(Who himself exalteth, he shall be made to be humble) for soprano and bass, vocal ensemble, oboe I+II, bassoon, strings and continuo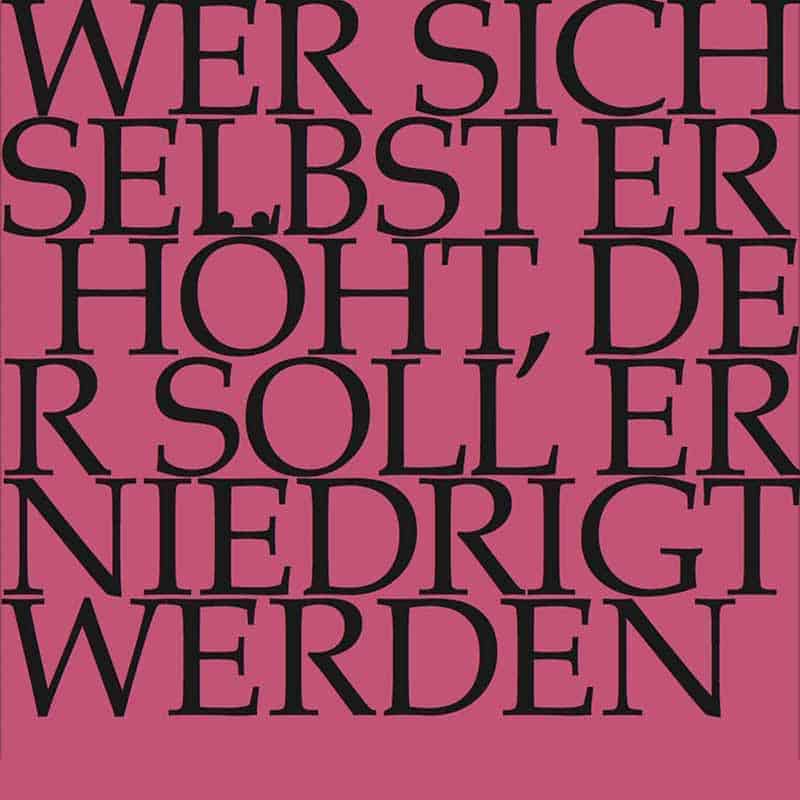 Video
Experience the introductory workshop, concert and reflective lecture in full length.
Workshop
Reflective lecture
«Lutzogram» for the introductory workshop
Rudolf Lutz's manuscript for the workshop
Audio
The sound recording of this work is available on several streaming and download platforms.
Choir
Soprano
Olivia Fündeling, Jennifer Rudin, Susanne Seitter, Noëmi Tran Rediger, Alexa Vogel
Alto
Jan Börner, Antonia Frey, Francisca Näf, Alexandra Rawohl, Lea Scherer
Tenor
Marcel Fässler, Clemens Flämig, Nicolas Savoy
Bass
Fabrice Hayoz, Philippe Rayot, Manuel Walser, William Wood
Orchestra
Conductor
Rudolf Lutz
Violin
Plamena Nikitassova, Dorothee Mühleisen, Christine Baumann, Yuko Ishikawa, Christoph Rudolf, Eva Saladin
Viola
Martina Bischof, Sarah Krone
Violoncello
Maya Amrein, Hristo Kouzmanov
Violone
Iris Finkbeiner
Oboe
Kerstin Kramp, Ingo Müller
Bassoon
Susann Landert
Organ
Nicola Cumer
Musical director & conductor
Rudolf Lutz
Workshop
Participants
Karl Graf, Rudolf Lutz
Reflective lecture
Speaker
Volker Meid
Recording & editing
Recording date
09/20/2013
Recording location
Trogen
Sound engineer
Stefan Ritzenthaler
Director
Meinrad Keel
Production manager
Johannes Widmer
Production
GALLUS MEDIA AG, Switzerland
Producer
J.S. Bach Foundation of St. Gallen, Switzerland
Matching publications in our shop
Librettist
Text No. 1
Luke 14:11
Text No. 2–4
Johann Friedrich Helbig, 1720
Text No. 5
Poet unknown
First performance
Seventeenth Sunday after Trinity,
13 October 1726
In-depth analysis
Cantata BWV 47 is Bach's only composition set to a text by Johann Friedrich Helbig, who in 1720 published a cycle of cantata libretti in Eisenach under the title of "Auffmunterung zur Andacht" (inspiration for devotion). The cantata was composed for 13 October 1726; no evidence supports past conjecture that the work was conceived as an audition piece for Bach's visit to Hamburg in 1720.
The introductory chorus is based on the antithetical dictum from Luke 14 that pronounces contrasting rewards for human pride and humility; the parable instructs that a guest should avoid taking the best seat at the table and instead wait humbly to be escorted there by the host. From the very outset of the extended introductory section, Bach illustrates the moral peril and weighty consequences of the dictum. Set in the earnest key of G minor, the alternating oboe and string lines evoke an admonitory finger pointed at the listener ere the ongoing exchange of musical materials juxtaposes modest humility and ostentatious exultation. This is followed by a freely treated vocal fugue featuring various voice combinations and layers of orchestral material. This skilfully proportioned setting, which would have made for an equally fine Kyrie in a Bachian Missa brevis of the 1730s, makes clear that in the master's oeuvre, sensitive appreciation of text is always paired with great musical logic.
In the soprano aria, the instrumental obbligato presents a restless figurative melody over gently-stepping quavers in the continuo line. The scoring of this part for violin, with its urgent phrases and double stops, was apparently chosen for a revival of the work in the 1730s; indications in the score and later comments by Carl Philipp Emanuel Bach suggest that the original version was, however, written for obbligato organ. The significance Bach assigned to this obbligato is demonstrated by both the independence of its lines and its place in the extended coda. The soprano part, by contrast, adheres closely to the text affect of the continuo part, a decision that heightens the condemnation of haughtiness and pride which erupts in the contrasting middle section.
In the accompagnato recitative, the bass soloist does not mince his words when he describes humankind as "Kot, Staub, Asch und Erde" (excrement, dust, earth and ashes) – the Helbig original even uses the word "Stank" (stench) in place of "Staub" – and thus highlights the gulf between mere mortals and divine majesty. Indeed, that the creator lowered himself out of love for the vain children of earth gives them no claim to favourable treatment! Here, the icy string accompaniment does nothing to soften this scolding, but reinforces, like a pulpit chiselled of sound, the distance between message and recipients. In the closing transition to E-flat major and its comforting promise, a new warmth then emerges, lending the tender violin and oboe lines in the following aria an enchanted glow. Here, the bass descends from the pulpit, joins in the prayer and pleads with confiding trust: "Jesu beuge doch mein Herze" (Jesus, humble yet my spirit). This through-composed setting would also make for a pretty sonata-quartet, for instance with an obbligato bassoon – something that Telemann, who set the entire Helbig libretto cycle to music, had a penchant for.
With a return to the key of G minor, the closing verse of the hymn "Warum betrübst du dich, mein Herz" (Why art thou troubled, O my heart) reaffirms rejection of earthly concerns and "zeitliche Ehren" (temporal praise). In this setting, the words of "herbe bittre Tod" (painful, bitter death) are set with such distinction that even the sleepiest churchgoers would have been jolted awake in their pews. Indeed, chorale settings in the hands of Bach are never the work of a mere copyist.
Libretto
1. Chor
«Wer sich selbst erhöhet, der soll erniedriget werden,
und wer sich selbst erniedriget, der soll erhöhet werden.»
2. Arie (Sopran)
Wer ein wahrer Christ will heißen,
muß der Demut sich befleißen,
Demut stammt aus Jesu Reich.
Hoffart ist dem Teufel gleich.
Gott pflegt alle die zu hassen,
so den Stolz nicht fahren lassen.
3. Rezitativ (Bass)
Der Mensch ist Kot, Staub, Asch und Erde;
ists möglich, daß vom Übermut,
als einer Teufelsbrut,
er noch bezaubert werde?
Ach, Jesus, Gottes Sohn,
der Schöpfer aller Dinge,
ward unsertwegen niedrig und geringe,

er duld'te Schmach und Hohn;
und du, du armer Wurm, suchst dich zu brüsten?
Gehört sich das vor einen Christen?
Geh, schäme dich, du stolze Kreatur,
tu Buß und folge Christi Spur;
wirf dich vor Gott im Geiste gläubig nieder!
Zu seiner Zeit erhöht er dich auch wieder.
4. Arie (Bass)
Jesu, beuge doch mein Herze
unter deine starke Hand,
daß ich nicht mein Heil verscherze

wie der erste Höllenbrand.
Laß mich deine Demut suchen
und den Hochmut ganz verfluchen.
Gib mir einen niedern Sinn,
daß ich dir gefällig bin!
5. Choral

Der zeitlichen Ehrn will ich gern entbehrn,
du wollst mir nur das Ewge gewährn,
das du erworben hast
durch deinen herben, bittern Tod.
Das bitt ich dich, mein Herr und Gott.
Bibliographical references
All libretti sourced from Neue Bach-Ausgabe. Johann Sebastian Bach. Neue Ausgabe sämtlicher Werke, published by the Johann-Sebastian-Bach-Institut Göttingen and the Bach-Archiv Leipzig, Series I (Cantatas), vol. 1–41, Kassel and Leipzig, 1954–2000.
All in-depth analyses by Anselm Hartinger (English translations/editing by Alice Noger-Gradon/Mary Carozza) based on the following sources:  Hans-Joachim Schulze, Die Bach-Kantaten. Einführungen zu sämtlichen Kantaten Johann Sebastian Bachs, Leipzig, 2nd edition, 2007; Alfred Dürr, Johann Sebastian Bach. Die Kantaten, Kassel, 9th edition, 2009, and Martin Petzoldt, Bach-Kommentar. Die geistlichen Kantaten, Stuttgart, vol. 1, 2nd edition, 2005 and vol. 2, 1st edition, 2007.