Wer sich selbst erhöhet, der soll erniedriget werden
BWV 047 // For the Seventeenth Sunday after Trinity
(Who himself exalteth, he shall be made to be humble) for soprano and bass, vocal ensemble, oboe I+II, bassoon, strings and continuo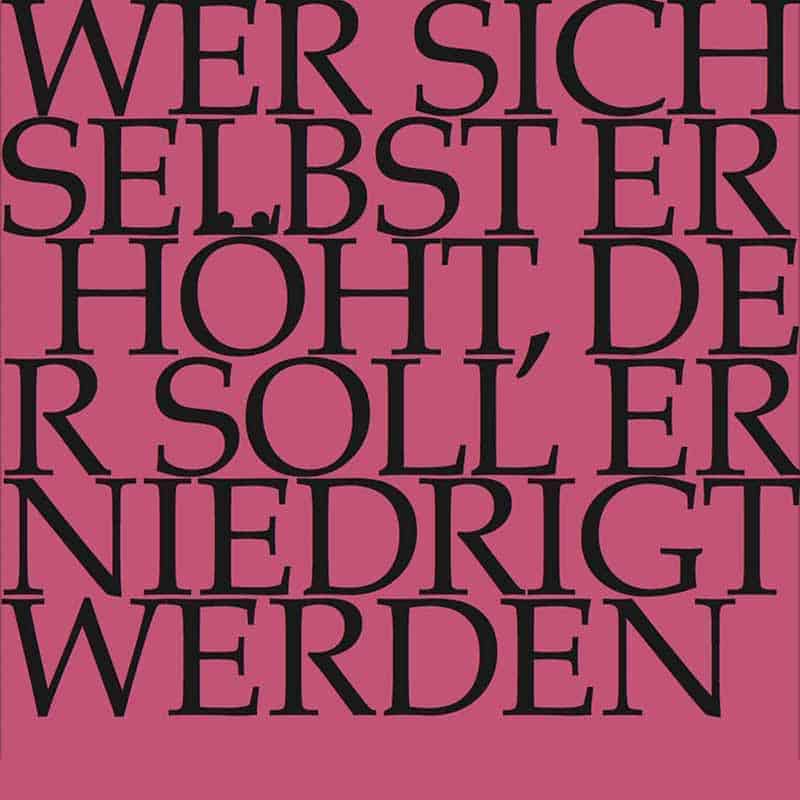 Video
Experience the introductory workshop, concert and reflective lecture in full length.
Workshop
Reflective lecture
«Lutzogram» for the introductory workshop
Rudolf Lutz's manuscript for the workshop
Choir
Soprano
Olivia Fündeling, Jennifer Rudin, Susanne Seitter, Noëmi Tran Rediger, Alexa Vogel
Alto
Jan Börner, Antonia Frey, Francisca Näf, Alexandra Rawohl, Lea Scherer
Tenor
Marcel Fässler, Clemens Flämig, Nicolas Savoy
Bass
Fabrice Hayoz, Philippe Rayot, Manuel Walser, William Wood
Orchestra
Conductor
Rudolf Lutz
Violin
Plamena Nikitassova, Dorothee Mühleisen, Christine Baumann, Yuko Ishikawa, Christoph Rudolf, Eva Saladin
Viola
Martina Bischof, Sarah Krone
Violoncello
Maya Amrein, Hristo Kouzmanov
Violone
Iris Finkbeiner
Oboe
Kerstin Kramp, Ingo Müller
Bassoon
Susann Landert
Organ
Nicola Cumer
Musical director & conductor
Rudolf Lutz
Workshop
Participants
Karl Graf, Rudolf Lutz
Reflective lecture
Speaker
Volker Meid
Recording & editing
Recording date
09/20/2013
Recording location
Trogen
Sound engineer
Stefan Ritzenthaler
Director
Meinrad Keel
Production manager
Johannes Widmer
Production
GALLUS MEDIA AG, Switzerland
Producer
J.S. Bach Foundation of St. Gallen, Switzerland
Matching publications in our shop
Librettist
Text No. 1
Luke 14:11
Text No. 2–4
Johann Friedrich Helbig, 1720
Text No. 5
Poet unknown
First performance
Seventeenth Sunday after Trinity,
13 October 1726
Libretto
1. Chor
«Wer sich selbst erhöhet, der soll erniedriget werden,
und wer sich selbst erniedriget, der soll erhöhet werden.»
2. Arie (Sopran)
Wer ein wahrer Christ will heißen,
muß der Demut sich befleißen,
Demut stammt aus Jesu Reich.
Hoffart ist dem Teufel gleich.
Gott pflegt alle die zu hassen,
so den Stolz nicht fahren lassen.
3. Rezitativ (Bass)
Der Mensch ist Kot, Staub, Asch und Erde;
ists möglich, daß vom Übermut,
als einer Teufelsbrut,
er noch bezaubert werde?
Ach, Jesus, Gottes Sohn,
der Schöpfer aller Dinge,
ward unsertwegen niedrig und geringe,

er duld'te Schmach und Hohn;
und du, du armer Wurm, suchst dich zu brüsten?
Gehört sich das vor einen Christen?
Geh, schäme dich, du stolze Kreatur,
tu Buß und folge Christi Spur;
wirf dich vor Gott im Geiste gläubig nieder!
Zu seiner Zeit erhöht er dich auch wieder.
4. Arie (Bass)
Jesu, beuge doch mein Herze
unter deine starke Hand,
daß ich nicht mein Heil verscherze

wie der erste Höllenbrand.
Laß mich deine Demut suchen
und den Hochmut ganz verfluchen.
Gib mir einen niedern Sinn,
daß ich dir gefällig bin!
5. Choral

Der zeitlichen Ehrn will ich gern entbehrn,
du wollst mir nur das Ewge gewährn,
das du erworben hast
durch deinen herben, bittern Tod.
Das bitt ich dich, mein Herr und Gott.
Bibliographical references
All libretti sourced from Neue Bach-Ausgabe. Johann Sebastian Bach. Neue Ausgabe sämtlicher Werke, published by the Johann-Sebastian-Bach-Institut Göttingen and the Bach-Archiv Leipzig, Series I (Cantatas), vol. 1–41, Kassel and Leipzig, 1954–2000.
All in-depth analyses by Anselm Hartinger (English translations/editing by Alice Noger-Gradon/Mary Carozza) based on the following sources:  Hans-Joachim Schulze, Die Bach-Kantaten. Einführungen zu sämtlichen Kantaten Johann Sebastian Bachs, Leipzig, 2nd edition, 2007; Alfred Dürr, Johann Sebastian Bach. Die Kantaten, Kassel, 9th edition, 2009, and Martin Petzoldt, Bach-Kommentar. Die geistlichen Kantaten, Stuttgart, vol. 1, 2nd edition, 2005 and vol. 2, 1st edition, 2007.