Ich geh und suche mit Verlangen
BWV 049 // For the Twentieth Sunday after Trinity
(I go and search for thee with longing) for soprano and bass, oboe d'amore, violoncello piccolo, organ, strings and basso continuo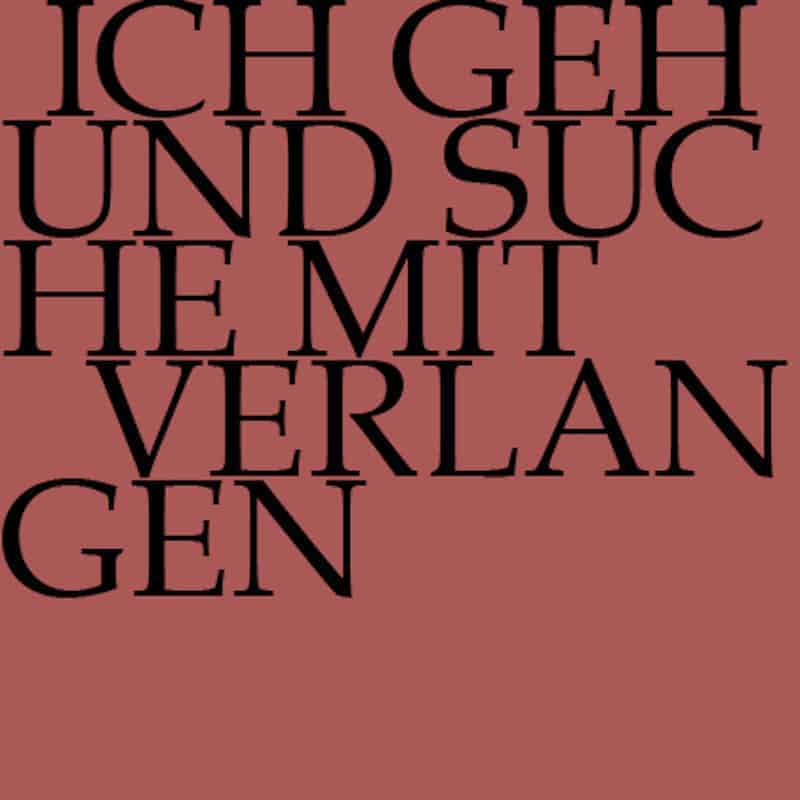 Video
Experience the introductory workshop, concert and reflective lecture in full length.
Workshop
Reflective lecture
«Lutzogram» for the introductory workshop
Rudolf Lutz's manuscript for the workshop
Orchestra
Conductor
Rudolf Lutz
Violin
Renate Steinmann, Monika Baer, Claire Foltzer, Olivia Schenkel, Marita Seeger, Salome Zimmermann
Viola
Susanna Hefti, Matthias Jäggi, Martina Zimmermann
Violoncello
Martin Zeller, Hristo Kouzmanov
Violoncello piccolo
Martin Zeller
Violone
Markus Bernhard
Oboe d'amore
Philipp Wagner
Bassoon
Susann Landert
Organo Obbligato
Jörg Andreas Bötticher
Harpsichord
Nicola Cumer
Musical director & conductor
Rudolf Lutz
Workshop
Participants
Karl Graf, Rudolf Lutz
Reflective lecture
Speaker
Karin Scheiber
Recording & editing
Recording date
27.10.2017
Recording location
Trogen AR (Schweiz) // Evangelische Kirche
Sound engineer
Stefan Ritzenthaler
Director
Meinrad Keel
Production manager
Johannes Widmer
Production
GALLUS MEDIA AG, Switzerland
Producer
J.S. Bach Foundation of St. Gallen, Switzerland
Matching publications in our shop
Librettist
Text
Author unknown
First performance
Twentieth Sunday after Trinity,
3 November 1726
Libretto
2. Arie (Bass)
Ich geh und suche mit Verlangen
dich, meine Taube, schönste Braut.
Sag an, wo bist du hingegangen,
daß dich mein Auge nicht mehr schaut?
3. Rezitativ (Duett Sopran, Bass)
Bass
Mein Mahl ist zubereit'
und meine Hochzeittafel fertig,
nur meine Braut ist noch nicht gegenwärtig.
Sopran
Mein Jesu redt von mir;
o Stimme, welche
mich erfreut!
Bass
Ich geh und suche mit Verlangen
dich, meine Taube, schönste Braut.
Sopran
Mein Bräutigam, ich falle dir zu Füßen.
Sopran, Bass
Komm, Schönste, komm und laß dich küssen,
Bass
du sollst mein fettes Mahl genießen
Sopran
laß mich dein fettes Mahl genießen
Bass
Komm, liebe Braut, und eile nun,
Sopran
Mein Bräutigam, ich eile nun,
Sopran, Bass
die Hochzeitskleider anzutun.
4. Arie (Sopran)
Ich bin herrlich, ich bin schön,
meinen Heiland zu entzünden.
Seines Heils Gerechtigkeit
ist mein Schmuck und Ehrenkleid;
und damit will ich bestehn,
wenn ich werd in Himmel gehn.
5. Rezitativ (Duett Sopran, Bass)
Sopran
Mein Glaube hat mich selbst so angezogen.
Bass
So bleibt mein Herze dir gewogen,
so will ich mich mit dir
in Ewigkeit vertrauen und verloben.
Sopran
Wie wohl ist mir!
Der Himmel ist mir aufgehoben,
die Majestät ruft selbst und sendet ihre Knechte,
daß das gefallene Geschlechte
im Himmelssaal
bei dem Erlösungsmahl
zu Gaste möge sein.
Hier komm ich, Jesu, laß mich ein!
Bass
Sei bis im Tod getreu,
so leg ich dir die Lebenskrone bei.
6. Arie mit Choral (Deutt Sopran, Bass)
Dich hab ich je und je geliebet,
Wie bin ich doch so herzlich froh,
Dass mein Schatz ist das A und O,
Der Anfang und das Ende.
Und darum zieh ich dich zu mir.
Er wird mich doch zu seinem Preis
Aufnehmen in das Paradeis;
Des klopf ich in die Hände.
Ich komme bald,
Amen! Amen!
Ich stehe vor der Tür,
Komm, du schöne Freudenkrone, bleib nicht lange!
Mach auf, mein Aufenthalt!
Deiner wart ich mit Verlangen.
Dich hab ich je und je geliebet,
Und darum zieh ich dich zu mir.
Bibliographical references
All libretti sourced from Neue Bach-Ausgabe. Johann Sebastian Bach. Neue Ausgabe sämtlicher Werke, published by the Johann-Sebastian-Bach-Institut Göttingen and the Bach-Archiv Leipzig, Series I (Cantatas), vol. 1–41, Kassel and Leipzig, 1954–2000.
All in-depth analyses by Anselm Hartinger (English translations/editing by Alice Noger-Gradon/Mary Carozza) based on the following sources:  Hans-Joachim Schulze, Die Bach-Kantaten. Einführungen zu sämtlichen Kantaten Johann Sebastian Bachs, Leipzig, 2nd edition, 2007; Alfred Dürr, Johann Sebastian Bach. Die Kantaten, Kassel, 9th edition, 2009, and Martin Petzoldt, Bach-Kommentar. Die geistlichen Kantaten, Stuttgart, vol. 1, 2nd edition, 2005 and vol. 2, 1st edition, 2007.