Ich geh und suche mit Verlangen
BWV 049 // For the Twentieth Sunday after Trinity
(I go and search for thee with longing) for soprano and bass, oboe d'amore, violoncello piccolo, organ, strings and basso continuo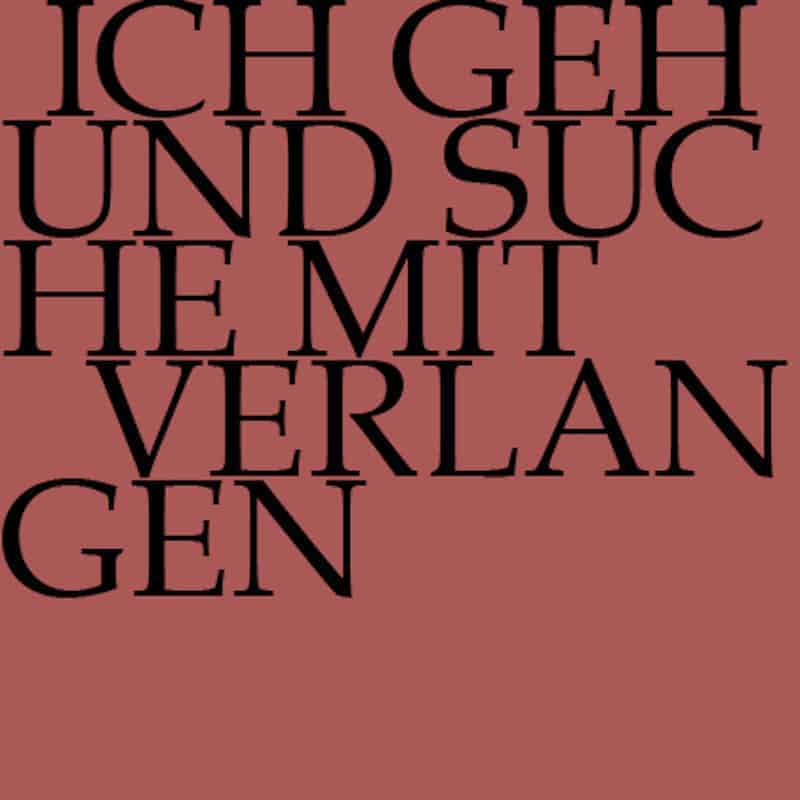 Video
Experience the introductory workshop, concert and reflective lecture in full length.
Workshop
Reflective lecture
«Lutzogram» for the introductory workshop
Rudolf Lutz's manuscript for the workshop
Audio
The sound recording of this work is available on several streaming and download platforms.
Orchestra
Conductor
Rudolf Lutz
Violin
Renate Steinmann, Monika Baer, Claire Foltzer, Olivia Schenkel, Marita Seeger, Salome Zimmermann
Viola
Susanna Hefti, Matthias Jäggi, Martina Zimmermann
Violoncello
Martin Zeller, Hristo Kouzmanov
Violoncello piccolo
Martin Zeller
Violone
Markus Bernhard
Oboe d'amore
Philipp Wagner
Bassoon
Susann Landert
Organo Obbligato
Jörg Andreas Bötticher
Harpsichord
Nicola Cumer
Musical director & conductor
Rudolf Lutz
Workshop
Participants
Karl Graf, Rudolf Lutz
Reflective lecture
Speaker
Karin Scheiber
Recording & editing
Recording date
27.10.2017
Recording location
Trogen AR (Schweiz) // Evangelische Kirche
Sound engineer
Stefan Ritzenthaler
Director
Meinrad Keel
Production manager
Johannes Widmer
Production
GALLUS MEDIA AG, Switzerland
Producer
J.S. Bach Foundation of St. Gallen, Switzerland
Matching publications in our shop
Librettist
Text
Author unknown
First performance
Twentieth Sunday after Trinity,
3 November 1726
In-depth analysis
First performed on the Twentieth Sunday after Trinity in 1726, BWV 49 is one of the few cantatas that Bach lent a distinctive character and momentum by including an obbligato organ part. The addition of an oboe d'amore, then, is equally a nod to the libretto on the Song of Solomon and a choice that augments the registers of the organ – itself a quasi-wind instrument.
Bach puts the potential of the solo keyboard instrument straight to work in the introductory sinfonia, a setting based on an earlier work that he later used again as the final movement of his harpsichord concerto BWV 1053. Set in a sparkling E major with a lively waltz of ascending triads, the oboes, doubled by strings, dance in joyous anticipation of the royal wedding feast described in the Sunday gospel. The confident organ figures, meanwhile, impart a distinctly cheerful character – as though Bach, the pious jazz pianist, wanted to prove that praising God and total coolness can go hand in hand.
In the bass aria, too, the organ takes centre stage: while the left hand plays a continuo line, the right features circling figures that evoke the longing search described by the vocalist in the role of Jesus. In the alternating passages of vocal questions and attentive instrumental responses, the calls of the Saviour are charged with a scenic presence that will resonate differently with each individual listener.
Set to a shimmering string accompaniment, the following recitative opens the actual "dialogue", the historical form named in the work's title. Jesus, sung by the bass soloist, links the invitation to the wedding table with the revelation of his identity as the bridegroom of the Soul. In this setting, there is a poignant immediacy to the bride's joyous disbelief at her role as the chosen one and to the bliss of the protagonists as they draw closer in an everfreer duet.
Bach sustains this sensitive realism throughout the soprano aria. Upon reflection, the bride (the Soul) understands Jesus' wooing as an all-encompassing affirmation of her very being: she is "herrlich und schön" (glorious and fair) because she is loved – a liberating realisation that, thanks to the distinct timbral strands of her wedding robe spun by the violoncello piccolo und oboe d'amore, appears far more credible than the Biedermeier-era cliches at the heart of Robert Schumann's 19th century Lieder cycle "Frauenliebe und -leben" (A Woman's Life and Love), a work with a similarly structured text. In this aria, by contrast, the common Bach-era notion of Jesus as a courtly lover loses all overtones of pietistic intellectualism and becomes the origin of a life-affirming sensuality – not the smallest gift that Martin Luther, the former monk who rocked the foundations of abbeys and dismantled notions of bodily shame, gave to his church. That the upper instrumental voices and soprano part are syncopated and, as such, enter "too early" lends an impatient charm to this setting's justified celebration of the self. It calls to mind the image of a young woman, perhaps Bach's Anna Magdalena, twirling before a mirror in pride at her latest conquest, even if the middle section is given to a more sacred interpretation ("seines Heils Gerechtigkeit ist mein Schmuck und Ehrenkleid" – His salvations' righteousness is my cloak of honour bright).
The references to the lovers' rendezvous in heaven are reinforced in the following recitative. Here, the wedding feast has become the "Erlösungsmahl" (meal of salvation) that the Soul has earned through her decision to devote herself to Christ. Rarely has a profession of faith sounded both so tender and resolute as her declaration of "Hier komm ich, Jesu, lass mich ein" (Here I come, Jesus, let me in); when the Saviour, more in the role of a spiritual father, then responds with the promise of a crown of life that overcomes death, the cantata reaches its thematic conclusion.
Nevertheless, Bach and his librettist Birkmann still have a dazzling encore in store that returns the organ to the spotlight. Set in a dance-like 2⁄4-metre and accompanied by light orchestral chords, the aria and chorale features an upper part brimming with celebratory pride and shimmering ecstasy. When the Saviour states in reference to the Old Testament prophecy, "Ich hab dich je und je geliebet" (Thee have I loved with love eternal), he is joined by the soprano presentation of the chorale verse "Wie bin ich doch so herzlich froh" (How am I now so truly glad) – and Philipp Nicolai's somewhat shopworn "Morgenstern" (morning star) hymn attains the end-of-days rapture that it always intended to convey.
In studying the Song of Solomon, generations of theologians and philosophers have struggled to translate sensual desire into divine spirituality without relinquishing its body-and-soul captivating essence. The master composer Bach, however, experienced in love and life, effortlessly achieves just that in this "Concerto für Organo amoroso", conjuring music that entices the listener to join in both the cooing "Amen" of the soprano and the trusting "Ich komme bald" (I'm coming soon) of the bass. And why shouldn't we just sing along?
Libretto
2. Arie (Bass)
Ich geh und suche mit Verlangen
dich, meine Taube, schönste Braut.
Sag an, wo bist du hingegangen,
daß dich mein Auge nicht mehr schaut?
3. Rezitativ (Duett Sopran, Bass)
Bass
Mein Mahl ist zubereit'
und meine Hochzeittafel fertig,
nur meine Braut ist noch nicht gegenwärtig.
Sopran
Mein Jesu redt von mir;
o Stimme, welche
mich erfreut!
Bass
Ich geh und suche mit Verlangen
dich, meine Taube, schönste Braut.
Sopran
Mein Bräutigam, ich falle dir zu Füßen.
Sopran, Bass
Komm, Schönste, komm und laß dich küssen,
Bass
du sollst mein fettes Mahl genießen
Sopran
laß mich dein fettes Mahl genießen
Bass
Komm, liebe Braut, und eile nun,
Sopran
Mein Bräutigam, ich eile nun,
Sopran, Bass
die Hochzeitskleider anzutun.
4. Arie (Sopran)
Ich bin herrlich, ich bin schön,
meinen Heiland zu entzünden.
Seines Heils Gerechtigkeit
ist mein Schmuck und Ehrenkleid;
und damit will ich bestehn,
wenn ich werd in Himmel gehn.
5. Rezitativ (Duett Sopran, Bass)
Sopran
Mein Glaube hat mich selbst so angezogen.
Bass
So bleibt mein Herze dir gewogen,
so will ich mich mit dir
in Ewigkeit vertrauen und verloben.
Sopran
Wie wohl ist mir!
Der Himmel ist mir aufgehoben,
die Majestät ruft selbst und sendet ihre Knechte,
daß das gefallene Geschlechte
im Himmelssaal
bei dem Erlösungsmahl
zu Gaste möge sein.
Hier komm ich, Jesu, laß mich ein!
Bass
Sei bis im Tod getreu,
so leg ich dir die Lebenskrone bei.
6. Arie mit Choral (Deutt Sopran, Bass)
Dich hab ich je und je geliebet,
Wie bin ich doch so herzlich froh,
Dass mein Schatz ist das A und O,
Der Anfang und das Ende.
Und darum zieh ich dich zu mir.
Er wird mich doch zu seinem Preis
Aufnehmen in das Paradeis;
Des klopf ich in die Hände.
Ich komme bald,
Amen! Amen!
Ich stehe vor der Tür,
Komm, du schöne Freudenkrone, bleib nicht lange!
Mach auf, mein Aufenthalt!
Deiner wart ich mit Verlangen.
Dich hab ich je und je geliebet,
Und darum zieh ich dich zu mir.
Bibliographical references
All libretti sourced from Neue Bach-Ausgabe. Johann Sebastian Bach. Neue Ausgabe sämtlicher Werke, published by the Johann-Sebastian-Bach-Institut Göttingen and the Bach-Archiv Leipzig, Series I (Cantatas), vol. 1–41, Kassel and Leipzig, 1954–2000.
All in-depth analyses by Anselm Hartinger (English translations/editing by Alice Noger-Gradon/Mary Carozza) based on the following sources:  Hans-Joachim Schulze, Die Bach-Kantaten. Einführungen zu sämtlichen Kantaten Johann Sebastian Bachs, Leipzig, 2nd edition, 2007; Alfred Dürr, Johann Sebastian Bach. Die Kantaten, Kassel, 9th edition, 2009, and Martin Petzoldt, Bach-Kommentar. Die geistlichen Kantaten, Stuttgart, vol. 1, 2nd edition, 2005 and vol. 2, 1st edition, 2007.