Ich armer Mensch, ich Sündenknecht
BWV 055 // For the Twenty-second Sunday after Trinity
(I, wretched man, I, slave to sin) for tenor, vocal ensemble, transverse flute, oboe d'amore, strings and continuo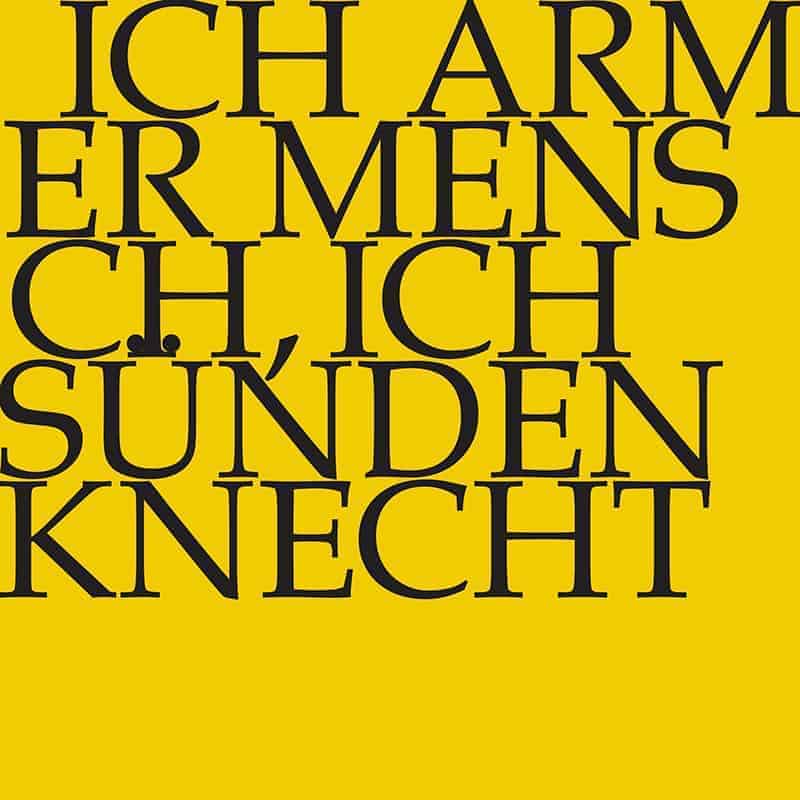 Video
Experience the introductory workshop, concert and reflective lecture in full length.
Workshop
Reflective lecture
«Lutzogram» for the introductory workshop
Rudolf Lutz's manuscript for the workshop
Audio
The sound recording of this work is available on several streaming and download platforms.
Choir
Soprano
Guro Hjemli
Alto
Antonia Frey
Bass
William Wood
Orchestra
Conductor
Rudolf Lutz
Violin
Renate Steinmann, Yuko Ishikawa
Viola
Susanna Hefti
Violoncello
Martin Zeller
Violone
Iris Finkbeiner
Oboe d'amore
Ingo Müller
Bassoon
Susann Landert
Transverse flute
Claire Genewein
Organ
Rudolf Lutz
Musical director & conductor
Rudolf Lutz
Workshop
Participants
Karl Graf, Rudolf Lutz
Reflective lecture
Speaker
Urs Schoettli
Recording & editing
Recording date
11/18/2011
Recording location
Trogen
Sound engineer
Stefan Ritzenthaler
Director
Meinrad Keel
Production manager
Johannes Widmer
Production
GALLUS MEDIA AG, Switzerland
Producer
J.S. Bach Foundation of St. Gallen, Switzerland
Matching publications in our shop
Librettist
Text No. 1–4
Unknown author
Text No. 5
John Rist, 1642
First performance
Twenty-second Sunday after Trinity,
17 November 1726
In-depth analysis
Cantata BWV 55 "Ich armer Mensch, ich Sündenknecht" (I, wretched man, I, slave to sin), one of Bach's rare solo cantatas, was composed in 1726, a year in which Bach experimented more with his ensemble scoring. This tendency appears to have been particularly inspired by the poetic libretti of Christoph Birkmann, a student of theology in Leipzig and later a clergyman in Nuremberg, whom scholars have only recently identified as a librettist. The original score alternates between draft notation and quasi-fair copy, suggesting that only the first two movements were newly composed and that movements three and four, and perhaps also the closing chorale, were adapted from an earlier composition.
The introductory aria makes effective use of the exquisite instrumentation, which features a woodwind duo of transverse flute and oboe d'amore as well as a pair of violins (with no supporting viola parts). Here, the ongoing exchange of roles between the two duos imbues the setting with a fragile elegance and distinctive lightness, while the tense phrases of the vocalist exude less a heroic tone than a noble sense of remorse. Because the libretto provides for a repeat of the opening statement ("I, wretched man, I, slave to sin") as the closing line of a two-part aria, Bach was inspired to employ a modified-reprise form with an extended coda.
The second movement, a recitative, is akin to a personal indictment of one's own wrongful deeds. In this setting, the visions of escape and the self-recriminations ("Scheusal" – wicked me) are reminiscent of Peter's penitence, thus lending weight to Andreas Glöckner's theory that some of the cantata movements were related to a lost Passion written in 1717 during Bach's Weimar period.
The following movement would certainly befit such a work: in the "Erbarme dich" (Have mercy) aria, the intermittent, meandering flute line can barely brighten this bleak D-minor trio that is dominated by a laconic bass line. Chromatic tones and constant descending figures magnify the penitent character of this aria, which resembles a prayer proffered in a moment of utter abandonment.
Although the following recitative, an accompagnato setting with strings, reiterates the "Erbarme dich" statement of the previous aria, it nonetheless finds consolation in the selfless suffering of Christ: thanks to his sacrifice, the faithful soul, too, can be spared heavenly judgement and embark on the path to mercy. Nevertheless, the notion that the remorseful, praying soul must remain mindful of the pain of Christ's sacrifice is made manifest in the edgy accompaniment, whose severity is sustained until the comforting tones of the final bars.
For this state of the soul, there is hardly a closing chorale more fitting than Johann Rist's "Bin ich gleich von dir gewichen, stell ich mich doch wieder ein" (Though I now from thee have fallen, I will come again to thee), a verse that also features prominently in the St Matthew Passion. Set by Bach with inimitable tenderness, this movement underscores the Passion-like character of a cantata that is highly unconventional in its combination of movements and motivic conception.
Libretto
1. Arie
Ich armer Mensch, ich Sündenknecht,
ich geh vor Gottes Angesichte
mit Furcht und Zittern zum Gerichte.
Er ist gerecht, ich ungerecht,
ich armer Mensch, ich Sündenknecht!
2. Rezitativ
Ich habe wider Gott gehandelt
und bin demselben Pfad,
den er mir vorgeschrieben hat,
nicht nachgewandelt.
Wohin? Soll ich der Morgenröte Flügel
zu meiner Flucht erkiesen,
die mich zum letzten Meere wiesen,
so wird mich doch die Hand des Allerhöchsten finden
und mir die Sündenrute binden.
Ach ja!
wenn gleich die Höll ein Bette
vor mich und meine Sünden hätte,
so wäre doch der Grimm des Höchsten da.
Die Erde schützt mich nicht,
sie droht, mich Scheusal zu verschlingen;
und will ich mich zum Himmel schwingen,
da wohnet Gott, der mir das Urteil spricht.
3. Arie*
Erbarme dich,
laß die Tränen dich erweichen,
laß sie dir zu Herzen reichen,
erbarme dich!
Erbarme dich,
laß um Jesu Christi willen
deinen Zorn des Eifers stillen,
erbarme dich!
*Jüngere Fassung der Originalpartitur
4. Rezitativ*
Erbarme dich!
Jedoch nun tröst ich mich,
ich will nicht für Gerichte stehen
und lieber vor dem Gnadenthron
zu meinem frommen Vater gehen.
Ich halt ihm seinen Sohn,
sein Leiden, sein Erlösen für,
wie er für meine Schuld
bezahlet und genung getan,
und bitt ihn um Geduld,
hinfüro will ich's nicht mehr tun.
So nimmt mich Gott zu Gnaden wieder an.
*Jüngere Fassung
5. Choral
Bin ich gleich von dir gewichen,
stell ich mich doch wieder ein;
hat uns doch dein Sohn verglichen
durch sein Angst und Todespein.
Ich verleugne nicht die Schuld,
aber deine Gnad und Huld
ist viel größer als die Sünde,
die ich stets bei mir befinde.
Bibliographical references
All libretti sourced from Neue Bach-Ausgabe. Johann Sebastian Bach. Neue Ausgabe sämtlicher Werke, published by the Johann-Sebastian-Bach-Institut Göttingen and the Bach-Archiv Leipzig, Series I (Cantatas), vol. 1–41, Kassel and Leipzig, 1954–2000.
All in-depth analyses by Anselm Hartinger (English translations/editing by Alice Noger-Gradon/Mary Carozza) based on the following sources:  Hans-Joachim Schulze, Die Bach-Kantaten. Einführungen zu sämtlichen Kantaten Johann Sebastian Bachs, Leipzig, 2nd edition, 2007; Alfred Dürr, Johann Sebastian Bach. Die Kantaten, Kassel, 9th edition, 2009, and Martin Petzoldt, Bach-Kommentar. Die geistlichen Kantaten, Stuttgart, vol. 1, 2nd edition, 2005 and vol. 2, 1st edition, 2007.