Halt im Gedächtnis Jesum Christ
BWV 067 // For Quasimodogeniti
(Hold in remembrance Jesus Christ) for alto, tenor and bass, vocal ensemble, corno da tirarsi, transverse flute, oboe d' amore I+II, bassoon, strings and basso continuo
The introductory chorus to cantata BWV 67 opens with a heroic horn figure and a triadic, fanfare-like theme that underscores the proximity of Quasimodogeniti Sunday to the Easter events of the preceding week.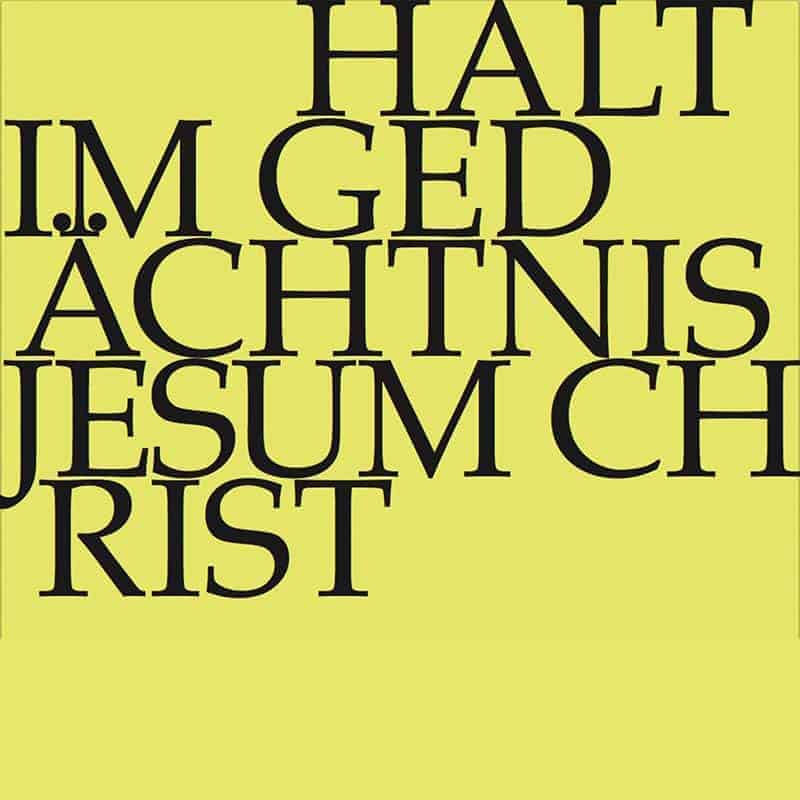 Video
Experience the introductory workshop, concert and reflective lecture in full length.
Workshop
Reflective lecture
«Lutzogram» for the introductory workshop
Rudolf Lutz's manuscript for the workshop
Audio
The sound recording of this work is available on several streaming and download platforms.
Choir
Soprano
Lia Andres, Jennifer Rudin, Susanne Seitter, Noëmi Tran Rediger, Alexa Vogel
Alto
Jan Börner, Antonia Frey, Alexandra Rawohl, Damaris Rickhaus, Lea Scherer
Tenor
Marcel Fässler, Clemens Flämig, Manuel Gerber, Walter Siegel
Bass
Fabrice Hayoz, Valentin Parli, Oliver Rudin, William Wood
Orchestra
Conductor
Rudolf Lutz
Violin
Renate Steinmann, Monika Baer, Elisabeth Kohler, Mechthild Karkow, Martin Korrodi, Fanny Tschanz
Viola
Susanna Hefti, Martina Zimmermann, Matthias Jäggi
Violoncello
Martin Zeller, Hristo Kouzmanov
Violone
Iris Finkbeiner
Oboe d'amore
Kerstin Kramp, Ingo Müller
Bassoon
Susann Landert
Transverse flute
Claire Genewein
Corno da tirarsi
Olivier Picon
Organ
Nicola Cumer
Harpsichord
Thomas Leininger
Musical director & conductor
Rudolf Lutz
Workshop
Participants
Karl Graf, Rudolf Lutz
Reflective lecture
Speaker
Manfred Koch
Recording & editing
Recording date
04/25/2014
Recording location
Trogen
Sound engineer
Stefan Ritzenthaler
Director
Meinrad Keel
Production manager
Johannes Widmer
Production
GALLUS MEDIA AG, Switzerland
Producer
J.S. Bach Foundation of St. Gallen, Switzerland
Matching publications in our shop
Librettist
Text No. 1
Second letter to Timothy 2:8
Text No. 4
Nikolaus Herman (1560)
Text No. 7
Jakob Ebert (1601)
Text No. 2, 3, 5, 6
Poet unknown
First performance
Quasimodogeniti,
16 April 1724
In-depth analysis
The introductory chorus to cantata BWV 67 opens with a heroic horn figure and a triadic, fanfare-like theme that underscores the proximity of Quasimodogeniti Sunday to the Easter events of the preceding week. In this movement, the disciples' painful dichotomy of feelings – elation at the resurrection and devastation at the memory of the events preceding it – is impressively captured in the contrast between the gestural call of "hold" and the fugal, ascending triadic theme "in memory Jesus Christ who is arisen" that completes the phrase. The buoyant setting alternates choral concerto and fugal elements that ultimately merge to conclude the setting with a powerful choral dictum that reiterates the admonitory message of the text.
The following aria is set for tenor voice, a register holding the promise of victory. With its assertive gestures and brevity of form, the movement is reminiscent of Bach's secular, occasional cantatas from his Cöthen years: the music's speech-like instrumental motives and unpretentious decorative figures refrain from all theological-poetic fancy.
This is followed by a dramatic alto recitative that evokes the resurrection in powerful images of overcoming hell before announcing the common "song of praise… set upon our tongues", a setting that lends powerful resonance to the attacca hymn verse "Appeared is now the glorious day". By inserting these communal interludes in the cantata form, Bach presents the early Easter chorale as a common denominator that unites the performers and congregation; such moments reinforce how even Bach's most elaborate compositions remain practical church music that have a direct connection to the liturgy.
After this unanimous pledge to the Easter message, the continued alto recitative presents a veritable "Confutatio" that acts as an internal test of externally promised faith: the enemy is powerful, and only active hope in the promise of the Lord remains amid earthly turmoil. This fighting spirit is then sustained in the ensuing aria, which numbers among Bach's most interesting settings from his Leipzig era, and not merely on account of its form: here, the bass soloist interrupts the hectic broken chords of the string orchestra and, accompanied by the ethereal timbre of the woodwinds, transports the events of Emmaus into the present moment by proffering the sign of peace in an emphatically decelerated triple metre. The agitation of the disciples – torn between high morale, trepidation and gratitude – continually erupts in rapid bursts, yet each time Jesus intervenes to pacify his flock. By keeping the bass und upper vocal parts separate, Bach effectively presents the world of humankind and Christ as fundament as distinct spheres that, despite their separateness, can enter into an intimate dialogue in which the Saviour, with his tender gesture of peace, has the last word.
The hymn verse "Thou prince of peace, Lord Jesus Christ" then provides for a conclusion of laconic precision and simple persuasion: from the exultant rejoicing of Easter, quiet joy and humble hope have arisen.
Libretto
1. Chor
»Halt im Gedächtnis Jesum Christ,
der auferstanden ist von den Toten.«
2. Arie (Tenor)
Mein Jesus ist erstanden,
allein, was schreckt mich noch?
Mein Glaube kennt des Heilands Sieg,
doch fühlt mein Herze Streit und Krieg,
mein Heil, erscheine doch!
3. Rezitativ (Alt)
Mein Jesu, heißest du des Todes Gift
und eine Pestilenz der Hölle,
ach, daß mich noch Gefahr und Schrecken trifft?
Du legtest selbst auf unsre Zungen
ein Loblied, welches wir gesungen:
4. Choral
Erschienen ist der herrlich Tag,
dran sich niemand gnug freuen mag:
Christ, unser Herr, heut triumphiert,
all sein Feind er gefangen führt.
Alleluja!
5. Rezitativ (Alt)
Doch scheinet fast,
daß mich der Feinde Rest,
den ich zu groß und allzu schrecklich finde,
nicht ruhig bleiben läßt.
Doch, wenn du mir den Sieg erworben hast,
so streite selbst mit mir,
mit deinem Kinde:
Ja, ja, wir spüren schon im Glauben,
daß du, o Friedefürst,
dein Wort und Werk an uns erfüllen wirst.
6. Arie (Bass) und Chor (Sopran, Alt, Tenor)
Bass
»Friede sei mit euch!«
Sopran, Alt, Tenor
Wohl uns!
Wohl uns, Jesus hilft uns kämpfen
und die Wut der Feinde dämpfen,
Hölle, Satan, weich!
Bass
»Friede sei mit euch!«
Sopran, Alt, Tenor
Jesus holet uns zum Frieden
und erquicket in uns Müden
Geist und Leib zugleich.
Bass
»Friede sei mit euch!«
Sopran, Alt, Tenor
O Herr!
O Herr, hilf und laß gelingen,
durch den Tod hindurch zu dringen in dein Ehrenreich!
Bass
»Friede sei mit euch!«
7. Choral
Du Friedefürst, Herr Jesu Christ,
wahr' Mensch und wahrer Gott,
ein starker Nothelfer du bist
im Leben und im Tod:
drum wir allein
im Namen dein
zu deinem Vater schreien.
Bibliographical references
All libretti sourced from Neue Bach-Ausgabe. Johann Sebastian Bach. Neue Ausgabe sämtlicher Werke, published by the Johann-Sebastian-Bach-Institut Göttingen and the Bach-Archiv Leipzig, Series I (Cantatas), vol. 1–41, Kassel and Leipzig, 1954–2000.
All in-depth analyses by Anselm Hartinger (English translations/editing by Alice Noger-Gradon/Mary Carozza) based on the following sources:  Hans-Joachim Schulze, Die Bach-Kantaten. Einführungen zu sämtlichen Kantaten Johann Sebastian Bachs, Leipzig, 2nd edition, 2007; Alfred Dürr, Johann Sebastian Bach. Die Kantaten, Kassel, 9th edition, 2009, and Martin Petzoldt, Bach-Kommentar. Die geistlichen Kantaten, Stuttgart, vol. 1, 2nd edition, 2005 and vol. 2, 1st edition, 2007.