Herr, wie du willt, so schick's mit mir
BWV 073 // For the Third Sunday after Epiphany
(Lord, as thou wilt, so deal with me) for soprano, tenor and bass, vocal ensemble, oboe I+II, horn, bassoon, strings and continuo
Cantata BWV 73 "Herr, wie du willt, so schick's mit mir" (Lord, as thou willt, so deal with me) belongs to Bach's first Leipzig cantata cycle and was first performed in the Nikolaikirche on 23 January 1724. With its brief but highly expressive forms, it is reminiscent of a finely drawn miniature.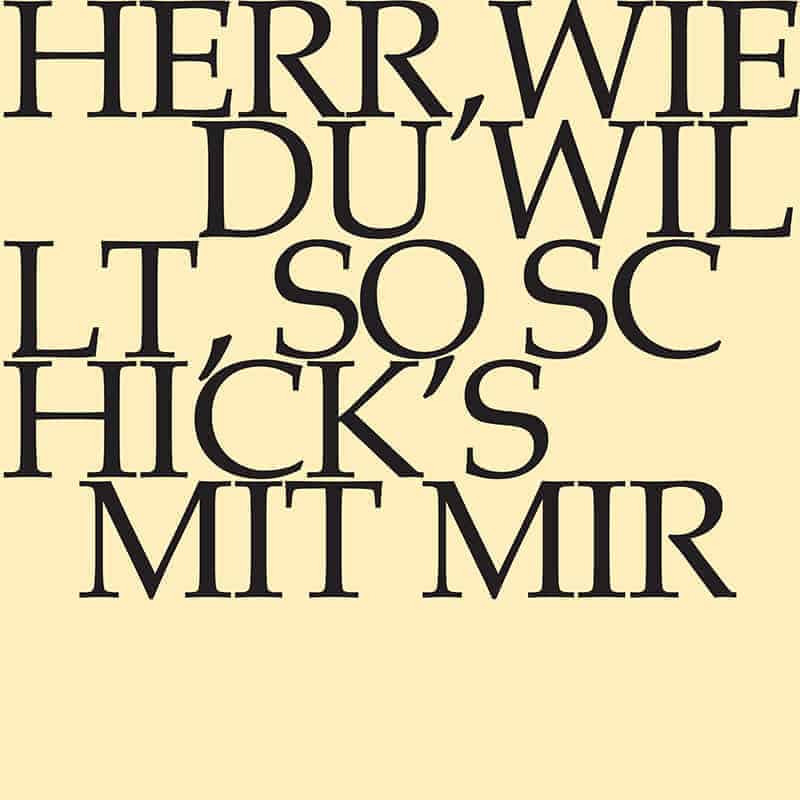 Video
Experience the introductory workshop, concert and reflective lecture in full length.
Workshop
Reflective lecture
«Lutzogram» for the introductory workshop
Rudolf Lutz's manuscript for the workshop
Audio
The sound recording of this work is available on several streaming and download platforms.
Choir
Soprano
Guro Hjemli, Noëmi Tran Rediger, Noëmi Sohn
Alto
Jan Börner, Antonia Frey, Olivia Heiniger, Lea Scherer, Katharina Jud
Tenor
Marcel Fässler, Clemens Flämig, Manuel Gerber
Bass
Fabrice Hayoz, Valentin Parli, Chasper Mani
Orchestra
Conductor
Rudolf Lutz
Violin
Renate Steinmann, Fanny Tschanz
Viola
Susanna Hefti
Violoncello
Martin Zeller
Violone
Iris Finkbeiner
Oboe
Martin Stadler, Ingo Müller
Bassoon
Susann Landert
Horn
Olivier Picon
Organ
Thomas Leininger
Musical director & conductor
Rudolf Lutz
Workshop
Participants
Karl Graf, Rudolf Lutz
Reflective lecture
Speaker
Angelika Overath
Recording & editing
Recording date
01/21/2011
Recording location
Trogen
Sound engineer
Stefan Ritzenthaler
Director
Meinrad Keel
Production manager
Johannes Widmer
Production
GALLUS MEDIA AG, Switzerland
Producer
J.S. Bach Foundation of St. Gallen, Switzerland
Matching publications in our shop
Librettist
Text
Poet unknown
Text No. 1
Interpolated chorale lines by Kaspar Bienemann, 1582
Text No. 5
Ludwig Helmbold, 1563
First performance
Third Sunday after Trinity,
23 January 1724
In-depth analysis
The introductory chorale commences with a consistently repeated four-note sequence in the instrumental parts, an aphoristic leitmotif that reflects the words "Lord, as thou willt". Indeed, this religious dictate seems to be literally hammered in by the staccato style of the orchestral material as well as the horn part (which was replaced in a later version by an "Organo obbligato"). The exacting character of the movement is counterbalanced solely by the two oboes whose soothing sequences in thirds alleviate somewhat the rigidity of the divine command. The following vocal section applies a troping technique. Here, each section of choir text sung to the melody of "Wo Gott der Herr nicht bei uns halt" by Kaspar Bienemann (1582) is superseded by a vocal solo that applies the chorale's "objective" message to the timeless struggles and conflicts of earthly existence. In these tenor, bass and soprano passages, the gradual transformation from doubt in God's promise and the purpose of human suffering to a pronouncement of trust and hope is achieved with particular textual and musical skill.
In the following aria trio "Ah, pour thou yet thy joyful spirit", the tenor, supported by a simple continuo accompaniment, continues the elegantly flowing melody introduced by the oboe. Despite its rich coloraturas, the restrained gesture of the music, the sigh of the middle section and the somewhat wistful E-flat major tonality suggest that the true heart of the matter is not earthly pleasure, but the serenity found in acceptance of humankind's inevitable lot.
Commencing with an abrupt modulation and exclamatory "Ah!", the following bass recitative captures the faltering nature of the human will, interpreted musically by inverting the seventh between the continuo and voice on the word "perverse". With its seamless transition to the following aria, the recitative becomes part of a larger, unique musical structure. This freely contrapuntal movement commences with no less than 16 repetitions of the dictum "Lord, as thou willt", offering a poignant and emotional interpretation of the Christian readiness to die and of victory over death. With its sighs and dynamic contrasts, this section is extraordinarily rich in affect. Indeed, in the bass cantilena, the soloist – accompanied by pizzicato strings – seems almost to be singing his own requiem. With this devout swan song, Bach creates a musical portrayal of surrender to God's will that has doubtlessly comforted many a listener – both in Bach's day and ours. In its simplicity and restraint, the closing chorale "This is the Father's purpose" offers a moment of exquisite tenderness and consolation.
Libretto
1. [Choral und Rezitativ] (Tenor, Bass, Sopran)
Herr, wie du willt, so schick's mit mir
im Leben und im Sterben!
(tenor)
Ach! aber ach! wieviel
lässt mich dein Wille leiden!
Mein Leben ist des Unglücks Ziel,
da Jammer und Verdruss
mich lebend foltern muss,
und kaum will meine Not im Sterben von mir scheiden.
Allein zu dir steht mein Begier,
Herr, lass mich nicht verderben!
(bass)
Du bist mein Helfer, Trost und Hort,
so der Betrübten Tränen zählet,
und ihre Zuversicht,
das schwache Rohr, nicht gar zerbricht;
und weil du mich erwählet,
so sprich ein Trost- und Freudenwort.
Erhalt mich nur in deiner Huld,
sonst wie du willt, gib mir Geduld,
denn dein Will ist der beste.

(sopran)
Dein Wille zwar ist ein versiegelt Buch,
da Menschenweisheit nichts vernimmt.
Der Segen scheint uns oft ein Fluch,
die Züchtigung ergrimmte Strafe,
die Ruhe, so du in dem Todesschlafe
uns einst bestimmt,
ein Eingang zu der Hölle.
Doch macht dein Geist uns dieses Irrtums frei,
und zeigt, dass uns dein Wille heilsam sei.
Herr, wie du willt!
2. Arie (Tenor)
Ach senke doch den Geist der Freuden dem Herzen ein.
Es will oft bei mir geistlich Kranken
die Freudigkeit und Hoffnung wanken
und zaghaft sein.
3. Rezitativ (Bass)
Ach, unser Wille bleibt verkehrt,
bald trotzig, bald verzagt,
des Sterbens will er nie gedenken!
Alkein ein Christ, in Gottes Geist gelehrt,
lernt sich in Gottes Willen senken,
und sagt:
4. Arie (Bass)
Herr, so du willt,
so presst, ihr Todesschmerzen,
die Seufzer aus dem Herzen,
wenn mein Gebet nur vor dir gilt.
Herr, so du willt,
so lege meine Glieder
in Staub und Asche nieder,
dies höchst verderbte Sündenbild.
Herr, so du willt,
so schlagt, ihr Leichenglokken,
ich folge unerschrokken,
mein Jammer ist nunmehr gestillt.
Herr, so du willt.
5. Choral
Das ist des Vaters Wille,
der uns erschaffen hat;
sein Sohn hat Guts die Fülle
erworben und Genad;
auch Gott der Heilge Geist,
im Glauben uns regieret,
zum Reich des Himmels führet:
ihm sei Lob, Ehr und Preis.
Bibliographical references
All libretti sourced from Neue Bach-Ausgabe. Johann Sebastian Bach. Neue Ausgabe sämtlicher Werke, published by the Johann-Sebastian-Bach-Institut Göttingen and the Bach-Archiv Leipzig, Series I (Cantatas), vol. 1–41, Kassel and Leipzig, 1954–2000.
All in-depth analyses by Anselm Hartinger (English translations/editing by Alice Noger-Gradon/Mary Carozza) based on the following sources:  Hans-Joachim Schulze, Die Bach-Kantaten. Einführungen zu sämtlichen Kantaten Johann Sebastian Bachs, Leipzig, 2nd edition, 2007; Alfred Dürr, Johann Sebastian Bach. Die Kantaten, Kassel, 9th edition, 2009, and Martin Petzoldt, Bach-Kommentar. Die geistlichen Kantaten, Stuttgart, vol. 1, 2nd edition, 2005 and vol. 2, 1st edition, 2007.