Du sollt Gott, deinen Herren, lieben
BWV 077 // For the Thirteenth Sunday after Trinity
(Thou shalt thy God and master cherish) for soprano, alto, tenor and bass, vocal ensemble, trumpet, oboe I+II, strings and basso continuo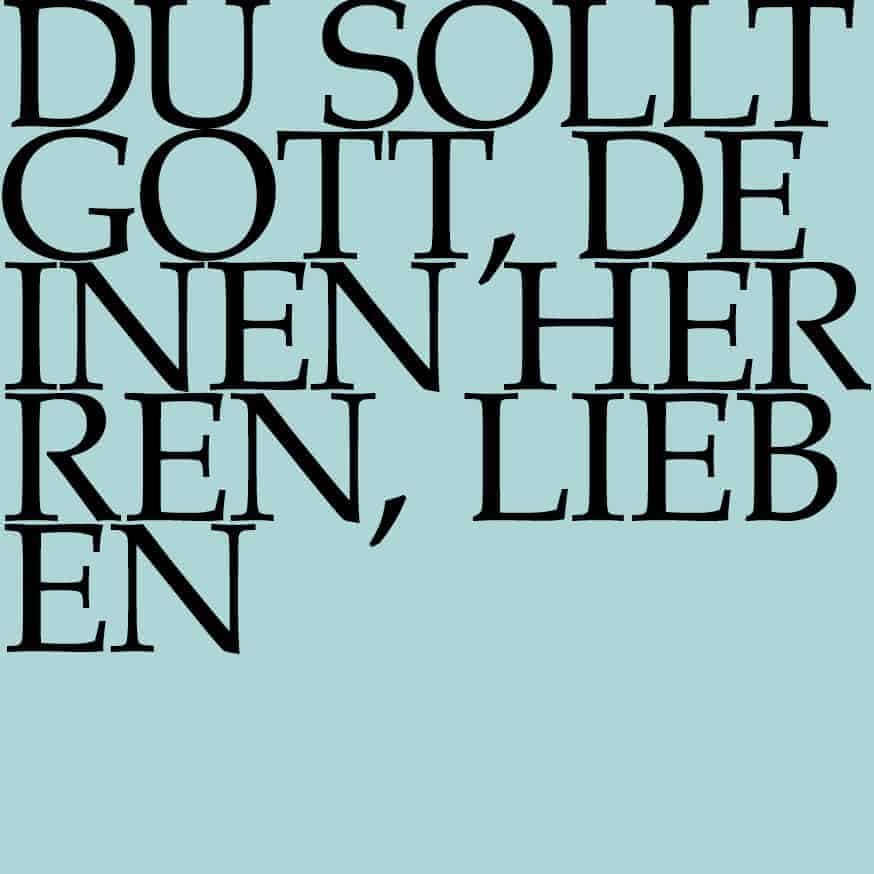 Video
Experience the introductory workshop, concert and reflective lecture in full length.
Workshop
Reflective lecture
Bonus material
«Lutzogram» for the introductory workshop
Rudolf Lutz's manuscript for the workshop
Soloists
Choir
Soprano
Olivia Fündeling, Linda Loosli, Susanne Seitter, Noëmi Sohn Nad, Noëmi Tran-Rediger, Anna Walker
Alto
Antonia Frey, Tobias Knaus, Francisca Näf, Alexandra Rawohl, Lisa Weiss
Tenor
Raphael Höhn, Zacharie Fogal, Nicolas Savoy, Walter Siegel
Bass
Fabrice Hayoz, Serafin Heusser, Simón Millán, Jonathan Sells, Philippe Rayot
Orchestra
Conductor & Harpsichord
Rudolf Lutz
Violin
Eva Borhi, Lenka Torgersen, Peter Barczi, Christine Baumann, Ildikó Sajgó, Judith von der Goltz
Viola
Martina Bischof, Matthias Jäggi, Sarah Mühlethaler
Violoncello
Maya Amrein, Daniel Rosin
Violone
Guisella Massa
Tromba da tirarsi
Lukasz Gothszalk
Oboe
Philipp Wagner, Laura Alvarado
Bassoon
Susann Landert
Contrabassoon
Ester van der Veen
Organ
Nicola Cumer
Musical director & conductor
Rudolf Lutz
Workshop
Participants
Rudolf Lutz, Pfr. Niklaus Peter
Reflective lecture
Speaker
Iren Meier
Recording & editing
Recording date
24/09/2021
Recording location
St. Gallen (Switzerland) // Olma-Halle 2.0
Sound engineer
Stefan Ritzenthaler
Producer
Meinrad Keel
Executive producer
Johannes Widmer
Production
GALLUS MEDIA AG, Schweiz
Producer
J.S. Bach-Stiftung, St. Gallen, Schweiz
Matching publications in our shop
Librettist
First performance
22 August 1723 – Leipzig
Text
Luke the Evangelist 10:27 (movement 1); Johann Oswald Knauer (movements 2–5); Martin Petzold (movement 6)
Libretto
1. Chor
«Du sollt Gott, deinen Herren, lieben von ganzem Herzen, von ganzer Seele, von allen Kräften und von ganzem Gemüte und deinen Nächsten als dich selbst.»
2. Rezitativ — Bass
So muß es sein!
Gott will das Herz vor sich alleine haben.
Man muß den Herrn von ganzer Seelen
zu seiner Lust erwählen
und sich nicht mehr erfreu'n,
als wenn er das Gemüte
durch seinen Geist entzündt,
weil wir nun seiner Huld und Güte
alsdenn erst recht versichert sind.
3. Arie — Sopran
Mein Gott, ich liebe dich von Herzen,
mein ganzes Leben hangt dir an.
Laß mich doch dein Gebot erkennen
und in Liebe so entbrennen
daß ich dich ewig lieben kann.
4. Rezitativ — Tenor
Gib mir dabei, mein Gott! ein Samariterherz,
daß ich zugleich den Nächsten liebe
und mich bei seinem Schmerz
auch über ihn betrübe,
damit ich nicht bei ihm vorübergeh
und ihn in seiner Not nicht lasse.
Gib, daß ich Eigenliebe hasse,
so wirst du mir dereinst das Freudenleben
nach meinem Wunsch, jedoch aus Gnaden geben.
5. Arie — Alt
Ach, es bleibt in meiner Liebe
lauter Unvollkommenheit!
Hab ich oftmals gleich den Willen,
was Gott saget, zu erfüllen,
fehlt mirs doch an Möglichkeit.
6. Choral
Ach Herr, ich wollte deine Recht und deinen
heilgen Willen, wie mir gebührte, deinem
Knecht, ohne Mangel gern erfüllen, so fühl
ich doch, was mir gebricht, und wie ich das
Geringste nicht vermag aus eignen Kräften.
Bibliographical references
All libretti sourced from Neue Bach-Ausgabe. Johann Sebastian Bach. Neue Ausgabe sämtlicher Werke, published by the Johann-Sebastian-Bach-Institut Göttingen and the Bach-Archiv Leipzig, Series I (Cantatas), vol. 1–41, Kassel and Leipzig, 1954–2000.
All in-depth analyses by Anselm Hartinger (English translations/editing by Alice Noger-Gradon/Mary Carozza) based on the following sources:  Hans-Joachim Schulze, Die Bach-Kantaten. Einführungen zu sämtlichen Kantaten Johann Sebastian Bachs, Leipzig, 2nd edition, 2007; Alfred Dürr, Johann Sebastian Bach. Die Kantaten, Kassel, 9th edition, 2009, and Martin Petzoldt, Bach-Kommentar. Die geistlichen Kantaten, Stuttgart, vol. 1, 2nd edition, 2005 and vol. 2, 1st edition, 2007.