Jesu, der Du meine Seele
BWV 078 // For the Fourteenth Sunday after Trinity
(Jesus, thou who this my spirit) for soprano, alto, tenor and bass, vocal ensemble, flute, oboe I+II, horn, bassoon, strings and continuo.
The cantata "Jesu der du meine Seele" (Jesus, thou who this my spirit) BWV 78 numbers among the most starkly contrasting compositions of Bach's cantata oeuvre. Composed for the Fourteen Sunday after Trinity in 1724, Bach outdid himself in creating an extraordinarily rich synthesis of highly contrasting movements and stylistic idioms.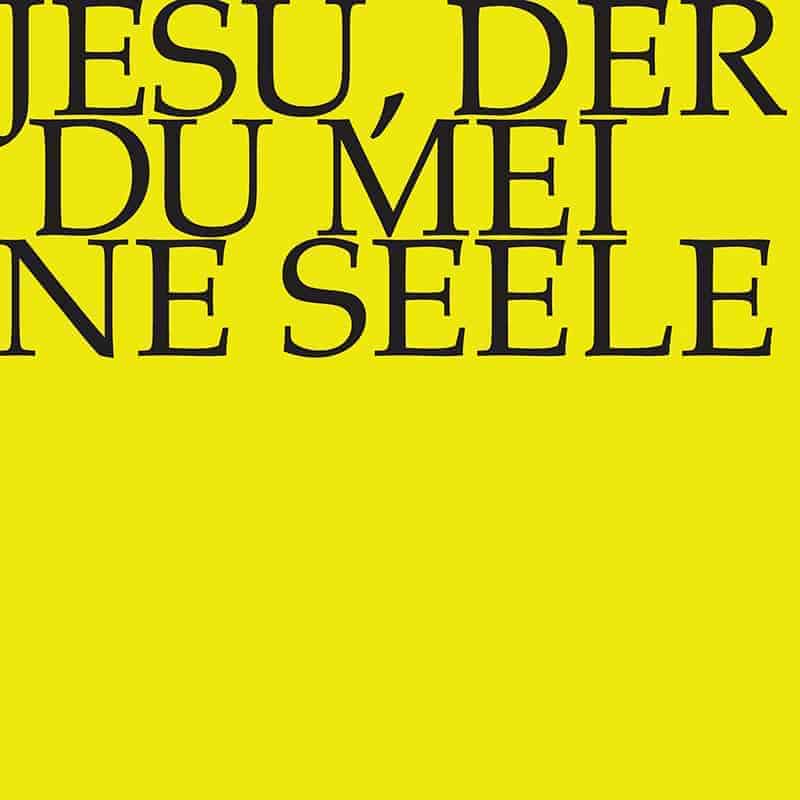 Video
Experience the introductory workshop, concert and reflective lecture in full length.
Workshop
Reflective lecture
Audio
The sound recording of this work is available on several streaming and download platforms.
Soloists
Choir
Soprano
Susanne Frei, Guro Hjemli, Leonie Gloor, Damaris Nussbaumer
Alto
Antonia Frey, Jan Börner, Lea Scherer
Tenor
Manuel Gerber, Clemens Flämig, Marcel Fässler
Bass
Manuel Walser, William Wood, Chasper Mani
Orchestra
Conductor
Rudolf Lutz
Violin
Renate Steinmann, Martin Korrodi, Sylvia Gmür, Mario Huter, Yuko Ishikawa, Marjolein Streefkerk
Viola
Joanna Bilger, Martina Bischof
Violoncello
Maya Amrein
Violone
Iris Finkbeiner
Oboe
Luise Baumgartl, Martin Stadler
Bassoon
Rogério Conçalves
Transverse flute
Claire Genewein
Corno
Olivier Picon
Organ
Ives Bilger
Musical director & conductor
Rudolf Lutz
Workshop
Participants
Karl Graf, Rudolf Lutz
Reflective lecture
Speaker
Rüdiger Görner
Recording & editing
Recording date
08/22/2008
Recording location
Trogen
Sound engineer
Stefan Ritzenthaler
Director
Meinrad Keel
Production manager
Johannes Widmer
Production
GALLUS MEDIA AG, Switzerland
Producer
J.S. Bach Foundation of St. Gallen, Switzerland
Matching publications in our shop
Librettist
Text No. 1, 7
John Rist, 1641
Text No. 2–6
Poet unknown
First performance
Fourteenth Sunday after Trinity,
10 September 1724
In-depth analysis
The cantata begins with an introductory chorus that ingeniously integrates a vocal chorale motet line for line into a repetitive passacaglia structure over a descending bass line. The skill with which Bach inverts and passes the motifs throughout the orchestra is overshadowed only by brilliant melding of the speech-like vocal section with the strict continuo framework and instrumental interludes.
After this display of contrapuntal mastery, Bach ventures a brazen change of style in the following duet "We hasten with failing, with diligent paces". Over a buoyant continuo (to which Bach in a later performance added a pizzicato violine for more effect) the soprano and alto soloists strive to outdo each other in a virtuosic yet almost frivolous duo. After the weighty evocation of Christ's Passion in the introductory chorus, the spirited eagerness that pervades this movement seems to offer a glimpse into a simpler human soul. That such a soul, however, cannot rely solely on his or her own strength is made abundantly clear in the following tenor recitative: contrition of heart, the admission of one's sinfulness and a humble plea for forgiveness are the only path to salvation. Underscored by weighty bass tones, the vocal cantilena of this movement is – not coincidentally – highly reminiscent of Peter's outpourings of remorse in the Passions. In the following aria, the theme of "relief" is subtly rendered through a shift to a tender pizzicato continuo line. The heroically rising lines of the solo voice seem initially to contradict the ethereal timbre of the transverse flute and the sad, disheartening key of G minor. This juxtaposition, however, illustrates precisely the feeling of deliverance and strength that is granted by faith alone, while the flute obbligato calls to mind the flight of the dove that was released on the last day of the Flood to seek dry land.
Enveloped in a warm string sound and the Trinitarian key of E-flat major, the bass recitative unfolds as a priestly gesture: out of the subjective confession, an emphatic statement emerges; out of hope, certainty and trust in the Lord's word takes root. The recitative then melds into a richly harmonic andante-arioso in which the unification of the believing heart and the crucified saviour finally finds its musical expression. The vocal part, still halt-ing and burdened with sighs, is virtually carried by the expressive string accompaniment.
In good Lutheran tradition, this affirmation of faith not only brings comfort, but also the certainty of survival and effectiveness in a hostile world. The following bass aria is thus characterised by a continuing earnestness, but also a dance-like spirit, in which a virtuoso oboe obbligato accompanies the solo voice.
The fact that both arias are through-composed and that the recitatives develop into ariosos has not just musical, but also significant structural implications. Bach's works of this type are rarely conceived as a com-mentary on a single affect; indeed, the cantata at hand gradually develops and unfolds into something akin to a miniature Passion and may be understood as a reflection on the Lutheran concept of the liturgy and the sacrament of communion. This view is confirmed in the final chorale with an assertion of faith in "sweet eternity".
Libretto
1. Chor
Jesu, der du meine Seele
hast durch deinen bittern Tod
aus des Teufels finstern Höhle
und der schweren Seelennot
kräftiglich herausgerissen
und mich solches lassen wissen
durch dein angenehmes Wort,
sei doch itzt, o Gott, mein Hort!
2. Arie (Sopran, Alt)
Wir eilen mit schwachen, doch emsigen
Schritten,
o Jesu, o Meister, zu helfen, zu dir.
Du suchest die Kranken und Irrenden
treulich.
Ach höre, wie wir die Stimme erheben,
um Hülfe zu bitten!
Es sei uns dein gnädiges Antlitz erfreulich!
3. Rezitativ (Tenor)
Ach! ich bin ein Kind der Sünden,
ach! ich irre weit und breit.
Der Sünden Aussatz, so an mir zu finden,
verlässt mich nicht in dieser Sterblichkeit.
Mein Wille trachtet nur nach Bösen.
Der Geist zwar spricht: ach! wer wird mich erlösen?
Aber Fleisch und Blut zu zwingen
und das Gute zu vollbringen,
ist über alle meine Kraft.
Will ich den Schaden nicht verhehlen,
so kann ich nicht, wie oft ich fehle, zählen.
Drum nehm ich nun der Sünden
Schmerz und Pein
und meiner Sorgen Bürde,
so mir sonst unerträglich würde,
ich liefre sie dir, Jesu, seufzend ein.
Rechne nicht die Missetat,
die dich, Herr, erzürnet hat!
4. Arie (Tenor)
Das Blut, so meine Schuld durchstreicht,
macht mir das Herze wieder leicht
und spricht mich frei.
Ruft mich der Höllen Heer zum Streite,
so stehet Jesus mir zur Seite,
dass ich beherzt und sieghaft sei.
5. Rezitativ (Bass)
Die Wunden, Nägel, Kron und Grab, ,
die Schläge, so man dort dem Heiland gab, ,
sind ihm nunmehro Siegeszeichen,
und können mir verneute Kräfte reichen.
Wenn ein erschreckliches Gericht,
den Fluch vor die Verdammten spricht, ,
so kehrst du ihn in Segen. ,
Mich kann kein Schmerz und keine Pein bewegen, ,
weil sie mein Heiland kennt; ,
und da dein Herz vor mich in Liebe brennt, ,
so lege ich hinwieder,
das meine vor dich nieder. ,
Dies mein Herz, mit Leid vermenget, ,
so dein teures Blut besprenget, ,
so am Kreuz vergossen ist, ,
geb ich dir, Herr Jesu Christ.
6. Arie (Bass)
Nun du wirst mein Gewissen stillen,
so wider mich um Rache schreit,
ja, deine Treue wird's erfüllen,
weil mir dein Wort die Hoffnung beut.
Wenn Christen an dich glauben,
wird sie kein Feind in Ewigkeit
aus deinen Händen rauben.
7. Choral
Herr, ich glaube, hilf mir Schwachen,
lass mich ja verzagen nicht;
du, du kannst mich stärker machen,
wenn mich Sünd und Tod anficht.
Deiner Güte will ich trauen,
bis ich fröhlich werde schauen
Dich, Herr Jesu, nach dem Streit
in der süssen Ewigkeit.
Bibliographical references
All libretti sourced from Neue Bach-Ausgabe. Johann Sebastian Bach. Neue Ausgabe sämtlicher Werke, published by the Johann-Sebastian-Bach-Institut Göttingen and the Bach-Archiv Leipzig, Series I (Cantatas), vol. 1–41, Kassel and Leipzig, 1954–2000.
All in-depth analyses by Anselm Hartinger (English translations/editing by Alice Noger-Gradon/Mary Carozza) based on the following sources:  Hans-Joachim Schulze, Die Bach-Kantaten. Einführungen zu sämtlichen Kantaten Johann Sebastian Bachs, Leipzig, 2nd edition, 2007; Alfred Dürr, Johann Sebastian Bach. Die Kantaten, Kassel, 9th edition, 2009, and Martin Petzoldt, Bach-Kommentar. Die geistlichen Kantaten, Stuttgart, vol. 1, 2nd edition, 2005 and vol. 2, 1st edition, 2007.