Gott der Herr ist Sonn und Schild
BWV 079 // For Reformation Sunday
(God is our true sun and shield!) for soprano, alto, tenor and bass, oboe I+II, horn I+II, timpani, strings and basso continuo
Composed for Reformation Day in 1725, cantata BWV 79 ("God is our true sun and shield!") is conceptually distinct from its more famous relation, BWV 80.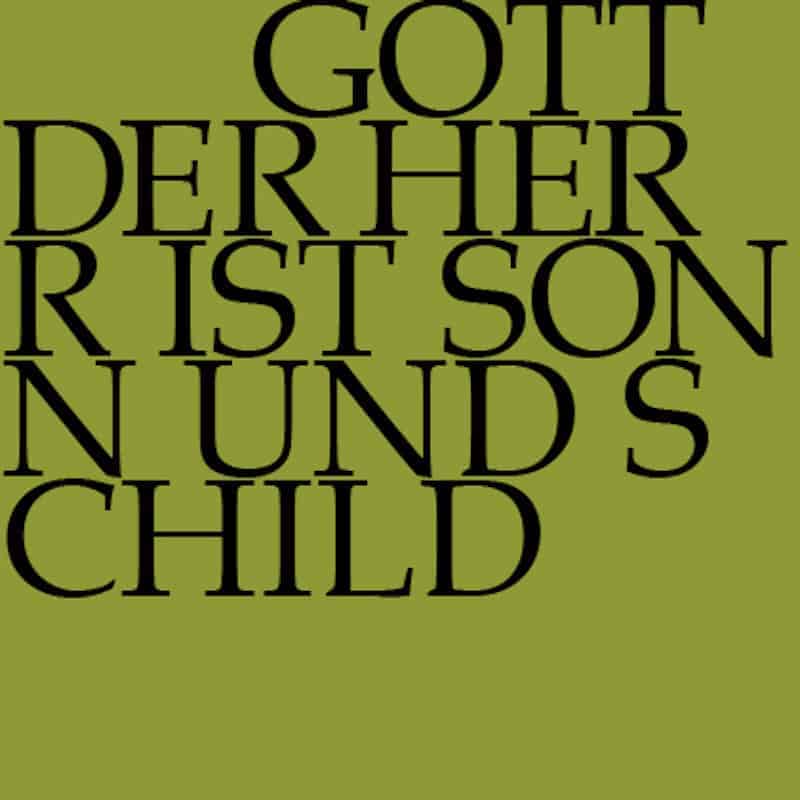 Video
Experience the introductory workshop, concert and reflective lecture in full length.
Workshop
Reflective lecture
«Lutzogram» for the introductory workshop
Rudolf Lutz's manuscript for the workshop
Audio
The sound recording of this work is available on several streaming and download platforms.
Orchestra
Conductor & cembalo
Rudolf Lutz
Violin
Plamena Nikitassova, Lenka Torgersen, Christine Baumann, Karoline Echeverri, Dorothee Mühleisen, Ildikó Sajgó
Viola
Martina Bischof, Sarah Krone, Katya Polin
Violoncello
Maya Amrein, Hristo Kouzmanov
Violone
Markus Bernhard
Oboe
Andreas Helm, Ingo Müller
Bassoon
Susann Landert
Corno
Olivier Picon, Thomas Müller
Timpani
Martin Homann
Organ
Nicola Cumer
Musical director & conductor
Rudolf Lutz
Workshop
Participants
Karl Graf, Rudolf Lutz, Stefan Stirnemann
Reflective lecture
Speaker
Elisabeth Binder
Recording & editing
Recording date
28.04.2017
Recording location
Trogen AR (Schweiz) // Evangelische Kirche
Sound engineer
Stefan Ritzenthaler
Director
Meinrad Keel
Production manager
Johannes Widmer
Production
GALLUS MEDIA AG, Switzerland
Producer
J.S. Bach Foundation of St. Gallen, Switzerland
Matching publications in our shop
Librettist
Text No. 1
Psalm 84:12
Text No. 3
Martin Rinckart (1636)
Text No. 6
Ludwig Helmbold (1575)
Text No. 2, 4, 5
Author as yet unknown
First performance
31 October 1725
In-depth analysis
The opening chorus, orchestrated with two horns, timpani, woodwinds, strings and four vocal parts, is not based on a wellknown chorale hymn, but instead presents splendid celebratory music in masterful form; here the light pulsing rhythm of the orchestra provides for a structural constancy, rather like a well-regulated valve, which could nonetheless cause the boiler to burst at any time. Free imitation and block-like sections alternate with colourful concertante-style passages that merge seamlessly into an extended doublefugue on the dictum's third phrase "he will no worthy thing withhold from the righteous". The setting of this key phrase echoes elements of the orchestral prelude before flowing into a magnificent quasi-reprise that surprisingly culminates in a serene restatement of the full dictum. Indeed, the listener gains the impression that Bach went to considerable lengths to present the text as clearly as possible; at the same time, Luther's admiring statement on Josquin – that he is the only composer where the notes have to do as he says, and not the other way around – seem equally applicable here to Bach. In the version on our recording, the chorus is performed by an ensemble of only four concertists – a variant that is undoubtedly plausible considering the performance conditions of Bach's day; indeed, this practice may well have been the norm.
Aria number two, set for alto voice, oboe and continuo, proffers an elegantly formulated extension of the opening dictum. In this compact setting, the music blissfully expresses the confidence and refuge found in God's love, and thus the somewhat stilted text of the closing lines ("Though our foes their arrows sharpen, And the hound of hell should howl") slips by more or less unnoticed.
The chorale "Now thank ye all our God", a veritable hymn of celebration, then provides for a shift to the worldly sphere of congregation and community; in our recording, we therefore included the rousing voices of the audience. The distinctive horn ritornello of the introductory movement is employed as an interlude, thus recalling this theme for the listener and establishing a charming sense of structural continuity. The bass recitative "Thank God we know it, the proper path to blessedness", then reveals a confessional polemic of the "us against them" variety: those not adhering to the right path of Lutheran faith are blinded. In view of the emphasis given to Christ as the only intercessor between humans and God, it is fair to presume that the "alien yoke" refers to the Roman Papal Church and its priesthood that was abolished by Luther. This is followed by a distinctive vocal duet in which the soprano and bass take up the ritornello theme of the first movement to declaim the words "God, O God, forsake thy people nevermore!", while the unison violins interject with a distinctive motive of octave leaps, rather like an ostinato continuo part, to provide solo interludes. In the resulting solemn yet feisty miniature, the bluster of the enemy is broken by the child-like determination of the vocal protagonists.
The closing chorale, which retains the theme of preserving the "true path", is lent a spirit of communal rejoicing by the addition of horn and timpani parts. The vibrant combination of strings, woodwinds and voices is particularly audible with the small vocal ensemble – in Bach's vivid settings, the instruments are assigned an equal role in expressing the import of the text.
Libretto
1. Chor
«Gott der Herr ist Sonn und Schild.
Der Herr gibt Gnade
und Ehre, er wird kein Gutes mangeln
lassen den Frommen.»
2. Arie (Alt)
Gott ist unsre Sonn und Schild!
Darum rühmet dessen Güte
unser dankbares Gemüte,
die er für sein Häuflein hegt.
Denn er will uns ferner schützen,
ob die Feinde Pfeile schnitzen
und ein Lästerhund gleich billt.
3. Choral (mit Publikum)
Nun danket alle Gott
mit Herzen, Mund und Händen,
der große Dinge tut
an uns und allen Enden,
der uns von Mutterleib
und Kindesbeinen an
unzählig viel zugut
und noch itzund getan.
4. Rezitativ (Bass)
Gottlob, wir wissen
den rechten Weg zur Seligkeit;
denn, Jesu, du hast ihn uns durch dein Wort gewiesen,
drum bleibt dein Name jederzeit gepriesen.
Weil aber viele noch
zu dieser Zeit
an fremdem Joch
aus Blindheit ziehen müssen,
ach! so erbarme dich
auch ihrer gnädiglich,
daß sie den rechten Weg erkennen
und dich bloß ihren Mittler nennen.
5. Arie (Duett Sopran, Bass)
Gott, ach Gott, verlaß die Deinen
nimmermehr!
Laß dein Wort uns helle scheinen;
obgleich sehr
wider uns die Feinde toben,
so soll unser Mund dich loben.
6. Choral
Erhalt uns in der Wahrheit,
gib ewigliche Freiheit,
zu preisen deinen Namen
durch Jesum Christum. Amen.
Bibliographical references
All libretti sourced from Neue Bach-Ausgabe. Johann Sebastian Bach. Neue Ausgabe sämtlicher Werke, published by the Johann-Sebastian-Bach-Institut Göttingen and the Bach-Archiv Leipzig, Series I (Cantatas), vol. 1–41, Kassel and Leipzig, 1954–2000.
All in-depth analyses by Anselm Hartinger (English translations/editing by Alice Noger-Gradon/Mary Carozza) based on the following sources:  Hans-Joachim Schulze, Die Bach-Kantaten. Einführungen zu sämtlichen Kantaten Johann Sebastian Bachs, Leipzig, 2nd edition, 2007; Alfred Dürr, Johann Sebastian Bach. Die Kantaten, Kassel, 9th edition, 2009, and Martin Petzoldt, Bach-Kommentar. Die geistlichen Kantaten, Stuttgart, vol. 1, 2nd edition, 2005 and vol. 2, 1st edition, 2007.