Jesus schläft, was soll ich hoffen
BWV 081 // For the Fourth Sunday after Epiphany
(Jesus sleeps, what should my hope be?) for alto, tenor and bass, (soprano in closing chorale), recorder I+II, oboe d'amore I+II, strings and continuo.
The libretti set to music by Bach for the Sundays after Epiphany speak predominantly of abandonment, angst and resignation. The fundamental Christian belief in the salvation of the soul and the second coming of Christ is marked once every church year in observances which, by their nature, are hard to bear: the joyful days of the birth and epiphany of the Lord are followed all too soon by the harsh realisation of having to rely on our limited human strength – an awareness that is pervaded by a foreboding of the Passion and knowledge of our own mortality. In these texts, the Christian longing for closeness and sureness of heart is invoked by the metaphor of an absent or sleeping Christ. This corresponds to the painful insight that the path to heaven remains beset with adversity.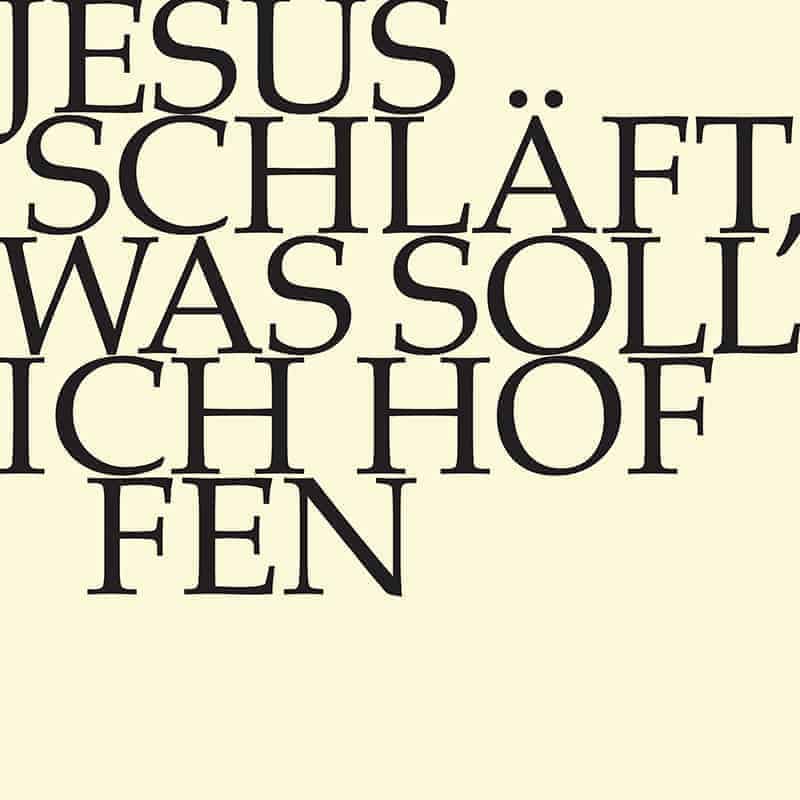 Video
Experience the introductory workshop, concert and reflective lecture in full length.
Workshop
Reflective lecture
«Lutzogram» for the introductory workshop
Rudolf Lutz's manuscript for the workshop
Audio
The sound recording of this work is available on several streaming and download platforms.
Orchestra
Conductor
Rudolf Lutz
Violin
Renate Steinmann, Fanny Tschanz
Viola
Susanna Hefti
Violoncello
Martin Zeller
Violone
Iris Finkbeiner
Oboe d'amore
Luise Baumgartl, Stefanie Haegele
Recorder/Flute
Armelle Plantier, Priska Comploi
Organ
Rudolf Lutz
Musical director & conductor
Rudolf Lutz
Workshop
Participants
Karl Graf, Rudolf Lutz
Reflective lecture
Speaker
Rolf Dubs
Recording & editing
Recording date
01/18/2008
Recording location
Trogen
Sound engineer
Stefan Ritzenthaler
Director
Meinrad Keel
Production manager
Johannes Widmer
Production
GALLUS MEDIA AG, Switzerland
Producer
J.S. Bach Foundation of St. Gallen, Switzerland
Matching publications in our shop
Librettist
Text No. 1, 2, 3, 5, 6
poet unknown
Text No. 4
Matthew 8:26
Text No. 7
Johann Franck, 1653
First performance
30 January 1724
In-depth analysis
The cantata "Jesus sleeps, what should my hope be?", first performed on 30 January 1724 as part of Bach's first Leipzig cantata cycle, unmistakably translates this metaphor into music while the text relates Christ's delayed intervention during a storm on the Sea of Galilee. In his compositional approach, Bach proved himself to be highly sensitive to the needs of the text. Aside from a quietness evoking sleep, the biblical passage quoted speaks clearly in the first person, lending insight into Bach's decision to open the work not with a choral movement, but rather an alto aria – the vocal range and timbre that he often employed to personify spiritual inquietude. Although scored pastorally with recorders and strings, the work hardly presents the idyllic scene of tranquillity that so often graced Baroque operas and Christmas cantatas. Far removed from a sense of serenity and certainty, the forlorn music seems to be composed almost entirely of sighs. The frequent pauses of the upper voices bridged only by the throbbing continuo is suggestive of an uneasy Christian heart beating with trepidation in the face of the empty sound evoking the absent Christ. While another composer would have exploited the implications of a tempest at sea solely to paint a dramatic scene, Bach and his unknown poet chose an approach that speaks to the inner soul. Despite the "foam-crested billows" of the tenor aria, the reference to "Belial's waters" implies that it is the infernal temptations of sin and mortal fear that blow the "winds of sadness" towards Christians. The following arioso, a gentle and steadying continuo ritornello, paves the way for a change in tone: in keeping with good Lutheran tradition, it is indeed those "of little faith" and their lack of trust in God's word who cause their own despair. Consequently, it is a more fervent than loving Jesus who appears in the aria "Still, O thou tow'ring sea!" to silence the storm (oboes) and the waves (strings) to protect man – God's chosen child. For this scene, Bach composed raging music invoking Christ's power to calm the violent sea into long and sustained motionlessness. That Bach, just one and a half years later, set practically identical music to the text "hush, hush then, giddy intellect!" of cantata BWV 178, underpins the interpretation of the sea-storm metaphor in spiritual and moral terms. In the following recitative, the alto, who, like doubting Thomas, has been converted by receiving Christ's help, brings the thematic scheme of the cantata full circle. A better closing choral for this work than the second verse "Under thy protection, am I midst the tempests, of all foes set free" from Johann Franck's renowned hymn "Jesu, meine Freude" could hardly have been found.
Libretto
1. Arie (Alt)
Jesus schläft, was soll ich hoffen?
Seh ich nicht
mit erblasstem Angesicht
schon des Todes Abgrund offen?
2. Rezitativ (Tenor)
Herr, warum trittest du so ferne?
Warum verbirgst du dich zur Zeit der Not,
da alles mir ein kläglich Ende droht?
Ach, wird dein Auge nicht durch meine
Not beweget,
so sonsten nie zu schlummern pfleget?
Du wiesest ja mit einem Sterne
vordem den neubekehrten Weisen
den rechten Weg zu reisen.
Ach, leite mich durch deiner Augen Licht,
weil dieser Weg nichts als Gefahr verspricht.
3. Arie (Tenor)
Die schäumenden Wellen von Belials Bächen verdoppeln die Wut.
Ein Christ soll zwar wie Wellen stehn,
wenn Trübsalswinde um ihn gehn,
doch suchet die stürmende Flut
die Kräfte des Glaubens zu schwächen.
4. Arioso (Bass)
Ihr Kleingläubigen, warum seid ihr so furchtsam?
5. Arie (Bass)
Schweig, aufgetürmtes Meer!
Verstumme, Sturm und Wind!
Dir sei dein Ziel gesetzet,
damit mein auserwähltes Kind
kein Unfall je verletzet.
6. Rezitativ (Alt)
Wohl mir, mein Jesus spricht ein Wort,
mein Helfer ist erwacht,
so muss der Wellen Sturm,
des Unglücks Nacht
und aller Kummer fort.
7. Choral
Unter deinen Schirmen
bin ich für den Stürmen
aller Feinde frei.
Lass den Satan wittern,
lass den Feind erbittern,
mir steht Jesus bei.
Ob es itzt gleich kracht und blitzt,
ob gleich Sünd und Hölle schrecken,
Jesus will mich decken.
Bibliographical references
All libretti sourced from Neue Bach-Ausgabe. Johann Sebastian Bach. Neue Ausgabe sämtlicher Werke, published by the Johann-Sebastian-Bach-Institut Göttingen and the Bach-Archiv Leipzig, Series I (Cantatas), vol. 1–41, Kassel and Leipzig, 1954–2000.
All in-depth analyses by Anselm Hartinger (English translations/editing by Alice Noger-Gradon/Mary Carozza) based on the following sources:  Hans-Joachim Schulze, Die Bach-Kantaten. Einführungen zu sämtlichen Kantaten Johann Sebastian Bachs, Leipzig, 2nd edition, 2007; Alfred Dürr, Johann Sebastian Bach. Die Kantaten, Kassel, 9th edition, 2009, and Martin Petzoldt, Bach-Kommentar. Die geistlichen Kantaten, Stuttgart, vol. 1, 2nd edition, 2005 and vol. 2, 1st edition, 2007.