Ich habe genung
BWV 082 // For the Purification of the Blessed Virgin Mary
(I have now enough) for bass, oboe, strings and basso continuo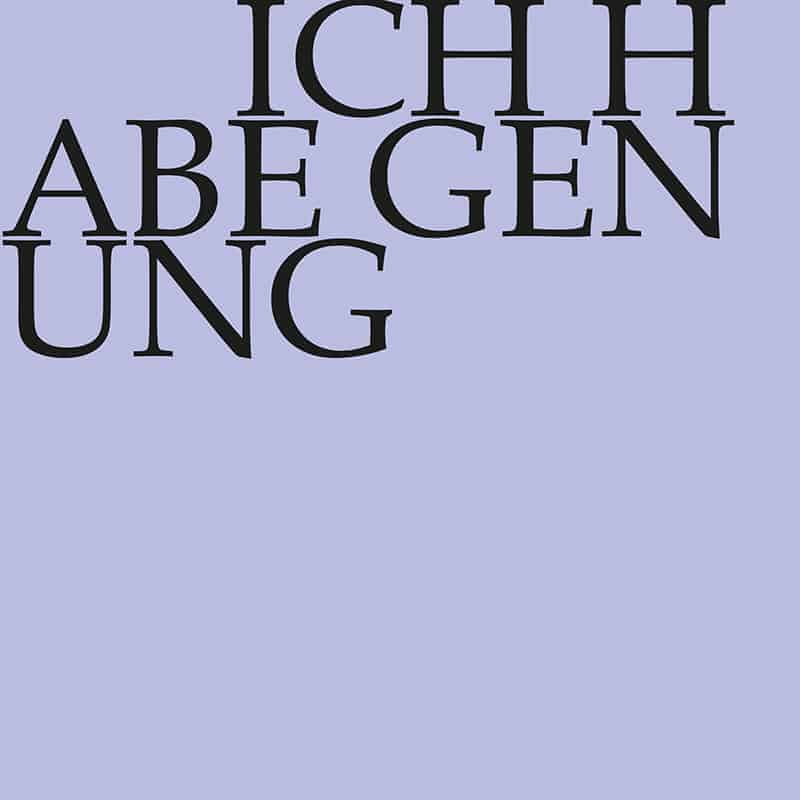 Video
Experience the introductory workshop, concert and reflective lecture in full length.
Workshop
Reflective lecture
Bonus material
«Lutzogram» for the introductory workshop
Rudolf Lutz's manuscript for the workshop
Orchestra
Conductor & cembalo
Rudolf Lutz
Violin
Renate Steinmann, Olivia Schenkel
Viola
Susanna Hefti
Violoncello
Daniel Rosin
Violone
Markus Bernhard
Oboe
Andreas Helm
Bassoon
Dana Karmon
Musical director & conductor
Rudolf Lutz
Workshop
Participants
Karl Graf, Rudolf Lutz
Reflective lecture
Speaker
Karin Kaspers-Elekes
Recording & editing
Recording date
02/16/2018
Recording location
Trogen AR (Schweiz) // Evangelische Kirche
Sound engineer
Stefan Ritzenthaler, Nikolaus Matthes
Director
Meinrad Keel
Production manager
Johannes Widmer
Production
GALLUS MEDIA AG, Switzerland
Producer
J.S. Bach Foundation of St. Gallen, Switzerland
Matching publications in our shop
Librettist
Text
Christoph Birkmann (1703–1771)
First performance
The Purification of the Blessed Virgin Mary
2 February 1727
Libretto
1. Arie
Ich habe genung,
ich habe den Heiland, das Hoffen der Frommen,
auf meine begierigen Arme genommen;
Ich habe genung!
Ich hab ihn erblickt,
mein Glaube hat Jesum ans Herze gedrückt,
nun wünsch ich noch heute mit Freuden
von hinnen zu scheiden:
Ich habe genung!
2. Rezitativ
Ich habe genung!
Mein Trost ist nur allein,
daß Jesus mein und ich sein eigen möchte sein.
Im Glauben halt ich ihn,
da seh ich auch mit Simeon
die Freude jenes Lebens schon.
Laßt uns mit diesem Manne ziehn!
Ach! möchte mich von meines Leibes Ketten
der Herr erretten;
ach! wäre doch mein Abschied hier,
mit Freuden sagt ich, Welt, zu dir:
Ich habe genung!
3. Arie
Schlummert ein, ihr matten Augen,
fallet sanft und selig zu!
Welt, ich bleibe nicht mehr hier,
hab ich doch kein Teil an dir,
das der Seele könnte taugen.
Schlummert ein, ihr matten Augen,
fallet sanft und selig zu!
Hier muß ich das Elend bauen,
aber dort, dort werd ich schauen
süßen Friede, stille Ruh.
4. Rezitativ
Mein Gott, wenn kömmt das schöne: Nun!,
da ich im Friede fahren werde
und in dem Sande kühler Erde
und dort bei dir im Schoße ruhn?
Der Abschied ist gemacht:
Welt, gute Nacht!
5. Arie
Ich freue mich auf meinen Tod,
ach! hätt er sich schon eingefunden!
Da entkomm ich aller Not,
die mich noch auf der Welt gebunden.
Bibliographical references
All libretti sourced from Neue Bach-Ausgabe. Johann Sebastian Bach. Neue Ausgabe sämtlicher Werke, published by the Johann-Sebastian-Bach-Institut Göttingen and the Bach-Archiv Leipzig, Series I (Cantatas), vol. 1–41, Kassel and Leipzig, 1954–2000.
All in-depth analyses by Anselm Hartinger (English translations/editing by Alice Noger-Gradon/Mary Carozza) based on the following sources:  Hans-Joachim Schulze, Die Bach-Kantaten. Einführungen zu sämtlichen Kantaten Johann Sebastian Bachs, Leipzig, 2nd edition, 2007; Alfred Dürr, Johann Sebastian Bach. Die Kantaten, Kassel, 9th edition, 2009, and Martin Petzoldt, Bach-Kommentar. Die geistlichen Kantaten, Stuttgart, vol. 1, 2nd edition, 2005 and vol. 2, 1st edition, 2007.