Ich bin vergnügt mit meinem Glücke
BWV 084 // For Septuagesimae
(I am content with my good fortune) for soprano, vocal ensemble, oboe, bassoon, strings and continuo
The cantata "Ich bin vergnügt mit meinem Glücke" (I am content with my good fortune), probably composed in 1727, is one of Bach's few sacred solo works. Theologically, it is based on the parable of the workers in the vineyard (Matthew 20), which Bach and his librettist approached less as a precedence in labour law, than as a point of departure for the moral observation that the path to true contentment can only be found in submission to God's will. In a spirit of almost cheerful humility and studied serenity, Bach succeeds in composing a veritable "Franciscan cantata", whose modest length and sparse scoring is, in itself, a fitting formal interpretation of the text's message.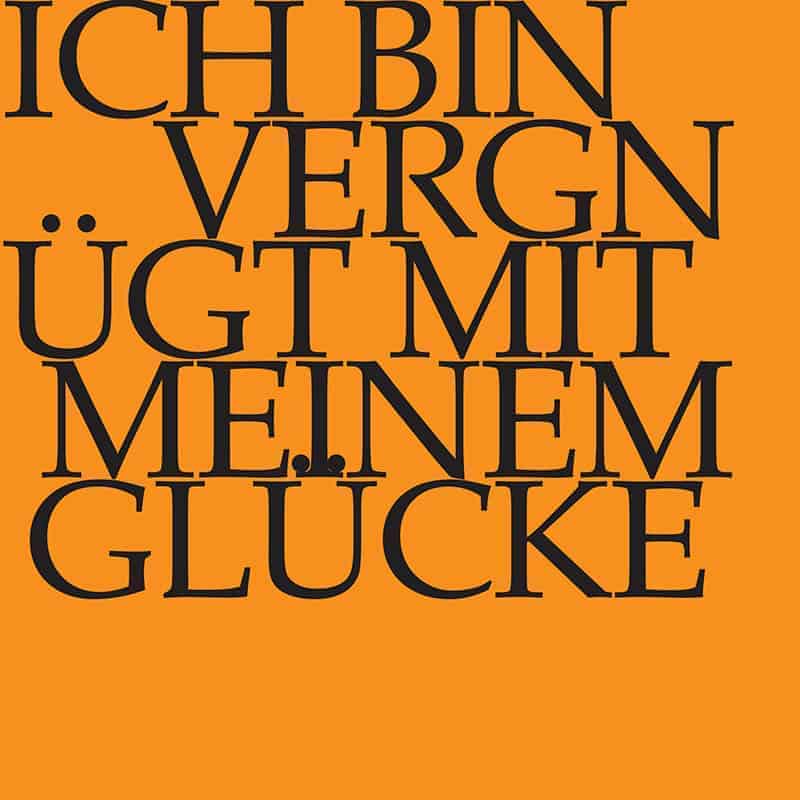 Video
Experience the introductory workshop, concert and reflective lecture in full length.
Workshop
Reflective lecture
«Lutzogram» for the introductory workshop
Rudolf Lutz's manuscript for the workshop
Audio
The sound recording of this work is available on several streaming and download platforms.
Choir
Alto
Antonia Frey
Tenor
Walter Siegel
Bass
Fabrice Hayoz
Orchestra
Conductor
Rudolf Lutz
Violin
Renate Steinmann, Martin Korrodi
Viola
Susanna Hefti
Violoncello
Martin Zeller
Violone
Iris Finkbeiner
Oboe
Katharina Arfken
Bassoon
Dorothy Mosher
Organ
Rudolf Lutz
Musical director & conductor
Rudolf Lutz
Workshop
Participants
Karl Graf, Rudolf Lutz
Reflective lecture
Speaker
Eleonore Frey Staiger
Recording & editing
Recording date
02/18/2011
Recording location
Trogen
Sound engineer
Stefan Ritzenthaler
Director
Meinrad Keel
Production manager
Johannes Widmer
Production
GALLUS MEDIA AG, Switzerland
Producer
J.S. Bach Foundation of St. Gallen, Switzerland
Matching publications in our shop
Librettist
Text No. 1–4
Poet unknown
Text No. 5
Ämilie Julyane von Schwarzburg–Rudolstadt, 1686
First performance
Septuagesima Sunday,
9 February 1727
In-depth analysis
With its head motive of descending dotted notes, the introductory aria embodies a vision of forbearance that – through the effortless, flowing lines of the soprano, oboe and obbligato first violin – is also presented as a precondition for true freedom. Here, the movement's apparent simplicity and all-pervasive lightness seems to express a richness of inner life that finds lasting contentment in the appreciation of the smallest gifts. One can well imagine that this virtuous picture of gracious simplicity and dignified penury may perhaps have been personified by a female figure in Bach's life.
The following recitative traces this attitude to life back to the Lutheran tenet of justification by faith as well as to the basic conditions for human existence – food, clothing and not least respect for God and one's neighbour. Indeed, the person to whom all this has been given is unable to earn any right to salvation, but must eat with patience the "humblest of bread" as described in the ensuing aria. Set once again as a light-hearted dance movement in 3/8 time, the charming quartet of oboe, violin, voice and continuo invokes the infectious joy that comes from loving one's neighbour – a most effective musical sermon.
By scoring the accompaniment for both organ and strings, Bach lends particular weight to the second recitative, in which the parable of the vineyard is extended to the course of earthly life. Here, the way in which Bach engraves the liberating word of "heaven" on the coin of life is of a moving intensity that transcends all earthly frugality.
Through its simple setting, the closing chorale enhances the central message of the temporary earthly duties entrusted to us by God as well as the hope for an undeserved, but patiently awaited "good end". Here, Bach's decision to set a verse of the death song "Wer weiss, wie nahe mir mein Ende" to the hymn of forbearance "Wer nur den lieben Gott lässt walten" effectively melds the two levels of the parable. The "3 Ripieni" (additional singers) called for in the original score to support the soprano solo in this final movement have indeed been put to a most satisfying use.
Libretto
1. Arie (Sopran)
Ich bin vergnügt mit meinem Glücke,
das mir der liebe Gott beschert.
Soll ich nicht reiche Fülle haben,
so dank ich ihm vor kleine Gaben
und bin auch nicht derselben wert.
2. Rezitativ (Sopran)
Gott ist mir ja nichts schuldig,
und wenn er mir was gibt,
so zeigt er mir, dass er mich liebt,
ich kann mir nichts bei ihm verdienen;
denn was ich tu, ist meine Pflicht.
Ja! wenn mein Tun gleich noch so gut geschienen,
so hab ich doch nichts Rechtes ausgericht';
doch ist der Mensch so ungeduldig,
dass er sich oft betrübt,
wenn ihm der liebe Gott nicht überflüssig gibt.
Hat er uns nicht so lange Zeit
umsonst ernähret und gekleid'
und will uns einsten seliglich
in seine Herrlichkeit erhöhn?
Es ist genug vor mich,
dass ich nicht hungrig darf zu Bette gehn.
3. Arie (Sopran)
Ich esse mit Freuden mein weniges Brot
und gönne dem Nächsten von Herzen das Seine.
Ein ruhig Gewissen, ein fröhlicher Geist,
ein dankbares Herze, das lobet und preist,
vermehret den Segen, verzuckert die Not.
4. Rezitativ (Sopran)
Im Schweisse meines Angesichts
will ich indes mein Brot geniessen,
und wenn mein' Lebenslauf,
mein Lebensabend wird beschliessen,
en, so teilt mir Gott den Groschen aus,
da steht der Himmel drauf.
O! wenn ich diese Gabe
zu meinem Gnadenlohne habe,
so brauch ich weiter nichts.
5. Choral
Ich leb indes in dir vergnüget
und sterb ohn alle Kümmernis,
mir g'nüget, wie es mein Gott füget,
ich glaub und bin es ganz gewiss:
Durch deine Gnad und Christi Blut
machst du's mit meinem Ende gut.
Bibliographical references
All libretti sourced from Neue Bach-Ausgabe. Johann Sebastian Bach. Neue Ausgabe sämtlicher Werke, published by the Johann-Sebastian-Bach-Institut Göttingen and the Bach-Archiv Leipzig, Series I (Cantatas), vol. 1–41, Kassel and Leipzig, 1954–2000.
All in-depth analyses by Anselm Hartinger (English translations/editing by Alice Noger-Gradon/Mary Carozza) based on the following sources:  Hans-Joachim Schulze, Die Bach-Kantaten. Einführungen zu sämtlichen Kantaten Johann Sebastian Bachs, Leipzig, 2nd edition, 2007; Alfred Dürr, Johann Sebastian Bach. Die Kantaten, Kassel, 9th edition, 2009, and Martin Petzoldt, Bach-Kommentar. Die geistlichen Kantaten, Stuttgart, vol. 1, 2nd edition, 2005 and vol. 2, 1st edition, 2007.