Ich bin ein guter Hirt
BWV 085 // For Misericordias Domini (Second Sunday after Easter)
(I am a shepherd true) for soprano, alto, tenor and bass, oboe I+II, violoncello piccolo, strings and basso continuo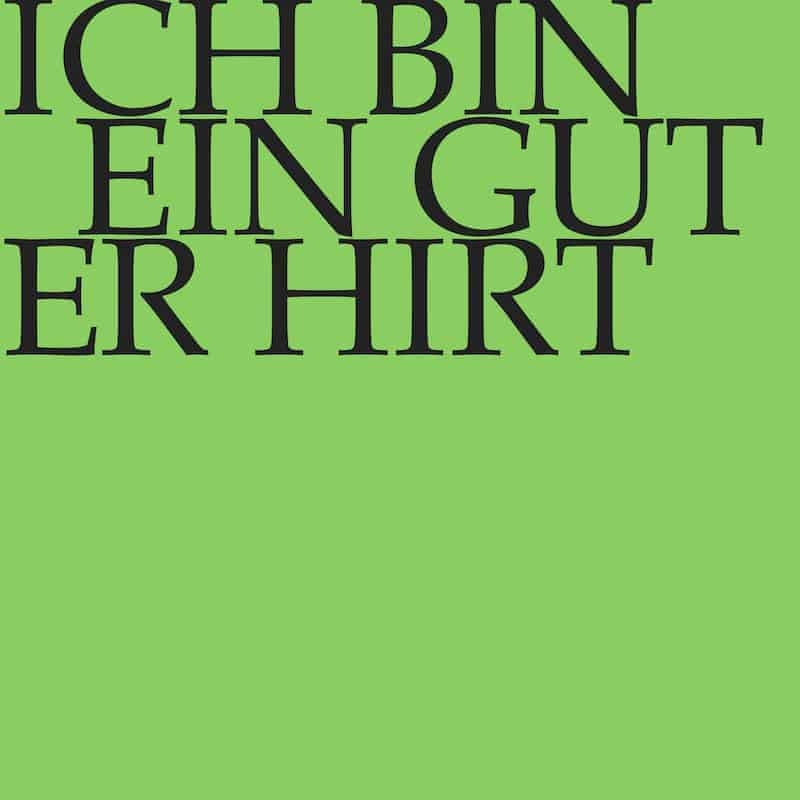 Video
Experience the introductory workshop, concert and reflective lecture in full length.
Workshop
Reflective lecture
«Lutzogram» for the introductory workshop
Rudolf Lutz's manuscript for the workshop
Orchestra
Conductor & cembalo
Rudolf Lutz
Violin
Renate Steinmann, Monika Baer
Viola
Susanna Hefti
Violoncello piccolo
Martin Zeller
Violone
Markus Bernhard
Oboe
Kerstin Kramp, Andreas Helm
Bassoon
Susann Landert
Organ
Nicola Cumer
Musical director & conductor
Rudolf Lutz
Workshop
Participants
Karl Graf, Peter Wollny, Rudolf Lutz
Reflective lecture
Speaker
Peter Wollny
Recording & editing
Recording date
08.04.2016
Recording location
Trogen AR (Schweiz) // Evangelische Kirche
Sound engineer
Stefan Ritzenthaler
Director
Meinrad Keel
Production manager
Johannes Widmer
Production
GALLUS MEDIA AG, Switzerland
Producer
J.S. Bach Foundation of St. Gallen, Switzerland
Matching publications in our shop
Librettist
Text No. 1
John 10:11
Text No. 2, 4, 5
Poet unknown
Text No. 3
Cornelius Becker, 1598
Text No. 6
Ernst Christoph Homburg, 1658
First performance
Unknown
Libretto
1. Arie (Bass)
»Ich bin ein guter Hirt, ein guter Hirt läßt sein Leben für die Schafe.«
2. Arie (Alt)
Jesus ist ein guter Hirt,
denn er hat bereits sein Leben
für die Schafe hingegeben,
die ihm niemand rauben wird.
Jesus ist ein guter Hirt.
3. Choral
Der Herr ist mein getreuer Hirt,
dem ich mich ganz vertraue,
zur Weid er mich, sein Schäflein, führt
auf schöner, grünen Aue,
zum frischen Wasser leit er mich,
mein Seel zu laben kräftiglich
durchs selig Wort der Gnaden.
4. Rezitativ (Tenor)
Wann die Mietlinge schlafen,
da wachet dieser Hirt bei seinen Schafen,
so daß ein jedes in gewünschter Ruh
die Trift und Weide kann genießen,
in welcher Lebensströme fließen.
Denn, sucht der Höllenwolf gleich einzudringen,
die Schafe zu verschlingen,
so hält ihm dieser Hirt doch seinen Rachen zu.
5. Arie (Tenor)
Seht, was die Liebe tut.
Mein Jesus hält in guter Hut
die Seinen feste eingeschlossen
und hat am Kreuzesstamm vergossen
für sie sein teures Blut.
6. Choral
Ist Gott mein Schutz und treuer Hirt,
kein Unglück mich berühren wird.
Weicht, alle meine Feinde,
die ihr mir stiftet Angst und Pein,
es wird zu eurem Schaden sein,
ich habe Gott zum Freunde.
Bibliographical references
All libretti sourced from Neue Bach-Ausgabe. Johann Sebastian Bach. Neue Ausgabe sämtlicher Werke, published by the Johann-Sebastian-Bach-Institut Göttingen and the Bach-Archiv Leipzig, Series I (Cantatas), vol. 1–41, Kassel and Leipzig, 1954–2000.
All in-depth analyses by Anselm Hartinger (English translations/editing by Alice Noger-Gradon/Mary Carozza) based on the following sources:  Hans-Joachim Schulze, Die Bach-Kantaten. Einführungen zu sämtlichen Kantaten Johann Sebastian Bachs, Leipzig, 2nd edition, 2007; Alfred Dürr, Johann Sebastian Bach. Die Kantaten, Kassel, 9th edition, 2009, and Martin Petzoldt, Bach-Kommentar. Die geistlichen Kantaten, Stuttgart, vol. 1, 2nd edition, 2005 and vol. 2, 1st edition, 2007.