Wer nur den lieben Gott läßt walten
BWV 093 // For the Fifth Sunday after Trinity
(The man who leaves to god all power) for soprano, alto, tenor and bass, vocal ensemble, oboe I+II, strings and continuo
Composed for the Fifth Sunday after Trinity in 1724, the cantata "Wer nur den lieben Gott läßt walten" (The man who leaves to God all power) at first appears to be a typical representative of Bach's chorale cantata cycle, employing as it does a traditional church hymn as the musical and textual basis of the work. A second glance, however, reveals that the treatment of the chorale is atypically complex, with chorale melody and text skilfully – and inventively – interwoven throughout the entire cantata. Entirely foregoing da-capo arias, the work has characteristics of a chorale partita (despite the sections of freely versified text), and its concisely structured movements make for a particularly dense and highly convincing composition.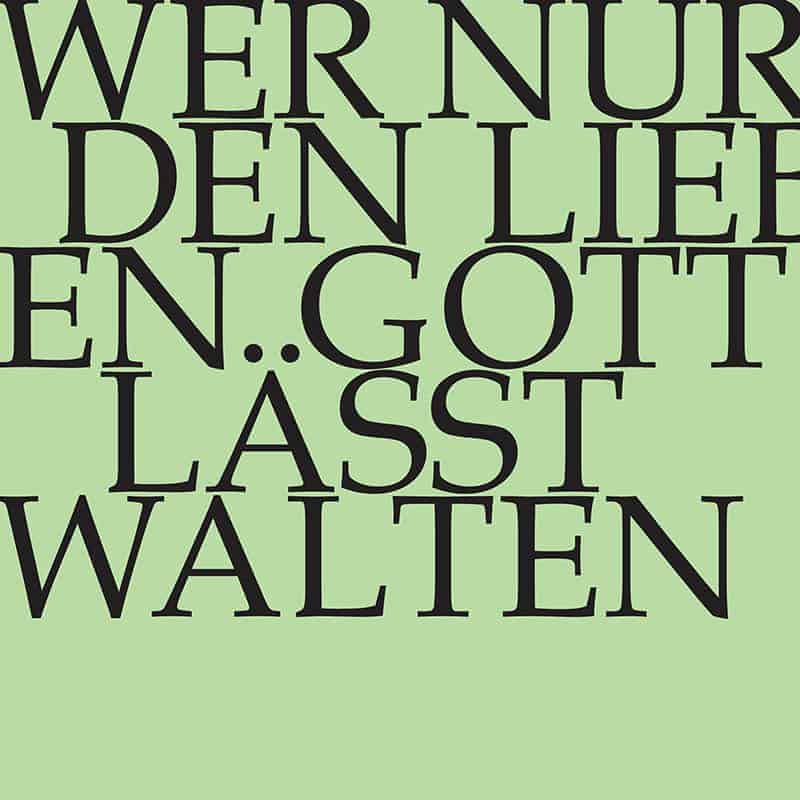 Video
Experience the introductory workshop, concert and reflective lecture in full length.
Workshop
Reflective lecture
«Lutzogram» for the introductory workshop
Rudolf Lutz's manuscript for the workshop
Audio
The sound recording of this work is available on several streaming and download platforms.
Soloists
Choir
Soprano
Susanne Frei, Guro Hjemli, Noëmi Sohn
Alto
Antonia Frey, Jan Börner, Lea Scherer, Olivia Heiniger, Katharina Jud
Tenor
Marcel Fässler, Manuel Gerber, Raphael Höhn
Bass
Fabrice Hayoz, Oliver Rudin, Philippe Rayot
Orchestra
Conductor & cembalo
Rudolf Lutz
Violin
Renate Steinmann, Plamena Nikitassova
Viola
Susanna Hefti
Violoncello
Maya Amrein
Violone
Iris Finkbeiner
Oboe
Kerstin Kramp, Luise Baumgartl
Bassoon
Susann Landert
Organ
Norbert Zeilberger
Musical director & conductor
Rudolf Lutz
Workshop
Participants
Karl Graf, Rudolf Lutz
Reflective lecture
Speaker
Michael Von Brück
Recording & editing
Recording date
06/18/2010
Recording location
Trogen
Sound engineer
Stefan Ritzenthaler
Director
Meinrad Keel
Production manager
Johannes Widmer
Production
GALLUS MEDIA AG, Switzerland
Producer
J.S. Bach Foundation of St. Gallen, Switzerland
Matching publications in our shop
Librettist
Text No. 1, 4, 7
Georg Neumark, 1657
Text No. 2, 3, 5, 6
Arranger unknown
First performance
Fifth Sunday after Trinity,
9 July 1724
In-depth analysis
In the introductory chorus, the forlorn C minor tonality contrasts starkly with the gently rocking 12/8-time siciliano; an expressive interpretation of God's support and protection through "every cross and sad distress". Equally notable are the intricate vorimitations, modified line for line, that precede the full choir presentation of each chorale phrase with the melody in the soprano voice. Indeed, it appears Bach wished to give this well-known hymn of comfort a particularly artful arrangement.
The bass recitative effectively conveys the contrast between hymn text and free verse, and thus the sermon-like procedure of textual interpretation. The ensuing aria "If we be but a little quiet, Whene'er the cross's hour draws nigh", by contrast, is distinguished by a particular lightness of foot, despite its weighty subject matter. The elegant minuet style imbues the movement with an infectious energy that seems inspired by an image of childlike trust. Even the regular pauses in the string parts do not halt the momentum, but instead provide a musical notion of "psst!" and evoke the energising twists and turns encountered over the course of a life well lived.
The following duet creatively turns traditional chorale treatment on its head: although the soprano and alto deliver the chorale text without amendment, the chorale melody is nowhere to be heard in their short exchanges. Instead, the melody is presented instrumentally as a "chorale without words", woven into the setting line for line by unison strings. Considering the mastery of this beautiful arrangement, it is no wonder that Bach later reworked it for organ, giving it pride of place in the six "Schübler Chorales".
This sense of serenity is again succeeded by a chorale recitative of high emotional drama in which Bach brings the alternation between hymn text and interpretive passages, as well as between chorale verse and Sunday gospel, to an emphatic climax. Although "fire and thunder" may crack and the inner "trial by fire" may lead us to despair of God's mercy, here, the interplay of free continuo passages, unexpected shifts in tempo and harmony, and skilful vocal accents, gives rise to a spirited sermon that no doubt left even the most dynamic preachers of Bach's time with a hard act to follow.
This mood of spiritual turmoil gives way to an aria for soprano, continuo and oboe, whose energetic trio setting again employs texts from the chorale. Despite its rapid movement, the music cannot entirely cast off its dark fundament; the unfathomable will of God hangs like a shadow of resignation over the song of trust, one textually akin to a hymn of praise to the Madonna.
With a return to the forlorn key of C minor, the resolute closing chorale leads the chorale variations of this cantata to a predictable, yet powerful conclusion. The tenor embellishments and sudden shift to a bright, major tonality in the closing bar provides for a particularly pleasing effect.
Libretto
1. Chor
Wer nur den lieben Gott läßt walten
und hoffet auf ihn allezeit,
den wird er wunderlich erhalten
in allem Kreuz und Traurigkeit.
Wer Gott, dem Allerhöchsten, traut,
der hat auf keinen Sand gebaut.
2. Rezitativ (Bass)
Was helfen uns die schweren Sorgen?
Sie drücken nur das Herz
mit Zentner Pein, mit tausend Angst
und Schmerz.
Was hilft uns unser Weh und Ach?
Es bringt nur bittres Ungemach.
Was hilft es, daß wir alle Morgen
mit Seufzen von dem Schlaf aufstehn
und mit beträntem Angesicht des Nachts zu Bette gehn?
Wir machen unser Kreuz und Leid
durch bange Traurigkeit nur größer.
Drum tut ein Christ viel besser,
er trägt sein Kreuz mit christlicher Gelassenheit.
3. Arie (Tenor)
Man halte nur ein wenig stille,
wenn sich die Kreuzesstunde naht,
denn unsres Gottes Gnadenwille
verläßt uns nie mit Rat und Tat.
Gott, der die Auserwählten kennt,
Gott, der sich uns ein Vater nennt,
wird endlich allen Kummer wenden
und seinen Kindern Hilfe senden.
4. Arie (Duett Sopran, Alt)
Er kennt die rechten Freudenstunden,
er weiß wohl, wenn es nützlich sei.
Wenn er uns nur hat treu erfunden
und merket keine Heuchelei:
so kömmt Gott, eh wir uns versehn,
und lässet uns viel Gut's geschehn.
5. Rezitativ (Tenor)
Denk nicht in deiner Drangsalshitze,
wenn Blitz und Donner kracht
und dir ein schwüles Wetter bange macht,
dass du von Gott verlassen seist.
Gott bleibt auch in der größten Not,
ja gar bis in den Tod
mit seiner Gnade bei den Seinen.
Du darfst nicht meinen,
daß dieser Gott im Schoße sitze,
der täglich, wie der reiche Mann,
in Lust und Freuden leben kann.
Der sich mit stetem Glücke speist,
bei lauter guten Tagen,
muß oft zuletzt,
nachdem er sich an eitler Lust ergötzt:

«Der Tod in Töpfen!» sagen.
Die Folgezeit verändert viel!
Hat Petrus gleich die ganze Nacht
mit leerer Arbeit zugebracht
und nichts gefangen:
auf Jesu Wort kann er noch einen Zug erlangen.
Drum traue nur in Armut, Kreuz und Pein
auf deines Jesus Güte
mit gläubigem Gemüte.
Nach Regen gibt er Sonnenschein
und setzet jeglichem sein Ziel.
6. Arie (Sopran)
Ich will auf den Herren schaun
und stets meinem Gott vertraun.
Er ist der rechte Wundersmann,
der die Reichen arm und bloß
und die Armen reich und groß
nach seinem Willen machen kann.
7. Choral
Sing, bet und geh auf Gottes Wegen,
verricht das Deine nur getreu
und trau des Himmels reichem Segen,
so wird er bei dir werden neu;
denn welcher seine Zuversicht
auf Gott setzt, den verläßt er nicht.
Bibliographical references
All libretti sourced from Neue Bach-Ausgabe. Johann Sebastian Bach. Neue Ausgabe sämtlicher Werke, published by the Johann-Sebastian-Bach-Institut Göttingen and the Bach-Archiv Leipzig, Series I (Cantatas), vol. 1–41, Kassel and Leipzig, 1954–2000.
All in-depth analyses by Anselm Hartinger (English translations/editing by Alice Noger-Gradon/Mary Carozza) based on the following sources:  Hans-Joachim Schulze, Die Bach-Kantaten. Einführungen zu sämtlichen Kantaten Johann Sebastian Bachs, Leipzig, 2nd edition, 2007; Alfred Dürr, Johann Sebastian Bach. Die Kantaten, Kassel, 9th edition, 2009, and Martin Petzoldt, Bach-Kommentar. Die geistlichen Kantaten, Stuttgart, vol. 1, 2nd edition, 2005 and vol. 2, 1st edition, 2007.