Was Gott tut, das ist wohlgetan
BWV 098 // For the Twenty-first Sunday after Trinity
(What God doth, that is rightly done) for soprano, alto, tenor and bass, vocal ensemble, oboe I+II, taille d'hautbois, strings and basso continuo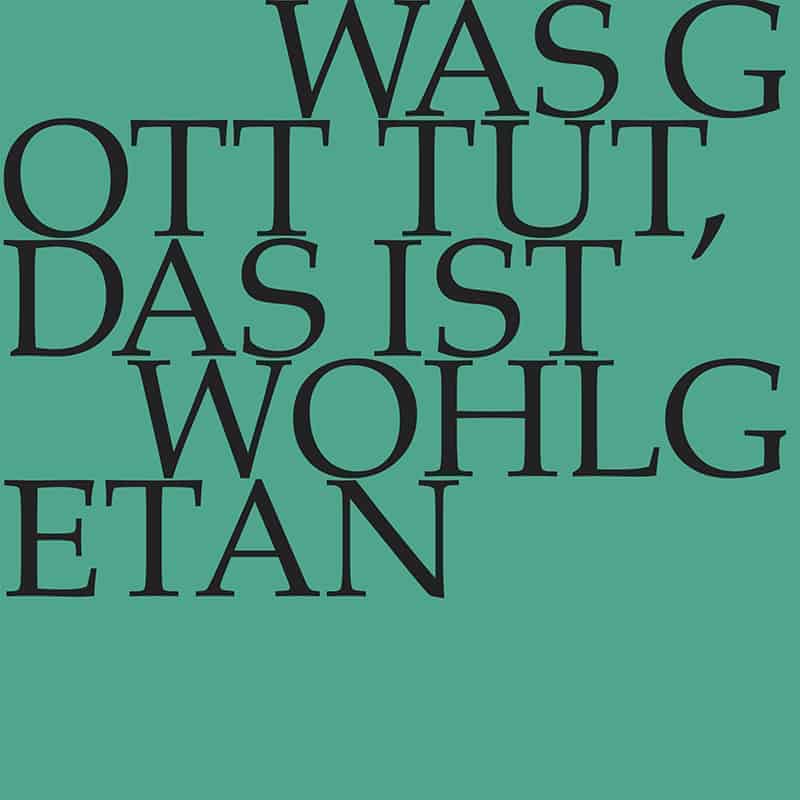 Video
Experience the introductory workshop, concert and reflective lecture in full length.
Workshop
Reflective lecture
«Lutzogram» for the introductory workshop
Rudolf Lutz's manuscript for the workshop
Soloists
Choir
Soprano
Susanne Seitter, Anna Walker, Mirjam Berli, Noëmi Tran Rediger, Simone Schwark, Lia Andres
Alto
Jan Börner, Antonia Frey, Lea Scherer, Liliana Lafranchi, Alexandra Rawohl
Tenor
Achim Glatz, Marcel Fässler, Sören Richter, Clemens Flämig
Bass
Fabrice Hayoz, Philippe Rayot, Tobias Wicky, William Wood, Daniel Pérez
Orchestra
Conductor
Rudolf Lutz
Violin
Renate Steinmann, Monika Baer, Sabine Hochstrasser, Yuko Ishikawa, Olivia Schenkel, Fanny Tschanz, Salome Zimmermann
Viola
Susanna Hefti, Matthias Jäggi, Martina Zimmermann
Violoncello
Martin Zeller, Hristo Kouzmanov
Violone
Iris Finkbeiner
Oboe
Katharina Arfken, Dominik Melicharek
Bassoon
Susann Landert
Organ
Nicola Cumer
Harpsichord
Thomas Leininger
Musical director & conductor
Rudolf Lutz
Workshop
Participants
Karl Graf, Rudolf Lutz
Reflective lecture
Speaker
Tilmann Moser
Recording & editing
Recording date
23/10/2015
Recording location
Trogen AR (Schweiz) // Evangelische Kirche
Sound engineer
Stefan Ritzenthaler
Director
Meinrad Keel
Production manager
Johannes Widmer
Production
GALLUS MEDIA AG, Switzerland
Producer
J.S. Bach Foundation of St. Gallen, Switzerland
Matching publications in our shop
Librettist
Text No. 1
Samuel Rodigast, 1674
Text No. 2–5
Poet unknown
First performance
Twenty-first Sunday after Trinity,
10 November 1726
Libretto
1. Choral

Was Gott tut, das ist wohlgetan,
es bleibt gerecht sein Wille.
Wie er fängt meine Sachen an,
will ich ihm halten stille.
Er ist mein Gott,
der in der Not
mich wohl weiß zu erhalten;
drum laß ich ihn nur walten.
2. Rezitativ (Tenor)
Ach Gott! Wenn wirst du mich einmal
von meiner Leiden Qual,
von meiner Angst befreien?
Wie lange soll ich Tag und Nacht
um Hülfe schreien?
Und ist kein Retter da!
Der Herr ist denen allen nah,
die seiner Macht
und seiner Huld vertrauen.
Drum will ich meine Zuversicht
auf Gott alleine bauen,
denn er verläßt die Seinen nicht.
3. Arie (Sopran)
Hört, ihr Augen, auf zu weinen!
Trag ich doch
mit Geduld mein schweres Joch.
Gott der Vater, lebet noch;
von den Seinen
läßt er keinen.
Hört auf zu weinen!
Hört, ihr Augen, auf zu weinen!
4. Rezitativ (Alt)
Gott hat ein Herz, das des Erbarmens Überfluß.
Und wenn der Mund vor seinen Ohren klagt
und ihm des Kreuzes Schmerz
im Glauben und Vertrauen sagt,
so bricht in ihm das Herz,
daß er sich über uns erbarmen muß.
Er hält sein Wort;
er saget: Klopfet an,
so wird euch aufgetan.
Drum laßt uns alsofort,
wenn wir in höchsten Nöten schweben,
das Herz zu Gott allein erheben.
5. Arie (Bass)
Meinen Jesum laß ich nicht,
bis mich erst sein Angesicht
wird erhöhen oder segnen.
Er allein
soll mein Schutz in allem sein,
was mir Übels kann begegnen.
Bibliographical references
All libretti sourced from Neue Bach-Ausgabe. Johann Sebastian Bach. Neue Ausgabe sämtlicher Werke, published by the Johann-Sebastian-Bach-Institut Göttingen and the Bach-Archiv Leipzig, Series I (Cantatas), vol. 1–41, Kassel and Leipzig, 1954–2000.
All in-depth analyses by Anselm Hartinger (English translations/editing by Alice Noger-Gradon/Mary Carozza) based on the following sources:  Hans-Joachim Schulze, Die Bach-Kantaten. Einführungen zu sämtlichen Kantaten Johann Sebastian Bachs, Leipzig, 2nd edition, 2007; Alfred Dürr, Johann Sebastian Bach. Die Kantaten, Kassel, 9th edition, 2009, and Martin Petzoldt, Bach-Kommentar. Die geistlichen Kantaten, Stuttgart, vol. 1, 2nd edition, 2005 and vol. 2, 1st edition, 2007.