Gott fähret auf mit Jauchzen
BWV 043 // for Ascension
(God goeth up with shouting) for soprano, alto, tenor and bass, vocal ensemble, oboe I+II, trumpet I-III, timpani, strings and basso continuo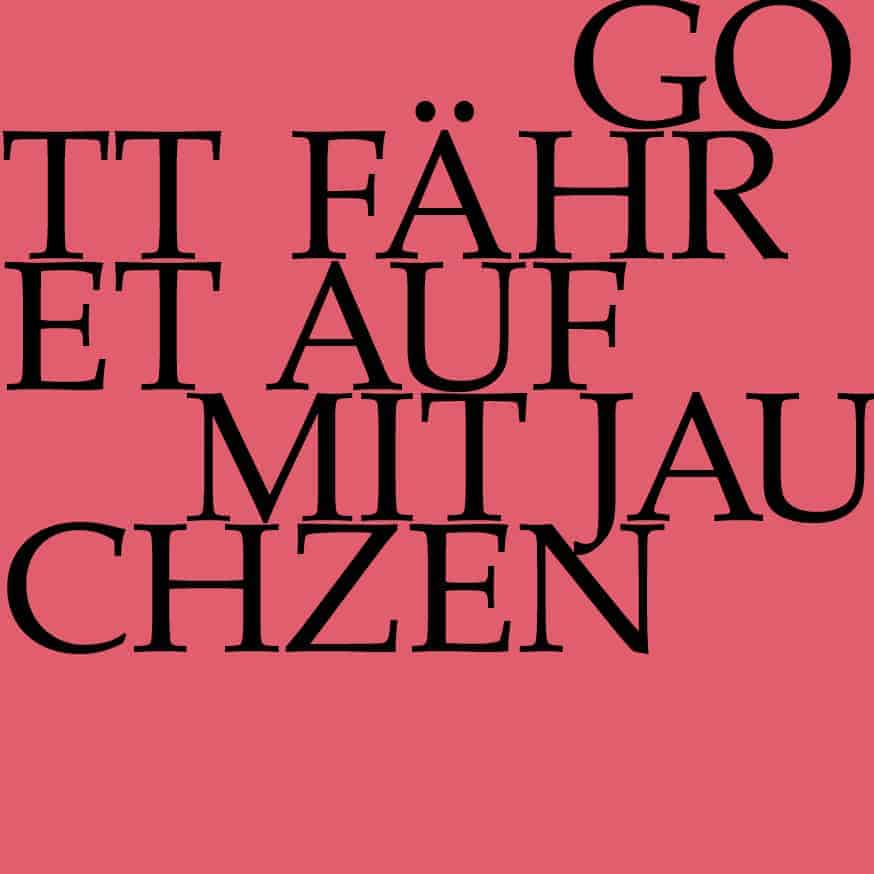 Video
Listen and see the introductory workshop, the concert and the reflection lecture in full length.
Soloists
Choir
Soprano
Larissa Bretscher, Linda Loosli, Simone Schwark, Susanne Seitter, Anna Walker, Mirjam Wernli-Berli
Alto
Antonia Frey, Stefan Kahle, Lea Pfister-Scherer, Damaris Rickhaus, Lisa Weiss
Tenor
Manuel Gerber, Raphael Höhn, Nicolas Savoy, Walter Siegel
Bass
Fabrice Hayoz, Simón Millán, Valentin Parli, Daniel Pérez, Philippe Rayot
Orchestra
Conductor
Rudolf Lutz
Violin
Eva Borhi, Lenka Torgersen, Peter Barczi, Christine Baumann, Petra Melicharek, Dorothee Mühleisen, Ildikó Sajgó
Viola
Martina Bischof, Matthias Jäggi, Sarah Mühlethaler
Violoncello
Maya Amrein, Daniel Rosin
Violone
Markus Bernhard
Trumpet
Lukasz Gothszalk, Nicolas Isabelle, Alexander Samawicz
Timpani
Laurent de Ceuninck
Oboe
Philipp Wagner, Ingo Müller
Bassoon
Susann Landert
Harpsichord
Dirk Börner
Organ
Nicola Cumer
Musical director & conductor
Rudolf Lutz
Workshop
Participants
Rudolf Lutz, Pfr. Niklaus Peter
Reflection lecture
Speaker
Christoph Drescher
Recording & editing
Recording date
24/05/2019
Recording location
Trogen AR (Schweiz) // Evangelische Kirche
Sound engineer
Stefan Ritzenthaler, Nikolaus Matthes
Director
Meinrad Keel
Production manager
Johannes Widmer
Production
GALLUS MEDIA AG, Switzerland
Producer
J.S. Bach Foundation of St. Gallen, Switzerland
Librettist
First performance
30 May 1726, Leipzig
Text
Psalm 47:6–7 (movement 1); Mark 16:19 (movement 4); Johann Rist (movement 11); anonymous (Herzog Ernst Ludwig von Sachsen-Meiningen; movements 2, 3, 5–10)
Text of the work and musical-theological comments
1. Chor
Gott fähret auf mit Jauchzen
und der Herr mit heller Posaunen.
Lobsinget, lobsinget Gott,
lobsinget, lobsinget unserm Könige.
2. Rezitativ — Tenor
Es will der Höchste sich ein Siegsgepräng bereiten,
da die Gefängnisse er selbst gefangen führt.
Wer jauchzt ihm zu?
Wer ists, der die Posaunen rührt?
Wer gehet ihm zur Seiten?
Ist es nicht Gottes Heer,
das seines Namens Ehr,
Heil, Preis, Reich, Kraft und Macht
mit lauter Stimme singet
und ihm nun ewiglich ein Halleluja bringet.
3. Arie — Tenor
Ja tausend mal tausend begleiten den Wagen,
dem König der Kön'ge lobsingend zu sagen,
daß Erde und Himmel sich unter ihm schmiegt
und was er bezwungen, nun gänzlich erliegt.
4. Rezitativ — Sopran
Und der Herr, nachdem er mit ihnen
geredet hatte, ward er aufgehaben gen
Himmel, und sitzet zur rechten Hand
Gottes.
5. Arie — Sopran
Mein Jesus hat nunmehr
das Heilandwerk vollendet
und nimmt die Wiederkehr
zu dem, der ihn gesendet.
Er schließt der Erde Lauf,
ihr Himmel, öffnet euch, und nehmt ihn
wieder auf!
6. Rezitativ — Bass
Es kommt der Helden Held,
des Satans Fürst und Schrecken,
der selbst den Tod gefällt,
getilgt der Sünden Flecken,
zerstreut der Feinde Hauf;
ihr Kräfte, eilt herbei und holt den Sieger auf.
7. Arie — Bass
Er ists, der ganz allein
die Kelter hat getreten
voll Schmerzen, Qual und Pein,
Verlorne zu erretten
durch einen teuren Kauf.
Ihr Thronen, mühet euch
und setzt ihm Kränze auf!
8. Rezitativ — Alt
Der Vater hat ihm ja
ein ewig Reich bestimmet:
Nun ist die Stunde nah,
da er die Krone nimmet
vor tausend Ungemach.
Ich stehe hier am Weg
und schau ihm freudig nach.
9. Arie — Alt
Ich sehe schon im Geist,
wie er zu Gottes Rechten
auf seine Feinde schmeißt,
zu helfen seinen Knechten
aus Jammer, Not und Schmach.
Ich stehe hier am Weg
und schau ihm sehnlich nach.
10. Rezitativ — Sopran
Er will mir neben sich
die Wohnung zubereiten,
damit ich ewiglich
ihm stehe an der Seiten,
befreit von Weh und Ach!
Ich stehe hier am Weg,
und ruf ihm dankbar nach.
11. Choral
Du Lebensfürst, Herr Jesu Christ,
der du bist aufgenommen
gen Himmel, da dein Vater ist
und die Gemein der Frommen,
wie soll ich deinen großen Sieg,
den du durch einen schweren Krieg
erworben hast, recht preisen
und dir gnug Ehr erweisen?
Zieh uns dir nach, so laufen wir,
gib uns des Glaubens Flügel!
Hilf, daß wir fliehen weit von hier
auf Israelis Hügel!
Mein Gott! wenn fahr ich doch dahin,
woselbst ich ewig fröhlich bin?
Wenn werd ich vor dir stehen,
dein Angesicht zu sehen?
Bibliographical references
All cantata texts were taken from «Neue Bach-Ausgabe. Johann Sebastian Bach. Neue Ausgabe sämtlicher Werke», published by the Johann-Sebastian-Bach-Institut Göttingen and the Bach-Archiv Leipzig, Series I (Cantatas), vol. 1-41, Kassel and Leipzig, 1954-2000.
All introductory texts to the works including the texts " in-depth analysis" as well as the " musical-theological comments" were written by Anselm Hartinger and Rev. Niklaus Peter as well as Rev. Karl Graf (translations by Alice Noger) upon consideration of the following references:  Hans-Joachim Schulze, «Die Bach-Kantaten. Einführungen zu sämtlichen Kantaten Johann Sebastian Bachs», Leipzig, 2nd edition, 2007; Alfred Dürr, «Johann Sebastian Bach. Die Kantaten», Kassel, 9th edition, 2009, and Martin Petzoldt, «Bach-Kommentar. Die geistlichen Kantaten», Stuttgart, vol. 1, 2nd edition, 2005 and vol. 2, 1st edition, 2007.