(Mass in G major) for soprano, alto, tenor and bass, vocal ensemble, oboe I+II, strings and basso continuo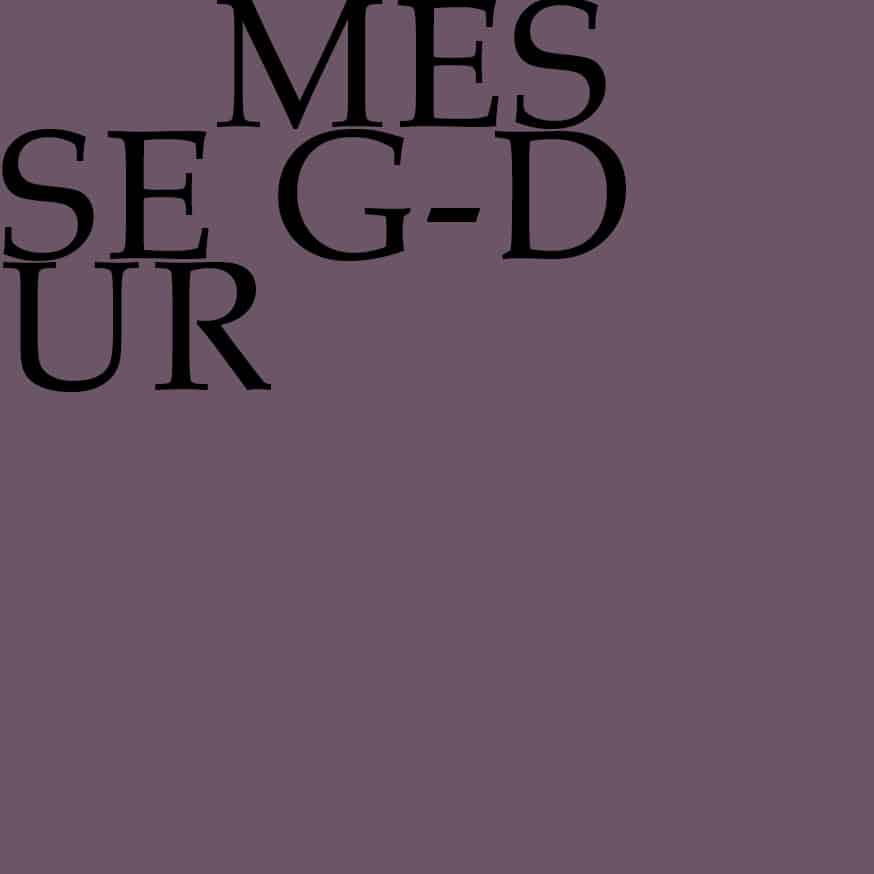 Video
Experience the introductory workshop, concert and reflective lecture in full length.
«Lutzogram» for the introductory workshop
Rudolf Lutz's manuscript for the workshop
Soloists
Choir
Soprano
Lia Andres, Maria Deger, Noëmi Sohn Nad, Noëmi Tran-Rediger, Alexa Vogel, Ulla Westvik
Alto
Laura Binggeli, Antonia Frey, Stefan Kahle, Lea Pfister-Scherer, Lisa Weiss
Tenor
Manuel Gerber, Klemens Mölkner, Christian Rathgeber, Sören Richter
Bass
Daniel Pérez, Philippe Rayot, Julian Redlin, Peter Strömberg, Tobias Wicky
Orchestra
Conductor
Rudolf Lutz
Violin
Eva Borhi, Lenka Torgersen, Peter Barczi, Christine Baumann, Petra Melicharek, Dorothee Mühleisen, Ildikó Sajgó, Judith von der Goltz, Cecilie Valtrova
Viola
Sonoko Asabuki, Matthias Jäggi, Rafael Roth
Violoncello
Maya Amrein, Daniel Rosin
Violone
Markus Bernhard
Oboe
Philipp Wagner, Andreas Helm
Bassoon
Gabriele Gombi
Harpsichord
Thomas Leininger
Organ
Nicola Cumer
Musical director & conductor
Rudolf Lutz
Workshop
Participants
Rudolf Lutz, Pfr. Niklaus Peter
Reflective lecture
Speaker
Frank Jehle
Recording & editing
Recording date
16/09/2022
Recording location
St. Gallen (Switzerland) // Cathedral
Sound engineer
Stefan Ritzenthaler
Producer
Meinrad Keel
Executive producer
Johannes Widmer
Production
GALLUS MEDIA AG, Schweiz
Producer
J.S. Bach-Stiftung, St. Gallen, Schweiz
Libretto
Kyrie
1. Chor
Kyrie eleison,
Christe eleison,
Kyrie eleison.
Gloria
2. Chor
Gloria in excelsis Deo
et in terra pax hominibus
bonae voluntatis.
Laudamus te,
benedicimus te,
adoramus te,
glorificamus te.
3. Arie — Bass
Gratias agimus tibi propter
magnam gloriam tuam.
Domine Deus, Rex coelestis,
Deus Pater omnipotens,
Domine Fili unigenite Jesu Christe.
4. Arie — Duett: Sopran und Alt
Domine Deus, Agnus Dei,
Filius Patris, qui tollis peccata mundi,
miserere nobis,
qui tollis peccata mundi,
suscipe deprecationem nostram.
Qui sedes ad dextram Patris,
miserere nobis.
5. Arie — Tenor
Quoniam tu solus sanctus,
tu solus Dominus,
tu solus altissimus Jesu Christe.
6. Chor
Cum Sancto Spiritu
in gloria Dei Patris, amen.
Bibliographical references
All libretti sourced from Neue Bach-Ausgabe. Johann Sebastian Bach. Neue Ausgabe sämtlicher Werke, published by the Johann-Sebastian-Bach-Institut Göttingen and the Bach-Archiv Leipzig, Series I (Cantatas), vol. 1–41, Kassel and Leipzig, 1954–2000.
All in-depth analyses by Anselm Hartinger (English translations/editing by Alice Noger-Gradon/Mary Carozza) based on the following sources:  Hans-Joachim Schulze, Die Bach-Kantaten. Einführungen zu sämtlichen Kantaten Johann Sebastian Bachs, Leipzig, 2nd edition, 2007; Alfred Dürr, Johann Sebastian Bach. Die Kantaten, Kassel, 9th edition, 2009, and Martin Petzoldt, Bach-Kommentar. Die geistlichen Kantaten, Stuttgart, vol. 1, 2nd edition, 2005 and vol. 2, 1st edition, 2007.