Nimm von uns, Herr, du treuer Gott
BWV 101 // For the Tenth Sunday after Trinity
(Take from us, Lord, thou faithful God) for soprano, alto, tenor and bass, vocal ensemble, cornett, trombone I–III, oboe I+II, oboe da caccia, strings and basso continuo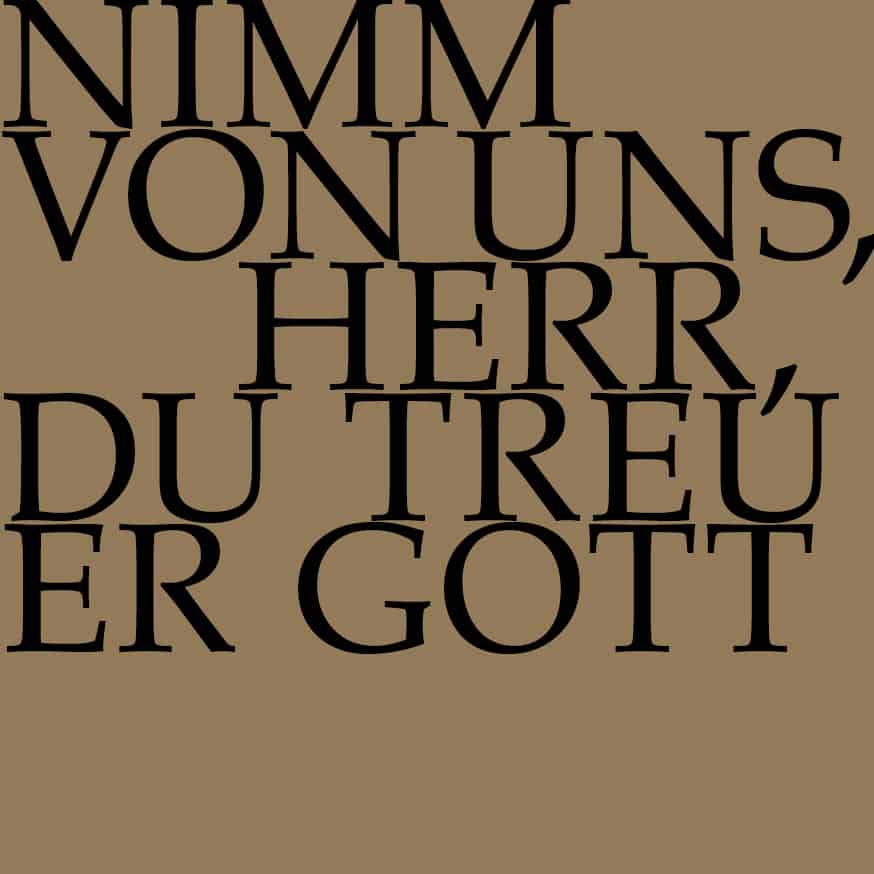 Video
Experience the introductory workshop, concert and reflective lecture in full length.
«Lutzogram» for the introductory workshop
Rudolf Lutz's manuscript for the workshop
Soloists
Choir
Soprano
Linda Loosli, Jennifer Ribeiro Rudin, Simone Schwark, Susanne Seitter, Noëmi Tran-Rediger, Mirjam Wernli
Alto
Laura Binggeli, Antonia Frey, Katharina Jud, Jan Thomer, Lisa Weiss
Tenor
Marcel Fässler, Tobias Mäthger, Joël Morand, Christian Rathgeber
Bass
Jean-Christophe Groffe, Israel Martins, Simón Millán, Felix Rathgeber, Philippe Rayot
Orchestra
Conductor & harpsichord
Rudolf Lutz
Violin
Eva Borhi, Cecilie Valter, Christine Baumann, Petra Melicharek, Ildikó Sajgó, Judith von der Goltz
Viola
Martina Bischof, Sonoko Asabuki, Sarah Mühlethaler
Violoncello
Maya Amrein, Bettina Messerschmidt
Violone
Markus Bernhard
Oboe/Oboe da caccia
Andreas Helm, Thomas Meraner
Taille
Ingo Müller
Cornett
Martin Bolterauer
Trombone
Christine Brand Häusler, Max Eisenhut, Tobias Hildebrandt
Transverse flute
Tomoko Mukoyama
Bassoon
Susann Landert
Organ
Nicola Cumer
Musical director & conductor
Rudolf Lutz
Workshop
Participants
Rudolf Lutz, Pfr. Niklaus Peter
Reflective lecture
Speaker
Rolf Stürner
Recording & editing
Recording date
18/11/2022
Recording location
Trogen AR (Schweiz) // protestant church
Sound engineer
Stefan Ritzenthaler
Producer
Meinrad Keel
Executive producer
Johannes Widmer
Production
GALLUS MEDIA AG, Schweiz
Producer
J.S. Bach-Stiftung, St. Gallen, Schweiz
Librettist
First performance
13 August 1724, Leipzig
Text
Martin Moller (movements 1, 3, 5, 7); unknown source (movements 2, 4, 6)
Libretto
1. Chor
Nimm von uns, Herr, du treuer Gott,
die schwere Straf und große Not,
die wir mit Sünden ohne Zahl
verdienet haben allzumal.
Behüt für Krieg und teurer Zeit,
für Seuchen, Feur und großem Leid!
2. Arie — Tenor
Handle nicht nach deinen Rechten
mit uns bösen Sündenknechten,
laß das Schwert der Feinde ruhn!
Höchster, höre unser Flehen,
daß wir nicht durch sündlich Tun
wie Jerusalem vergehen!
3. Choral und Rezitativ — Sopran
Ach! Herr Gott, durch die Treue dein
wird unser Land in Fried und Ruhe sein.
Wenn uns ein Unglückswetter droht,
so rufen wir,
barmherzger Gott, zu dir
in solcher Not:
Mit Trost und Rettung uns erschein!
Du kannst dem feindlichen Zerstören
durch deine Macht und Hülfe wehren.
Beweis an uns deine große Gnad,
und straf uns nicht auf frischer Tat,
wenn unsre Füsse wanken wollten,
und wir aus Schwachheit straucheln sollten.
Wohn uns mit deiner Güte bei
und gib, daß wir
nur nach dem Guten streben,
damit allhier
und auch in jenem Leben
dein Zorn und Grimm fern von uns sei!
4. Arie — Bass
Warum willst du so zornig sein?
Es schlagen deines Eifers Flammen
schon über unserm Haupt zusammen.
Ach, stelle doch die Strafen ein
und trag aus väterlicher Huld
mit unserm schwachen Fleisch Geduld!
5. Choral und Rezitativ — Tenor
Die Sünd hat uns verderbet sehr.
So müssen auch die Frömmsten sagen
und mit betränten Augen klagen:
Der Teufel plagt uns noch viel mehr.
Ja, dieser böse Geist,
der schon von Anbeginn ein Mörder heißt,
sucht uns um unser Heil zu bringen
und als ein Löwe zu verschlingen.
Die Welt, auch unser Fleisch und Blut
uns allezeit verführen tut.
Wir treffen hier auf dieser schmalen Bahn
sehr viele Hindernis im Guten an.
Solch Elend kennst du, Herr, allein:
Hilf, Helfer, hilf uns Schwachen,
du kannst uns stärker machen!
Ach, laß uns dir befohlen sein!
6. Arie — Duett: Sopran und Alt
Gedenk an Jesu bittern Tod!
Nimm, Vater, deines Sohnes Schmerzen
und seiner Wunden Pein zu Herzen!
Die sind ja für die ganze Welt
die Zahlung und das Lösegeld;
erzeig auch mir zu aller Zeit,
barmherzger Gott, Barmherzigkeit!
Ich seufze stets in meiner Not,
ich seufze stets:
Gedenk an Jesu bittern Tod!
7. Choral
Leit uns mit deiner rechten Hand
und segne unser Stadt und Land;
gib uns allzeit dein heilges Wort,
behüt fürs Teufels List und Mord;
verleih ein selges Stündelein,
auf daß wir ewig bei dir sein!
Bibliographical references
All libretti sourced from Neue Bach-Ausgabe. Johann Sebastian Bach. Neue Ausgabe sämtlicher Werke, published by the Johann-Sebastian-Bach-Institut Göttingen and the Bach-Archiv Leipzig, Series I (Cantatas), vol. 1–41, Kassel and Leipzig, 1954–2000.
All in-depth analyses by Anselm Hartinger (English translations/editing by Alice Noger-Gradon/Mary Carozza) based on the following sources:  Hans-Joachim Schulze, Die Bach-Kantaten. Einführungen zu sämtlichen Kantaten Johann Sebastian Bachs, Leipzig, 2nd edition, 2007; Alfred Dürr, Johann Sebastian Bach. Die Kantaten, Kassel, 9th edition, 2009, and Martin Petzoldt, Bach-Kommentar. Die geistlichen Kantaten, Stuttgart, vol. 1, 2nd edition, 2005 and vol. 2, 1st edition, 2007.