Meine Seufzer, meine Tränen
BWV 013 // For the Second Sunday after Epiphany
(Of my sighing, of my crying) for soprano, alto, tenor and bas, flauto dolce I+II, oboe da caccia, bassoon, strings and basso continuo
Cantata BWV 13 "Meine Seufzer, meine Tränen" (Of my sighing, of my crying), marked in hand on the score as a "Concerto da Chiesa", is a work revealing and eliciting a deep personal involvement. Were the text not derived from the devotional works of Georg Christian Lehms – and clearly written for general purposes – the cantata could be mistaken for a ­votive composition undertaken for personal reasons or for a commissioned funeral composition (in the style of cantata 157). Perhaps, then, we may regard it as a cantata of consolation with an unusually personal character – and one from which not only the Leipzig congregation of 1726 benefited. Whatever the exact circumstances of its origin, however, the soloistic tendencies and distinctive oration typical of Bach's third cantata cycle certainly find moving expression in this work.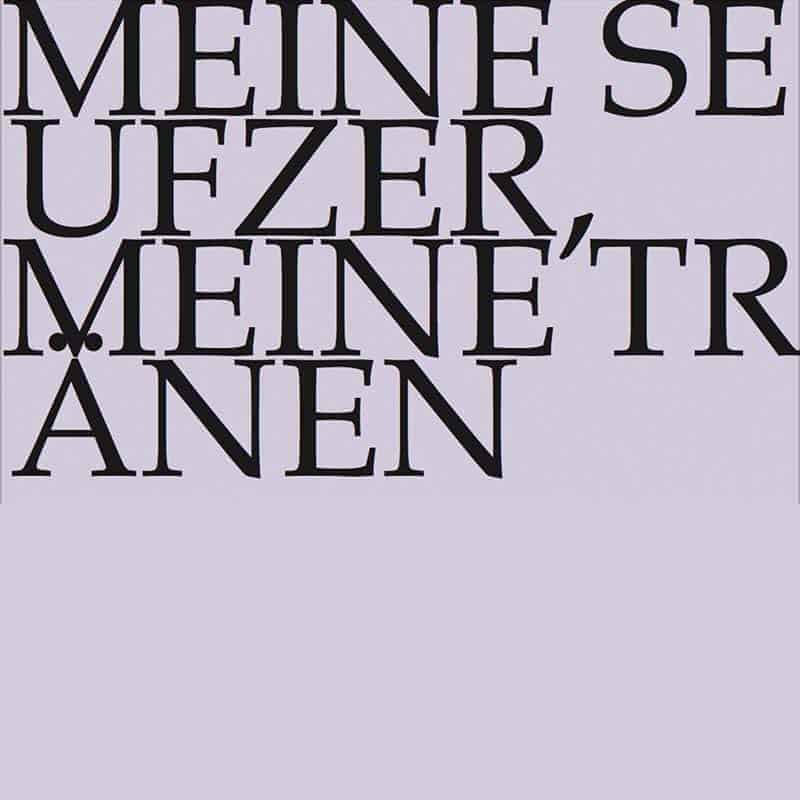 Video
Experience the introductory workshop, concert and reflective lecture in full length.
Workshop
Reflective lecture
«Lutzogram» for the introductory workshop
Rudolf Lutz's manuscript for the workshop
Audio
The sound recording of this work is available on several streaming and download platforms.
Orchestra
Conductor & cembalo
Rudolf Lutz
Violin
Plamena Nikitassova, Dorothee Mühleisen
Viola
Martina Bischof
Violoncello
Maya Amrein
Violone
Iris Finkbeiner
Bassoon
Susann Landert
Recorder/Flute
Annina Stahlberger, Teresa Hackel
Organ
Nicola Cumer
Musical director & conductor
Rudolf Lutz
Workshop
Participants
Karl Graf, Rudolf Lutz
Reflective lecture
Speaker
Stefan Stirnemann
Recording & editing
Recording date
01/17/2014
Recording location
Trogen
Sound engineer
Stefan Ritzenthaler
Director
Meinrad Keel
Production manager
Johannes Widmer
Production
GALLUS MEDIA AG, Switzerland
Producer
J.S. Bach Foundation of St. Gallen, Switzerland
Matching publications in our shop
Librettist
Text No. 1, 2, 4, 5
Georg Christian Lehms, 1711
Text No. 3
Johann Heermann, 1636
Text No. 6
Paul Fleming, 1642
First performance
Second Sunday after Epiphany,
20 January 1726
In-depth analysis
The opening aria, despite its densely woven score, remains light and transparent in sound. Indeed, the solo part is a shining example of how baroque affect, in its strict sense of evoking a distinct emotion, can nonetheless sound noble and natural when in the hands of a master – the music here is never sermonising, but authentic and new throughout. Composed in the style of a funereal pastorale, the voice is underscored by exquisite instrumental writing a tentative continuo part overlaid by the sighing of recorders whose thin sound is warmed by the "voice of love", the oboe d'amore. With the delicate timbres of these woodwind instruments, not even the hefty dissonances sound false or hard, but portray with gentle intensity a lasting image of sorrow: a lonely old widower, in a darkened room, whose pains of the day burden the breast at night. This mood is then sustained by the halting gestures and expressive pauses of the alto recitative – a hand­wringing "entreaty" reflecting both hopeful impatience and resigned defeat: will the salvation visible "from afar" arrive in good time?
The following chorale setting sheds light on this darkness in a most liberating way: the alto commences singing, and the comforting change of mood does not appear a mere wonder, but rather the result of the faithful reflection described in the text. Here, the whole power of the Protestant chorale is evident in the modest joy of the music. Moreover, the comfort it expresses also answers the question of the chorale's meaning to Bach, who musically contemplates the Cartesian problem of the possibility of knowledge and the certainty of good, thereby presenting his own "meditations on the metaphysical": because God, in the Bible-word of the chorale, has given his promise, he must, ultimately and by the strength of active faith, be benevolent ! The theologically well-versed Bach thus musically fulfilled Luther's precept of justification by faith – indeed, the highly artistic, yet welcoming music wonderfully fills the heart with joy.
It speaks for the sensitivity and life experience of the librettist and composer that the following soprano recitative opens with a new line of enquiry (Confutatio). Nonetheless, raw anxiety still holds sway: is my "cup of woe" already "overflowing"? Have I already grown "cold" and thus incapable of receiving comfort? Indeed, it costs the fearful vocalist audible strength to suppress the "songs of sorrow" and embrace the inspiring image of the "wormwood's gall" being transformed into "wine of rapture".
Listeners expecting a down-to-earth setting of relief to follow, however, are mistaken. Rather, the bass solo ("moaning and most piteous weeping") presents a cleansing exploration of human fears and the inadequacy of our strategies to overcome them. With its shimmering unison writing for recorders and solo violin in addition to the ever-sighing character of the melody, the aria draws a depressing picture of futile complaint, but one that is sensitively caricatured with benevolent intent. The path to a peaceful worldview is thus presented as a lifelong struggle, but one that will be rewarded, as suggested by the moments of joy and in the equilibrium of the middle section.
The closing chorale is based on the last verse of the hymn "In allen meinen Taten" by the great baroque poet, traveller and doctor Paul Fleming. Although not envisioned in Lehms's original text, this verse, reflecting Fleming's unfaltering trust in God, rounds out the cantata on an introspective note.
Libretto
1. Arie (Tenor)
Meine Seufzer, meine Tränen
können nicht zu zählen sein.
Wenn sich täglich Wehmut findet
und der Jammer nicht verschwindet,
ach! so muss uns diese Pein
schon den Weg zum Tode bahnen.
2. Rezitativ (Alt)
Mein liebster Gott läßt mich annoch
vergebens rufen
und mir in meinem Weinen
noch keinen Trost erscheinen.
Die Stunde lässet sich zwar wohl von ferne sehen,
allein ich muß doch noch vergebens flehen.
3. Choral
Der Gott, der mir hat versprochen
seinen Beistand jederzeit,
der läßt sich vergebens suchen
itzt in meiner Traurigkeit.
Ach! Will er denn für und für
grausam zürnen über mir,
kann und will er sich der Armen
itzt nicht wie vorhin erbarmen?
4. Rezitativ (Sopran)
Mein Kummer nimmet zu
und raubt mir alle Ruh.
Mein Jammerkrug ist ganz mit Tränen angefüllet,
und diese Not wird nicht gestillet,
so mich ganz unempfindlich macht.
Der Sorgen Kummernacht
drückt mein beklemmtes Herz darnieder,
drum sing ich lauter Jammerlieder.
Doch, Seele, nein,
sei nur getrost in deiner Pein:
Gott kann den Wermutsaft gar leicht in Freudenwein verkehren
und dir alsdenn viel tausend Lust gewähren.
5. Arie (Bass)
Ächzen und erbärmlich Weinen
hilft der Sorgen Krankheit nicht.
Aber wer gen Himmel siehet
und sich da um Trost bemühet,
dem kann leicht ein Freudenlicht
in der Trauerbrust erscheinen.
6. Choral
So sei nun, Seele, deine
und traue dem alleine,
der dich erschaffen hat.
Es gehe, wie es gehe,
dein Vater in der Höhe,
der weiss zu allen Sachen Rat.
Bibliographical references
All libretti sourced from Neue Bach-Ausgabe. Johann Sebastian Bach. Neue Ausgabe sämtlicher Werke, published by the Johann-Sebastian-Bach-Institut Göttingen and the Bach-Archiv Leipzig, Series I (Cantatas), vol. 1–41, Kassel and Leipzig, 1954–2000.
All in-depth analyses by Anselm Hartinger (English translations/editing by Alice Noger-Gradon/Mary Carozza) based on the following sources:  Hans-Joachim Schulze, Die Bach-Kantaten. Einführungen zu sämtlichen Kantaten Johann Sebastian Bachs, Leipzig, 2nd edition, 2007; Alfred Dürr, Johann Sebastian Bach. Die Kantaten, Kassel, 9th edition, 2009, and Martin Petzoldt, Bach-Kommentar. Die geistlichen Kantaten, Stuttgart, vol. 1, 2nd edition, 2005 and vol. 2, 1st edition, 2007.