Ich lebe, mein Herze, zu deinem Ergötzen
BWV 145 // For the Third day of Easter
(I live now, my spirit, to thy purest pleasure) for soprano, tenor and bass, oboe d'amore I+II, transverse flute, trumpets, strings and basso continuo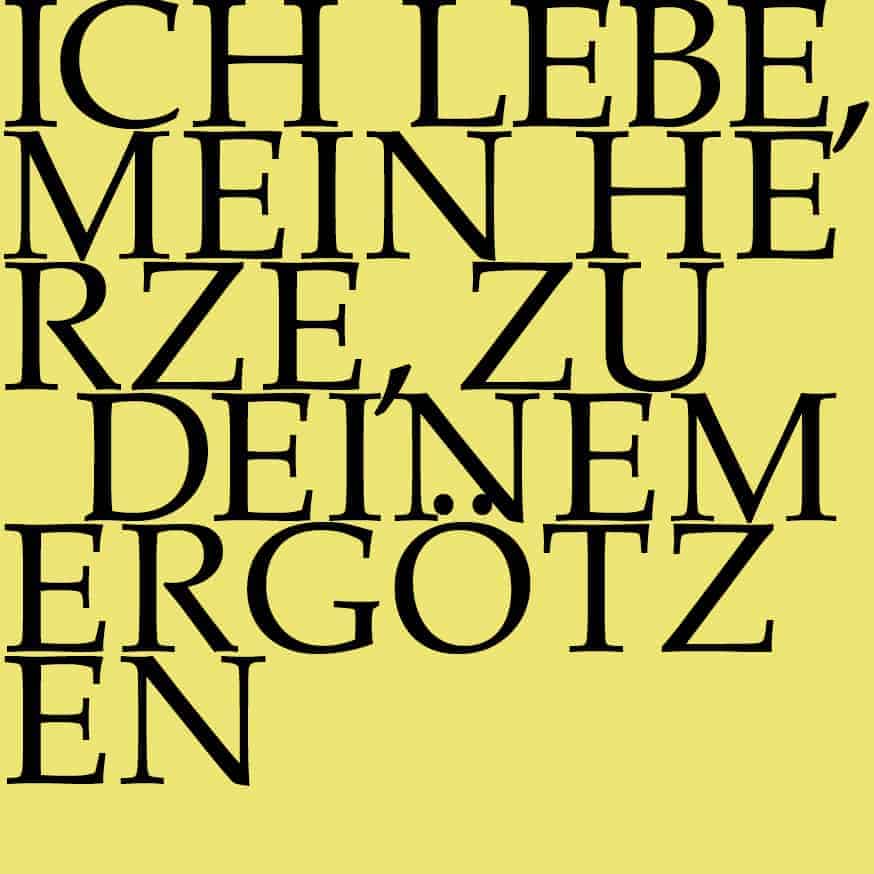 Video
Listen and see the introductory workshop, the concert and the reflection lecture in full length.
Workshop
Reflection lecture
Bonus material
«Lutzogram» on the introductory workshop
Rudolf Lutz's script on the workshop
Orchestra
Conductor & harpsichord
Rudolf Lutz
Violin
Renate Steinmann, Olivia Schenkel, Claire Foltzer, Elisabeth Kohler, Marita Seeger, Salome Zimmermann
Violoncello
Martin Zeller
Violone
Markus Bernhard
Trumpet
Patrick Henrichs
Transverse flute
Tomoko Mukoyama

Oboe d'amore
Andreas Helm, Philipp Wagner
Bassoon
Susann Landert
Organ
Nicola Cumer
Musical director & conductor
Rudolf Lutz
Workshop
Participants
Rudolf Lutz, Pfr. Niklaus Peter
Reflection lecture
Speaker
Sr. Manuela Schreiner
Recording & editing
Recording date
26/04/2019
Recording location
ev. Kirche St. Mangen // St. Gallen
Sound engineer
Stefan Ritzenthaler, Nikolaus Matthes
Director
Meinrad Keel
Production manager
Johannes Widmer
Production
GALLUS MEDIA AG, Switzerland
Producer
J.S. Bach Foundation of St. Gallen, Switzerland
Librettist
First performance
19 April 1729, Leipzig
Text

Christian Friedrich Henrici (Picander), Leipzig, 1728/32
Movement a (added later for a performance on Easter Day): Caspar Neumann (Breslau, around 1700)
Movement b (added later from TWV 1:1350 for a performance on Easter Day); Romans 10:9
Movement 5: Nikolaus Herman (1560)
Text of the work and musical-theological comments
Erste Aufführung
a) Choral (BWV 145/1)
Auf, mein Herz, des Herren Tag
hat die Nacht der Furcht vertrieben:
Christus, der im Grabe lag,
ist im Tode nicht geblieben.
Nunmehr bin ich recht getröst,
Jesus hat die Welt erlöst.
b) Chor (Georg Philipp Telemann, aus der Kantate TWV 1:1350)
«So du mit deinem Munde bekennest Jesum,
dass er der Herr sei, und gläubest in
deinem Herzen, dass ihn Gott von den Toten
auferwecket hat, so wirst du selig.»
Es folgen: Nummern 1 – 5
Zweite Aufführung
a) Sinfonia zu BWV 145 (Rudolf Lutz)
Es folgen: Nummern 1 – 5
1. Arie — Duett
(Jesus: Tenor, Seele: Sopran)
Jesus
Ich lebe, mein Herze, zu deinem Ergötzen,
mein Leben erhebet dein Leben empor.
Seele
Du lebest, mein Jesu, zu meinem Ergötzen,
dein Leben erhebet mein Leben empor.
Die klagende Handschrift ist völlig zerrißen,
der Friede verschaffet ein ruhig Gewißen
und öffnet den Sündern das himmlische Tor.
2. Rezitativ — Tenor
Nun fordre, Moses, wie du willt,
das dräuende Gesetz zu üben,
ich habe meine Quittung hier
mit Jesu Blut und Wunden unterschrieben.
Dieselbe gilt,
ich bin erlöst, ich bin befreit
und lebe nun mit Gott in Fried und Einigkeit,
der Kläger wird an mir zuschanden,
denn Gott ist auferstanden.
Mein Herz, das merke dir!
3. Arie — Bass
Merke, mein Herze, beständig nur dies,
wenn du alles sonst vergißt,
daß dein Heiland lebend ist;
merke, mein Herze, beständig nur dies.
Lasse dieses deinem Gläuben
einen Grund und Feste bleiben,
auf solchem besteht er gewiß.
Merke, meine Herze, merke nur dies!
4. Rezitativ — Sopran
Mein Jesus lebt,
das soll mir niemand nehmen,
drum sterb ich sonder Grämen.
Ich bin gewiß
und habe das Vertrauen,
daß mich des Grabes Finsternis
zur Himmelsherrlichkeit erhebt;
mein Jesus lebt,
ich habe nun genug,
mein Herz und Sinn
will heute noch zum Himmel hin,
selbst den Erlöser anzuschauen.
5. Choral
Drum wir auch billig fröhlich sein,
singen das Halleluja fein
und loben dich, Herr Jesu Christ;
zu Trost du uns erstanden bist.
Halleluja!
Bibliographical references
All cantata texts were taken from «Neue Bach-Ausgabe. Johann Sebastian Bach. Neue Ausgabe sämtlicher Werke», published by the Johann-Sebastian-Bach-Institut Göttingen and the Bach-Archiv Leipzig, Series I (Cantatas), vol. 1-41, Kassel and Leipzig, 1954-2000.
All introductory texts to the works including the texts " in-depth analysis" as well as the " musical-theological comments" were written by Anselm Hartinger and Rev. Niklaus Peter as well as Rev. Karl Graf (translations by Alice Noger) upon consideration of the following references:  Hans-Joachim Schulze, «Die Bach-Kantaten. Einführungen zu sämtlichen Kantaten Johann Sebastian Bachs», Leipzig, 2nd edition, 2007; Alfred Dürr, «Johann Sebastian Bach. Die Kantaten», Kassel, 9th edition, 2009, and Martin Petzoldt, «Bach-Kommentar. Die geistlichen Kantaten», Stuttgart, vol. 1, 2nd edition, 2005 and vol. 2, 1st edition, 2007.