Mein Gott, wie lang, ach lange
BWV 155 // For the Second Sunday after Epiphany
(My God, how long, how long then?) for soprano, alto, tenor and bass, basoon, strings and continuo.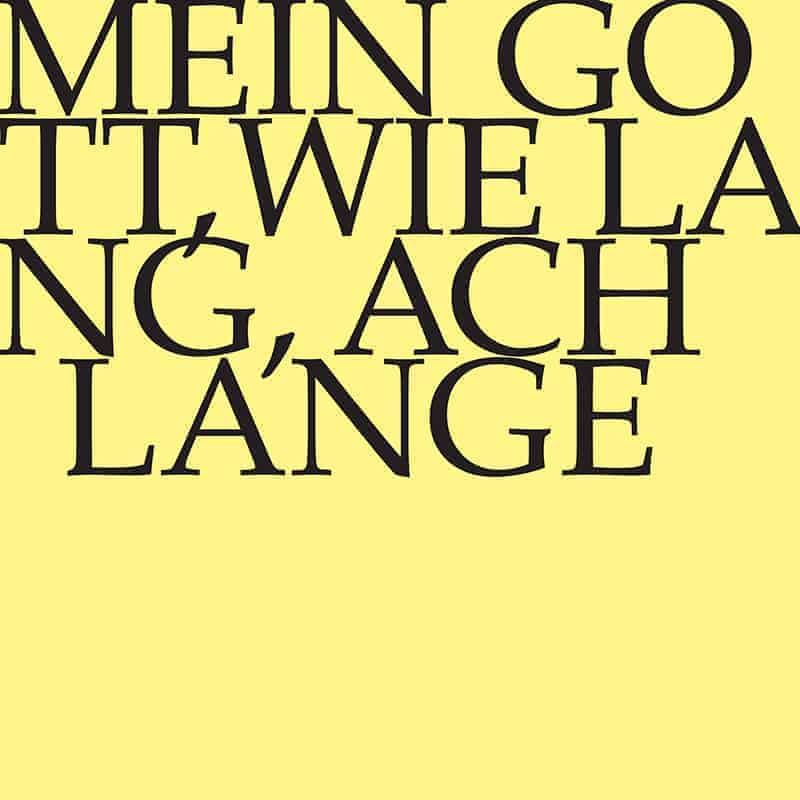 Video
Experience the introductory workshop, concert and reflective lecture in full length.
Workshop
Reflective lecture
«Lutzogram» for the introductory workshop
Rudolf Lutz's manuscript for the workshop
Audio
The sound recording of this work is available on several streaming and download platforms.
Orchestra
Conductor
Rudolf Lutz
Violin
Renate Steinmann, Fanny Tschanz
Viola
Susanna Hefti
Violoncello
Maya Amrein
Violone
Iris Finkbeiner
Bassoon
Donna Agrell
Organ
Rudolf Lutz
Musical director & conductor
Rudolf Lutz
Workshop
Participants
Karl Graf, Rudolf Lutz
Reflective lecture
Speaker
Hugo Loetscher
Recording & editing
Recording date
01/16/2009
Recording location
Trogen
Sound engineer
Stefan Ritzenthaler
Director
Meinrad Keel
Production manager
Johannes Widmer
Production
GALLUS MEDIA AG, Switzerland
Producer
J.S. Bach Foundation of St. Gallen, Switzerland
Matching publications in our shop
Librettist
Text No. 1–4
Salomo Franck (1659–1725)
Text No. 5
Paul Speratus (1484–1551)
First performance
Second Sunday after Epiphany,
19 January 1716, Weimar
Libretto
1. Rezitativ (Sopran)
Mein Gott, wie lang, ach lange?
Des Jammers ist zuviel!
Ich sehe gar kein Ziel
der Schmerzen und der Sorgen.
Dein süßer Gnadenblick
hat unter Nacht und Wolken sich verborgen,
die Liebeshand zieht sich, ach! ganz zurück;
um Trost ist mir sehr bange.
Ich finde, was mich Armen täglich kränket,
das Tränenmaß wird stets voll eingeschenket,
der Freudenwein gebricht;
mir sinkt fast alle Zuversicht.
2. Arie (Duett Alt, Tenor)
Du mußt glauben, du mußt hoffen,
du mußt Gott gelassen sein!
Jesus weiß die rechten Stunden,
dich mit Hülfe zu erfreun.
Wenn die trübe Zeit verschwunden,
steht sein ganzes Herz dir offen.
3. Rezitativ (Bass)
So sei, o Seele, sei zufrieden!
Wenn es vor deinen Augen scheint,
als ob dein liebster Freund
sich ganz von dir geschieden;
wenn er dich kurze Zeit verläßt,
Herz! glaube fest,
es wird ein kleines sein,
da er für bittre Zähren
den Trost- und Freudenwein
und Honigseim für Wermut will gewähren!
Ach! denke nicht,
daß er von Herzen dich betrübe,
er prüfet nur durch Leiden deine Liebe;
er machet, daß dein Herz bei trüben Stunden weine,
damit sein Gnadenlicht
dir desto lieblicher erscheine;
er hat, was dich ergötzt,
zuletzt
zu deinem Trost dir vorbehalten;
drum laß ihn nur, o Herz, in allem walten!
4. Arie (Sopran)
Wirf, mein Herze, wirf dich noch
in des Höchsten Liebesarme,
daß er deiner sich erbarme.
Lege deiner Sorgen Joch,
und was dich bisher beladen,
auf die Achseln seiner Gnaden.
5. Choral
Ob sichs anließ, als wollt er nicht,
laß dich es nicht erschrecken,
denn wo er ist am besten mit,
da will ers nicht entdecken.
Sein Wort laß dir gewisser sein,
und ob dein Herz spräch lauter Nein,
so laß doch dir nicht grauen.
Bibliographical references
All libretti sourced from Neue Bach-Ausgabe. Johann Sebastian Bach. Neue Ausgabe sämtlicher Werke, published by the Johann-Sebastian-Bach-Institut Göttingen and the Bach-Archiv Leipzig, Series I (Cantatas), vol. 1–41, Kassel and Leipzig, 1954–2000.
All in-depth analyses by Anselm Hartinger (English translations/editing by Alice Noger-Gradon/Mary Carozza) based on the following sources:  Hans-Joachim Schulze, Die Bach-Kantaten. Einführungen zu sämtlichen Kantaten Johann Sebastian Bachs, Leipzig, 2nd edition, 2007; Alfred Dürr, Johann Sebastian Bach. Die Kantaten, Kassel, 9th edition, 2009, and Martin Petzoldt, Bach-Kommentar. Die geistlichen Kantaten, Stuttgart, vol. 1, 2nd edition, 2005 and vol. 2, 1st edition, 2007.