Der Herr denket an uns
BWV 196 // For a wedding
(The Lord careth for us) for soprano, tenor and bass, vocal ensemble, strings and basso continuo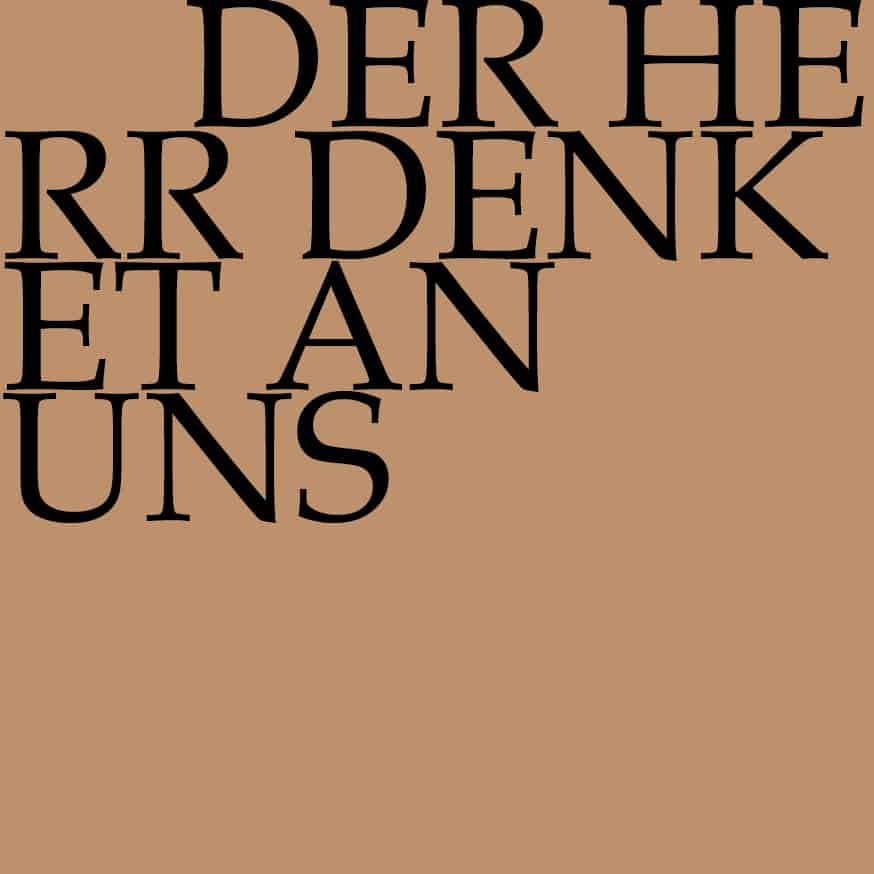 Video
Experience the introductory workshop, concert and reflective lecture in full length.
«Lutzogram» for the introductory workshop
Rudolf Lutz's manuscript for the workshop
Choir
Soprano
Cornelia Fahrion, Noëmi Sohn Nad
Alto
Laura Binggeli, Antonia Frey
Tenor
Zacharie Fogal, Sören Richter
Bass
Philippe Rayot, Tobias Wicky
Orchestra
Conductor
Rudolf Lutz
Violin
Renate Steinmann, Monika Baer
Viola
Susanna Hefti
Violoncello
Martin Zeller
Violone
Guisella Massa
Bassoon
Carles Cristóbal
Lute
Niels Pfeffer
Organ
Nicola Cumer
Musical director & conductor
Rudolf Lutz
Workshop
Participants
Rudolf Lutz, Pfr. Niklaus Peter
Reflective lecture
Speaker
Michael Maul
Recording & editing
Recording date
17/03/2023
Recording location
Trogen AR (Switzerland) // Evangelische Kirche
Sound engineer
Stefan Ritzenthaler
Producer
Meinrad Keel
Executive producer
Johannes Widmer
Production
GALLUS MEDIA AG, Schweiz
Producer
J.S. Bach-Stiftung, St. Gallen, Schweiz
Librettist
First performance
1707–1708 (possibly Arnstadt or Dornheim)
Text based on
Psalm 115:12–15
Libretto
2. Chor
«Der Herr denket an uns und segnet uns. Er segnet das Haus Israel, er segnet das Haus Aaron.»
3. Arie — Sopran
«Er segnet, die den Herrn fürchten, beide, Kleine und Große.»
4. Arie — Duett: Tenor und Bass
«Der Herr segne euch je mehr und mehr, euch und eure Kinder. Der Herr segne euch.»
5. Chor
«Ihr seid die Gesegneten des Herrn, der Himmel und Erde gemacht hat; ihr seid die Gesegneten des Herrn. Amen.»
Bibliographical references
All libretti sourced from Neue Bach-Ausgabe. Johann Sebastian Bach. Neue Ausgabe sämtlicher Werke, published by the Johann-Sebastian-Bach-Institut Göttingen and the Bach-Archiv Leipzig, Series I (Cantatas), vol. 1–41, Kassel and Leipzig, 1954–2000.
All in-depth analyses by Anselm Hartinger (English translations/editing by Alice Noger-Gradon/Mary Carozza) based on the following sources:  Hans-Joachim Schulze, Die Bach-Kantaten. Einführungen zu sämtlichen Kantaten Johann Sebastian Bachs, Leipzig, 2nd edition, 2007; Alfred Dürr, Johann Sebastian Bach. Die Kantaten, Kassel, 9th edition, 2009, and Martin Petzoldt, Bach-Kommentar. Die geistlichen Kantaten, Stuttgart, vol. 1, 2nd edition, 2005 and vol. 2, 1st edition, 2007.