Ich hatte viel Bekümmernis
BWV 021 // For the Third Sunday after Trinity and "for any occasion"
(I had so much distress) for soprano, bass, vocal ensemble, trumpet I–III, oboe, timpani, strings and basso continuo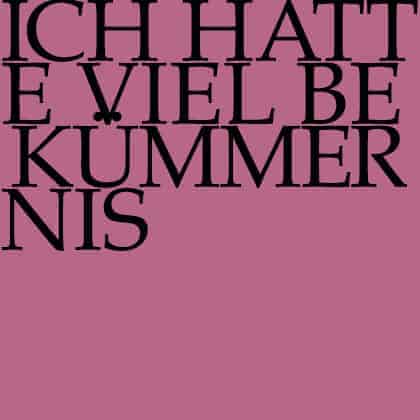 Video
Experience the introductory workshop, concert and reflective lecture in full length.
Workshop
Reflective lecture
«Lutzogram» for the introductory workshop
Rudolf Lutz's manuscript for the workshop
Choir
Soprano
Lia Andres, Olivia Fündeling-Heiniger, Simone Schwark, Noëmi Sohn Nad, Noëmi Tran-Rediger, Maria Weber
Alto
Jan Börner, Katharina Jud, Liliana Lafranchi, Francisca Näf, Alexandra Rawohl
Tenor
Manuel Gerber, Achim Glatz, Tobias Mäthger, Walter Siegel
Bass
Matthias Lutze, Grégoire May, Valentin Parli, Daniel Pérez, Philippe Rayot
Orchestra
Conductor
Rudolf Lutz
Violin
Renate Steinmann, Monika Baer, Claire Foltzer, Elisabeth Kohler, Olivia Schenkel, Salome Zimmermann
Viola
Susanna Hefti, Matthias Jäggi, Martina Zimmermann
Violoncello
Martin Zeller, Daniel Rosin
Violone
Markus Bernhard
Trumpet
Patrick Henrichs, Peter Hasel, Klaus Pfeiffer
Timpani
Martin Homann
Oboe
Andreas Helm
Bassoon
Susann Landert
Harpsichord 
Jörg-Andreas Bötticher
Organ
Nicola Cumer
Musical director & conductor
Rudolf Lutz
Workshop
Participants
Niklaus Peter Barth, Rudolf Lutz
Reflective lecture
Speaker
Konrad Hummler
Recording & editing
Recording date
30.11.2018
Recording location
Trogen AR (Schweiz) // Evangelische Kirche
Sound engineer
Stefan Ritzenthaler, Nikolaus Matthes
Director
Meinrad Keel
Production manager
Johannes Widmer
Production
GALLUS MEDIA AG, Switzerland
Producer
J.S. Bach Foundation of St. Gallen, Switzerland
Matching publications in our shop
Librettist
First performance
1714 in Weimar; "Cöthen version" around 1720/21 (Cöthen/Zerbst)
Text
Poet unknown: probably Salomo Franck
Libretto
2. Chor
Ich hatte viel Bekümmernis
in meinem Herzen;
aber deine Tröstungen
erquicken meine Seele.
3. Arie — Sopran
Seufzer, Tränen, Kummer, Not,
ängstlichs Sehnen, Furcht und Tod
nagen mein beklemmtes Herz,
ich empfinde Jammer, Schmerz.
Seufzer, Tränen, Kummer, Not!
4. Rezitativ — Sopran
Wie hast du dich, mein Gott,
in meiner Not,
in meiner Furcht und Zagen
denn ganz von mir gewandt?
Ach! kennst du nicht dein Kind?
Ach! hörst du nicht das Klagen
von denen, die dir sind
mit Bund und Treu verwandt?
Du warest meine Lust
und bist mir grausam worden:
Ich suche dich an allen Orten;
ich ruf und schrei dir nach,
allein: mein Weh und Ach!
scheint itzt, als sei es dir ganz
unbewußt.
5. Arie — Sopran
Bäche von gesalznen Zähren,
Fluten rauschen stets einher.
Sturm und Wellen mich versehren,
und dies trübsalsvolle Meer
will mir Geist und Leben schwächen,
Mast und Anker wollen brechen,
hier versink ich in den Grund,
dort seh in der Hölle Schlund.
6. Chor
Was betrübst du dich, meine Seele,
und bist so unruhig in mir?
Harre auf Gott!
Denn ich werde ihm noch danken,
daß er meines Angesichtes Hülfe
und mein Gott ist
Nach der Predigt
7. Rezitativ — Duett Sopran, Bass
Sopran
Ach Jesu, meine Ruh,
mein Licht, wo bleibest du?
Bass
O Seele, sieh! ich bin bei dir.
Sopran
Bei mir?
Hier ist ja lauter Nacht.
Bass
Ich bin dein treuer Freund,
der auch im Dunkeln wacht,
wo lauter Schalken seind.
Sopran
Brich doch mit deinem Glanz
und Licht
des Trostes ein!
Bass
Die Stunde kömmet schon,
da deines Kampfes Kron
dir wird ein süßes Labsal sein.
8. Arie — Duett Sopran, Bass
Sopran
Komm, mein Jesu,
und erquicke
Bass
Ja, ich komme und erquicke
Sopran
und erfreu mit deinem Blicke!
Bass
dich mit meinem Gnadenblicke.
Sopran
Diese Seele,
Bass
Deine Seele,
Sopran
die soll sterben
Bass
die soll leben
Sopran
und nicht leben,
Bass
und nicht sterben,
Sopran
und in ihrer Unglückshöhle
Bass
hier aus dieser Wunden Höhle
Sopran
ganz verderben.
Bass
sollt du erben.
Sopran
Ich muß stets in Kummer
schweben,
Bass
Heil durch diesen Saft der
Reben,
Sopran
ja, ach ja, ich bin verloren,
Bass
nein, ach nein, du bist erkoren,
Sopran
nein, ach nein, du hassest
mich.
Bass
ja, ach ja, ich liebe dich.
Sopran
Ach, Jesu, durchsüße mir Seele
und Herze!
Bass
Entweichet, ihr Sorgen,
verschwinde, du Schmerze!
9. Chor
«Sei nun wieder zufrieden,
meine Seele, denn der Herr
tut dir Guts.»
Was helfen uns die schweren Sorgen,
was hilft uns unser Weh und Ach?
Was hilft es, daß wir alle Morgen
beseufzen unser Ungemach?
Wir machen unser Kreuz und Leid
nur größer durch die Traurigkeit.
Denk nicht in deiner Drangsalshitze,
daß du von Gott verlassen seist,
und daß Gott der im Schoße sitze,
der sich mit stetem Glücke speist.
Die folgend Zeit verändert viel
und setzet jeglichem sein Ziel.
10. Arie — Sopran
Erfreue dich, Seele, erfreue
dich, Herze,
entweiche nun, Kummer,
verschwinde, du Schmerze!
Verwandle dich, Weinen,
in lauteren Wein!
Es wird nun mein Ächzen
ein Jauchzen mir sein.
Es brennet und flammet
die reineste Kerze
der Liebe, des Trostes
in Seele und Brust,
weil Jesus mich tröstet
mit himmlischer Lust.
11. Chor
Das Lamm, das erwürget ist,
ist würdig zu nehmen Kraft
und Reichtum und Weisheit
und Stärke und Ehre und
Preis und Lob.
Lob und Ehre und Preis und
Gewalt sei unserm Gott von
Ewigkeit zu Ewigkeit, amen,
alleluja! Amen, alleluja, Lob!
Amen, alleluja!
Bibliographical references
All libretti sourced from Neue Bach-Ausgabe. Johann Sebastian Bach. Neue Ausgabe sämtlicher Werke, published by the Johann-Sebastian-Bach-Institut Göttingen and the Bach-Archiv Leipzig, Series I (Cantatas), vol. 1–41, Kassel and Leipzig, 1954–2000.
All in-depth analyses by Anselm Hartinger (English translations/editing by Alice Noger-Gradon/Mary Carozza) based on the following sources:  Hans-Joachim Schulze, Die Bach-Kantaten. Einführungen zu sämtlichen Kantaten Johann Sebastian Bachs, Leipzig, 2nd edition, 2007; Alfred Dürr, Johann Sebastian Bach. Die Kantaten, Kassel, 9th edition, 2009, and Martin Petzoldt, Bach-Kommentar. Die geistlichen Kantaten, Stuttgart, vol. 1, 2nd edition, 2005 and vol. 2, 1st edition, 2007.