Ich hatte viel Bekümmernis
BWV 021 // For the Third Sunday after Trinity and "for any occasion"
(I had so much distress) for soprano, bass, vocal ensemble, trumpet I–III, oboe, timpani, strings and basso continuo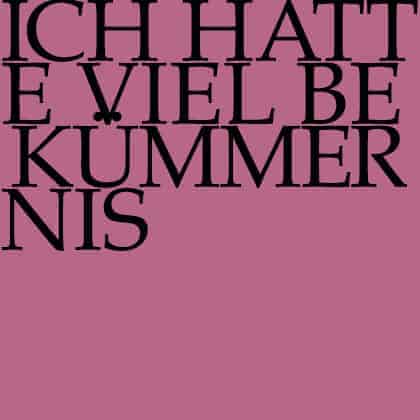 Video
Experience the introductory workshop, concert and reflective lecture in full length.
Workshop
Reflective lecture
«Lutzogram» for the introductory workshop
Rudolf Lutz's manuscript for the workshop
Audio
The sound recording of this work is available on several streaming and download platforms.
Choir
Soprano
Lia Andres, Olivia Fündeling-Heiniger, Simone Schwark, Noëmi Sohn Nad, Noëmi Tran-Rediger, Maria Weber
Alto
Jan Börner, Katharina Jud, Liliana Lafranchi, Francisca Näf, Alexandra Rawohl
Tenor
Manuel Gerber, Achim Glatz, Tobias Mäthger, Walter Siegel
Bass
Matthias Lutze, Grégoire May, Valentin Parli, Daniel Pérez, Philippe Rayot
Orchestra
Conductor
Rudolf Lutz
Violin
Renate Steinmann, Monika Baer, Claire Foltzer, Elisabeth Kohler, Olivia Schenkel, Salome Zimmermann
Viola
Susanna Hefti, Matthias Jäggi, Martina Zimmermann
Violoncello
Martin Zeller, Daniel Rosin
Violone
Markus Bernhard
Trumpet
Patrick Henrichs, Peter Hasel, Klaus Pfeiffer
Timpani
Martin Homann
Oboe
Andreas Helm
Bassoon
Susann Landert
Harpsichord 
Jörg-Andreas Bötticher
Organ
Nicola Cumer
Musical director & conductor
Rudolf Lutz
Workshop
Participants
Niklaus Peter Barth, Rudolf Lutz
Reflective lecture
Speaker
Konrad Hummler
Recording & editing
Recording date
30.11.2018
Recording location
Trogen AR (Schweiz) // Evangelische Kirche
Sound engineer
Stefan Ritzenthaler, Nikolaus Matthes
Director
Meinrad Keel
Production manager
Johannes Widmer
Production
GALLUS MEDIA AG, Switzerland
Producer
J.S. Bach Foundation of St. Gallen, Switzerland
Matching publications in our shop
Librettist
First performance
1714 in Weimar; "Cöthen version" around 1720/21 (Cöthen/Zerbst)
Text
Poet unknown: probably Salomo Franck
In-depth analysis
In terms of its genesis, cantata BWV 21 numbers among the most complex works in Bach's cantata oeuvre, with no less than three different sets of original parts bearing witness to revisions for various occasions. These include Bach's audition as organist in Halle in 1713, a performance in Weimar in 1714, a presumed performance in Hamburg in 1720, and a Leipzig version – complete with trombones – in 1723; the surviving materials also contain evidence of further revisions after Bach's death in 1750. The modifications to the different versions relate not only to key, vocal scoring, number of movements and occasion of the composition (Third Day after Trinity or "for any occasion"); questions also remain as to whether the libretto, which is generally ascribed to Salomo Franck, may also have undergone revisions.
None of these circumstances, however, diminish the cantata's rigour and persuasive power. Indeed, the oboe solo of the sinfonia, set over a string group that is celebrated like a viol consort and a continuo line of burdened steps, establishes a plaintive underlying tone; in the fermatas on the interrupted cadences, this mood climaxes in a sorrow that nonetheless radiates a noble magnanimity and leaves room for hope. The key of C minor exudes a muted, secretive light, like a candle ickering precariously in a gloomy vault.
After this introduction, the unusual text declamation in the introductory chorus appears less awkward than distinctive. Drawn out over a descending bass line, the three calls of "Ich" (I) and the emphatic note repetitions lend the lament a subjective sense of urgency, and the successively denser entries allow a kaleidoscope of trials to emerge. A rhetorical colon on the word "Aber" (but) then sets the stage for the faster second section that evokes the uplifting effect of the Saviour's words of solace; an extended final phrase closes a movement that at once harks back to the sacred concerto-style settings of Bach's earliest cantatas (such as "Aus der Tiefen" – From the depths) and also signals a new orchestral drive.
The soprano aria is presented as a setting of great delicacy; the oboe cantilena, replete with suspended notes, is taken up by the vocalist, who must bridge the pauses of the halting bassline. In the following accompagnato recitative, this touching, Passion-like atmosphere evolves into a lament of utter abandonment addressed directly to God. In this scene of abject suffering, Bach expresses the fleeting warmth – and all-the-more painful loss – of bygone happiness ("Du warest meine Lust" – Thou wast once my delight) in a Romantic palette of colour that one would hardly date before Schubert or Carl Philipp Emanuel Bach.
In the aria "Bäche von gesalznen Zähren" (Streams of salty tears), which in our recording is assigned to the soprano, emotional numbness gives way to the cathartic sobbing of a continuous chain of sighs; set in the sombre key of F minor, the tonality, too, has reached an emotional extreme. In the changing tempi of the middle section, Bach's rendering of towering waves and muddy abysses evoke grim images that both fulfil and transcend the rhetorical codes of baroque opera.
The well-known Psalm verse "Was betrübst du dich, meine Seele" (Why art thou distressed, O my spirit) is set as a carefully orchestrated ensemble movement in which every line is assigned its own distinct style. From the fearful questioning of the opening line, continuing on to the nervous agitation and the "Harren und Danken" (trusting and thanking) that is answered by the oboe, through to the closing fugue on the line "Dass er meines Angesichtes und mein Gott ist" (that he of my countenance is the help and my God) – this chorus reveals precisely the comforting potential inherent in the Old Testament descriptions of an experience of God.
Commencing after the sermon, the second part of the cantata opens with an accompagnato recitative whose imploring question of "Ach Jesu, meine Ruh, mein Licht, wo bleibest du?" (Ah Jesus, my repose, my light, where bidest thou?) is answered by the bass in the role of the Saviour ("O Seele, sieh! Ich bin bei dir" – O Soul, behold! I am with thee). The soprano's disbelieving wonder and the sonorous presence of the bass then meld in an intimate duet; in light of the pain already suffered, the joy in being reunited is particularly credible. This spirit of fellowship is indulged to the full in a duet with continuo accompaniment, whose cheerful, almost coquet bass figure suggests that modern society would benefit from cultivating a trusting love for Jesus, a theology that has been lost in our post-Enlightenment thinking. The whispered sweet nothings woven into the movement's foundation of Lutheran justification through faith and the doctrine of the Eucharist render settings of this type a joy for both the senses and the intellect.
A further chorus movement then introduces the dimension of chorale singing by combining a motet-like treatment of the Psalm text"Sei nun wieder zufrieden, meine Seele" (Be now once more contented, O my spirit) with a presentation of two verses from Georg Neumark's hymn of solace "Wer nun den lieben Gott lässt walten" (If thou but suffer God to guide thee). In this setting, the melody is initially presented in the venerable form of a tenor cantus firmus before moving to the soprano register, a shift reflecting the flexible, organ-based approach of the composer.
A soprano aria with a supple bass cantilena, a movement that was probably not included in the original version, bids farewell to all woes before the closing chorus transforms this personal testimony into a universal promise of salvation. Mighty full-choir entries and rousing trumpet fanfares praise the lamb's redeeming sacrifice ere an extended fugue celebrates with ever-increasing emphasis the text of "Lob und Ehre und Preis und Gewalt sei unserm Gott von Ewigkeit zu Ewigkeit. Alleluja!" (Fame and honour and praise and great might be to our God from evermore to evermore. Amen, alleluia!). Here, the logical structure of the permutation fugue ensures clarity of sound while seeming to crush all evil in its gigantic machinery of praise.
Libretto
2. Chor
Ich hatte viel Bekümmernis
in meinem Herzen;
aber deine Tröstungen
erquicken meine Seele.
3. Arie — Sopran
Seufzer, Tränen, Kummer, Not,
ängstlichs Sehnen, Furcht und Tod
nagen mein beklemmtes Herz,
ich empfinde Jammer, Schmerz.
Seufzer, Tränen, Kummer, Not!
4. Rezitativ — Sopran
Wie hast du dich, mein Gott,
in meiner Not,
in meiner Furcht und Zagen
denn ganz von mir gewandt?
Ach! kennst du nicht dein Kind?
Ach! hörst du nicht das Klagen
von denen, die dir sind
mit Bund und Treu verwandt?
Du warest meine Lust
und bist mir grausam worden:
Ich suche dich an allen Orten;
ich ruf und schrei dir nach,
allein: mein Weh und Ach!
scheint itzt, als sei es dir ganz
unbewußt.
5. Arie — Sopran
Bäche von gesalznen Zähren,
Fluten rauschen stets einher.
Sturm und Wellen mich versehren,
und dies trübsalsvolle Meer
will mir Geist und Leben schwächen,
Mast und Anker wollen brechen,
hier versink ich in den Grund,
dort seh in der Hölle Schlund.
6. Chor
Was betrübst du dich, meine Seele,
und bist so unruhig in mir?
Harre auf Gott!
Denn ich werde ihm noch danken,
daß er meines Angesichtes Hülfe
und mein Gott ist
Nach der Predigt
7. Rezitativ — Duett Sopran, Bass
Sopran
Ach Jesu, meine Ruh,
mein Licht, wo bleibest du?
Bass
O Seele, sieh! ich bin bei dir.
Sopran
Bei mir?
Hier ist ja lauter Nacht.
Bass
Ich bin dein treuer Freund,
der auch im Dunkeln wacht,
wo lauter Schalken seind.
Sopran
Brich doch mit deinem Glanz
und Licht
des Trostes ein!
Bass
Die Stunde kömmet schon,
da deines Kampfes Kron
dir wird ein süßes Labsal sein.
8. Arie — Duett Sopran, Bass
Sopran
Komm, mein Jesu,
und erquicke
Bass
Ja, ich komme und erquicke
Sopran
und erfreu mit deinem Blicke!
Bass
dich mit meinem Gnadenblicke.
Sopran
Diese Seele,
Bass
Deine Seele,
Sopran
die soll sterben
Bass
die soll leben
Sopran
und nicht leben,
Bass
und nicht sterben,
Sopran
und in ihrer Unglückshöhle
Bass
hier aus dieser Wunden Höhle
Sopran
ganz verderben.
Bass
sollt du erben.
Sopran
Ich muß stets in Kummer
schweben,
Bass
Heil durch diesen Saft der
Reben,
Sopran
ja, ach ja, ich bin verloren,
Bass
nein, ach nein, du bist erkoren,
Sopran
nein, ach nein, du hassest
mich.
Bass
ja, ach ja, ich liebe dich.
Sopran
Ach, Jesu, durchsüße mir Seele
und Herze!
Bass
Entweichet, ihr Sorgen,
verschwinde, du Schmerze!
9. Chor
«Sei nun wieder zufrieden,
meine Seele, denn der Herr
tut dir Guts.»
Was helfen uns die schweren Sorgen,
was hilft uns unser Weh und Ach?
Was hilft es, daß wir alle Morgen
beseufzen unser Ungemach?
Wir machen unser Kreuz und Leid
nur größer durch die Traurigkeit.
Denk nicht in deiner Drangsalshitze,
daß du von Gott verlassen seist,
und daß Gott der im Schoße sitze,
der sich mit stetem Glücke speist.
Die folgend Zeit verändert viel
und setzet jeglichem sein Ziel.
10. Arie — Sopran
Erfreue dich, Seele, erfreue
dich, Herze,
entweiche nun, Kummer,
verschwinde, du Schmerze!
Verwandle dich, Weinen,
in lauteren Wein!
Es wird nun mein Ächzen
ein Jauchzen mir sein.
Es brennet und flammet
die reineste Kerze
der Liebe, des Trostes
in Seele und Brust,
weil Jesus mich tröstet
mit himmlischer Lust.
11. Chor
Das Lamm, das erwürget ist,
ist würdig zu nehmen Kraft
und Reichtum und Weisheit
und Stärke und Ehre und
Preis und Lob.
Lob und Ehre und Preis und
Gewalt sei unserm Gott von
Ewigkeit zu Ewigkeit, amen,
alleluja! Amen, alleluja, Lob!
Amen, alleluja!
Bibliographical references
All libretti sourced from Neue Bach-Ausgabe. Johann Sebastian Bach. Neue Ausgabe sämtlicher Werke, published by the Johann-Sebastian-Bach-Institut Göttingen and the Bach-Archiv Leipzig, Series I (Cantatas), vol. 1–41, Kassel and Leipzig, 1954–2000.
All in-depth analyses by Anselm Hartinger (English translations/editing by Alice Noger-Gradon/Mary Carozza) based on the following sources:  Hans-Joachim Schulze, Die Bach-Kantaten. Einführungen zu sämtlichen Kantaten Johann Sebastian Bachs, Leipzig, 2nd edition, 2007; Alfred Dürr, Johann Sebastian Bach. Die Kantaten, Kassel, 9th edition, 2009, and Martin Petzoldt, Bach-Kommentar. Die geistlichen Kantaten, Stuttgart, vol. 1, 2nd edition, 2005 and vol. 2, 1st edition, 2007.