Allein zu Dir, Herr Jesu Christ
BWV 033 // For the Thirteenth Sunday after Trinity
(Alone to thee, Lord Jesus Christ) for alto, tenor and bass, vocal ensemble, oboe I+II, bassoon, strings and continuo.
The chorale cantata "Allein zu dir, Herr Jesu Christ" (Alone to thee, Lord Jesus Christ), first performed on 3 September 1723, could – in analogy to a work by the Leipzig composer Johannes Weyrauch (1897–1977) – also be described as a "cantata of love". Indeed, while it addresses justification by faith, the work's musical and textual focus is primarily on the enlightening comparison of earthly and heavenly mercy and the exemplum of God's burning love.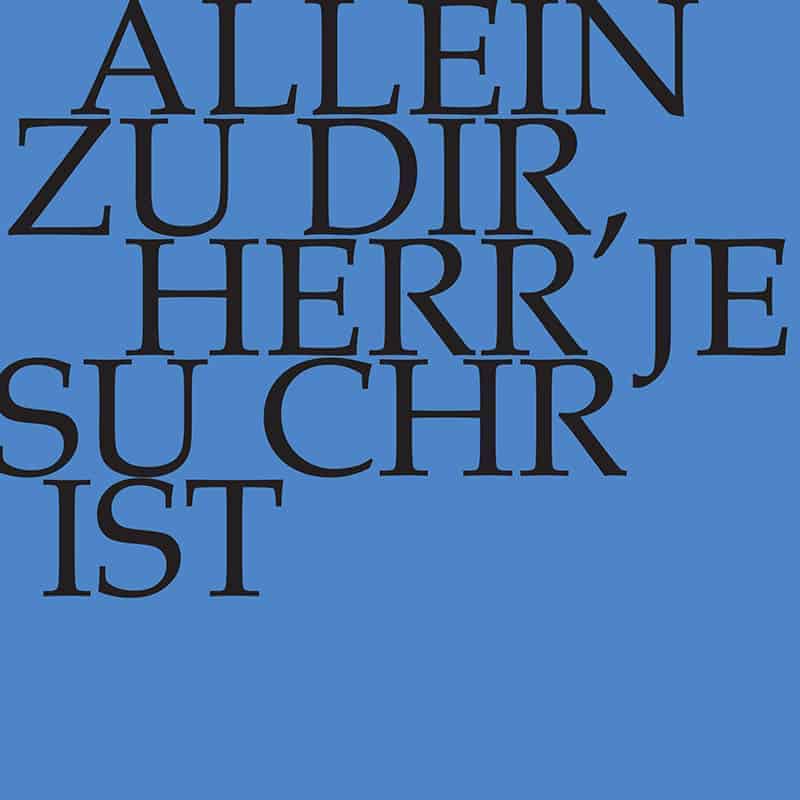 Video
Experience the introductory workshop, concert and reflective lecture in full length.
Workshop
Reflective lecture
«Lutzogram» for the introductory workshop
Rudolf Lutz's manuscript for the workshop
Audio
The sound recording of this work is available on several streaming and download platforms.
Choir
Soprano
Susanne Frei, Guro Hjemli, Jennifer Rudin
Alto
Jan Börner, Antonia Frey, Franzisca Näf
Tenor
Walter Siegel, Manuel Gerber, Nicolas Savoy
Bass
Fabrice Hayoz, Chasper Mani, William Wood
Orchestra
Conductor
Rudolf Lutz
Violin
John Holloway (special Guest), Renate Steinmann, Sabine Hochstrasser, Mario Huter, Martin Korrodi, Livia Wiersisch
Viola
Joanna Bilger, Martina Bischof
Violoncello
Maya Amrein
Violone
Iris Finkbeiner
Oboe
Luise Baumgartl, Martin Stadler
Bassoon
Susann Landert
Organ
Markus Maerkl
Musical director & conductor
Rudolf Lutz
Workshop
Participants
Karl Graf, Rudolf Lutz
Reflective lecture
Speaker
Susanne Sinclair
Recording & editing
Recording date
08/31/2007
Recording location
Trogen
Sound engineer
Stefan Ritzenthaler
Director
Meinrad Keel
Production manager
Johannes Widmer
Production
GALLUS MEDIA AG, Switzerland
Producer
J.S. Bach Foundation of St. Gallen, Switzerland
Matching publications in our shop
Librettist
Text No. 1, 6
Konrad Huber, 1540
Text No. 2–5
Poet unknown
Year of composition
1724
In-depth analysis
The introductory chorus, a boldly spirited A-minor concerto, is characteristic of the type that Bach composed with inexhaustible inventiveness throughout his chorale cantata cycle of 1724/25. The orchestra plays the dominant role in the movement's structure, with block-style choir passages inserted into the instrumental material of strings and oboes. In a developmental-style section, these compact chorale lines enhance the sense of an excited acceleration of events, an impression already evident in the sequence of entries in the opening ritornello. Indeed, throughout the text of this early Protestant chorale, the irascible Thomas Cantor can almost literally be heard thundering down the stairs, gearing himself up for a further battle in his lifelong crusade for better working conditions – with little in the way of negotiating skills or supporters, and armed solely with the motto "Jesu juva" and his fierce artistic pride …
In contrast, the bass recitative expresses an open-hearted confession of sin and the humble awareness of one's own fallibility. In recounting the lack of "love" and "strength of spirit" inherent to human beings, it becomes increasingly apparent that only Christ can warrant hope in the face of judgement, grant forgiveness, and bestow the "gladness" captured in the embellished arioso section.
The alto aria has a particularly distinctive style, characterised by pizzicato broken chords in the bass, a sparse layer of pizzicato strings, and the incessant sighing of the first violin (muted, in accordance with the marking of "col surdino" on the autograph score) to create a picture of despondency that equally expresses utter humility and pure, childlike trust. Where human power has been exhausted, the only hope remaining is that someone will carry the "weight of sin" (interpreted by Bach in a succession of sharp notes) – although this passage embodies comfort more as the remembrance of love than as keen relief. As the saints in late medieval altarpieces protectively present kneeling benefactors, Jesus must play the role of intercessor with the stern father. Here, the seemingly plain music reveals a topos of sorrow that materialises as a spiritual exercise of penitence. In particular, the word "depressed" is presented as a strong undertow, while the "fearful wavering" of steps is trapped in an indecisive circular movement. The length of the aria itself may also be interpreted as a reference to the duration of penance, which according to Luther's first thesis on indulgence should span the entire lifetime of the faithful.
The following tenor recitative "My God, reject me not" relates a further aspect of penance with fervent contrition. In this imploring entreaty to withstand the test of God's countenance, the Protestant doctrine of justification by faith is succinctly revealed: from the "faith both true and Christian" found in Jesus' comfort, the good deeds of mercy must follow.
In keeping with Bach's preferred type of cantata in Leipzig, a further aria, "God, thou who art love now called", would be expected. But in fact, an instrumental prelude ensues, whose modular purposefulness and ostinato bass figure make it more akin to a ritornello of a figured closing chorale. The consonant duet passages for tenor and bass, resembling ornate hymn lines, also demonstrate a chorale-like character. Combined with the captivating timbre of love from the oboe, an insistent yet appealing song emerges that fluctuates between the humble search for fellowship and the desire for spiritual rapture.
After this bold, personal appeal to God, the closing verse of Konrad Hubert's hymn, a doxological chorale to the praise of the Holy Trinity, offers a profound and equally objectified conclusion to a cantata that presents an individual's chosen way of life, theology, doctrine and, finally, the church as the fruit of hopeful love found in true faith.
Libretto
1. Chor
Allein zu dir, Herr Jesu Christ,
mein Hoffnung steht auf Erden;
ich weiß, daß du mein Tröster bist,
kein Trost mag mir sonst werden.
Von Anbeginn ist nichts erkorn,
auf Erden war kein Mensch geborn,
der mir aus Nöten helfen kann.
Ich ruf dich an,
zu dem ich mein Vertrauen hab.
2. Rezitativ (Bass)
Mein Gott und Richter, willt du mich
aus dem Gesetze fragen,
so kann ich nicht,
weil mein Gewissen widerspricht,
auf tausend eines sagen.
An Seelenkräften arm und an der Liebe bloß,
und meine Sünd ist schwer und übergroß;
doch weil sie mich von Herzen reuen,
wirst du, mein Gott und Hort,
durch ein Vergebungswort
mich wiederum erfreuen.
3. Arie (Alt)
Wie furchtsam wankten meine Schritte,
doch Jesus hört auf meine Bitte
und zeigt mich seinem Vater an.
Mich drückten Sündenlasten nieder,
doch hilft mir Jesu Trostwort wieder,
daß er für mich genung getan.
4. Rezitativ (Tenor)
Mein Gott, verwirf mich nicht,
wiewohl ich dein Gebot noch täglich übertrete,
von deinem Angesicht!
Das kleinste ist mir schon zu halten viel zu schwer;
doch, wenn ich um nichts mehr
als Jesu Beistand bete,
so wird mich kein Gewissensstreit
der Zuversicht berauben;
gib mir nur aus Barmherzigkeit
den wahren Christenglauben!
So stellt er sich mit guten Früchten ein
und wird durch Liebe tätig sein.
5. Arie (Duett Tenor, Bass)
Gott, der du die Liebe heißt,
ach, entzünde meinen Geist,
laß zu dir vor allen Dingen
meine Liebe kräftig dringen!
Gib, daß ich aus reinem Triebe
als mich selbst den Nächsten liebe;
stören Feinde meine Ruh,
sende du mir Hülfe zu!
6. Choral
Ehr sei Gott in dem höchsten Thron,
dem Vater aller Güte,
und Jesu Christ, sein'm liebsten Sohn,
der uns allzeit behüte,
und Gott dem Heiligen Geiste,
der uns sein Hülf allzeit leiste,
damit wir ihm gefällig sein,
hier in dieser Zeit
und folgends in der Ewigkeit.
Bibliographical references
All libretti sourced from Neue Bach-Ausgabe. Johann Sebastian Bach. Neue Ausgabe sämtlicher Werke, published by the Johann-Sebastian-Bach-Institut Göttingen and the Bach-Archiv Leipzig, Series I (Cantatas), vol. 1–41, Kassel and Leipzig, 1954–2000.
All in-depth analyses by Anselm Hartinger (English translations/editing by Alice Noger-Gradon/Mary Carozza) based on the following sources:  Hans-Joachim Schulze, Die Bach-Kantaten. Einführungen zu sämtlichen Kantaten Johann Sebastian Bachs, Leipzig, 2nd edition, 2007; Alfred Dürr, Johann Sebastian Bach. Die Kantaten, Kassel, 9th edition, 2009, and Martin Petzoldt, Bach-Kommentar. Die geistlichen Kantaten, Stuttgart, vol. 1, 2nd edition, 2005 and vol. 2, 1st edition, 2007.