Schwingt freudig euch empor
BWV 036 // For the First Sunday in Advent
(Soar joyfully aloft) for soprano, alto, tenor and bass, vocal ensemble, oboe d'amore I+II, bassoon, strings and continuo.
Cantata BWV 36, "Schwingt freudig euch empor!" (Soar joyfully aloft), is a work of clarity and elegance that seems especially well-suited to the preparatory period of Advent – a time that, while not yet festive, still seems illuminated from within by the warm glow of candlelight. This coherent impression, however, is most surprising considering the cantata's irregular evolution. Initially, Bach borrowed heavily from secular compositions from his Cöthen and Leipzig periods to develop a five-movement sacred cantata (the version passed down by his pupil Kirchenberger), before expanding it in 1731 into a two-part sermon cantata through the addition of three chorale movements. The form of the resulting work is highly unusual for Bach's mature oeuvre. Indeed, it comple­tely eschews the usual recitatives, employing instead three verses of the hymn "Nun komm, der Heiden Heiland!", lending the work the character of a chorale partita interspersed with free passages. Around 1735, Bach must then have "re-secularised" the cantus-firmus-free move­ments to produce BWV 36b for a member of the Rivinus family, a well-known Leipzig family of legal scholars.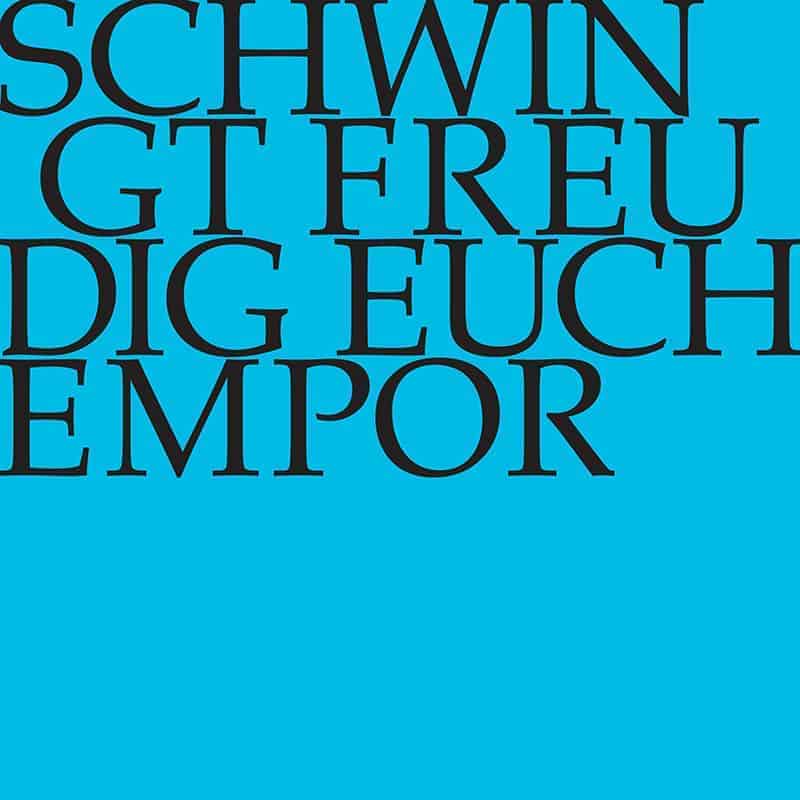 Video
Experience the introductory workshop, concert and reflective lecture in full length.
Workshop
Reflective lecture
«Lutzogram» for the introductory workshop
Rudolf Lutz's manuscript for the workshop
Audio
The sound recording of this work is available on several streaming and download platforms.
Soloists
Choir
Soprano
Susanne Frei, Guro Hjemli, Jennifer Rudin
Alto
Olivia Heiniger, Antonia Frey, Corinne Grendelmeier Nipp
Tenor
Marcel Fässler, Clemens Flämig, Walter Siegel
Bass
Fabrice Hayoz, Chasper Mani, William Wood
Orchestra
Conductor
Rudolf Lutz
Violin
John Holloway (special Guest), Renate Steinmann, Christine Baumann, Silvia Gmür, Sabine Hochstrasser, Martin Korrodi
Viola
Susanna Hefti, Martina Bischof
Violoncello
Maya Amrein
Violone
Iris Finkbeiner
Oboe
Luise Baumgartl, Martin Stadler
Bassoon
Susann Landert
Organ
Markus Maerkl
Musical director & conductor
Rudolf Lutz
Workshop
Participants
Karl Graf, Rudolf Lutz
Reflective lecture
Speaker
Urs Widmer
Recording & editing
Recording date
12/14/2007
Recording location
Trogen
Sound engineer
Stefan Ritzenthaler
Director
Meinrad Keel
Production manager
Johannes Widmer
Production
GALLUS MEDIA AG, Switzerland
Producer
J.S. Bach Foundation of St. Gallen, Switzerland
Matching publications in our shop
Librettist
Text No. 1, 3, 5, 7
Rewritten, perhaps by Christian Friedrich Henrici (Picander),
between 1723 and 1726
Text No. 2, 6, 8
Martin Luther, 1524
Text No. 4
Philipp Nicolai, 1599
Year of composition
1731
In-depth analysis
With its light and buoyant character, the introductory chorus cannot disguise its origins as a secular congratulatory work, although the ascending figure of the music fits perfectly with the sacred text of "amidst the starry grandeur". In this spirit of elation, the comparatively subdued gesture ("No, wait awhile! Your sound shall not have far to travel") and the echoing oboe passages render large sections of the movement a musical expression of inner joy.

In the introspective, yet highly expressive chorale duo, "Come now, the nations' Saviour", the cantata then turns directly to the theme of Advent. The chorale melody is quoted already in the opening continuo ritornello, in which the expressive, intertwining lines of two oboes call to mind a petit motet in French style. This delicately understated structure is enhanced by the sempre piano instrumentation, in which the timbre of the oboes d'amore perfectly reflects the import of the text.
This tender sentiment is then sustained in the extended tenor aria, a skilful trio setting. Here, the "gentle paces" of godly "love" are hauntingly expressed in a vocal and oboe d'amore duo, ere the twists and turns of the B-section, with its enraptured decent on the words "when she the bridegroom near beholdeth", provide for a breath-taking interpretation of the sublime meeting of the soul-bride and Christ.
In the vibrant, four-part chorus, "Raise the viols in Cythera", the thrill of Christmas anticipation is now allowed to emerge. In its earlier sacred version, the seventh verse of the Lutheran hymn ("How am I now so truly glad") was assigned to this movement of elegant bass passages.
Accompanied by a light-hearted string setting, the second part of the cantata commences with a bass aria – a sonorous welcome to the longed-for "dearest love!", in which the constant exchange of the striking "Welcome!" head motive between the continuo, vocalist and strings acts as a dialogical gesture. This is followed immediately by "Thou who art the Father like", a new setting of the cantata's head chorale in lively triple metre, in which the cantus firmus is assigned to the tenor.
The ensuing soprano aria is musically reminiscent of the tenor aria about godly love from the cantata's first part. The instruction of "with mute" for the solo violin provides for a literal musical interpretation of the words "muted voices", thus emphasising the atmosphere of inner rapture that enables this movement, like the whole cantata, to emerge as an apotheosis of the weak, yet hopeful people, whose souls, strengthened by the spirit, cry out their longing and are thus ready to welcome the coming king into their hearts.

The cantata closes with an austere chorale movement on the doxological last verse of the Lutheran chorale "Praise to God, the Father, be". Despite its experimental form, BWV 36 proves an effective work of strong inner coherence; one that is fully able to forgo the dramatic function of the recitative, while still telling a tale of quiet hope and the promise of fulfilment.
Libretto
Erster Teil
1. Chor
Schwingt freudig euch empor
zu den erhabnen Sternen,
ihr Zungen, die ihr itzt in Zion fröhlich seid!
Doch haltet ein!
Der Schall darf sich nicht weit entfernen,
es naht sich selbst zu euch der Herr
der Herrlichkeit.
2. Choral (Duett Sopran, Alt)
Nun komm, der Heiden Heiland,
der Jungfrauen Kind erkannt,
des sich wundert alle Welt,
Gott solch Geburt ihm bestellt.
3. Arie (Tenor)
Die Liebe zieht mit sanften Schritten
sein Treugeliebtes allgemach.
Gleichwie es eine Braut entzücket,
wenn sie den Bräutigam erblicket,
so folgt ein Herz auch Jesu nach.
4. Choral
Zwingt die Saiten in Cythara
und laßt die süße Musica
ganz freudenreich erschallen,
daß ich möge mit Jesulein,
dem wunderschönen Bräutgam mein,
in steter Liebe wallen!
Singet,
springet,
jubilieret, triumphieret, dankt dem Herren!
Groß ist der König der Ehren.
Zweiter Teil
5. Arie (Bass)
Willkommen, werter Schatz!
Die Lieb und Glaube machet Platz
vor dich in meinem Herzen rein,
zieh bei mir ein!
6. Choral (Tenor)
Der du bist dem Vater gleich,
führ hinaus den Sieg im Fleisch,
daß dein ewig Gotts Gewalt
in uns das krank Fleisch enthalt.
7. Arie (Sopran)
Auch mit gedämpften, schwachen Stimmen
wird Gottes Majestät verehrt.
Denn schallet nur der Geist darbei,
so ist ihm solches ein Geschrei,
das er im Himmel selber hört.
8. Choral
Lob sei Gott, dem Vater ton,
Lob sei Gott, sein'm eingen Sohn,
Lob sei Gott, dem Heilgen Geist,
immer und in Ewigkeit!
Bibliographical references
All libretti sourced from Neue Bach-Ausgabe. Johann Sebastian Bach. Neue Ausgabe sämtlicher Werke, published by the Johann-Sebastian-Bach-Institut Göttingen and the Bach-Archiv Leipzig, Series I (Cantatas), vol. 1–41, Kassel and Leipzig, 1954–2000.
All in-depth analyses by Anselm Hartinger (English translations/editing by Alice Noger-Gradon/Mary Carozza) based on the following sources:  Hans-Joachim Schulze, Die Bach-Kantaten. Einführungen zu sämtlichen Kantaten Johann Sebastian Bachs, Leipzig, 2nd edition, 2007; Alfred Dürr, Johann Sebastian Bach. Die Kantaten, Kassel, 9th edition, 2009, and Martin Petzoldt, Bach-Kommentar. Die geistlichen Kantaten, Stuttgart, vol. 1, 2nd edition, 2005 and vol. 2, 1st edition, 2007.