Wer da gläubet und getauft wird
BWV 037 // Exaudi
(Who believeth and is baptized) for Exaudi (The Sunday after Ascension), for soprano, alto, tenor and bass; oboe d'amore I+II, oboe da caccia I+II, violoncello piccolo, strings and basso continuo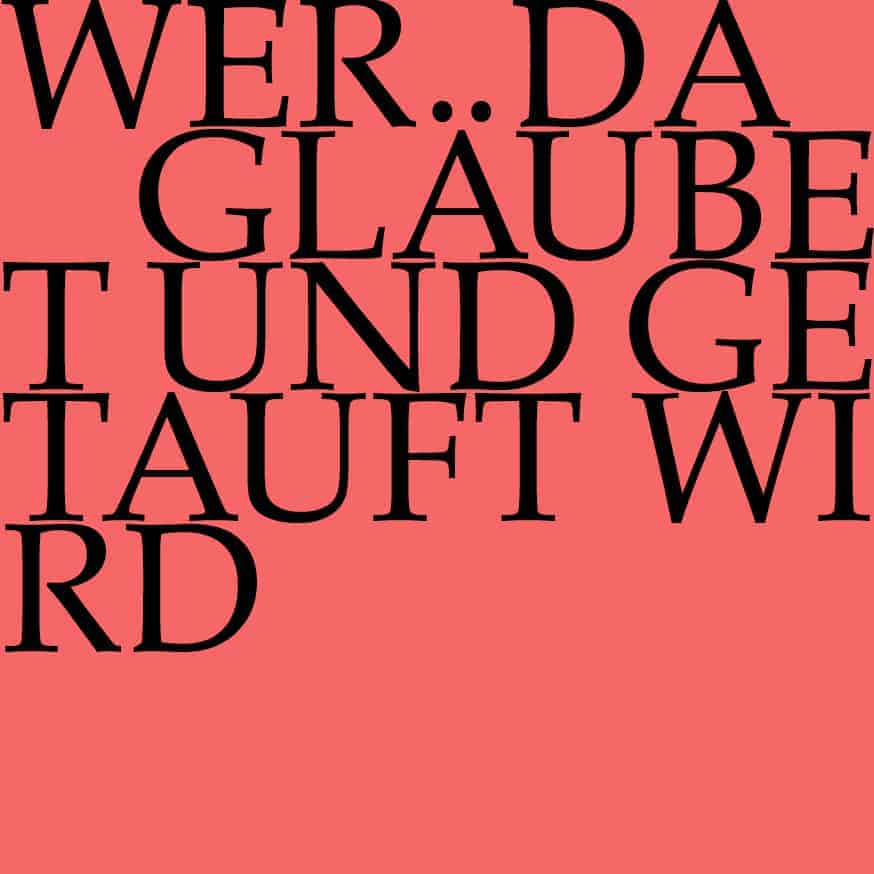 Video
Experience the introductory workshop, concert and reflective lecture in full length.
«Lutzogram» for the introductory workshop
Rudolf Lutz's manuscript for the workshop
Choir
Soprano
Lia Andres, Simone Schwark, Susanne Seitter, Noëmi Sohn Nad, Stephanie Pfeffer, Jennifer Ribeiro Rudin
Alto
Antonia Frey, Francisca Näf, Lea Pfister-Scherer, Jan Thomer, Sarah Widmer
Tenor
Marcel Fässler, Manuel Gerber, Tobias Mäthger, Sören Richter
Bass
Jean-Christophe Groffe, Valentin Parli, Daniel Pérez, Philippe Rayot, Tobias Wicky
Orchestra
Conductor
Rudolf Lutz
Violin
Lenka Torgersen, Ildikó Sajgó, Christine Baumann, Petra Melicharek, Dorothee Mühleisen, Judith von der Goltz
Viola
Martina Bischof, Matthias Jäggi, Sarah Mühlethaler
Violoncello
Maya Amrein, Daniel Rosin
Violone
Markus Bernhard
Oboe d'amore
Katharina Arfken, Ingo Müller
Bassoon
Giovanni Battista Graziadio
Harpsichord
Thomas Leininger
Organ
Nicola Cumer
Musical director & conductor
Rudolf Lutz
Workshop
Participants
Rudolf Lutz, Pfr. Niklaus Peter
Reflective lecture
Speaker
Heidi Eisenhut
Recording & editing
Recording date
21/05/2021
Recording location
St. Gallen (Switzerland) // Olma-Halle 2.0
Sound engineer
Stefan Ritzenthaler
Producer
Meinrad Keel
Executive producer
Johannes Widmer
Production
GALLUS MEDIA AG, Schweiz
Producer
J.S. Bach-Stiftung, St. Gallen, Schweiz
Matching publications in our shop
Librettist
First Performance
18 May 1724, Leipzig
Text
Mark 16:16 (movement 1); Philipp Nicolai (movement 3); Johann Kolrose (movement 6); unknown (movements 2, 4, 5)
Libretto
1. Chor

«Wer da gläubet und getauft wird, der wird selig werden.»
2. Arie — Tenor
Der Glaube ist das Pfand der Liebe,
die Jesus für die Seinen hegt.
Drum hat er bloß aus Liebestriebe,
da er ins Lebensbuch mich schriebe,
mir dieses Kleinod beigelegt.
3. Choral — Duett: Sopran, Alt
Herr Gott Vater, mein starker Held!
du hast mich ewig vor der Welt
in deinem Sohn geliebet.
Dein Sohn hat mich ihm selbst vertraut,
er ist mein Schatz, ich bin sein' Braut,
sehr hoch in ihm erfreuet.
Eia, eia!
Himmlisch Leben wird er geben mir dort oben;
ewig soll mein Herz ihn loben.
4. Rezitativ — Bass
Ihr Sterblichen, verlanget ihr
mit mir
das Antlitz Gottes anzuschauen?
So dürft ihr nicht auf gute Werke bauen;
denn ob sich wohl ein Christ
muß in den guten Werken üben,
weil es der ernste Wille Gottes ist,
so macht der Glaube doch allein,
daß wir vor Gott gerecht und selig sein.
5. Arie — Bass
Der Glaube schafft der Seele Flügel,
daß sie sich in den Himmel schwingt,
die Taufe ist das Gnadensiegel,
das uns den Segen Gottes bringt;
und daher heißt ein selger Christ,
wer gläubet und getaufet ist.
6. Choral
Den Glauben mir verleihe
an dein' Sohn, Jesum Christ, mein Sünd mir auch
verzeihe allhier zu dieser Frist.
Du wirst mir nicht versagen, was du verheißen hast,
daß er mein Sünd tu tragen und lös mich von der Last.
Bibliographical references
All libretti sourced from Neue Bach-Ausgabe. Johann Sebastian Bach. Neue Ausgabe sämtlicher Werke, published by the Johann-Sebastian-Bach-Institut Göttingen and the Bach-Archiv Leipzig, Series I (Cantatas), vol. 1–41, Kassel and Leipzig, 1954–2000.
All in-depth analyses by Anselm Hartinger (English translations/editing by Alice Noger-Gradon/Mary Carozza) based on the following sources:  Hans-Joachim Schulze, Die Bach-Kantaten. Einführungen zu sämtlichen Kantaten Johann Sebastian Bachs, Leipzig, 2nd edition, 2007; Alfred Dürr, Johann Sebastian Bach. Die Kantaten, Kassel, 9th edition, 2009, and Martin Petzoldt, Bach-Kommentar. Die geistlichen Kantaten, Stuttgart, vol. 1, 2nd edition, 2005 and vol. 2, 1st edition, 2007.