Widerstehe doch der Sünde
BWV 054 // For the Third Sunday in Lent (Oculi)
(Stand steadfast against transgression) for alto, strings and continuo
At first sight, the libretto and score suggest nothing spectacular. Comprising only two arias grouped around a recitative, BWV 54 reflects the simplest form of the new "sacred cantata instead of church music" (without bible texts and chorales) that was developed by theologist Erdmann Neumeister and his followers after 1700. Composed for solo alto, strings and continuo, the work cannot rely on great variety between the parts or contrasting tonal colours to engage the listener; moreover, the five-part string section with two violas is reminiscent of 17th century orchestration. All in all, one could easily be forgiven for expect-ing solid craftsmanship rather than a stroke of genius.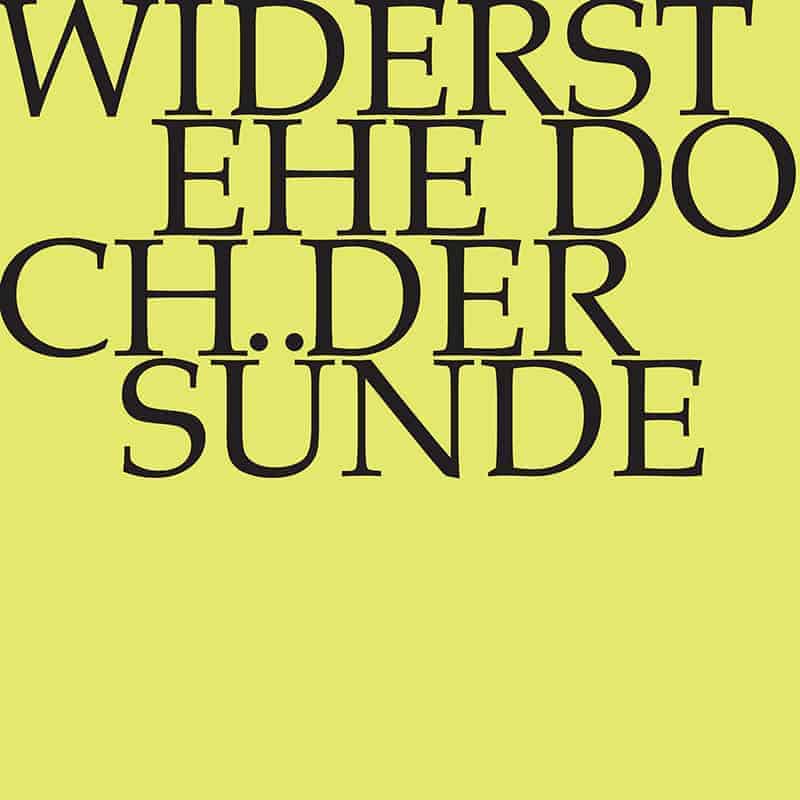 Video
Experience the introductory workshop, concert and reflective lecture in full length.
Workshop
Reflective lecture
«Lutzogram» for the introductory workshop
Rudolf Lutz's manuscript for the workshop
Audio
The sound recording of this work is available on several streaming and download platforms.
Orchestra
Conductor
Rudolf Lutz
Violin
Renate Steinmann, Martin Korrodi
Viola
Susanna Hefti, Martina Bischof
Violoncello
Martin Zeller
Violone
Iris Finkbeiner
Organ
Rudolf Lutz
Musical director & conductor
Rudolf Lutz
Workshop
Participants
Karl Graf, Rudolf Lutz
Reflective lecture
Speaker
Thomas Sprecher
Recording & editing
Recording date
03/14/2008
Recording location
Trogen
Sound engineer
Stefan Ritzenthaler
Director
Meinrad Keel
Production manager
Johannes Widmer
Production
GALLUS MEDIA AG, Switzerland
Producer
J.S. Bach Foundation of St. Gallen, Switzerland
Matching publications in our shop
Librettist
Text No. 1–3
Georg Christian Lehms (1684–1717)
Text No. 4
Martin Jan (c. 1620–1682)
First performance
Probably on 14 March 1714
In-depth analysis
But: behold what Bach makes of this conventional structure! From the first notes of the opening aria, it is abundantly clear that nothing about this work is predictable, but that Bach is in his inventive element. The striking "wrong" chord with which the work commences jars the ear, and this dissonance underlies the movement much in the way that original sin insidiously pervades all life.
Theologist and Bach scholar Friedrich Smend postulates that Bach reused this unique music for the aria "Untrue world, thy fawning kisses" of the St Mark Passion per-formed in 1731 and revised in 1744 (of which only the libretto survives) – certainly no far-fetched assumption. An unrelenting dissonance pervades the entire aria, with the penetrating bow strokes of the violas and basses and incessant friction of the violins barely giving the vocalist a moment to breathe. In this movement, Bach is not concerned with the luring temptation of sin as described in many baroque works; rather, he confronts his listeners with the overwhelming undercurrent of evil against which humans must struggle with all their might. For Luther and Bach, the devil was not simply a metaphor, but an all too real adversary and dogged companion. Aria no. 3 does not mince words: "Who sin commits" has not simply erred in his ways but "is of the devil", of whose poison one can so easily be tainted. The theme of this aria, a chromatically descending passage that illustrates the descent into wickedness and sin, is fittingly accompanied by whirling gestures that conjure up a danse macabre. To lend the sound more clarity at this point, the violas and violins unify into one voice. (In a lighter version, this theme also reoccurs in the trio sonata in C
major BWV 1037, a work that was long attributed to Bach, but later identified by Bach expert Alfred Dürr as a masterpiece of Johann Gottlieb Goldberg, one of Bach's students.) Between the two arias, Bach situated an articulate recitative which starkly illustrates the "empty" and deceptive character of sin and which ends with the "sharpened sword" from Luke 2.35 piercing "soul and body".
Neither the exact period of composition nor the placement of the cantata in the church year can be determined with certainty. The low register of the vocal part suggests that it was probably composed for the higher choir pitch of the Weimar Castle chapel; further-more, the old-fashioned instrumentation and surviving transcription from the Weimar organists Johann Gottfried Walther and Johann Tobias Krebs is also indicative of Bach's ten-ure there.
The exact purpose of the cantata is equally obscure. Although the librettist Georg Christian Lehms designated his poem as a meditation on Oculi Sunday, Alfred Dürr argues that it was written for the Seventh Sunday after Trinity on the basis of the work's probable chronology. It also cannot be excluded that Bach may have intended the cantata to be a composition "in ogni tempo", in other words, without a fixed place in the church year. It is known that text excerpts of cantatas similar to the libretto of BWV 54 have been documented for the years 1739 and 1748 in the Saxon city of Leisnig. Whether or not they were actually intended to be repeat performances of BWV 54, they are recorded in Leisnig as having been assigned to the first and twentieth Sundays after Trinity, respectively. When attempting to place the work, it is also worth mentioning that Michael Maul has observed a striking similarity between the spectacular dissonance that opens the first movement of the cantata and Telemann's opera aria "Harte Fesseln, strenge Ketten" of 1711.
In our recording, the cantata closes with a newly composed chorale movement to a verse by Martin Jan (1620–1682). True to the baroque practice of adapting manuscripts and presenting them in a new form, an expert cantor from St Gallen has developed the revered original a little further and imbued it with the spirit of the times…
Libretto
1. Arie (Alt)
Widerstehe doch der Sünde,
sonst ergreifet dich ihr Gift.
Lass dich nicht den Satan blenden;
denn die Gottes Ehre schänden,
trifft ein Fluch, der tödlich ist.
2. Rezitativ (Alt)
Die Art verruchter Sünden
ist zwar von aussen wunderschön;
allein man muss hernach
mit Kummer und Verdruss
viel Ungemach empfinden.
Von aussen ist sie Gold;
doch will man weiter gehn,
so zeigt sich nur ein leerer Schatten
und übertünchtes Grab.
Sie ist den Sodomsäpfeln gleich,
und die sich mit derselben gatten,
gelangen nicht in Gottes Reich.
Sie ist als wie ein scharfes Schwert,
das uns durch Leib und Seele fährt.
3. Arie (Alt)
Wer Sünde tut, der ist vom Teufel,
denn dieser hat sie aufgebracht.
Doch wenn man ihren schnöden Banden
mit rechter Andacht widerstanden,
hat sie sich gleich davongemacht.
Bibliographical references
All libretti sourced from Neue Bach-Ausgabe. Johann Sebastian Bach. Neue Ausgabe sämtlicher Werke, published by the Johann-Sebastian-Bach-Institut Göttingen and the Bach-Archiv Leipzig, Series I (Cantatas), vol. 1–41, Kassel and Leipzig, 1954–2000.
All in-depth analyses by Anselm Hartinger (English translations/editing by Alice Noger-Gradon/Mary Carozza) based on the following sources:  Hans-Joachim Schulze, Die Bach-Kantaten. Einführungen zu sämtlichen Kantaten Johann Sebastian Bachs, Leipzig, 2nd edition, 2007; Alfred Dürr, Johann Sebastian Bach. Die Kantaten, Kassel, 9th edition, 2009, and Martin Petzoldt, Bach-Kommentar. Die geistlichen Kantaten, Stuttgart, vol. 1, 2nd edition, 2005 and vol. 2, 1st edition, 2007.