Also hat Gott die Welt geliebt
BWV 068 // For the Second Day of Pentecost
(In truth hath God the world so loved) for soprano and bass, vocal ensemble, oboe I+II, oboe da caccia, violoncello piccolo, strings and basso continuo
Information on reflective lecture: For reasons of copyright, the video of the reflective lecture by Hans Magnus Enzensberger is not available online.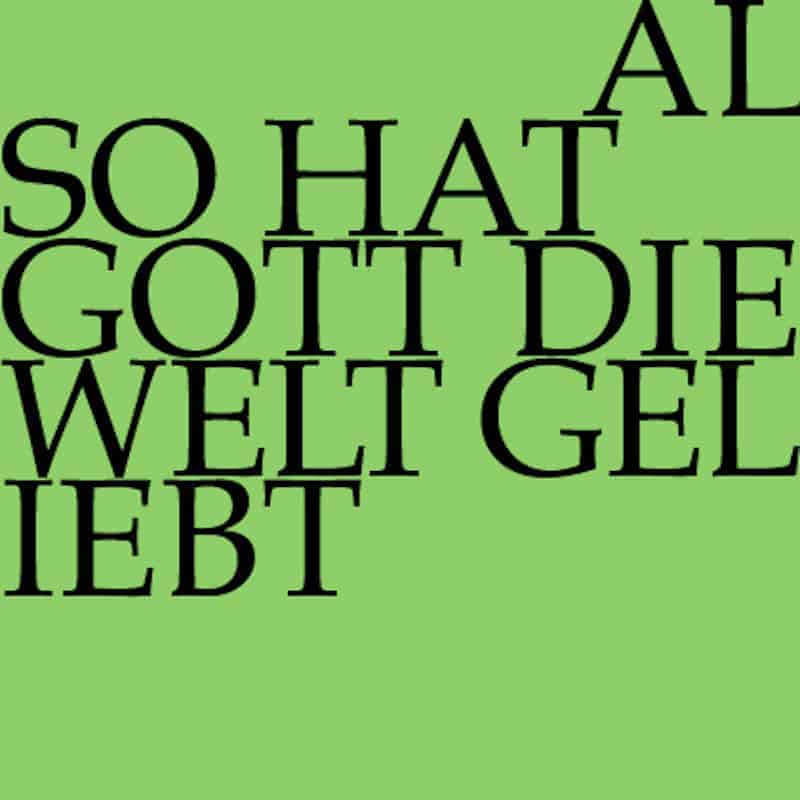 Video
Experience the introductory workshop, concert and reflective lecture in full length.
«Lutzogram» for the introductory workshop
Rudolf Lutz's manuscript for the workshop
Audio
The sound recording of this work is available on several streaming and download platforms.
Choir
Soprano
Lia Andres, Linda Loosli, Noëmi Tran Rediger, Simone Schwark, Julia Schiwowa, Anna Walker
Alto
Jan Börner, Antonia Frey, Liliana Lafranchi, Alexandra Rawohl, Damaris Rickhaus
Tenor
Manuel Gerber, Tobias Mäthger, Christian Rathgeber, Sören Richter
Bass
Grégoire May, Fabrice Hayoz, Daniel Pérez, Retus Pfister, Tobias Wicky
Orchestra
Conductor
Rudolf Lutz
Violin
Eva Borhi, Lenka Torgersen, Christine Baumann, Petra Melicharek, Dorothee Mühleisen, Ildikó Sajgó
Viola
Martina Bischof, Peter Barczi, Sarah Krone
Violoncello
Maya Amrein, Daniel Rosin
Violoncello piccolo
Daniel Rosin
Violone
Guisella Massa
Oboe
Philipp Wagner, Ann Cathrin Collin
Oboe da caccia
Ingo Müller
Bassoon
Dana Karmon
Organ
Nicola Cumer
Harpsichord
Jörg-Andreas Bötticher
Musical director & conductor
Rudolf Lutz
Workshop
Participants
Rudolf Lutz and Eva Borhi
Reflective lecture
Speaker
Hans Magnus Enzensberger
Recording & editing
Recording date
05/25/2018
Recording location
Trogen AR (Schweiz) // Evangelische Kirche
Sound engineer
Stefan Ritzenthaler, Nikolaus Matthes
Director
Meinrad Keel
Production manager
Johannes Widmer
Production
GALLUS MEDIA AG, Switzerland
Producer
J.S. Bach Foundation of St. Gallen, Switzerland
Matching publications in our shop
Librettist
Text
Christiane Mariana von Ziegler (1695–1760),
including a verse by Samuel Liscow (1675; movement 1)
and John 3:18 (movement 5)
First performance
21 May 1725
In-depth analysis
Cantata BWV 68, written for the Second Day of Pentecost in 1725, belongs to a group of sacred works that Bach composed in the period between Easter, when he suspended work on his chorale cantata cycle, and the First Sunday after Trinity, when he commenced his new annual cantata cycle. As with most libretti in this group of nine works, the poet Christiane Mariane von Ziegler links the Gospel of John with her own recitatives and arias. Nonetheless, because the biblical passage employed is a rhymed hymn verse by Salomon Liscov (1675), the cantata conforms to the same structure as the chorale cantatas of 1724/25.
The introductory chorus, a measured siciliano ritornello in 12⁄8 time, is a bittersweet "music of faith" that stresses the connection between Christ's birth and crucifixion as well as faith and redemption. In this setting, the highly expressive gestures and abundant pre-imitations of the lower vocal parts lend additional support to the soprano melody (doubled by horn). In these sustained lines, restrained grandeur and muted sorrow meld as perfectly as the style alternates between choral aria and cantus-firmus motet.
After this weighty music of deliverance, the following F major aria setting appears all the more light and friendly. Indeed, some listeners may even detect a distinctly feminine tone in the soothing warmth and at times gallant style that exudes from the combination of joyous text, agile soprano lines and sonorous string cantilena. The second section, a trio with obbligato violin and oboe, evolves naturally from the flowing energy of the vocal aria; listeners unaware that this charming setting is a parody of a movement from Bach's Hunt Cantata (1713) are unlikely to note the connection.
The following bass recitative, despite its brevity, is replete with momentous theological content. Although the opening reference to Peter's contradictory reactions during the Passion of Christ is somewhat obscure, the noble-minded declaration and the exquisite modulation in the ensuing bars decidedly proclaim the joy to be found in the promise of Jesus and in his consoling presence as a mediator between God and humankind.
The gentle, reedy timbre of the ensuing bass aria with three oboes evokes pastoral associations that, in keeping with the overture-like style of the setting, serve as a reminder of the healing birth of the King of Heaven. In this movement, Bach successfully reworks Pan's aria from the Hunt Cantata to realise a vocally brilliant and compositionally distinctive setting whose middle section skilfully illustrates both the shattering of the Earth and the faithful prayer that banishes all of Satan's persuasion.
While Bach's chorale cantatas generally conclude with a four-part chorale setting, Ziegler's libretto, which ends with a further quotation from the Gospel (John 3:18), presents a totally different challenge for the composer: true to the Evangelist's fundamental distinction between the faithful and the damned, the text juxtaposes two contradictory statements. This inspired Bach to compose an extended double fugue whose motet-like form and doubling with trombones and cornett evokes an archaic tone, thus imbuing the setting with an eschatological solemnity that even the chiselled cadences of the brilliant closing phrase fail to lift.
Libretto
1. Chor
Also hat Gott die Welt geliebt,
daß er uns seinen Sohn gegeben.
Wer sich im Glauben ihm ergibt,
der soll dort ewig bei ihm leben.
Wer glaubt, daß Jesus ihm geboren,
der bleibet ewig unverloren,
und ist kein Leid, das den betrübt,
den Gott und auch sein Jesus liebt.
2. Arie (Sopran)
Mein gläubiges Herze,
frohlocke, sing, scherze,
dein Jesus ist da!
Weg Jammer, weg Klagen,
ich will euch nur sagen:
Mein Jesus ist nah.
3. Rezitativ (Bass)
Ich bin mit Petro nicht vermessen,
was mich getrost und freudig macht,
daß mich mein Jesus nicht vergessen.
Er kam nicht nur, die Welt zu richten,
nein, nein, er wollte Sünd und Schuld
als Mittler zwischen Gott und Mensch vor diesmal schlichten.
4. Arie (Bass)
Du bist geboren mir zugute,
das glaub ich, mir ist wohl zumute,
weil du vor mich genung getan.
Das Rund der Erden mag gleich brechen,
will mir der Satan widersprechen,
so bet ich dich, mein Heiland, an.
5. Chor
»Wer an ihn gläubet, der wird nicht gerichtet;
wer aber nicht gläubet, der ist schon gerichtet;
denn er gläubet nicht an den Namen des
eingebornen Sohnes Gottes.«
Bibliographical references
All libretti sourced from Neue Bach-Ausgabe. Johann Sebastian Bach. Neue Ausgabe sämtlicher Werke, published by the Johann-Sebastian-Bach-Institut Göttingen and the Bach-Archiv Leipzig, Series I (Cantatas), vol. 1–41, Kassel and Leipzig, 1954–2000.
All in-depth analyses by Anselm Hartinger (English translations/editing by Alice Noger-Gradon/Mary Carozza) based on the following sources:  Hans-Joachim Schulze, Die Bach-Kantaten. Einführungen zu sämtlichen Kantaten Johann Sebastian Bachs, Leipzig, 2nd edition, 2007; Alfred Dürr, Johann Sebastian Bach. Die Kantaten, Kassel, 9th edition, 2009, and Martin Petzoldt, Bach-Kommentar. Die geistlichen Kantaten, Stuttgart, vol. 1, 2nd edition, 2005 and vol. 2, 1st edition, 2007.