Wer mich liebet, der wird mein Wort halten
BWV 074 // For Pentecost (Whitsunday)
(I love the Almighty with all of my spirit) for soprano, alto, tenor and bass, vocal ensemble, trumpet I-III, timpani, oboe I+II, oboe da caccia, strings and basso continuo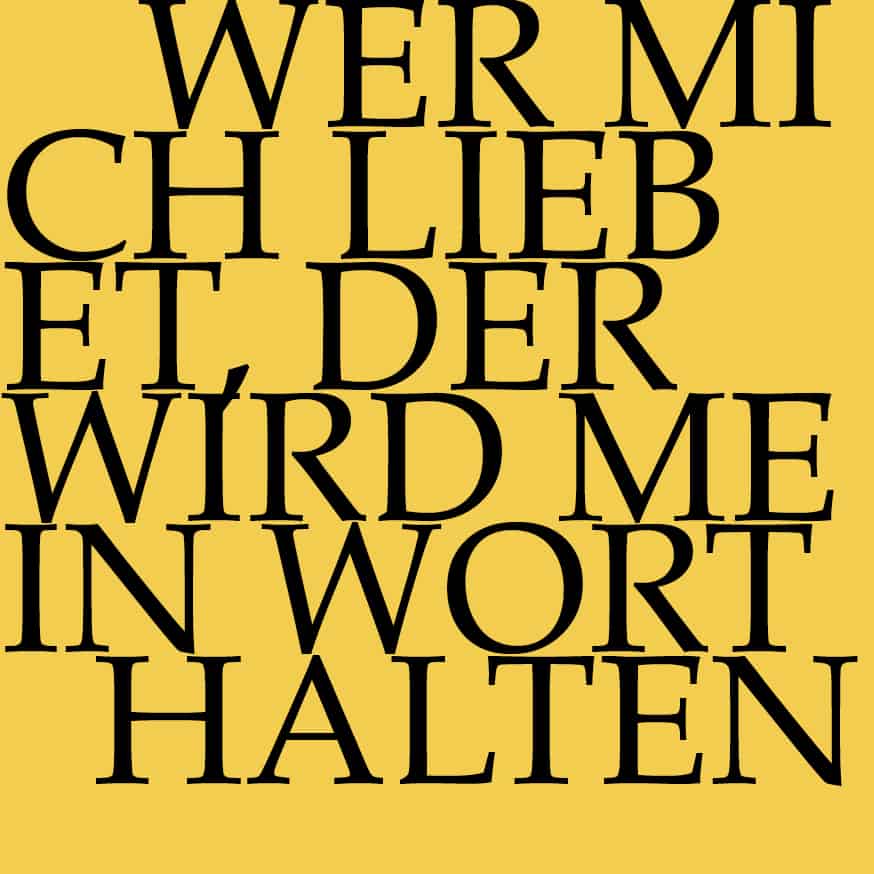 Video
Experience the introductory workshop, concert and reflective lecture in full length.
«Lutzogram» for the introductory workshop
Rudolf Lutz's manuscript for the workshop
Soloists
Choir
Soprano
Alice Borciani, Jennifer Ribeiro Rudin, Simone Schwark, Linda Loosli, Lia Andres, Mirjam Wernli
Alto
Jan Thomer, Antonia Frey, Laura Binggeli, Lea Scherer, Alexandra Rawohl
Tenor
Marcel Fässler, Klemens Mölkner, Manuel Gerber, Christian Rathgeber
Bass
Philippe Rayot, Julian Redlin, Daniel Pérez, Simón Millán, Tobias Wicky
Orchestra
Conductor
Rudolf Lutz
Violin
Éva Borhi, Péter Barczi, Christine Baumann, Petra Melicharek, Dorothee Mühleisen, Ildikó Sajgó, Aliza Vicente
Viola
Martina Bischof, Matthias Jäggi, Sarah Mühlethaler
Violoncello
Maya Amrein, Jakob Valentin Herzog
Violone
Markus Bernhard
Oboe
Andreas Helm, Philipp Wagner
Oboe da caccia
Andreas Helm, Clara Espinosa Encinas
Bassoon
Susann Landert
Trumpet
Patrick Henrichs, Peter Hasel, Klaus Pfeiffer
Timpani
Martin Homann
Harpsichord
Thomas Leininger
Organ
Nicola Cumer
Musical director & conductor
Rudolf Lutz
Workshop
Participants
Rudolf Lutz, Pfr. Niklaus Peter
Reflective lecture
Speaker
Kerstin Wiese
Recording & editing
Recording date
26/05/2023
Recording location
Trogen AR (Switzerland) // Evangelische Kirche
Sound engineer
Stefan Ritzenthaler
Producer
Meinrad Keel
Executive producer
Johannes Widmer
Production
GALLUS MEDIA AG, Schweiz
Producer
J.S. Bach-Stiftung, St. Gallen, Schweiz
Librettist
First performance
20 May 1725, Leipzig
Text sources
John 14:23 (movement 1); Christiane Mariane von Ziegler (movements 2–3, 5, 7); John 14:28 (movement 4); Romans 8:1 (movement 6); Paul Gerhardt (movement 8)
Libretto
1. Chor
«Wer mich liebet, der wird mein Wort halten, und mein Vater wird ihn lieben, und wir werden zu ihm kommen und Wohnung bei ihm machen.»
2. Arie — Sopran
Komm, komm, mein Herze steht dir offen,
ach, laß es deine Wohnung sein!
Ich liebe dich, so muß ich hoffen:
dein Wort trifft itzo bei mir ein;
denn wer dich sucht, fürcht', liebt und ehret,
dem ist der Vater zugetan.
Ich zweifle nicht, ich bin erhöret,
daß ich mich dein getrösten kann.
3. Rezitativ — Alt
Die Wohnung ist bereit.
Du findst ein Herz, das dir allein ergeben,
drum laß mich nicht erleben,
daß du gedenkst, von mir zu gehn.
Das laß ich nimmermehr, ach, nimmermehr geschehen!
4. Arie — Bass
«Ich gehe hin und komme wieder zu euch. Hättet ihr mich lieb, so würdet ihr euch freuen.»
5. Arie — Tenor
Kommt, eilet, stimmet Sait und Lieder
in muntern und erfreuten Ton.
Geht er gleich weg, so kömmt er wieder,
der hochgelobte Gottessohn.
Der Satan wird indes versuchen,
den Deinigen gar sehr zu fluchen.
Er ist mir hinderlich,
so glaub ich, Herr, an dich.
6. Rezitativ — Bass
«Es ist nichts Verdammliches an denen, die in Christo Jesu sind.»
7. Arie — Alt
Nichts kann mich erretten
von höllischen Ketten
als, Jesu, dein Blut.
Dein Leiden, dein Sterben
macht mich ja zum Erben:
Ich lache der Wut.
8. Choral
Kein Menschenkind hier auf der Erd
ist dieser edlen Gabe wert,
bei uns ist kein Verdienen;
hier gilt gar nichts als Lieb und Gnad,
die Christus uns verdienet hat
mit Büßen und Versühnen.
Bibliographical references
All libretti sourced from Neue Bach-Ausgabe. Johann Sebastian Bach. Neue Ausgabe sämtlicher Werke, published by the Johann-Sebastian-Bach-Institut Göttingen and the Bach-Archiv Leipzig, Series I (Cantatas), vol. 1–41, Kassel and Leipzig, 1954–2000.
All in-depth analyses by Anselm Hartinger (English translations/editing by Alice Noger-Gradon/Mary Carozza) based on the following sources:  Hans-Joachim Schulze, Die Bach-Kantaten. Einführungen zu sämtlichen Kantaten Johann Sebastian Bachs, Leipzig, 2nd edition, 2007; Alfred Dürr, Johann Sebastian Bach. Die Kantaten, Kassel, 9th edition, 2009, and Martin Petzoldt, Bach-Kommentar. Die geistlichen Kantaten, Stuttgart, vol. 1, 2nd edition, 2005 and vol. 2, 1st edition, 2007.