Gelobet seist du, Jesu Christ
BWV 091 // For Christmas Day
(All glory to thee, Jesus Christ) for soprano, alto, tenor and bass, vocal ensemble, horn I+II, timpani, oboe I–III, strings and basso continuo
First performed on 25 December in 1725, cantata BWV 91 "Gelobet seist du, Jesu Christ" (All glory to thee, Jesus Christ) is a glorious Christmas composition befitting Bach's chorale cantata cycle. Despite the considerable size and power of the two outside tutti choruses, the cantata is a highly efficient composition whose strikingly earnest tone in light of the joyful feast day speaks volumes about how Christmas was perceived in Bach's time.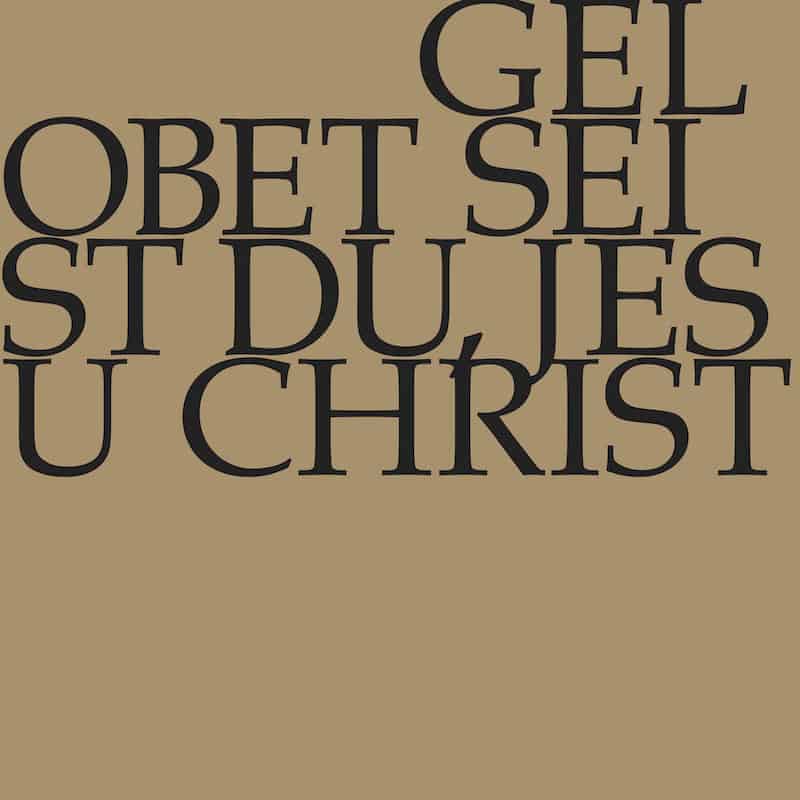 Video
Experience the introductory workshop, concert and reflective lecture in full length.
Workshop
Reflective lecture
«Lutzogram» for the introductory workshop
Rudolf Lutz's manuscript for the workshop
Audio
The sound recording of this work is available on several streaming and download platforms.
Soloists
Choir
Soprano
Julia Schiwowa, Susanne Seitter, Alexa Vogel, Maria Weber, Mirjam Wernli Berli
Alto
Jan Börner, Francisca Näf, Antonia Frey, Alexandra Rawohl, Lea Scherer
Tenor
Clemens Flämig, Manuel Gerber, Sören Richter, Walter Siegel
Bass
Fabrice Hayoz, Grégoire May, Daniel Pérez, Philippe Rayot, Tobias Wicky
Orchestra
Conductor
Rudolf Lutz
Violin
Plamena Nikitassova, Lenka Torgersen, Peter Barczi, Christine Baumann, Eva Borhi, Petra Melicharek
Viola
Martina Bischof, Sarah Krone, Katya Polin
Violoncello
Maya Amrein, Hristo Kouzmanov
Violone
Markus Bernhard
Oboe
Philipp Wagner, Ingo Müller, Ann Cathrin Collin
Bassoon
Susann Landert
Corno
Olivier Picon, Thomas Müller
Timpani
Martin Homann
Organ
Nicola Cumer
Harpsichord
Dirk Börner
Musical director & conductor
Rudolf Lutz
Workshop
Participants
Karl Graf, Rudolf Lutz
Reflective lecture
Speaker
Ludwig Stocker
Recording & editing
Recording date
23.12.2016
Recording location
St. Gallen (Schweiz) // Kirche St. Mangen
Sound engineer
Stefan Ritzenthaler
Director
Meinrad Keel
Production manager
Johannes Widmer
Production
GALLUS MEDIA AG, Switzerland
Producer
J.S. Bach Foundation of St. Gallen, Switzerland
Matching publications in our shop
Librettist
Text No. 1, 6
Martin Luther (1524)
Text No. 2–5
Arranger unknown
First performance
First Day of Christmas,
25 December 1724
In-depth analysis
The richly orchestrated introductory chorus opens with a combination of long notes by the horns and festive ascending lines by the strings and oboes, ere the whole orchestra erupts in fragmented fanfare motives. Although this moment of unbridled power would also suit a resurrection setting, here it declaims the human incarnation of Christ as an event of radical significance. In this orchestral setting, which circles around the shifting tonal centres with military-style might, the text of the hymn is woven in line for line by the vocal parts, whose dynamic coloraturas unwind only in the dance-like syncopated figure of the "Kyrie eleis" – closing words that are drawn out like a promise.
Set in E minor, the soprano recitative is replete with wonder at the miracle of the advent of Christ. As if Luther's familiar hymn alone could describe this event in words, the second chorale verse is interpolated into the festive recitative, thus also lending the arioso continuo part, with its modulating pre-imitations, a motivic import.
The tenor aria, through the addition of three oboes, distinctly belongs to the pastoral world. In a measured triple metre with gentle dotted rhythms, the A minor setting embodies the contradiction between the lowly manger and universe-spanning majesty; here, the tenor soloist, seemingly trapped in his earthly existence, is illuminated in the middle section by the "eternal light" on high.
Accompanied by a splendid string timbre, the bass recitative meditates on the consequences of Christ's birth for the individual. By imploring humans to welcome the creator as a guest in their hearts, the message of Christmas is both personalised and reaffirmed. Against the backdrop of this immeasurable hope, the "vale of tears" that must be overcome on the path to God's throne is expressed in an ascending figure across the full baritone range, whose jarring chromaticism is unusually drastic, even for Bach. Following the suspended cadence, the violins and continuo drift a full four octaves apart – the chasm between the heavenly and earthly sphere could hardly be rendered more vividly.
Overcoming this gulf demands a collective effort, which is provided in the ensuing duet by a unison string part (over a walking bass line) whose incessant dotted rhythms and terse cadences evoke a merciless state of agitation. The soprano and alto voices, by contrast, open with imitative lines that evolve into a heartfelt duo in which the notion of voluntary poverty and the inevitable suffering of Christ compassionately takes shape. Contrary to the opinion of some commentators, it was not Bach's aim here to set the opposing key words as a musical contrast, but to make clear that the two concepts go hand in hand: "poverty" is a precondition of "heaven's treasures", and only when we accept Christ as a suffering human can we hope for the angels' liberated song of majesty. Accordingly, the words "mortal nature" in the middle section are underscored by a figure replete with sighs, calling to mind the "vale of tears" from the bass recitative. For Bach, it apparently remains part of the conditio humana to seek the light through suffering and many sorrows – that Christ took this burden upon himself is what constitutes the wonder of Christmas.
In the closing chorale, a movement based on both the text and mediaeval melody of Luther's hymn, Bach opts for a grand setting complete with enraptured flourishes by the horns. In this gesture of defiant joy, the hard-won trust in God's act of love – as manifested by Christ in the manger – is brought to expression. Nothing is lost, everything begins with this child: Kyrie eleison!
Libretto
1. Chor
Gelobet seist du, Jesu Christ,
daß du Mensch geboren bist,
von einer Jungfrau, das ist wahr,
des freuet sich der Engel Schar.
Kyrie eleis!
2. Rezitativ und Choral (Sopran)
Der Glanz der höchsten Herrlichkeit,
das Ebenbild von Gottes Wesen,
hat in bestimmter Zeit
sich einen Wohnplatz auserlesen.
Des ewgen Vaters einigs Kind,
das ewge Licht von Licht geboren,
itzt man in der Krippe findt.
O Menschen, schauet an,
was hier der Liebe Kraft getan!
In unser armes Fleisch und Blut,
(und war denn dieses nicht verflucht, verdammt, verloren?)
verkleidet sich das ewge Gut,
so wird es ja zum Segen auserkoren.
3. Arie (Tenor)
Gott, dem der Erden Kreis zu klein,
den weder Welt noch Himmel fassen,
will in der engen Krippe sein.
Erscheinet uns dies ewge Licht,
so wird hinfüro Gott uns nicht
als dieses Lichtes Kinder hassen.
4. Rezitativ (Bass)
O Christenheit!
Wohlan, so mache dich bereit,
bei dir den Schöpfer zu empfangen.
Der große Gottessohn
kömmt als ein Gast zu dir gegangen.
Ach, laß dein Herz durch diese Liebe rühren;
er kömmt zu dir, um dich vor seinen Thron
durch dieses Jammertal zu führen.
5. Arie (Duett Sopran, Alt)
Die Armut, so Gott auf sich nimmt,
hat uns ein ewig Heil bestimmt,
den Überfluß an Himmelsschätzen.
Sein menschlich Wesen machet euch
den Engelsherrlichkeiten gleich,
euch zu der Engel Chor zu setzen.
6. Choral
Das hat er alles uns getan,
sein groß Lieb zu zeigen an;
des freu sich alle Christenheit
und dank ihm des in Ewigkeit.
Kyrie eleis!
Bibliographical references
All libretti sourced from Neue Bach-Ausgabe. Johann Sebastian Bach. Neue Ausgabe sämtlicher Werke, published by the Johann-Sebastian-Bach-Institut Göttingen and the Bach-Archiv Leipzig, Series I (Cantatas), vol. 1–41, Kassel and Leipzig, 1954–2000.
All in-depth analyses by Anselm Hartinger (English translations/editing by Alice Noger-Gradon/Mary Carozza) based on the following sources:  Hans-Joachim Schulze, Die Bach-Kantaten. Einführungen zu sämtlichen Kantaten Johann Sebastian Bachs, Leipzig, 2nd edition, 2007; Alfred Dürr, Johann Sebastian Bach. Die Kantaten, Kassel, 9th edition, 2009, and Martin Petzoldt, Bach-Kommentar. Die geistlichen Kantaten, Stuttgart, vol. 1, 2nd edition, 2005 and vol. 2, 1st edition, 2007.